I say "alphabet bunting" and you say "display"! Isn't that right? Well, what if I told you that alphabet bunting makes as useful a teaching tool as any other tactile letters resource?
Yes! Get ready to meld your love of teaching and bunting in these 10 awesome alphabet bunting activity ideas.
Alphabet Activities Using Bunting
(1) Spelling with Mini-Bunting
Make a few sets of mini-alphabet bunting and have students use the bunting letters to spell out their sight words or spelling words.
Students can spell out words using the alphabet bunting flags laying flat on a desk.
Or for more fun, use mini-pegs on a line made from string, playdough and wooden skewers.
Play this game with older students as a quirky and fun alternative to a spelling test!
---
(2) Letter Match-Up Games
The basis is simple. Write the letters of the alphabet onto a whiteboard, onto the ground with chalk, or onto a large piece of butcher's paper. Students use the flags to match up the letters.
Students can do this individually or in small groups during literacy rotations.
Or play as a whole class, with two teams competing to complete their alphabet match up the fastest.
---
(3) Letter Recognition Hide and Seek
Most any variation of 'hide and seek' is sure to be a winner with your students! Use alphabet bunting to create a letter recognition hide and seek game.
Hide pieces of alphabet bunting around your classroom, or throughout an outdoor area in your school.
Establish the boundaries of the search and break students into pairs.
Give each pair a few specific letters of the alphabet to find. As an extra challenge, do not allow them to write down the letters, make them use their memory!
Students find their letters as quickly as they can, returning to a designated spot when they have found them all!
---
(4) Letter Flags Ordering Activity
Another simple but effective way to use alphabet bunting as a teaching tool in your classroom is for a hands-on letter sorting activity.
Prepare a single set of the alphabet bunting of your choice.
Provide students, individually or supported in small, mixed-ability teams, with the bunting all mixed up.
Students sort the bunting into alphabetical order.
Differentiate for specific students by using only lowercase or uppercase letters to order, or use both to create a pattern such as A, a, B, b…
---
(5) Make Your Own
Research Topic Alphabet Bunting
Take inspiration from the adorable Animal Alphabet Flags and have your students create their own themed alphabet bunting.
Depending on the topic you choose, this could double as a fun mini-research project using tablets, individually or in small groups.
Use a topic from a current unit of study, or try out one of the ideas below:
Countries of the world
Capital cities
Plants, trees and flowers
Insects
Sports and physical activities.
We have a Blank Alphabet/Number Flag template ready for you download that is perfect for this activity.
---
(6) Interactive "Word of the Week" Display
STEP ONE: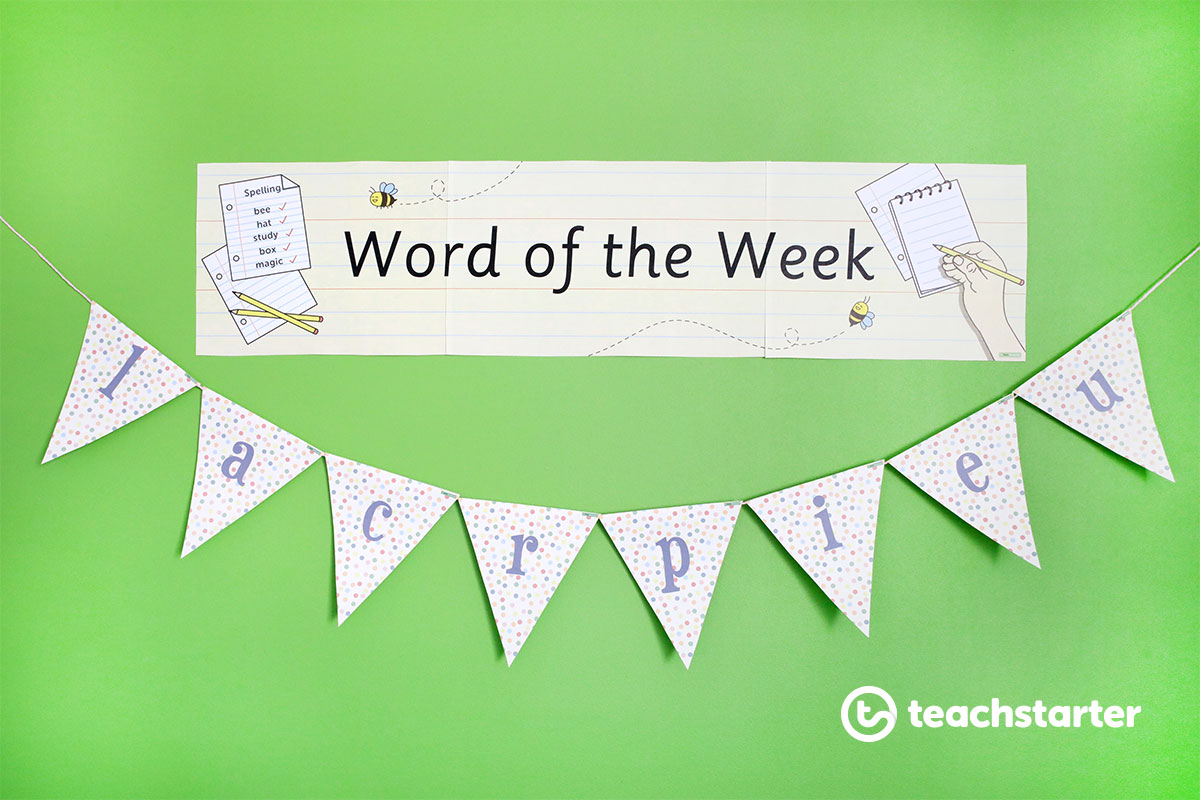 STEP TWO: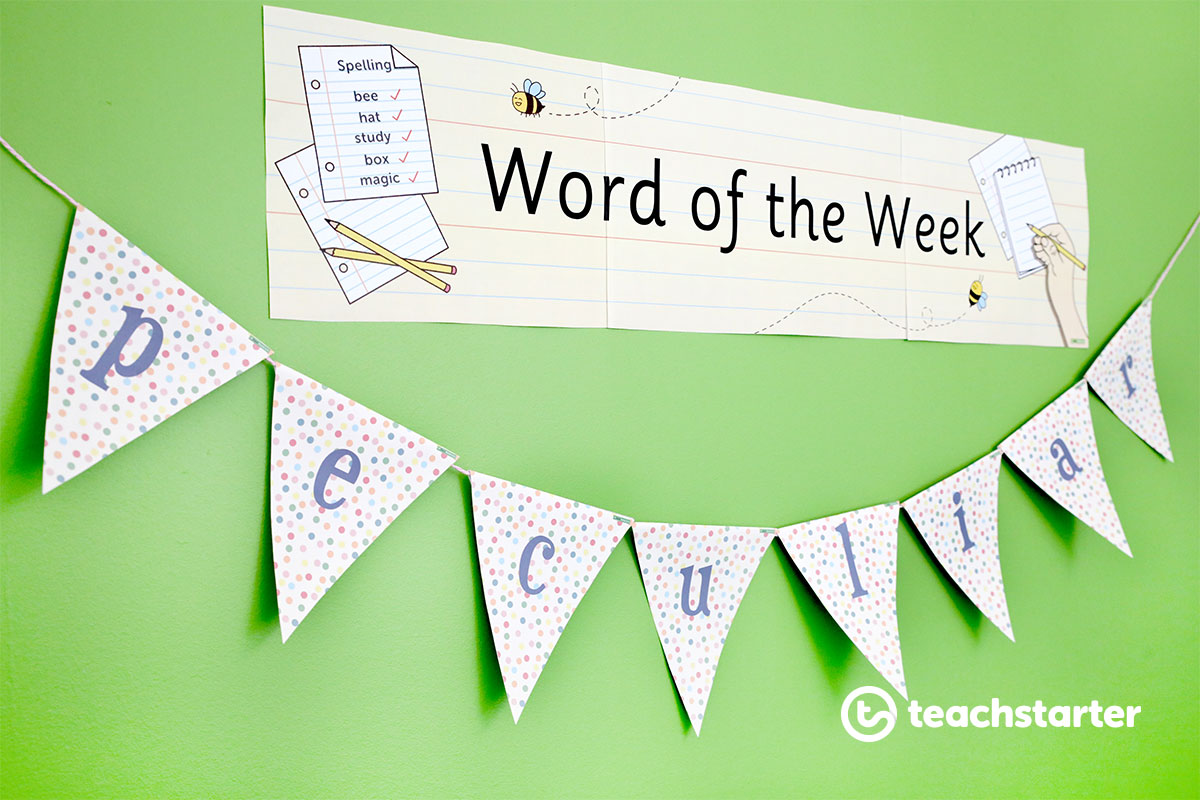 To create this 'Word of the Week' display we used the Letter, Number and Punctuation Sets – Rainbow Spots Bunting in Cream printed two pages per single A4 sheet. This photo also features the Spelling Display Banner customised in the Teach Starter Studio.
Rather than using alphabet bunting flags to create the title of a Word of the Week display, why not use the letters to spell out the most important part of it!
At the beginning of the week, jumble up the letters of the word of the week.
See how many other words students can make using the letters in the word of the week and guess which word they think it might be.
Use a second row of bunting to identify the part of speech.
Add additional rows of bunting to list a synonym and antonym for the word.
This is such a fun and easy way to feature the 'Word of the Week' with your students, and they will love being selected for the privilege of spelling and hanging up the new word each week.
---
(7)  Bunting Word Family Practice
Alphabet bunting makes for a fun, hands-on word families activity too. All you need is:
a string tied between two points (chairs, furniture or sticky-taped to a board)
alphabet bunting flags
pegs.
Provide students with the letters they need for a single word family. Ask students to make as many words as they can using the letters provided, saying the words aloud and using each word in a sentence.
---
(8) I've got it!
Whole Class Alphabet Games
You can use a blank bunting flag template for this activity.
Allocate a letter to each student in the class (or let students select their own).
Have each student decorate one piece of bunting with their letter on it.
Use the letter bunting to play a few fun and quick classroom games.
For example:
Sit in a circle with each student holding the piece of letter bunting that they made.
Call out a letter and have students with that letter stand up and call out "I've got it!".
Ask students to say three words that begin with that letter.
Ask students to say one word that begins with their letter, spell the word and use it in a sentence.
Have students pass the pieces of bunting in a clockwise direction three times (so they each have a new letter).
Complete the vocabulary, spelling and sentence challenges again.
---
(9) Human Alphabet Game
Students make their own alphabet bunting flag to play Human Alphabet.
Each student has a piece of bunting and must organise themselves into a line with the bunting in alphabetical order.
Missing letters can make this game even more tricky, so don't worry if there isn't a student for every letter.
Students with the same letter can stand behind the first person who found their place in the line (creating a new 'letter' line perpendicular to the 'alphabet' line).
Collect all of the bunting letters, mix them up and hand them out again to start a new round.
Time each round to see if the class can beat their previous times.
---
(10) Letter and Sound Learning Tracker
Use alphabet bunting to create a whole class tracker when you are teaching letters and sounds.
---
Alphabet Bunting Display Board Titles
and Decorations for Special Events
Really, you can use alphabet bunting in most any way you choose!
Of course, bunting will always be fantastic for making a display board title and for use as decorations for a special occasion or event.
You can download these super fun rainbow flags in a PDF that contains uppercase alphabet bunting, lowercase alphabet bunting, mini-uppercase alphabet bunting and combined letters and numbers bunting.
Here are more of our Printable Bunting Resources:
---
Have you used alphabet bunting as a resource for teaching activities in your classroom?
Share your ideas in the comments below!