The end of school term can often feel like the end of a huge school year, right? It's been a busy term of cramming everything you possibly can into each and every school day.. and you're still trying to complete assessments and reporting, the kids are exhausted, you're exhausted – we get it! But, there are some inventive classroom management tips that teachers pull out in these final weeks of a school term to get them through. So, we decided to share our favourites…
End of Term Classroom Management Tips You'll Want to Try
Here are some classroom management techniques you could try in your class, perhaps some of them you do anyway – but could you take a different approach to make it interesting for your students.
How do I keep my kids engaged at the end of a term?
(1) Tease out an Escape Room
Tell the students that you're busy planning out a fun Escape Room activity for them to do in the last week of the term! Include a countdown on the whiteboard to really build suspense.
(2) Set a timer to stretch out
Grab a timer or use a digital timer, every time the timer goes off – students need to stretch it out or you could also use some yoga pose cards and randomly select a pose for students to do!
(3) Take learning outdoors
There's perhaps no better time than the end of the term to take your classroom outside and to get some fresh air! The benefits of an outdoor classroom have been documented time and again. Some of the benefits include:
better academic performance
improved student engagement
increased enthusiasm
improved behaviour.
To make this easier, you may like to create your very own Outdoor Lesson Box.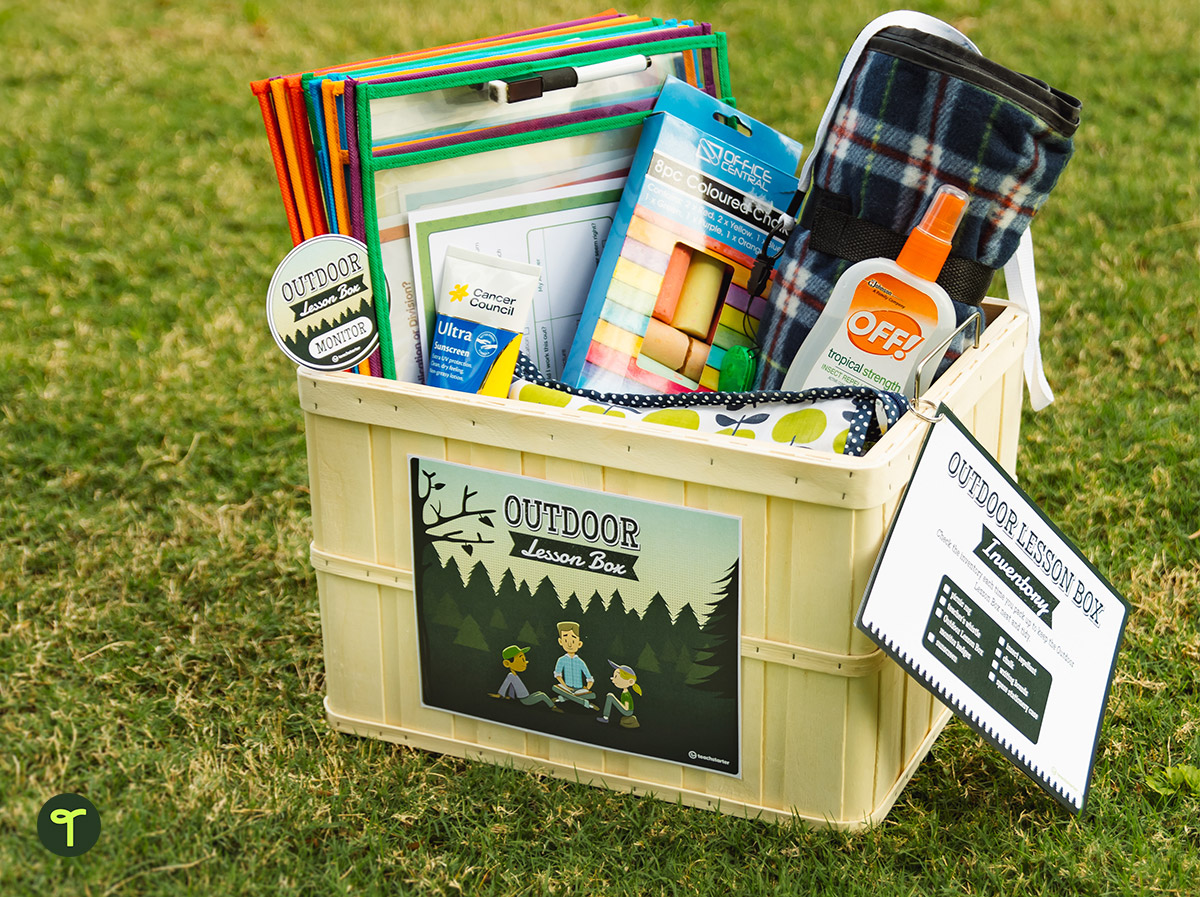 (4) Use choice boards
Set up a choice board on your whiteboard which comprises of activities that support their learning in topics that have been taught in that term – but give them the choice to complete 2 on a grid of 6 or something like that. Giving them that choice means they feel in control – and they LOVE that!
(5) Make some stress balls
You can do the traditional rice in a balloon stress ball. Alternatively, there are other ways to create a stress ball without a balloon. All you need are some common household items and you end up with a ball that replicates the consistency of a stress ball… but without the balloon.
How to make a stress ball with no balloon
Mix 1/2 a cup of corn starch and 1/4 aloe vera gel together in a bowl.
When firm, grab the mixture out of the bowl and continue to knead with your hands until you have an even consistency.
Now your students can keep these on their desks in a container and use them as they wish – a little end of term treat!
(6) Try out a new classroom game
If you are being challenged in the area of student engagement, take it as a flashlight signal that your students need regular brain breaks. It could be the time for The Bean Game! This fun game encourages the development of listening skills, cognitive processing skills, physical activity, and social skills.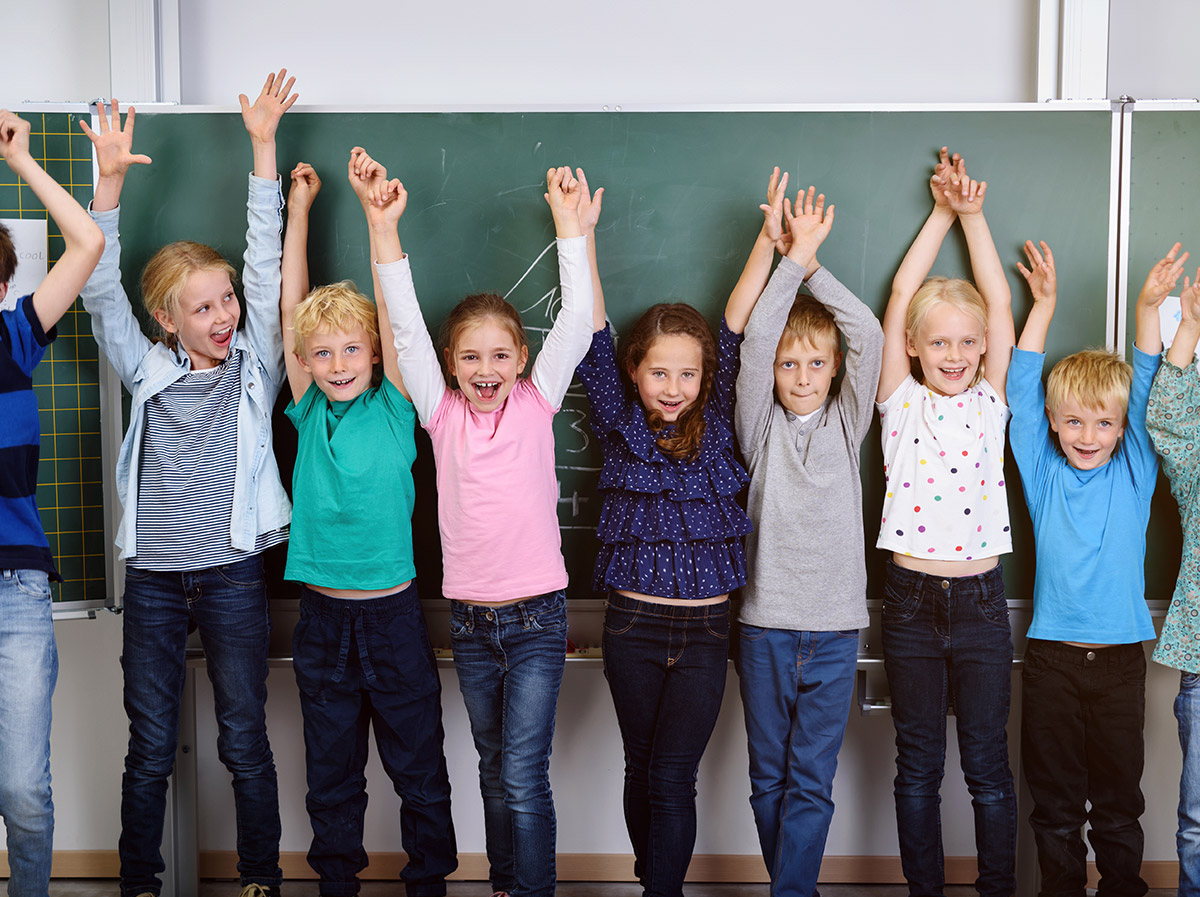 shutterstock.com / stockfour
(7) Trade your class!
Shake things up a bit and chat to your teaching partner and trade classes for an hour or two a week.
(8) Implement a Gratitude Journal
Use this opportunity to do something you might not do every day of the school year, such as creating a gratitude journal. Use gratitude writing prompts and have students pick one each day to write.
(9) Plan in some laughter – Jokes
Laughter is the best medicine! There are many reasons why you should incorporate a little bit of laughter into your and your students' day. Using jokes for kids in the classroom makes a great icebreaker game or brain break. We've created a set of printable Joke Cards for Kids and a fun Jokes for Kids PowerPoint that you can use to improve student engagement.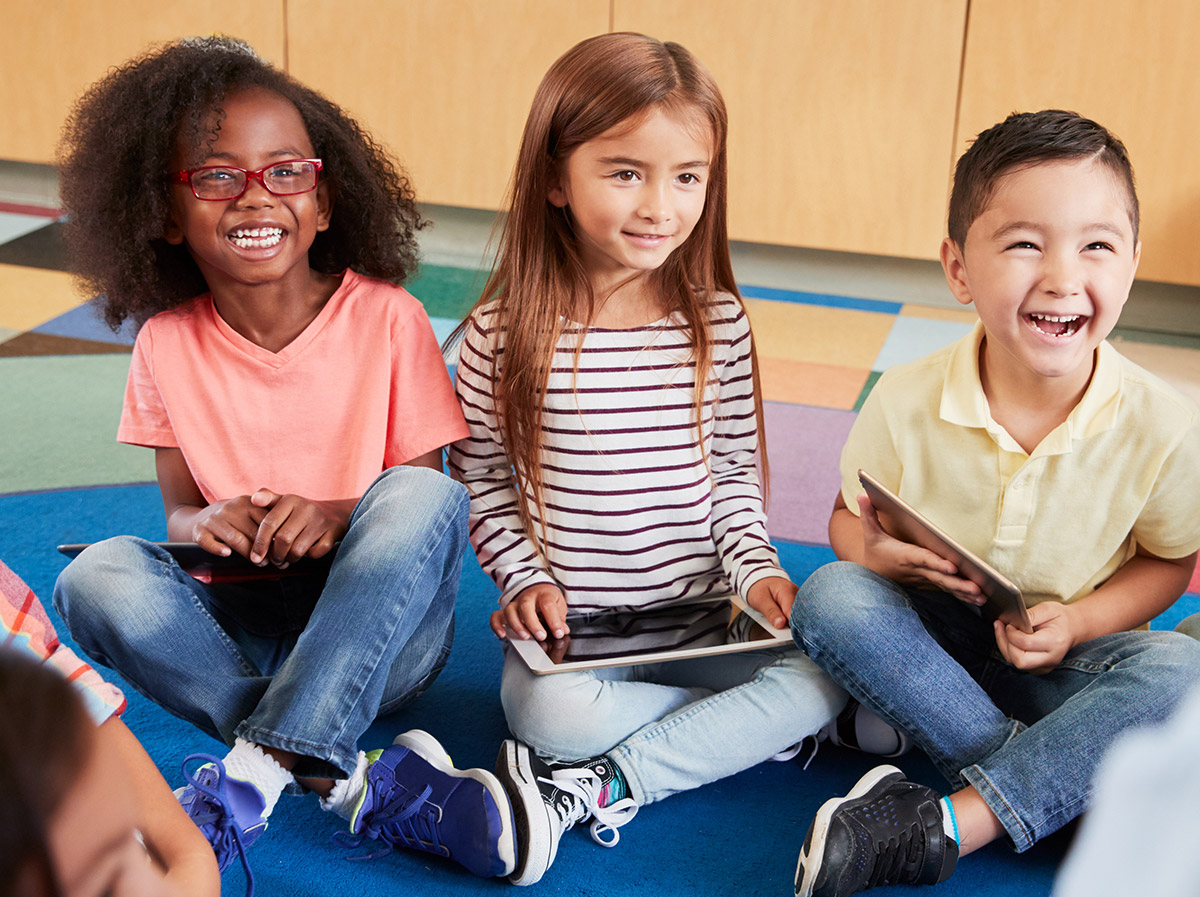 shutterstock.com / Monkey Business Images
(10) Reconsider homework
With it being the end of the term and your students being tired – consider if it's really worth sending homework home. Perhaps the homework can be more geared towards quiet activities or getting outdoors, rather than the usual homework you send home.
(11) Bop away to music
The benefits of playing music in the classroom include improving a student's memory and learning capability as well as boosting creativity and concentration.
So, grab some nice calming music and pop it on in the background to help soothe any end of term jitters!
What's your go to classroom management tip for the end of a school term? Share in the comments section of this blog.