Are you looking for a picture book to share with your students during the lead up to Christmas? Take a look at this heartfelt picture book  All I Want for Christmas is Rain, written by Cori Brooke and illustrated by Megan Forward.
We rarely stop to consider how Australian farmers make the world a better place. What's more, it's easy to forget the devasting effects of drought, especially at Christmas time. This book will encourage your students to stop and think…
This picture book is my top pick of children's Christmas books for many reasons, not just because it was shortlisted for The Children's Book of The Year. Most importantly, this wonderful book delivers a powerful message and a new perspective on Christmas. Also, it offers a perfect starting point for meaningful classroom discussions and engaging activities.
---
Picture Book Art Project
Some of the most successful classroom art projects have been inspired by a great picture book. As you can see, the wonderful illustrations in All I Want for Christmas is Rain, take us to the dusty, dry Australian outback and are perfect to inspire art in the classroom.
Water Colour
Watercolour painting is classroom friendly, easy to use and delivers an impressive result! So, encourage your students to consider the earth tones used in All I Want for Christmas is Rain and how they reflect the red-brown heat of dry rural Australia.
Take a look at these fun watercolour techniques for beginners. Simply adapt the colours by using classic earth tones such as Raw Sienna, Burnt Sienna and Raw Umber.
Acrylic Landscape Painting
If you're looking for a simple art project based on landscapes, look no further than the television series, Mr Maker for inspiration…
All you need to do is change your colour palette!
And here's one we made earlier…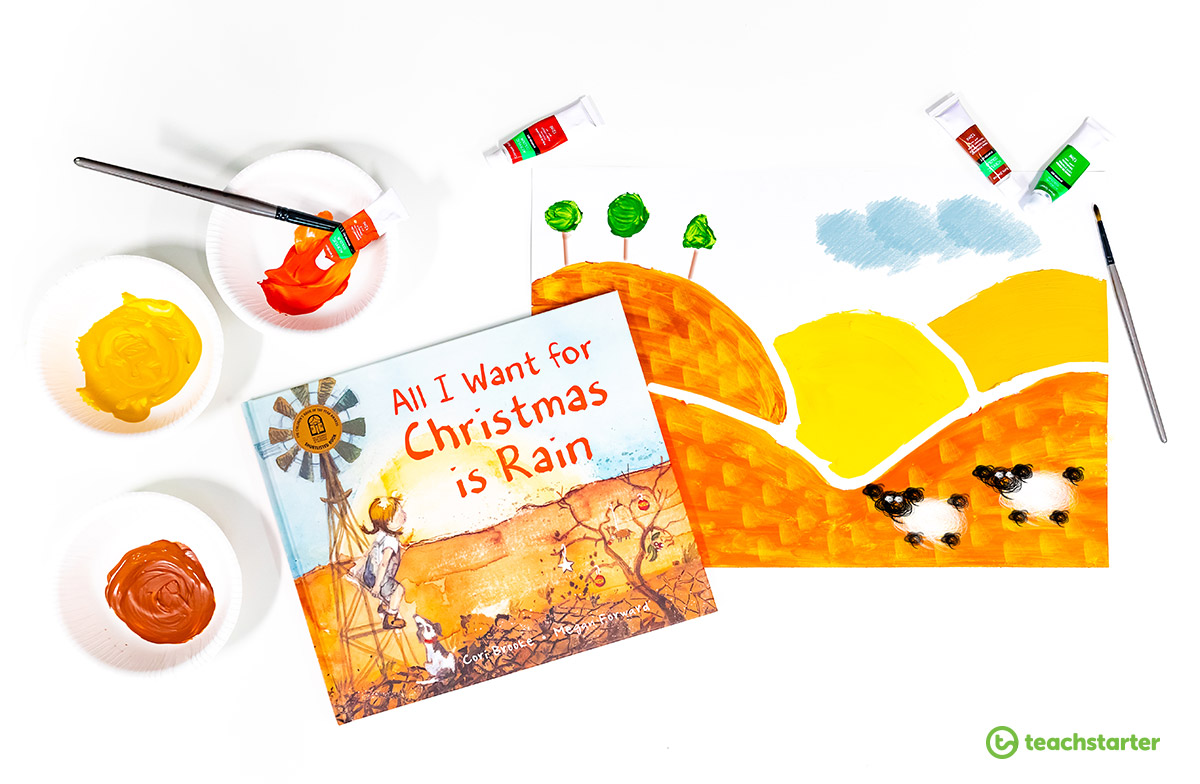 For more inspiration for art and craft projects read our blog Classroom Art Projects Inspired by Children's Books.
---
Character Profile
The main character in All I Want for Christmas is Rain is a little girl called Jane. Most importantly, Jane is brave, determined and adventurous. She cares deeply about her family, her family's cattle farm and other farmers. Jane is selfless and thinks outside of the box.
So, after you have read and discussed this picture book, ask your students to write a character profile of Jane. This activity encourages students to focus on the power of characterisation when creating texts. Use our Free Download: Detailed Character Profile Worksheet to help your students to organise their ideas.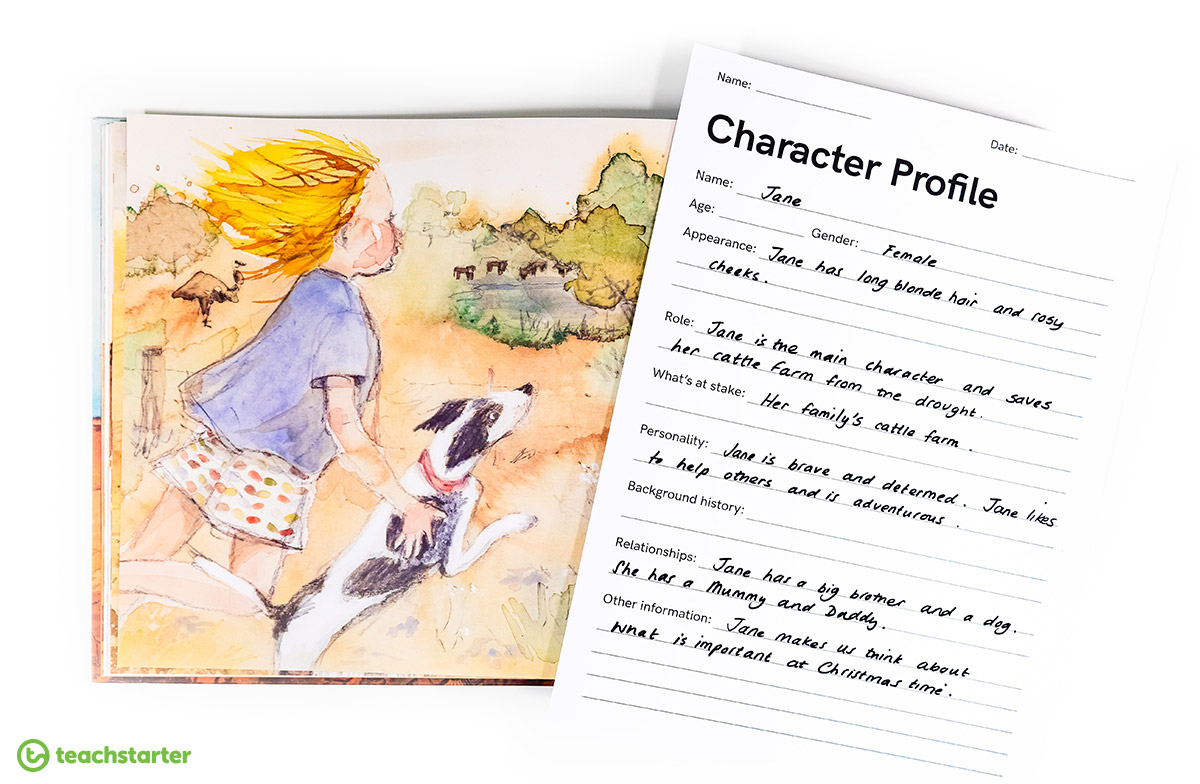 ---
Poetry
Your students will love to create their own poems by adapting the language features of All I Want for Christmas is Rain. The presentation of rhyming couplets in this picture book lends itself well to writing simple poetry that includes rhythm and rhyme.
'Our dams are dry and our pastures are brown
This big lack of rain has got us all down.'
Get your poetry activity started by making a class list if the rhyming couplets used in All I Want for Christmas is Rain.
Follow this by:
Brainstorming other rhyming couplets related to the hot, dry weather of the Australian outback or cattle farms.
Re-reading the narrative and discussing what might happen next in the story.
Writing a short poem, using rhyming couplets, that tells the story of what happens after the rainfall.
Take a look at out our Poetry Teaching Resource Collection for everything you need to teach poetry.
---
Music Activity – Make a Rainmaker
Why not get crafty and create rainmakers?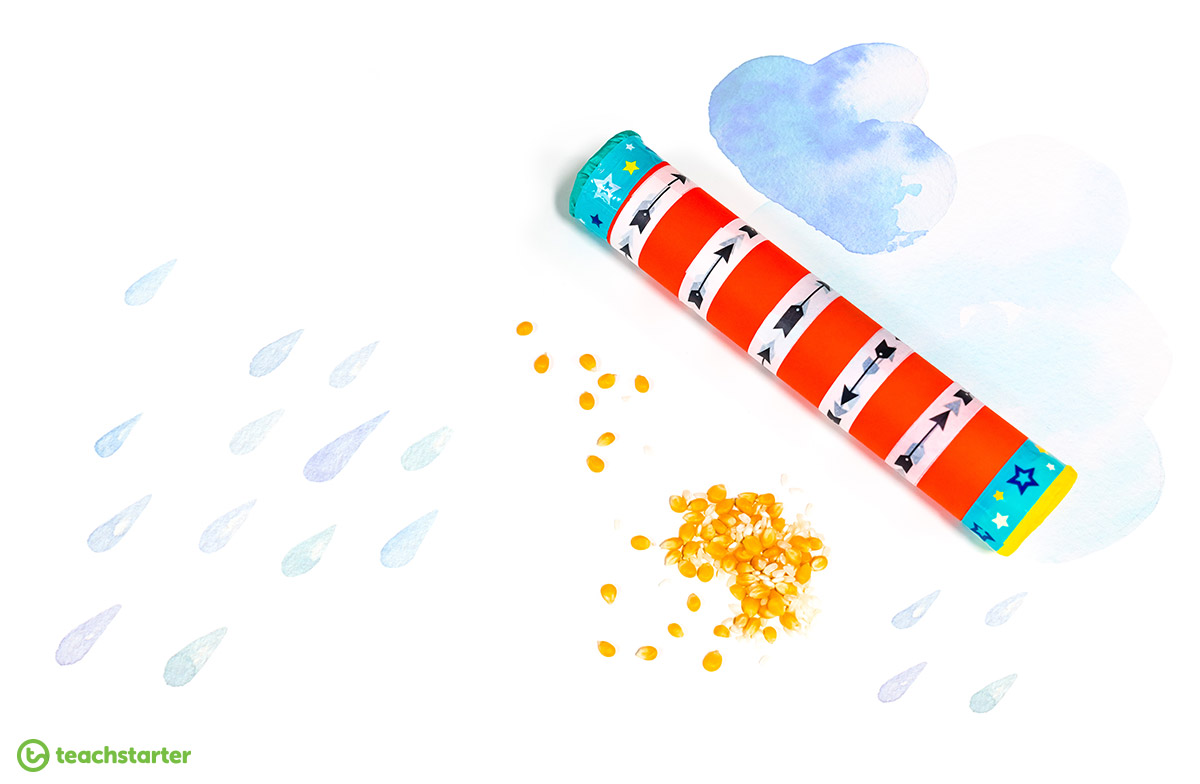 First, get started by listening to rain sound effects.
Next, ask your students to describe how the sound of rain makes them feel, and discuss how the sound of rain made Jane and her family feel.
How to Make a Rainmaker:
Decorate a long cardboard tube.
Cover one end 4 x layered patty cases and secure with tape.
Twist a long sheet of aluminium foil and place inside of the tube (this slows down the fall of the rice and kernels).
Add a mix of popping corn kernels and uncooked rice.
Cover the other end of the tube with 4x patty cases and secure with tape.
---
Rain Cloud Science Experience
I love the idea of making links between the picture book All I Want for Christmas is Rain and science. For a fun science experiment download our Rain Cloud in a Jar Experiment.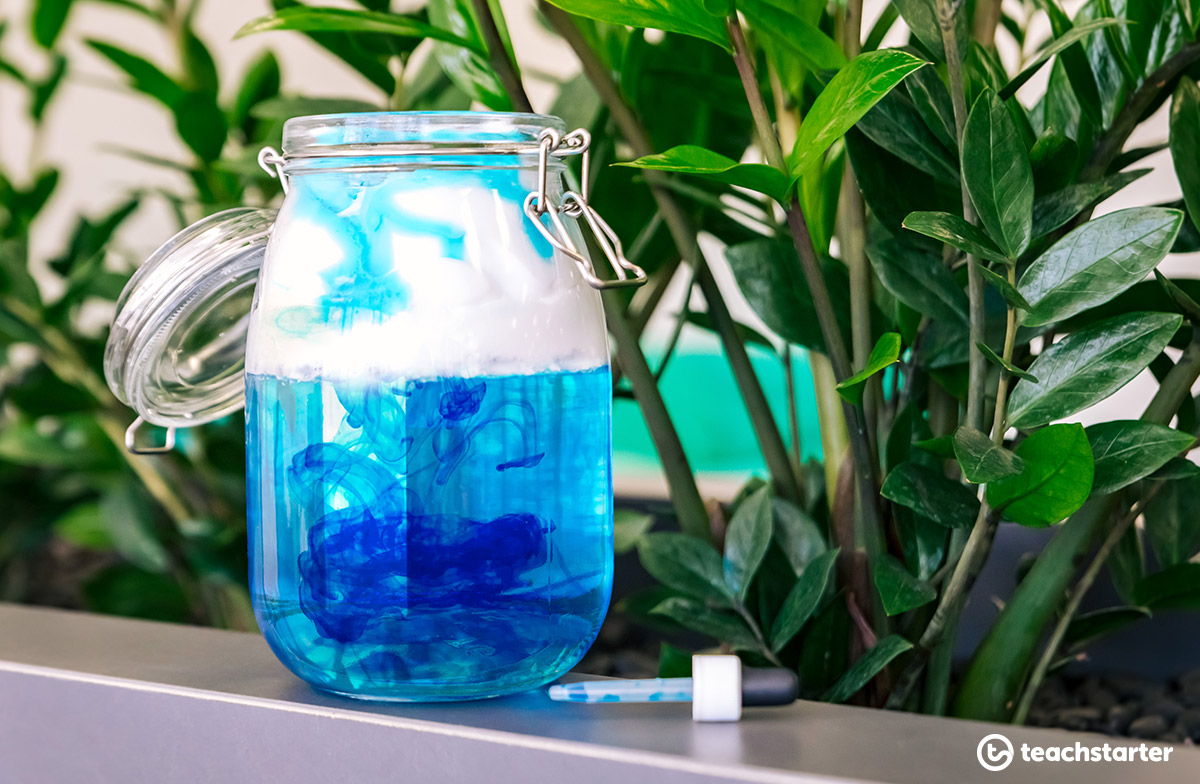 Our All About Clouds Teaching Resource Pack makes easy work of teaching and learning about how clouds are formed and the different types of clouds.
---
Comic Strip
Retelling a story is a great way to improve reading comprehension. Our Blank Comic Strip Template makes light work of ruling up pages and will help your students to organise their ideas. I love comic strips because they offer a less formal writing structure and are accessible for all ability levels.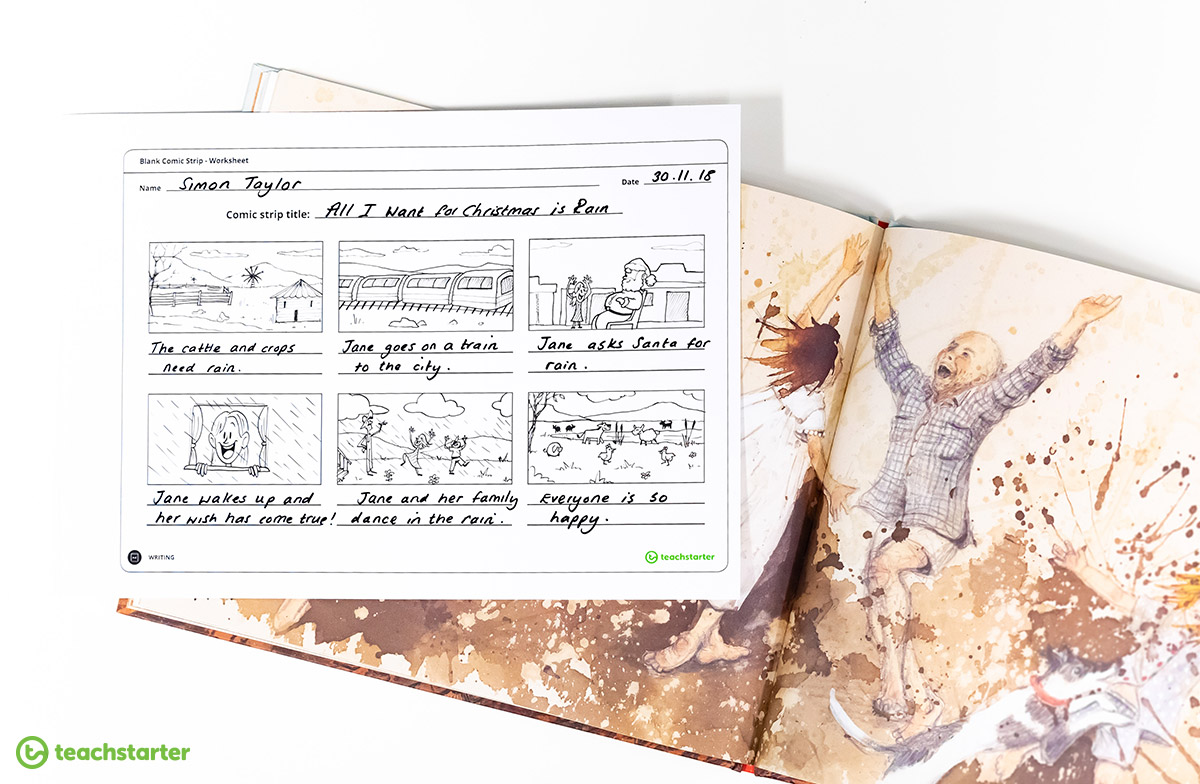 Teaching Tip: As a class, re-read All I want for Christmas is Rain and work together to identify six key events in the narrative of the picture book.
---
Natural Disaster Research Task
Upper years students love open-ended tasks. So, why not challenge your students to research the causes and impacts of natural disasters, including drought. This activity lends itself to students delivering short presentations to develop speaking and listening skills.
Create an impressive classroom display by downloading our Natural Disaster Posters and head to our Higher-order Thinking Collection to encourage critical thinking.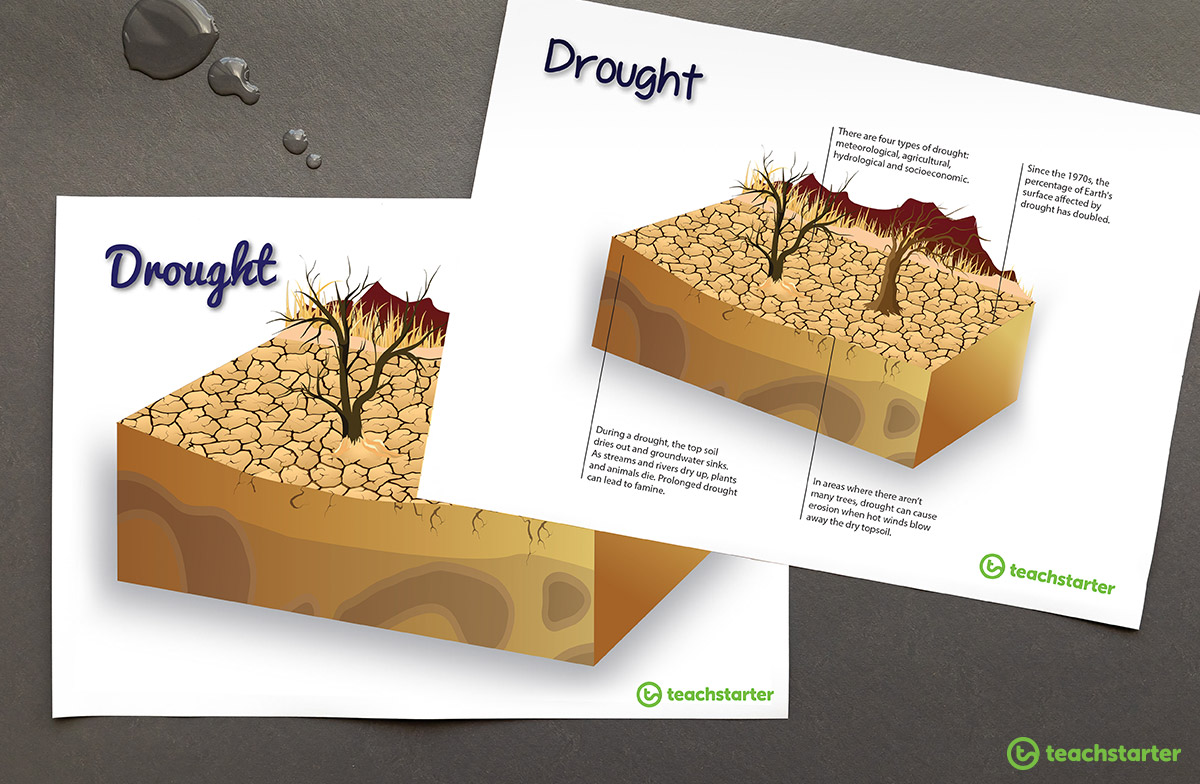 Here at Teach Starter, we do our best to care for the environment and promote sustainability. Check out our Sustainability Teaching Resources for a huge collection of teaching resources, including these ones related to water conservation!
---
 Share All I Want for Christmas is Rain with your class this year and try one or more of these activities!
Share your photos on Instagram #teachstarter
All I Want for Christmas is Rain
Written by Cori Brooke
Illustrated by Megan Forward
Children's Picture Book
Published in 2016 by New Frontier Publishing Pty Ltd
Paperback available at Booktopia