Are you after an amazing activity to finish off the term? One that's jam-packed with educational content, but feels like a break from all the hard work you've been doing! We've come up with something to bring the wow-factor to your last few weeks of school… An integrated learning adventure so fun, it'll engage even the most exhausted of students, and make counting down the days until the holidays a breeze.
What is Integrated Learning?
Integrated learning is a wonderful term to describe an activity that brings together elements from different areas of the curriculum. It involves connecting skills and knowledge from multiple learning areas! In this way, students make connections across their curriculum and, in doing so, form a greater understanding of taught concepts.
---
Integrated Learning Adventure: The Missing Mona Lisa
I won't keep you in suspense any longer! Take a look at Teach Starter's first (but not last) integrated learning adventure; The Missing Mona Lisa.
The Mona Lisa has vanished! This immersive tale of lies and intrigue takes students on an adventure to the Louvre, France. Can your students find the clues and crack the case?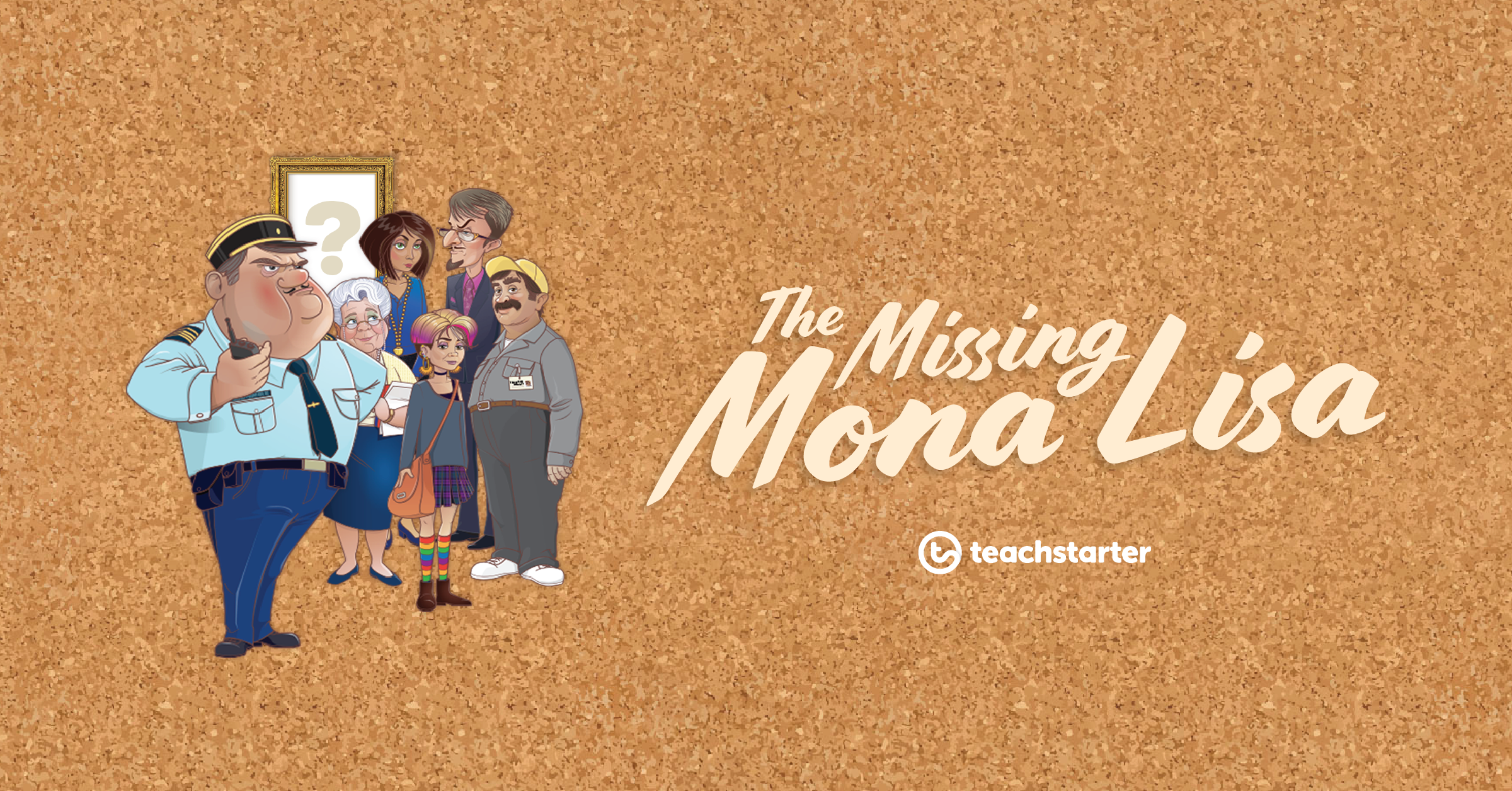 This adventure has been specifically designed for Year 5 and 6, however the content may be slightly modified to suit other year levels – there's no reason the rest of the grades should miss out! It's the perfect unit to tie off the end of a certainly 'adventurous' year!
Already have a jam-packed last few weeks of term? That's no problem – save this exciting unit of work for next term and do one lesson a week.
A Unit Plan Full of Adventure
Over the course of 9 chapters (or lessons), your students will take on the role of 'adventure agents'; together, they will read through witness statements, meet the suspects and start to piece together evidence!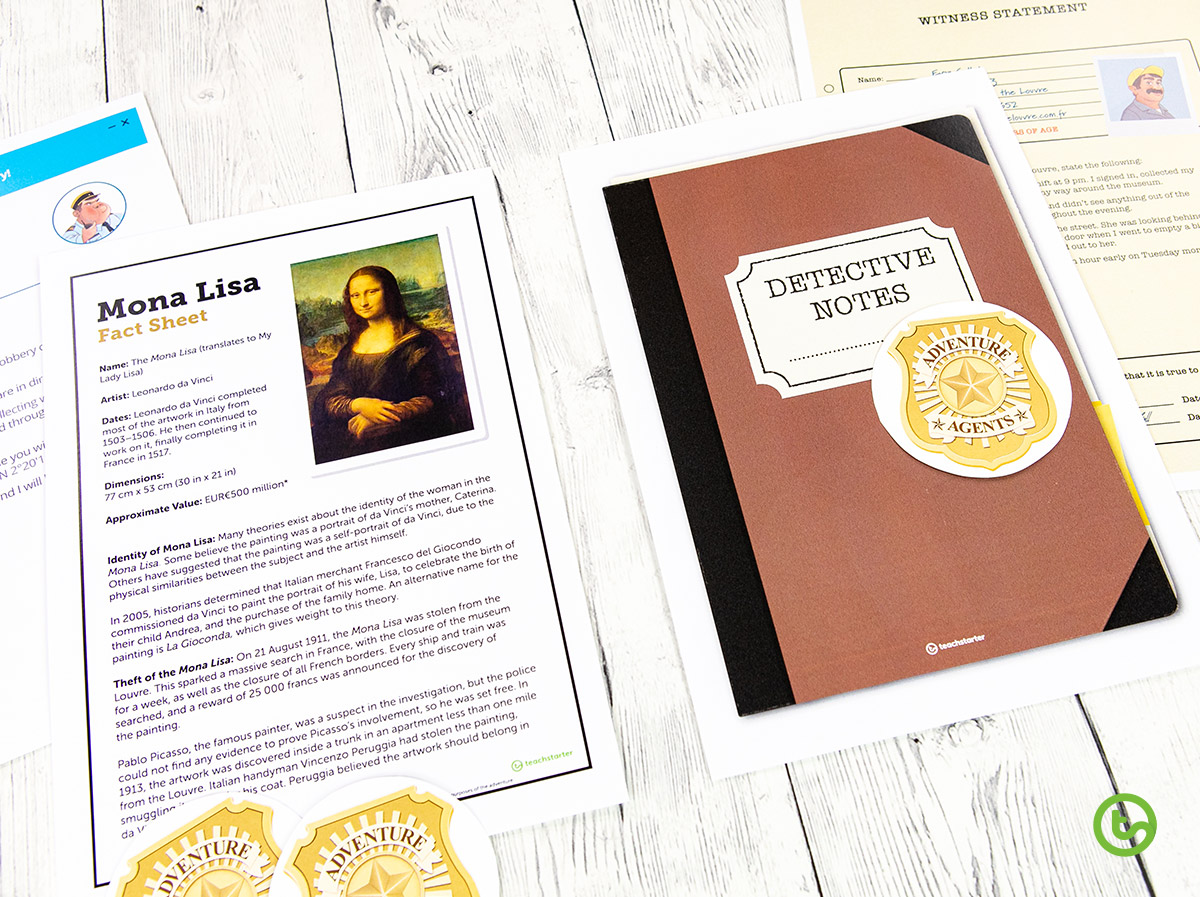 Study the evidence provided and complete the activities to solve the mystery!
Using investigation and research skills, your class will follow the twists and turns of the story as they immerse themselves in the world of the Louvre. As they start to decipher the clues, they will need to justify their suspicions before they catch the criminal.
Curriculum-Aligned Lessons
Each chapter in this unit is curriculum-aligned to ensure your students are getting the most out of their adventure!
When downloading each chapter, you'll receive detailed teacher notes with relevant curriculum codes and cross-curriculum links. As well as this, you'll also get information on how each lesson helps students to develop 21st-century and higher-order thinking skills.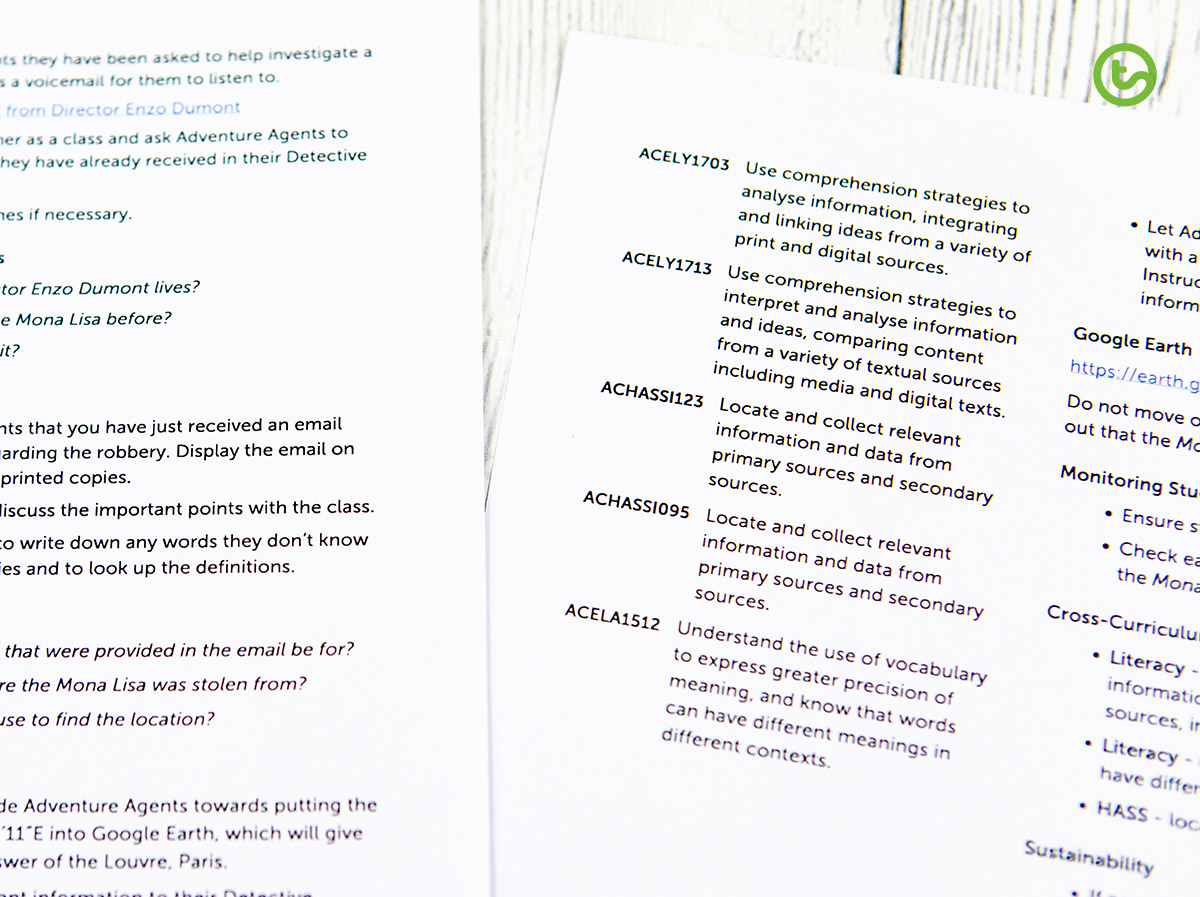 The lessons in this unit give you everything you need to assess student knowledge and understanding. On top of this, you'll also be provided with suggested discussion questions for each stage of each lesson.
Fun and Engaging Resources
It's up to you, the teacher, to set the mood for this exciting learning journey! Read through the teacher notes carefully.
Deliver this unit with drama and flair to make it immersive and exciting!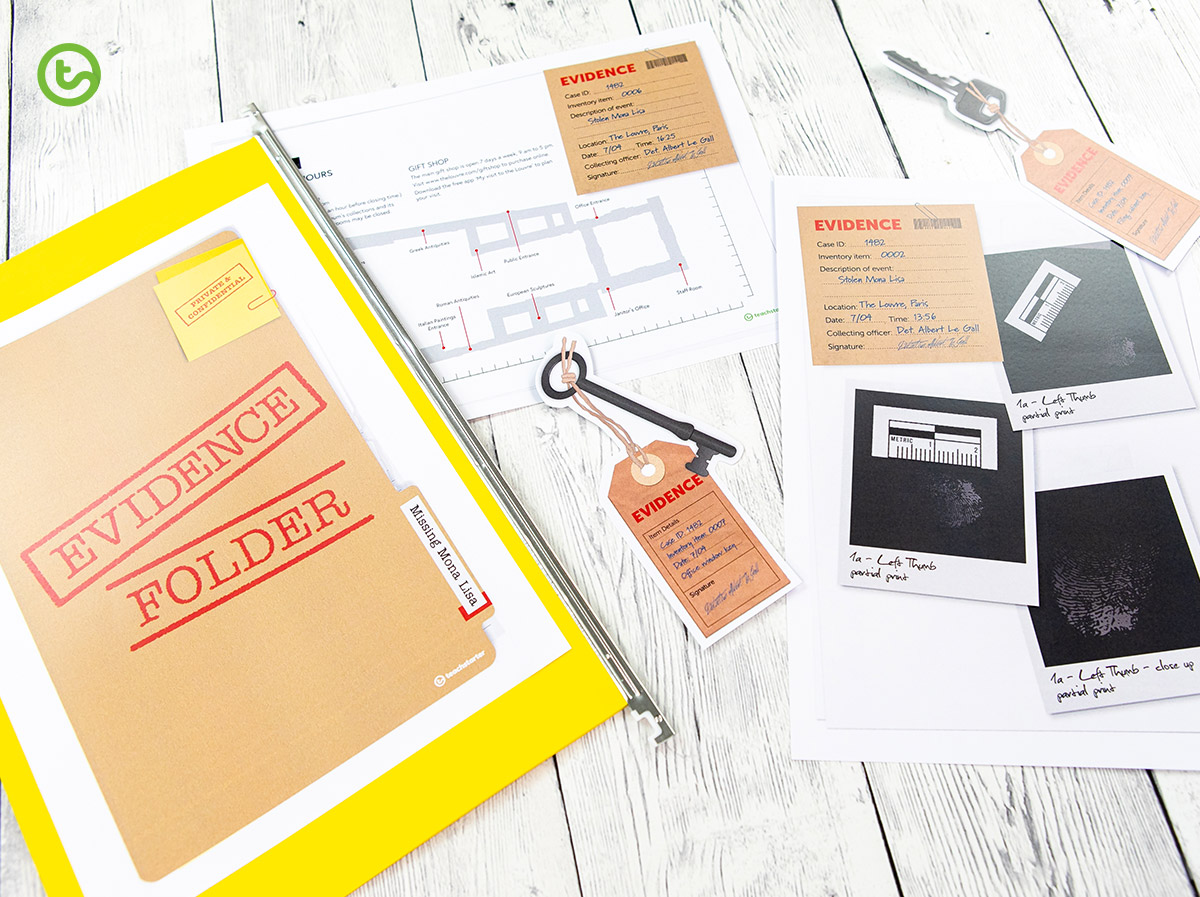 There are so many engaging resources in this unit to help your students feel like they are real adventure agents. They will wade through evidence, witness statements, police reports, character profiles, timetables, audio content and transcripts… the list goes on!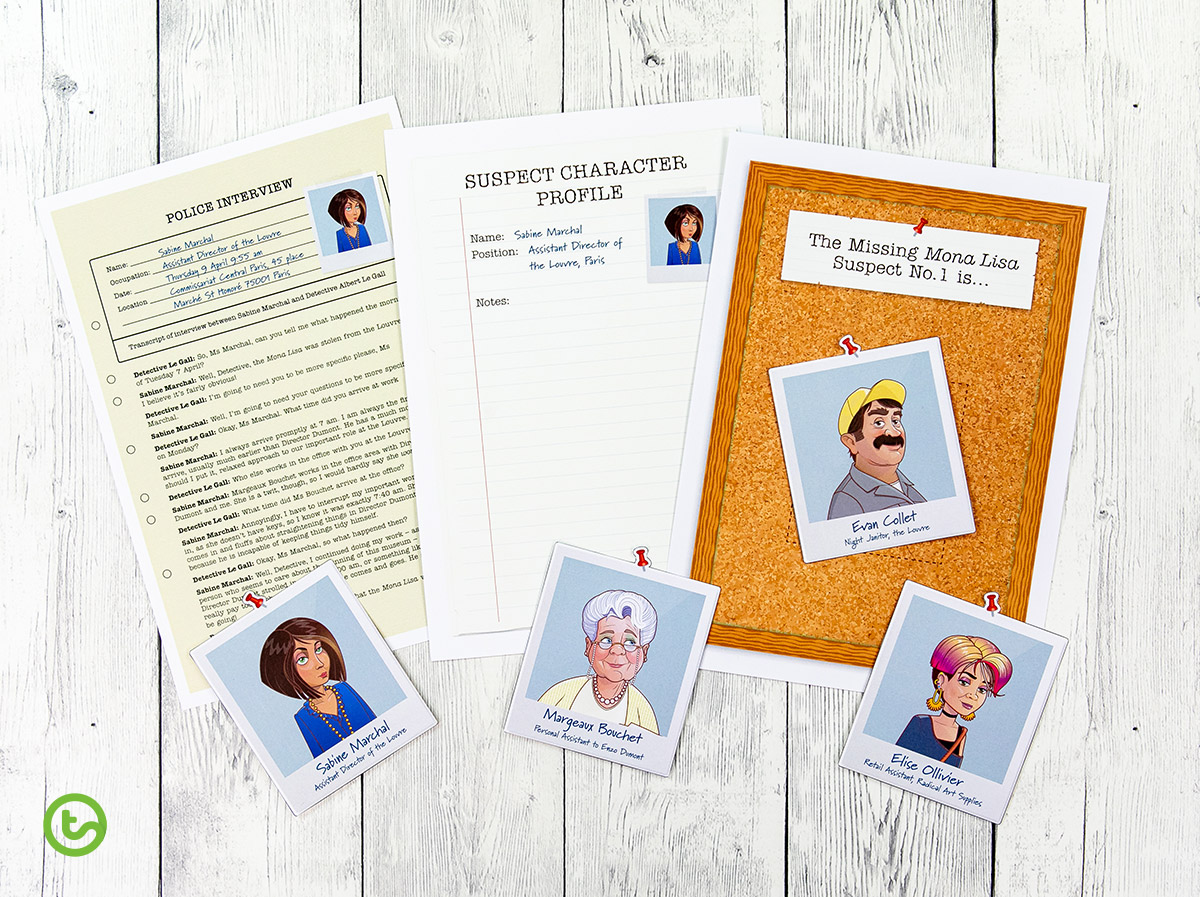 As well as these hands-on resources, your class will use their mathematics and literacy skills to complete timelines, write newspaper reports, provide persuasive writing samples and decipher codes. All of these activities build on knowledge and understanding to help your students connect the dots between their key learning areas.
---
Don't delay! Get on the case today!
Find this amazing resource by clicking the link below:
And make sure you keep an eye out for some more amazing adventures coming soon!