Do you share meaningful Anzac Day activities in your classroom?
Anzac Day is held annually on April 25. On this day, we commemorate the brave men and women of the Australian and New Zealand Army Corps who have served or are serving our country.
Building understanding and respect for this day with Anzac Day resources for our students is incredibly important! However, it can sometimes be tricky due to the solemn nature of the occasion.
Anzac Day can be a daunting prospect for some students. Getting up early for the Dawn Service, listening to sad stories about missed loved ones, even being confronted with the harshness of war – concepts such as these can sometimes be difficult to relate to in the classroom.
Meaningful Anzac Day Activities
As teachers, we want to provide purposeful activities and resources for our students which help them build meaning for this serious commemoration. But we also want them to understand that Anzac Day isn't just about sadness and loss – it's also about celebrating bravery and taking the time to pay our respects to the soldiers who have returned home.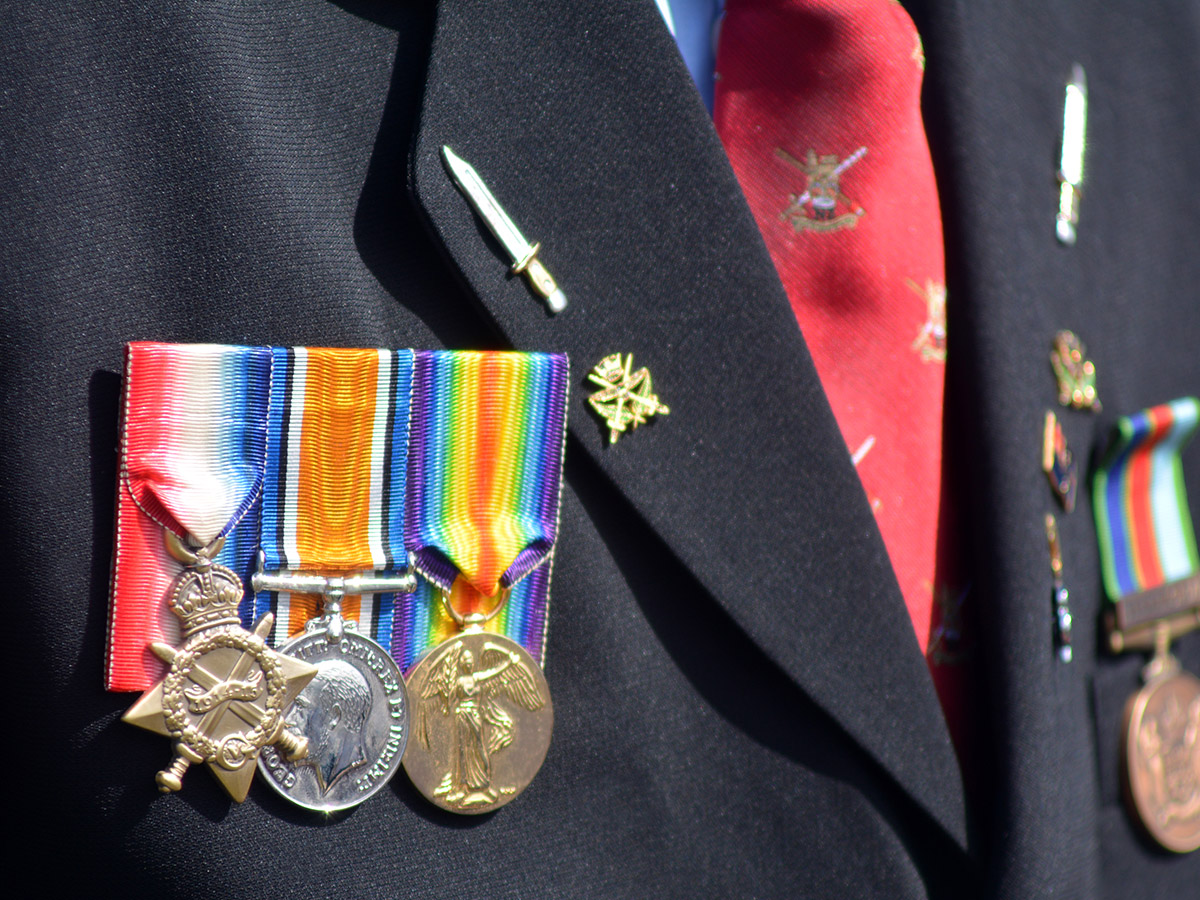 We've developed a range of resources which help your students build understanding about Anzac Day. Relating with empathy to the events of war and the bravery of the service men and women will be easy for your kids once they build their knowledge of the occasion!
---
Lest We Forget
The beautiful book Lest We Forget, written by Kerry Brown and illustrated by Isobel Knowles and Benjamin Portes, is a wonderful example of how students can relate events in their everyday lives to the experiences of a soldier in World War 1.
It also serves as a great reminder about why we should pay our respects to the service men and women still living.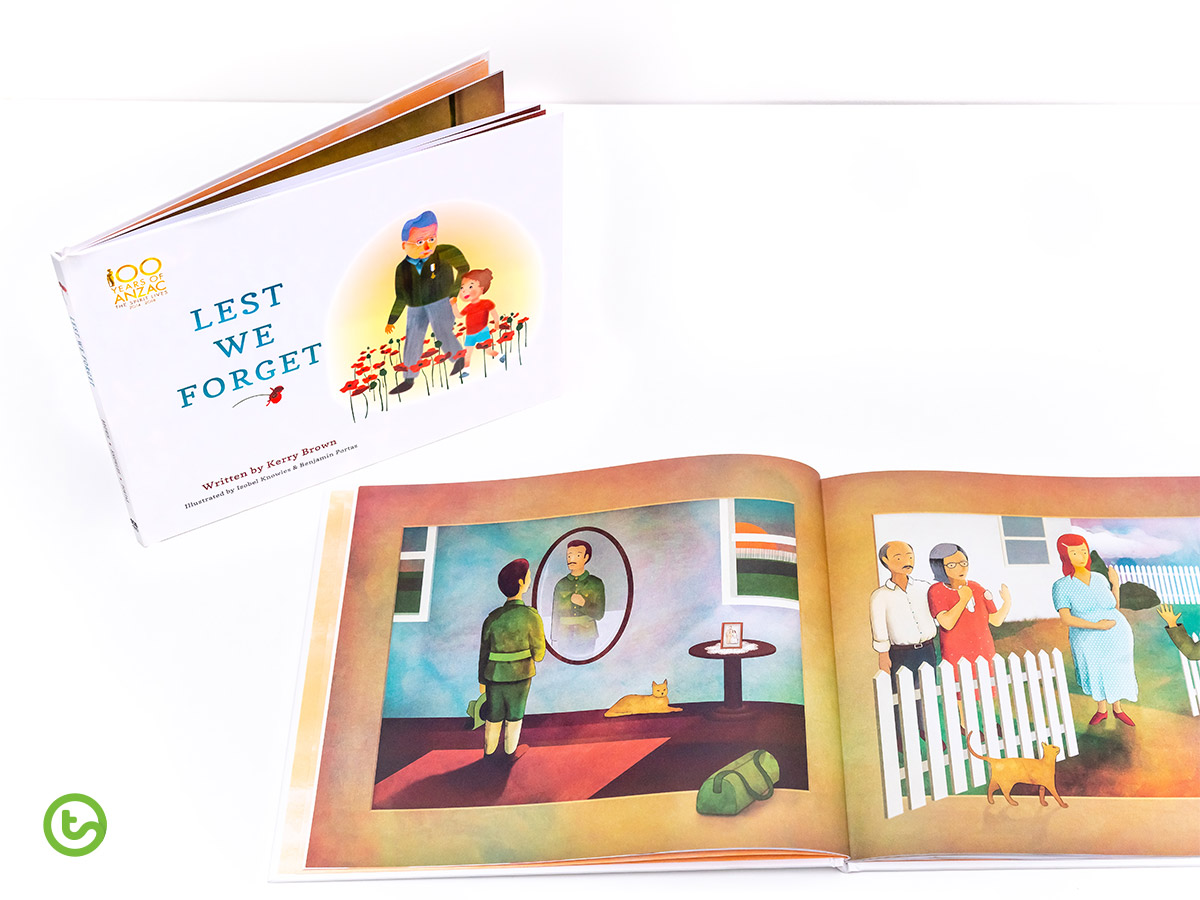 Read the book and discuss the content with your class. You may like to link some classroom activities to the reading of the book.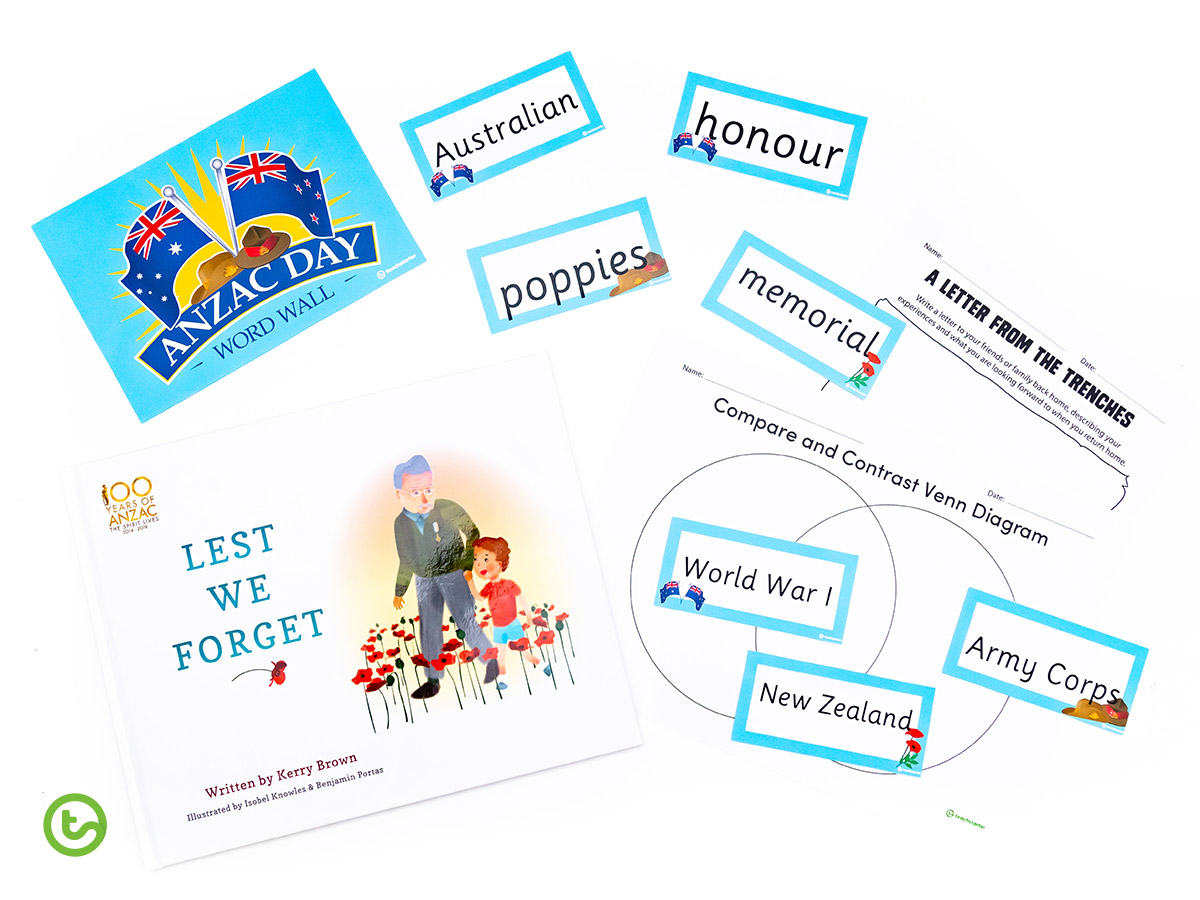 Discuss Anzac Day Vocabulary
This wonderful book is full of Anzac Day vocabulary. Discuss these words in conjunction with our Anzac Day Word Wall Vocabulary to create a wonderful Anzac Day display! Having a space dedicated to Anzac Day in your classroom is a meaningful way to create discussion and awareness in the lead up to the day.
Compare and Contrast
Your students will benefit from being able to relate to the experiences of the soldiers going to war, and putting events in their own life into perspective.
Use a Compare and Contrast – Venn Diagram Template to compare an event between the boy and the soldier's life. What are the similarities and differences between going to school for the first time and going to war, for example?
A Letter From the Trenches
Once your students have put themselves in a soldier's shoes, have them complete a Letter from the Trenches – Worksheet. Students can pretend to be a soldier or nurse, writing home to their loved ones.
For a historical twist, stain your letters with teabags after they've been written and display them in your classroom alongside your Anzac Day Vocabulary!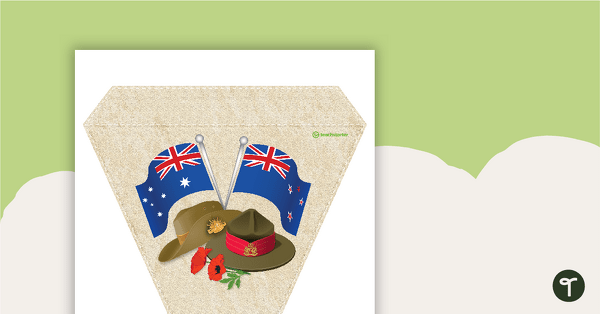 teaching resource
A set of bunting flags for Anzac Day.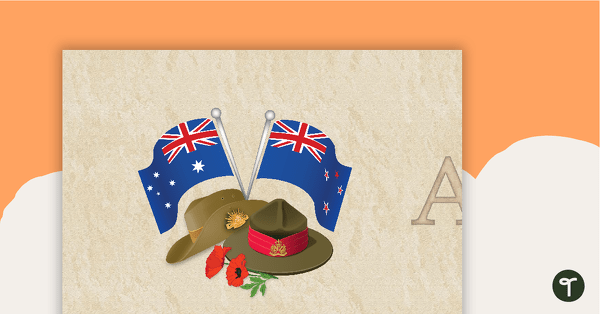 teaching resource
A printable Anzac Day display banner.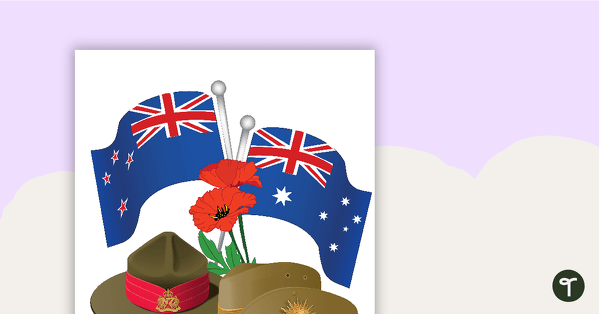 teaching resource
A Gallipoli poster to display in the classroom.
teaching resource
An Australia and New Zealand themed cork board/whiteboard border set.
---
Anzac Day Geography Lesson
Students will appreciate being able to envisage the space in which the Battle of Gallipoli took place.
Discuss with them the history of Gallipoli and the location of the infamous battle in several meaningful lessons.
The Gallipoli Campaign
The Gallipoli Campaign was an attack on the Gallipoli peninsula during World War 1, between 25 April 1915 and 9 January 1916.
This comprehension resource will give your students the background information they need to know about the story of the Gallipoli Campaign. Ask your students to complete the Gallipoli Campaign – Worksheets cloze activity and then prompt them with further questions to encourage insightful discussion:
How long did the Gallipoli campaign last for? Why do you think it lasted that long?
What do they mean by "The campaign was a brave but costly failure."?
Gallipoli 5 W's
Use your class's discussion about the Gallipoli Campaign to complete the Gallipoli 5 W's Worksheet. Write who, what, when, where and why facts about the Gallipoli Campaign based on the information above, or even task your students with researching the event!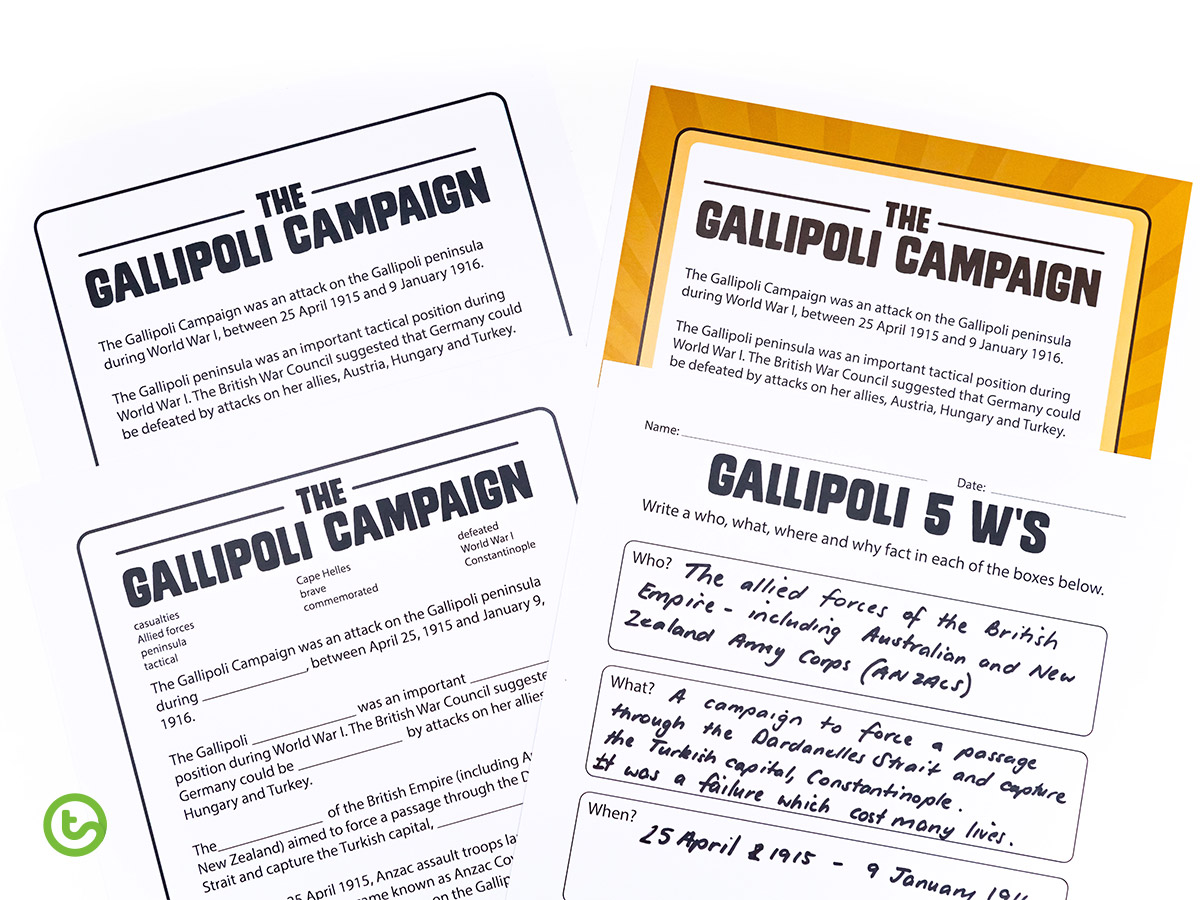 Mapping Gallipoli
Use this collection of World War One Maps with your students in the classroom when learning about WWI, Gallipoli and the Anzacs.
This teaching resource includes:
map of the Gallipoli Peninsula
black and white map of the Gallipoli Peninsula
World War One  map of Europe
a recent map of Europe.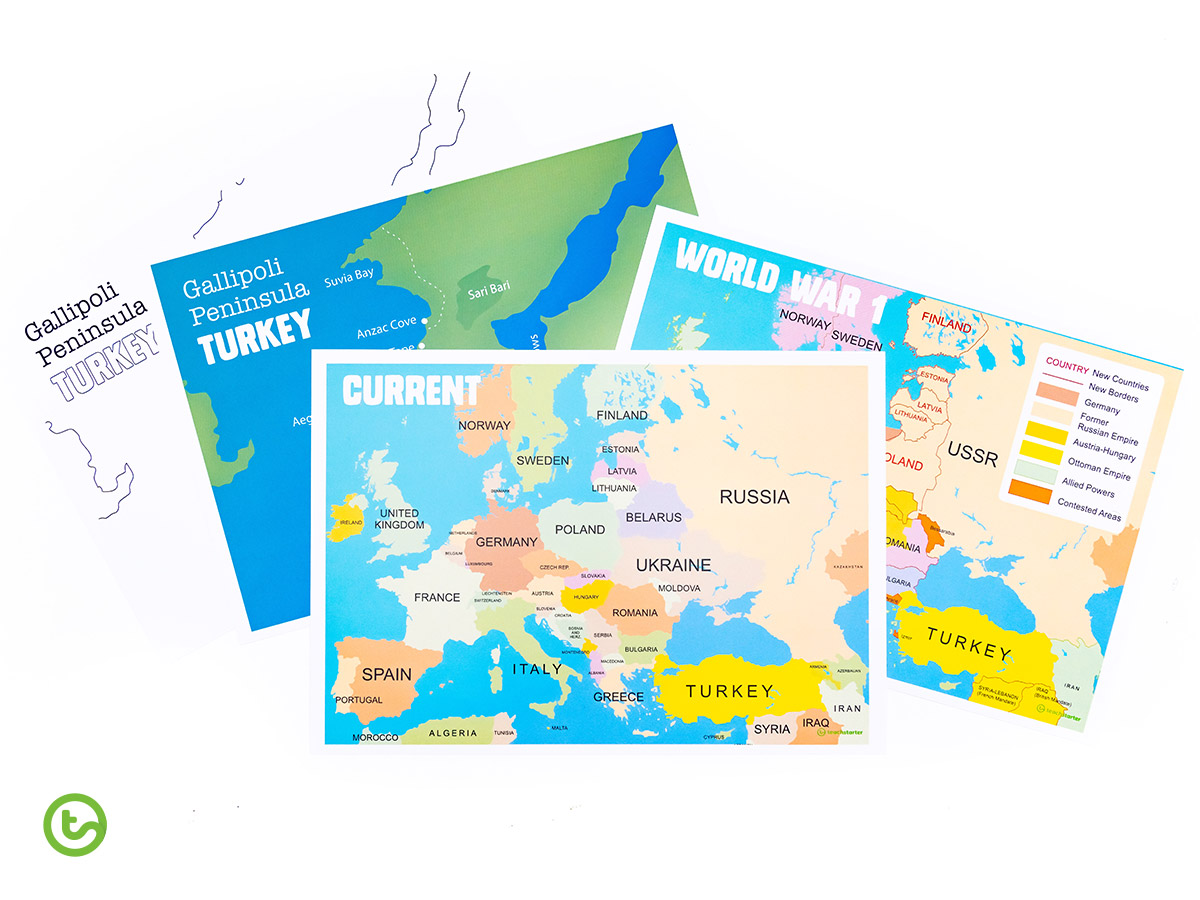 Track the route of the Anzacs as they approached the Gallipoli Peninsula. Why not compare the layout of Europe during World War 1 and today, and make comments about why these changes came about?
---
Study the ANZACS
Poetry Study
Studying the emotion behind poetry from World War 1 can be an incredibly thought-provoking way to engage older students in the feelings elicited by war.
Read through For the Fallen by Laurence Binyon and complete the comprehension questions provided in the resource For The Fallen – Gallipoli Poem.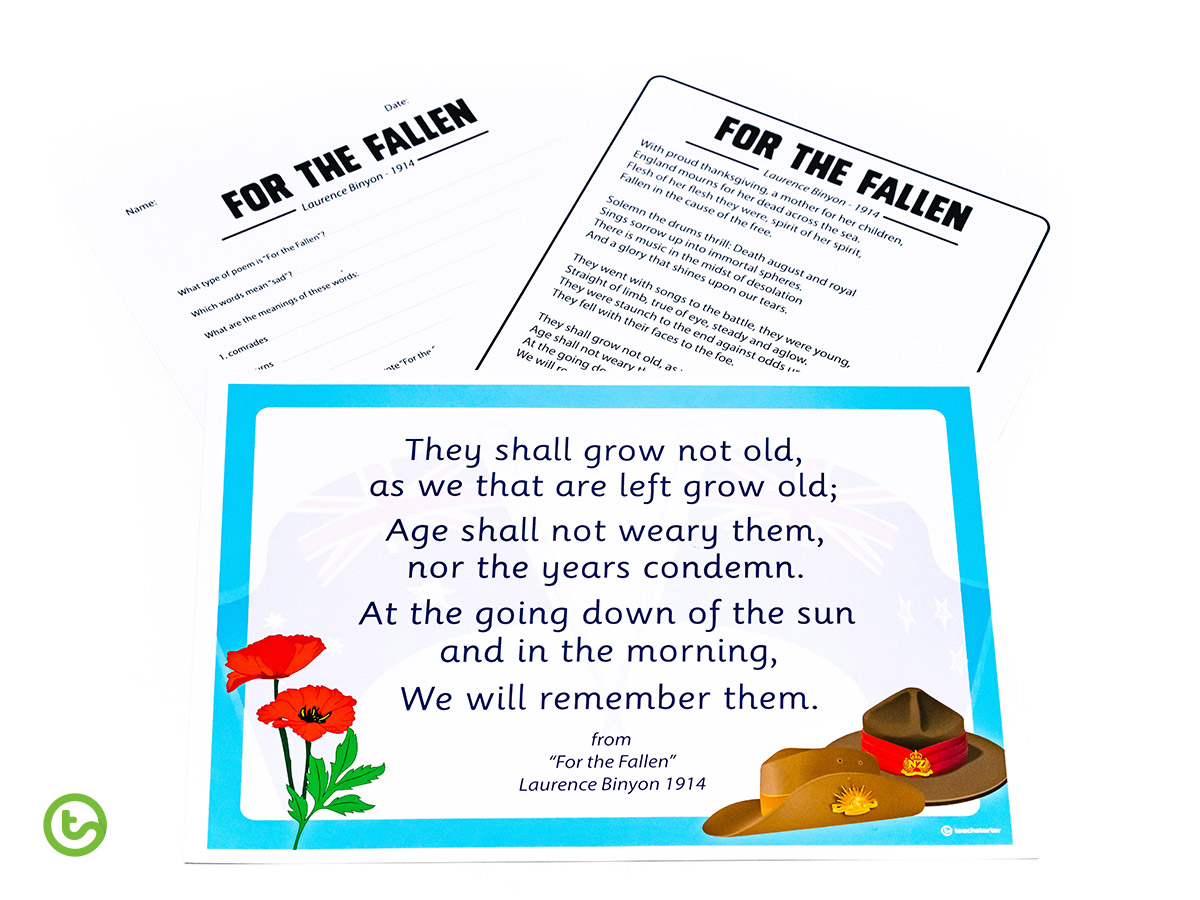 Display our Anzac Day Ode of Remembrance Poster on your class display and discuss the importance of the ode and the particular lines (written above) which are read out at Anzac Day ceremonies on Anzac Day.
What do your students think the author was trying to convey with these lines? Use our Poetry Analysis Template to kick start your students' thinking.
Women in WW1
Often when studying the Anzacs, the focus can be on the male soldiers who sacrificed their lives at the front.
Encourage your students to think about the brave women who stayed home to run the country in the men's absence. Our resource Women In World War One explores the role played by women while the men went off to war.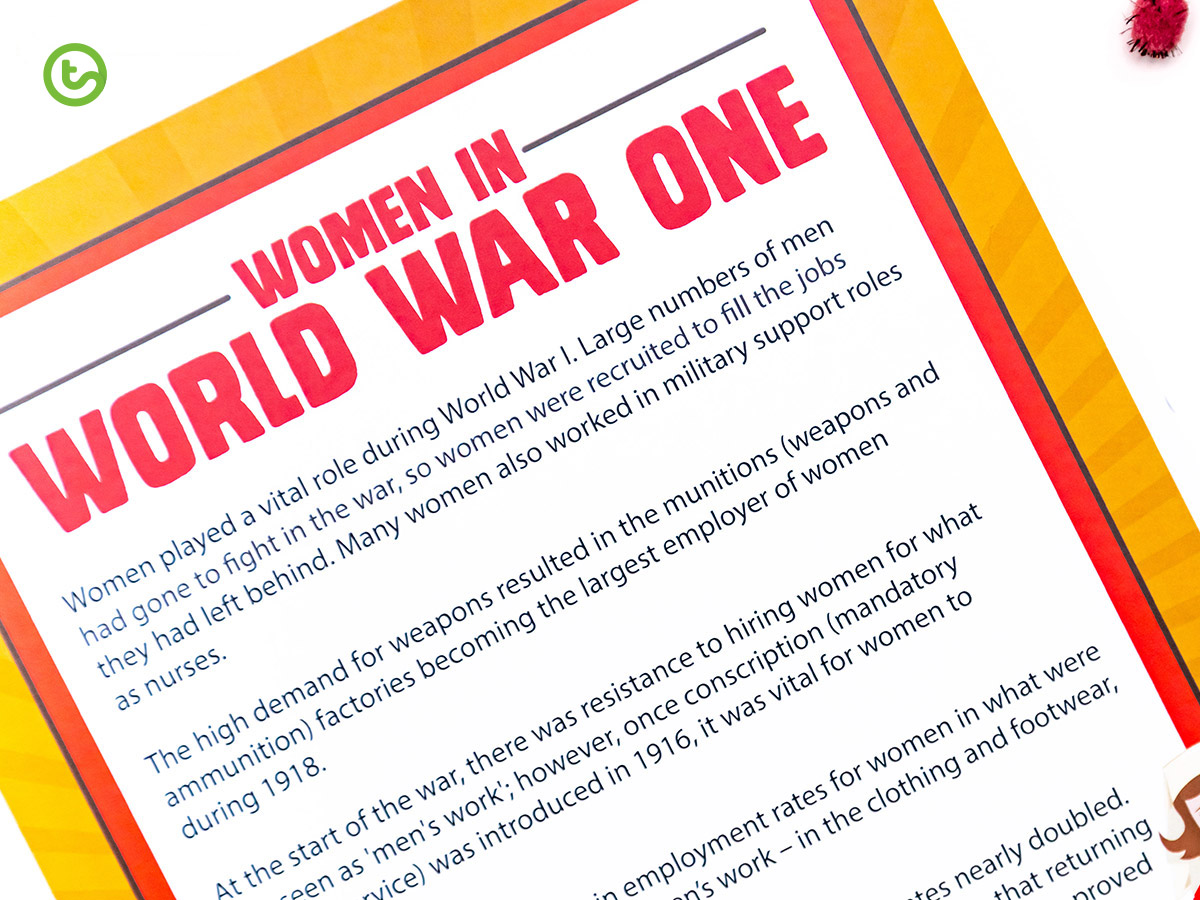 This resource works as a great prompt to discuss the changing face of women in the workforce after the World Wars! Our Life in Australia in the 20th Century PowerPoint will help your students put this into perspective with social norms of the time. Why not encourage your students to create a poster encouraging women to join the workforce?
Interview a Veteran
Perhaps the easiest way for your students to relate to veterans of war is to interview a returned serviceperson. Create a respectful dialogue between generations with our Interview A Veteran – Question Prompts.
---
Anzac Day Symbols
Studying Anzac Day symbols provides a look into the past through a hands-on perspective. These Anzac Day activities will help your students recognise the significance behind these symbols.
Bake Biscuits
I know that when Anzac Day rolls around, I'll be whipping up a batch of delicious Anzac Biscuits!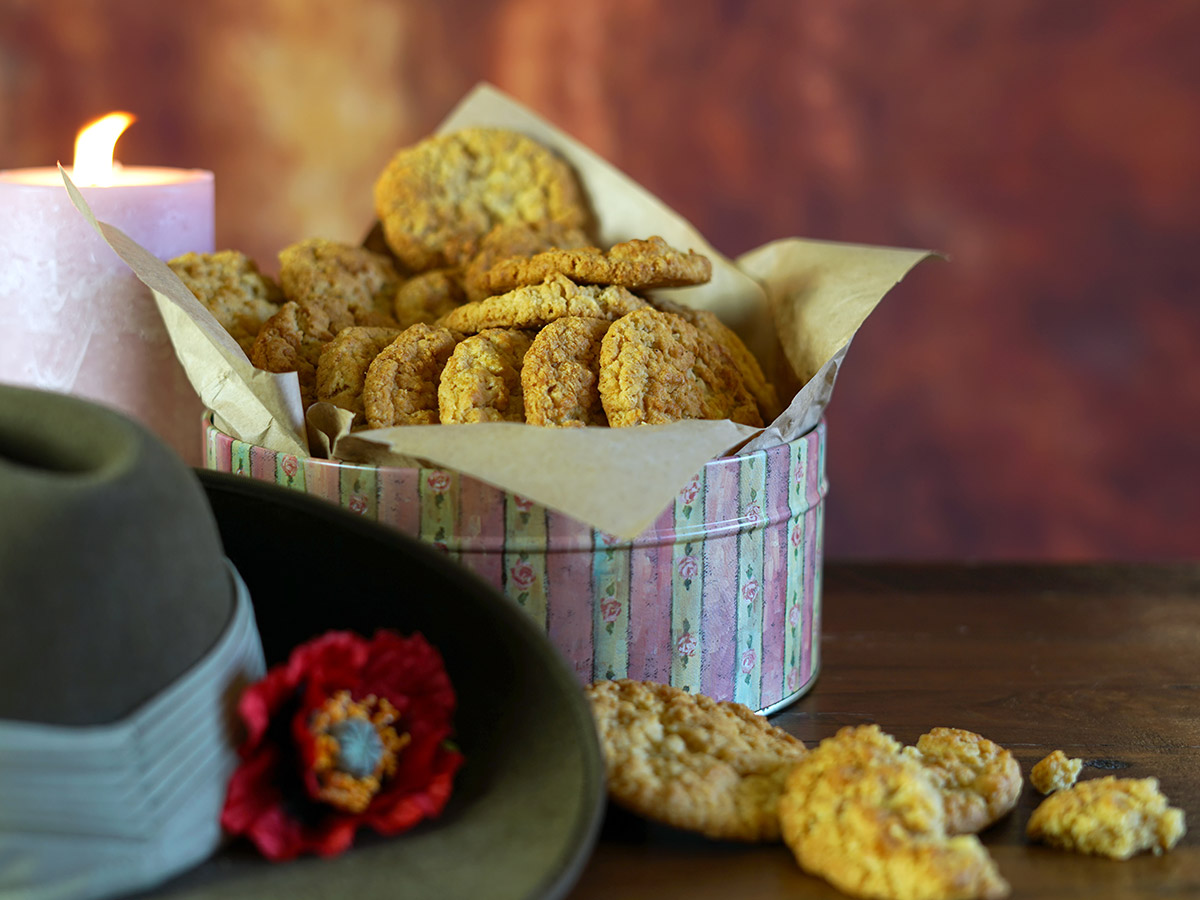 During World War One, savoury hardtack biscuits were sent to the Australian and New Zealand Army Corps serving overseas. These biscuits became known as Anzac biscuits and are still traditionally made for Anzac Day each year. They may not be so savoury anymore, but the symbolism remains the same!
Print this  Anzac Biscuit Recipe when baking or talking about Anzac biscuits with your students. Why not use it as part of a Procedural Text Unit?
Make a mosaic poppy
This new resource puts a crafty twist on an Anzac favourite.
This Mosaic Poppy Art Activity will create a stunningly symbolic addition to your classroom display.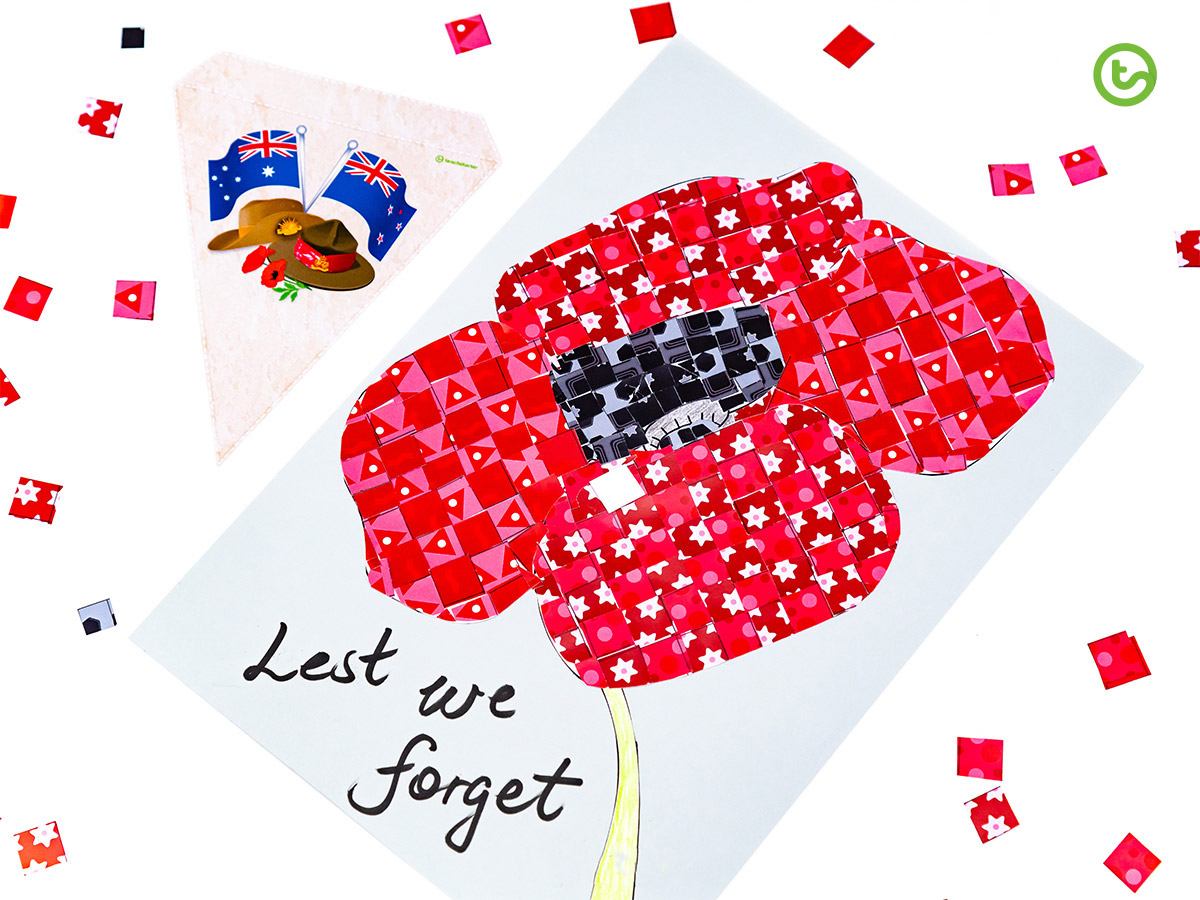 Students will be able to personalise their poppy by choosing from black and red mosaic grids. Alternatively, use magazines and other scrap paper to complete this fun activity!
Make a Wreath
Wreaths are perhaps the most symbolic of all Anzac Day ornaments. The laying of a wreath on a memorial shows respect for those who died in their service of our country.
Young students will love the opportunity to complete this simple Anzac Day Wreath Template.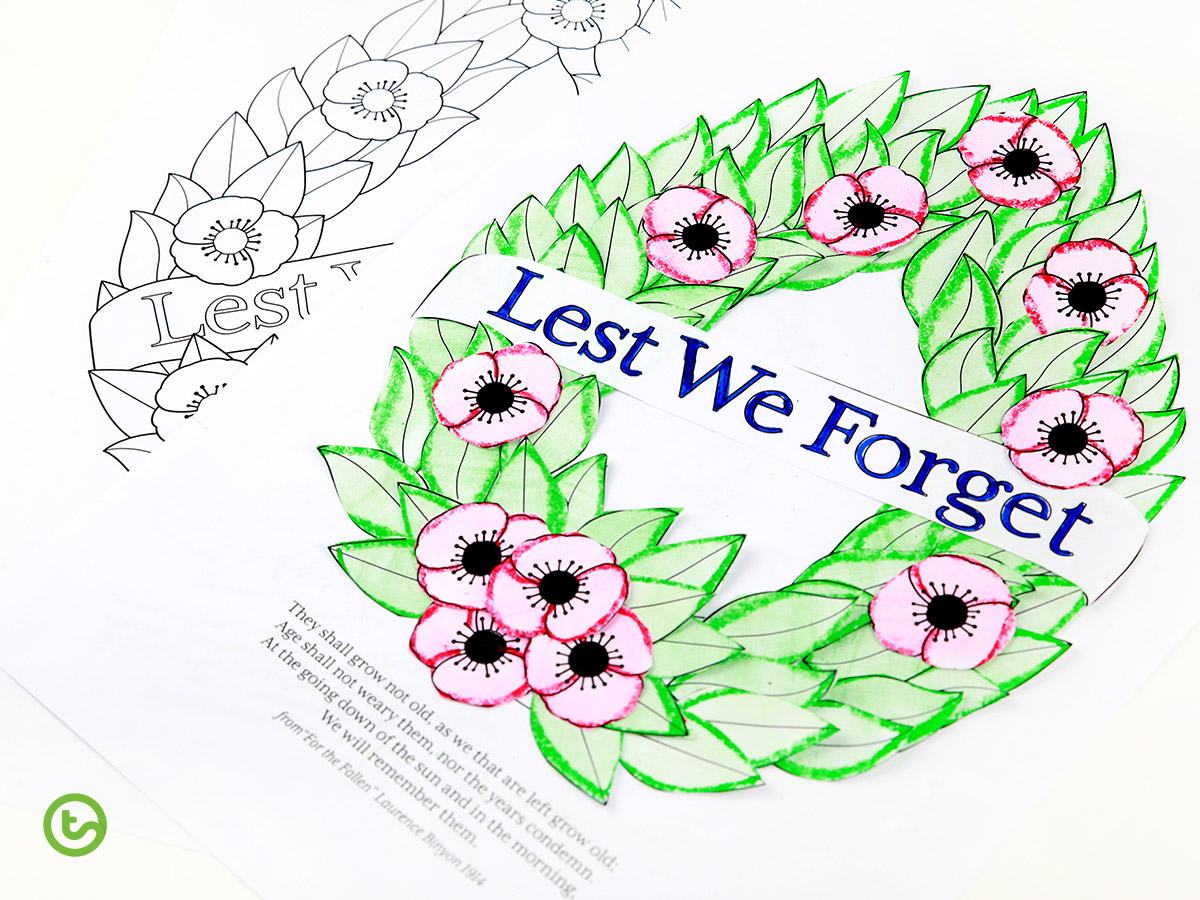 You may recognise this wonderful wreath from Cassie's blog 22 Thoughtful Anzac Day Activities and Resources. Head on over there for even more wonderful Anzac Day activities!
Help your students show their respect this Anzac Day, April 25.
Commemorate the brave men and women who have served our country and build understanding with meaningful Anzac Day activities.