Hot news… the results of our first-ever teacher survey are in! So, what's it all about, and why is it important to you? We launched our very own teachers' survey – The Education Pulse – to provide Australian teachers with a platform to express opinions and to empower the teaching community. The Education Pulse will be released quarterly with new survey results regarding a variety of topics.
Take a look at the astounding results of our debut health and wellbeing survey!
At Teach Starter, we have always been huge advocates for teachers' wellbeing. So much so, we have a whole section of our blog dedicated to Life and Wellness.
Listen to our Product Manager Amy Leigh chat with Bronwyn on our podcast – For the Love of Teaching – about the results of this survey.
You can also download the infographic The Education Pulse – Health and Wellbeing Survey Results if you'd like to share it with your colleagues.
---
The Results – Australian Teachers' Health and Wellbeing
An astounding 670 Australian teachers responded to our survey! We were so grateful that the Australian teaching community helped share our survey and encouraged others to take part. As a result, we have been able to gather a huge amount of helpful and critical information around the topic of teacher health and wellbeing. So, thank you to each and every one of you who helped us spread the word.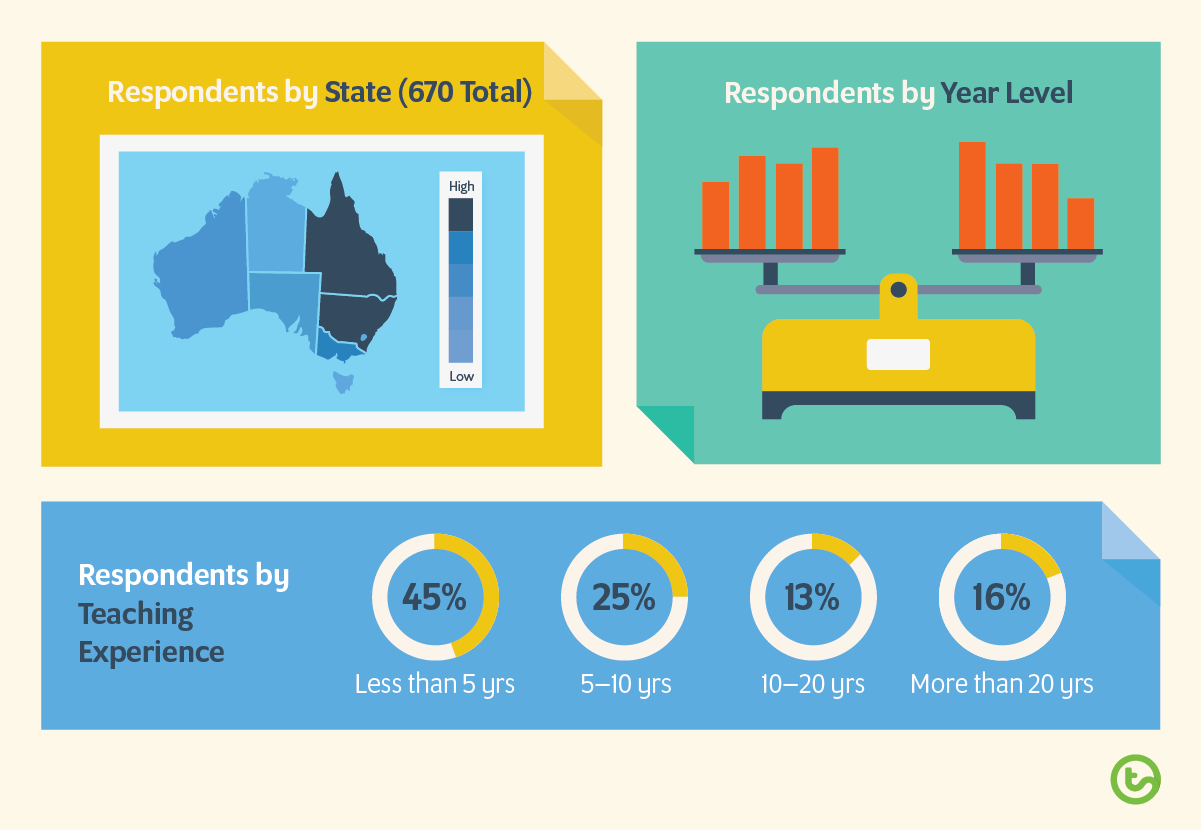 Overall, the respondents to the survey were typical of the populated areas. Almost half of the respondents had less than 5 years teaching experience. Respondents by year level were fairly even across the board.
---
Average Hours Worked by Teachers
A huge 76% of respondents said that they work an average of 40+ hours a week.  What's more, 31% said they work greater than 50 hours in any given week.
So much for working 9-3 hey?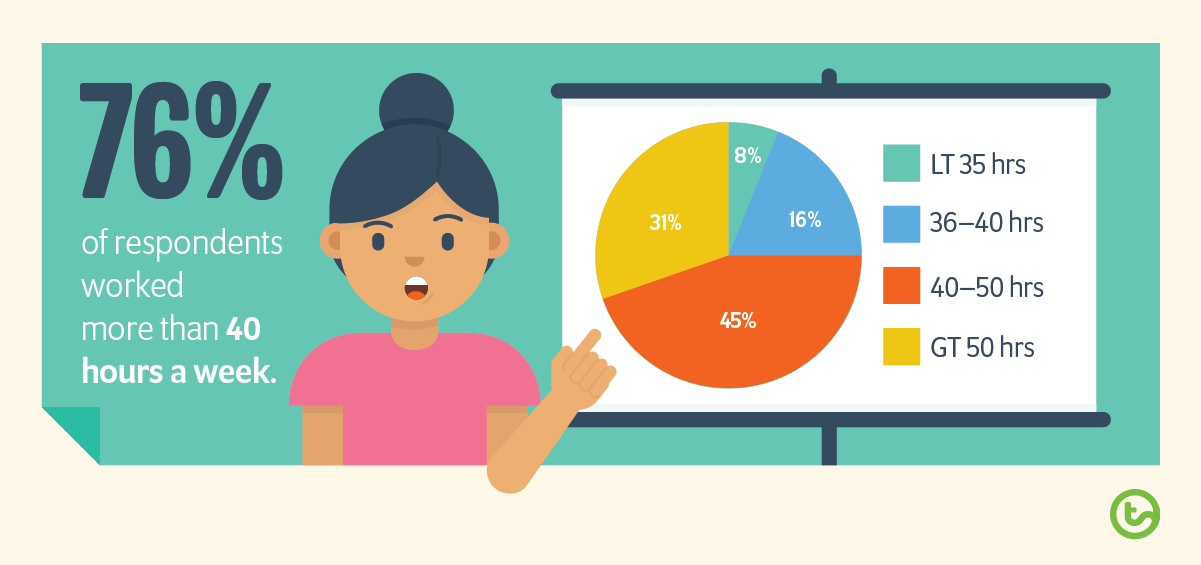 We found it interesting that 35% of survey respondents indicated that 'society's perception of teachers' was a major pain point for them.
There's no doubt that as teachers we receive the usual remarks about our 9-3 work hours and how lucky we are to have ALL of those school holidays. Well, the working hours statistic proves (not that we didn't already know it) how crucial these school holidays are for our teachers to recuperate and recharge?
You guys are a dedicated and inspirational bunch! You deserve the holiday breaks – enjoy!
We truly think you are incredible. Check out why in our blog – Teachers| 20 Reasons Why You Are Incredible.
---
How Are Australian Teachers Feeling?
Surprisingly, even though this survey was completed during a typically stressful time (Term 4, report card writing), 54% of respondents rated their wellbeing 6 or higher on a scale of 1-10.
As you can see, teachers are still maintaining a positive vibe and we hope this increases during the Christmas holidays.

It's true, it often feels like time speeds up over the holidays. However, with some planning, it's easy to make the most of your precious time off. For hints and tips, read this fantastic blog – Teacher's School Holiday To-Do List.
---
Key Factors Impacting Teachers' Wellbeing
We classified the responses into two groups. This enabled us to get a greater understanding of the key factors that led to a positive or not so positive year. The results showed that a school-led wellbeing initiative program had a large impact on the school year for both groups.
Overall, 33% of our satisfied respondents noted they had access to school-led wellbeing initiatives and felt supported in their role.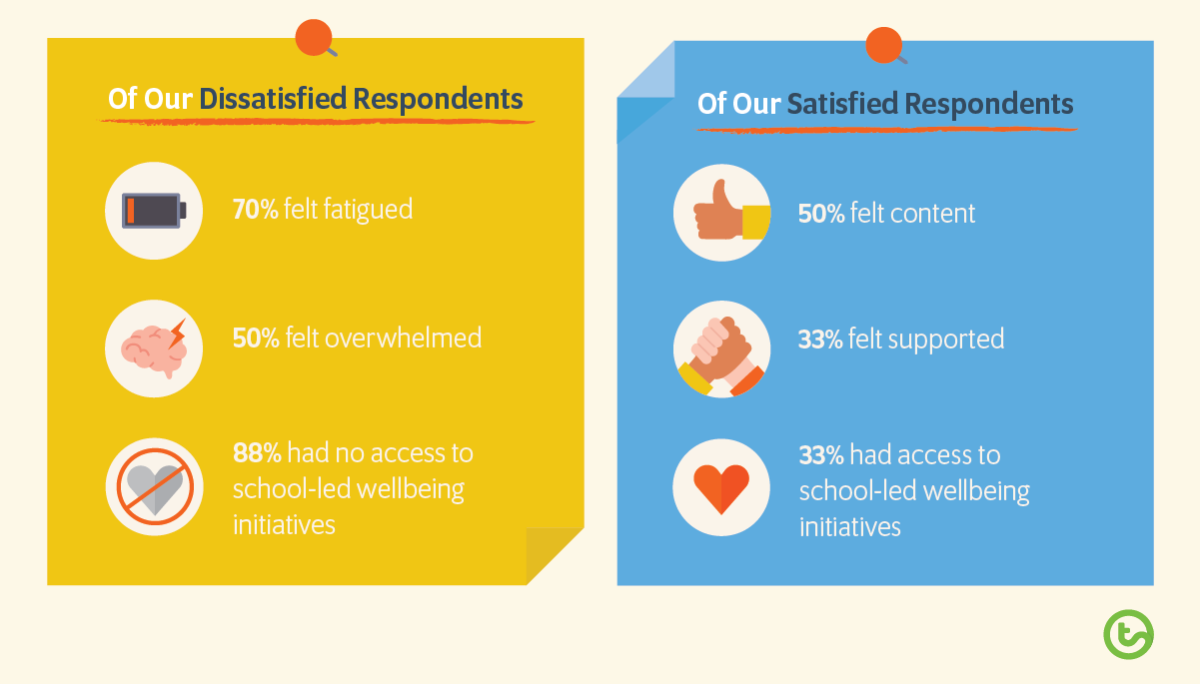 ---
Wellbeing Initiatives for Teachers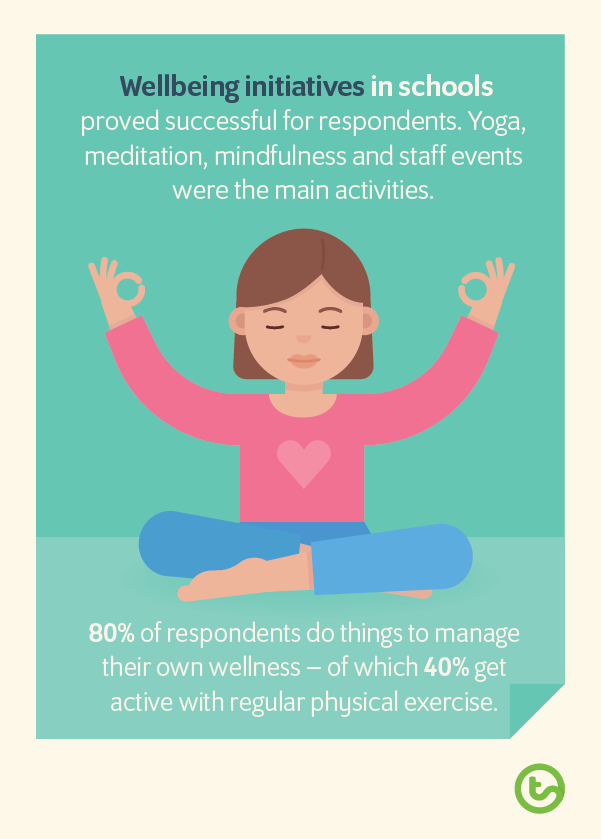 Hats off to those schools that have implemented wellbeing initiatives. Positive action like this has had a huge impact on the wellbeing of Australian teachers. Yoga, meditation, mindfulness and staff events have proven to be the most beneficial initiatives provided by schools. In addition to this, we were delighted to find out that 80% of our respondents had their own way of managing their wellness.
A huge pat on the back for taking care of yourselves!
If you are looking for ways to take care of yourself as you move into the new year, read our blog – Teacher Wellbeing | The Best Way to Beat Stress.
50% of respondents said they believe that being allocated regular mental health days would be beneficial to their overall health and wellbeing. In addition, teachers identified that being given more teacher aide time and reducing the size of their class would have a positive impact on their wellbeing.
---
Major Pain Points for Teachers
It came as no surprise that the general workload of teachers is a significant pain point. This workload has a detrimental impact on wellbeing and contributes to an overwhelming sense of fatigue. Data entry and paperwork closely followed on the list of trevails.
For ideas on how to manage the copious amounts of paperwork that come across your desk, read our blog How to Organise Paperwork | Conquer the Paper Mountain as a Teacher.
Here's the breakdown of teacher pain points:
General workload (69.8%)
Data entry and paperwork (62.3%)
Classroom behaviour (43.3%)
School processes (34.9%)
Lack of funds for teaching resources (28.7%)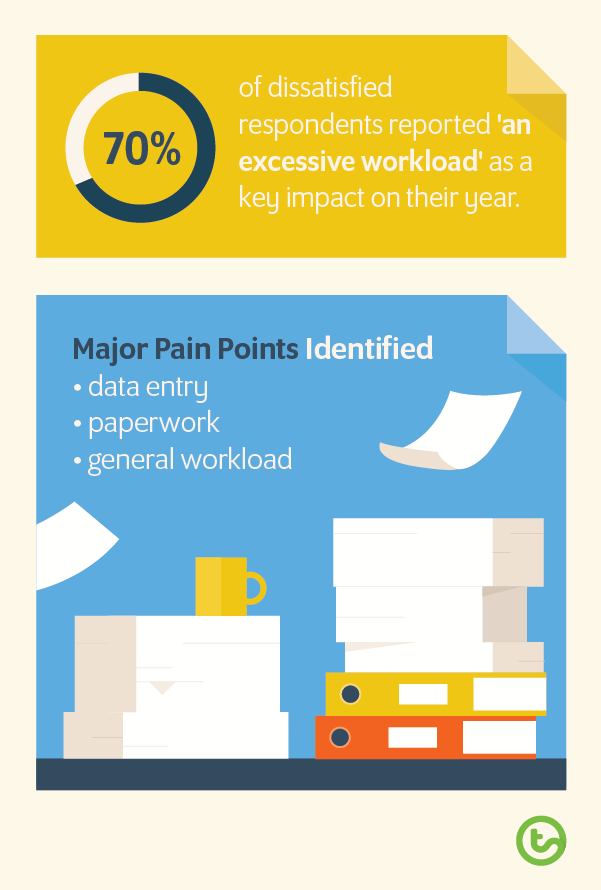 ---
Teaching Wins for 2019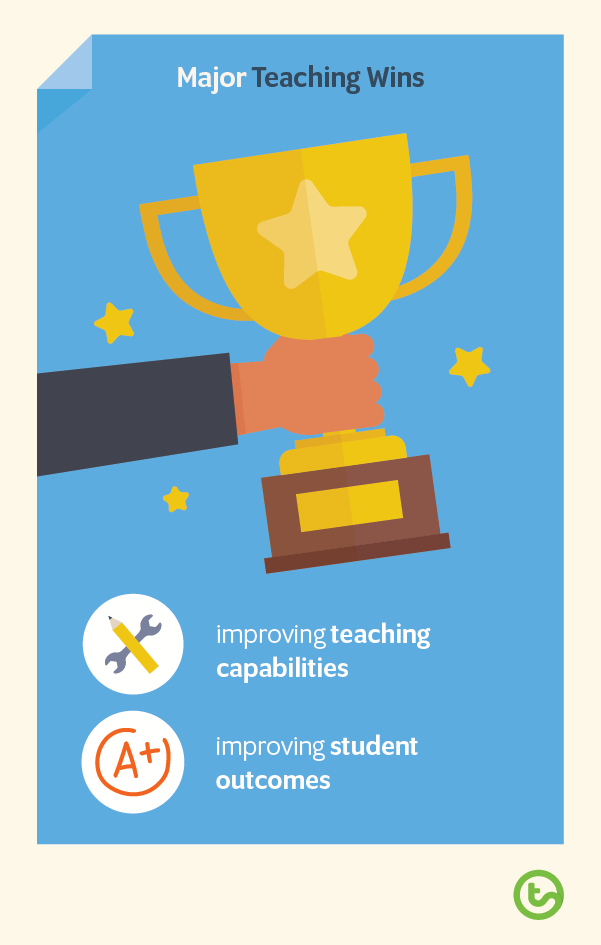 Teacher wins are the reason we do what we do! Every win, big or small, should be celebrated.
Reading about your teaching wins, warmed our hearts and reminded us that Australian teachers are incredible!
It was interesting to find that teachers who felt like their year could have been better, highlighted improvement in their own teaching capability as their major win.
Kudos to them for recognising their own professional growth. In contrast, those teachers that felt more satisfied with their teaching year noted improved student outcomes as their teaching win.
---
Teaching Highlights From 2019
YOU make a difference in the lives of the children in your class. Here are some more inspiring teaching highlights shared with us in the survey.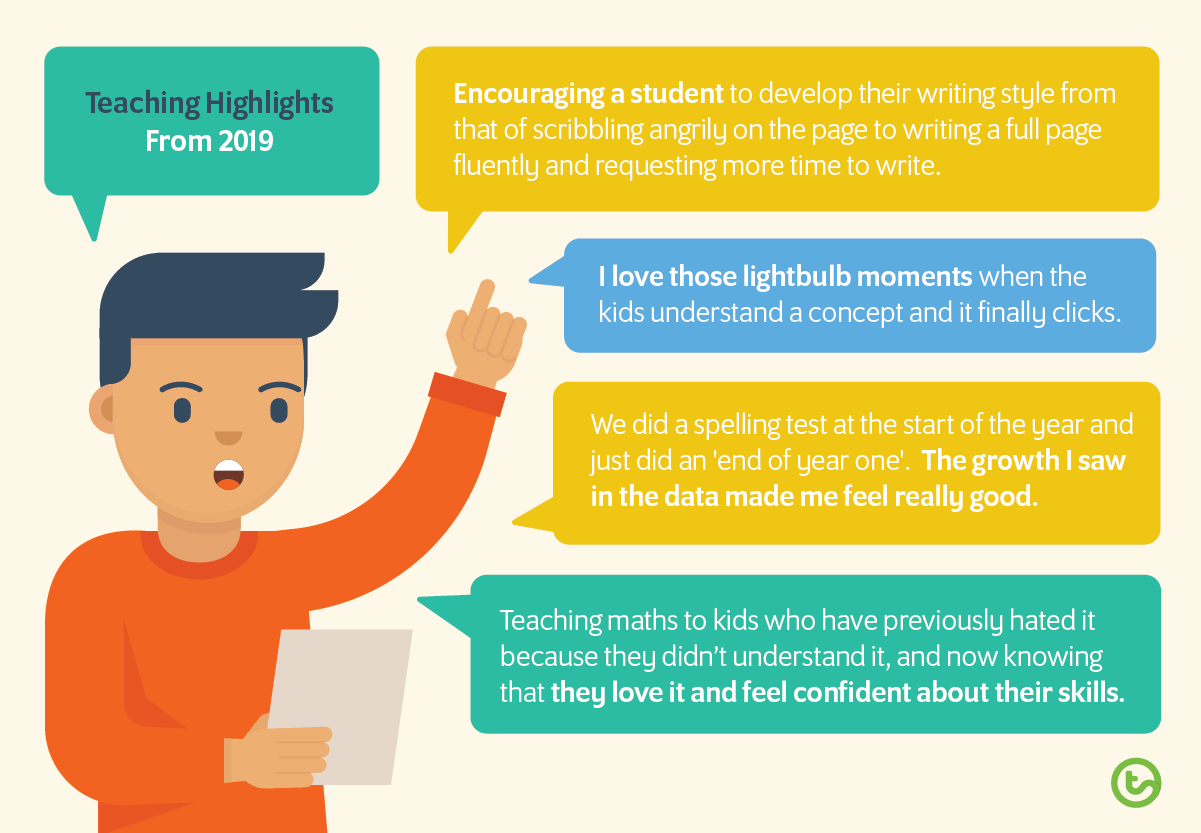 When we reflect on the positives of this survey, it's clear that the Australian teaching community stands together. We have an incredible ability to see the positive in every situation and that's what makes us teachers.
Have a suggestion about what topic to feature in our next quarterly survey for The Education Pulse?
Share your ideas in the comments section of this blog.
If you feel like you need to talk with someone, or you know someone who may be struggling, you may like to head to Beyond Blue or LifeLine.