Managing student behaviour is one of the most daunting parts of teaching for educators, particularly those new to the profession. But, at it's core, behaviour management is a cornerstone of the success of a classroom, particularly in inclusive settings. With such a diverse range of learners in mainstream classrooms, behaviour management is a continual learning curve for teachers. And, strategies that worked for one group of students, may not work for another. This blog highlights a range of different behaviour management techniques that teachers can implement in their classroom straight away that will align and compliment most whole school behaviour management approaches.
---
Behaviour Management Techniques that Work!
The number one point out of all of these techniques is to accentuate the positive, that is, keep control of the behaviour in your classroom in a positive way. The best advice I ever received when began my teaching career was that you need to be on the forefront of behaviour before it escalates. These strategies are either things I implemented to prevent bad behaviour, or simple things you can do to curve the start of unwanted behaviour in the classroom.
(1) Redirect
This technique is simple, yet effective. When you notice a child that is off task, simply move their attention from one thing to another. For example, if one student is distracting another student, you may direct their attention to the work at hand by saying you'll be over in a few minutes. Or, simply asking that student what they are up to.
(2) Ignore secondary behaviour
When a child is being warned about inappropriate behaviour, you may notice a secondary behaviour, such as an eye roll or a delayed response to a question. This behaviour is often to avoid humiliation in front of their peers. If the initial poor behaviour has stopped, ignoring the secondary behaviour, as long as no one is in danger, will prevent the situation from escalating. If you feel you need to, you may like to talk to that student one on one after the lesson to talk things through and reflect on the situation.
(3) Transitions
A transition in a classroom is when a student is moving from one thing to another. So it may be transitioning from a PE lesson back into the classroom. For little brains, this can be tricky for them to go from an active state to a focused state ready for learning, this is where inappropriate behaviour may start to fester. Transitions can help avoid this situation from escalating.  A simple transition for the example of going from PE back to class, could be to use a fun movement such as walking like a ballet dancer back to class.
For more ideas, check out our How to walk like a… instruction cards.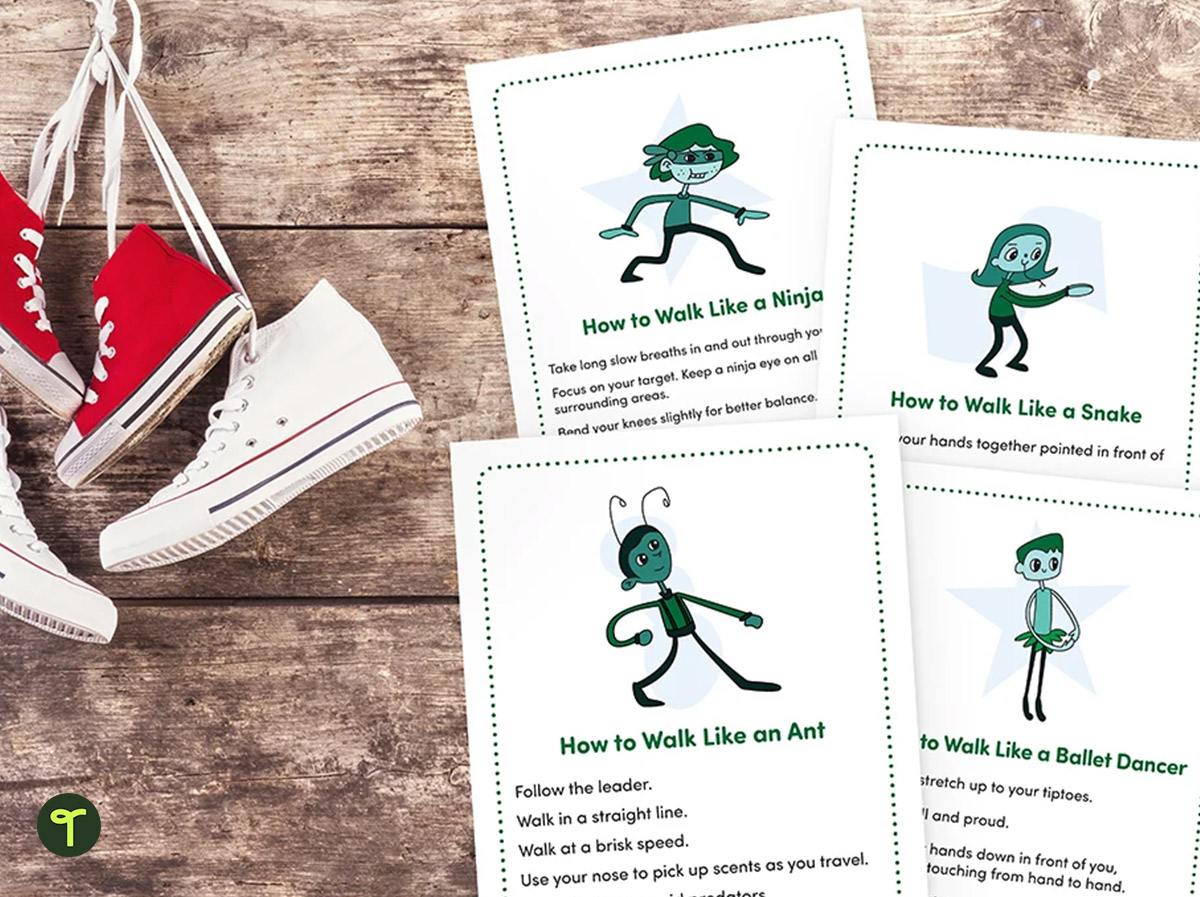 (4) Offer choice
Providing a student choice – is extremely powerful! It makes them feel like they are in the power seat, when in fact, you've planned it out beautifully! When you notice inappropriate behaviour, instead of issuing a demand, offer them a choice of two options. The first choice would be the route you'd like them to take. The second is the consequence of not taking the first option.
For example, "Zane, would you like to remove yourself from the distracting spot you're in and complete your work? Or, would you like to stay with me at lunch time to complete the work then?"
You'll find that most of the time, the student will take the better option in this scenario.
(5) Attention Grabbing
This is similar to the 'redirect' option, but this is if a number of students are starting to get off task. Use some fun attention grabbing techniques or download our Attention Grabbing Phrase Cards and use those.
You can then redirect their attention back to the work by providing some more information that may support them to finish off the task.
(6) Positive non-verbal reminders
The beauty of getting to know the cherubs in your class, is that you'll very quickly work out what works for them. Non-verbal reminders are so so powerful and limit the disruption to the class. Simple non-verbals, like stopping what you're saying and smiling at the student that may be off task. This is often all that is needed for some students.
Another non-verbal reminder is to simply lower your body down to the level of the child while you continue with the teaching, or, a simple tap on their desk as you walk past.
(6) Messenger or Calm Corner
Little children experience BIG emotions. And, often when they are trying to deal with these big emotions, they struggle with self- regulation and their behaviour may be a little off. So, another strategy that will work for some children is just some time away from the hustle and bustle of the classroom. If you are noticing a student that isn't responding to the smaller behaviour management strategies, you may want to just give them some time.
You may have heard of teachers sending a student to another teacher with a 'note' – the note may simply say, 'John needed some space'. This gets the student out and about, and gives them some purpose by having the very important job of delivering the note to the other teacher.
You may also find that 5 minutes in a chill out corner / area may also help this student.
(7) Utilise movement
We know a student's attention span is very small. And, we do expect them to sit and listen and use their brains for long periods of time – often longer than their age allows. So making sure you have a lot of movement integrated into your day is a great way to limit the number of behaviour situations you may encounter in a day. It could be a simple stop work and stretch and your desks type situation – but you'll be surprised by planning these movement breaks into your day – students will find it a lot easier to concentrate on their work.
You might like to check out our webinar – Why Brain Breaks are a No-Brainer!
(9) Strike a deal!
Kids love a good deal, or a reason to get something completed. This could be individual or a whole class deal depending on the circumstances. For example, you may offer the choice of an outside game if students attempt to finish all of their work. This is sometimes all it takes to keep them on task and completing their work.
If behaviours are more serious in nature and you are finding managing those behaviours difficult, remember – you're not alone. Speak with admin or seek out some additional support with those students.
We'd love to hear if you have any other behaviour management strategies you have used in your classroom? Share on our Facebook group – Teacher Talk.