Pretty much every teacher I know is aiming to make a positive change and a fresh start in some aspect of their teaching life. Can you relate?
Let me begin by saying that the very fact that you are reading this blog article means that you are already doing a fabulous job of being a mindful teacher who is open to growth.
The beginning of a new school term is the perfect time to make a fresh start.
So, are you desperate to improve your classroom organisation or to learn more about best practice for the teaching of reading? Perhaps you've recognised that it's time to update your classroom behaviour management system?
Read on for tips on making a fresh start and a positive change to benefit both you and your students.
Step 1 – Identify Your Classroom Pain Points
The first step to making a fresh start is to identify your classroom pain points.
What is a pain point? A pain point is a specific problem you or your students are experiencing in the classroom. Like any problem,  pain points are as diverse and varied as your students themselves.
Write a list of all of the problems areas in your classroom. Don't worry about how many there are at this stage, just get them all down onto paper. Here are a few examples of possible classroom pain points:
transitions
keeping the classroom tidy
classroom organisation
guided reading
differentiation
behaviour management
homework
home/school communication.
Step 2 – Select One Problem to Solve
While you might have a long list, it's more achievable to address just one pain point at the start of a new school term. So how do you decide which one pain point to tackle?
Start by whittling your list down to three pain points. Work out which three are the most important by asking yourself which pain point:
has the greatest negative impact on my students?
has the greatest negative impact on me?
impacts me daily?
do I want to remove from my day the most?
Finally, select the ultimate one (from the three pain points that you have highlighted). Choose the one pain point that will make the biggest impact for you and your students, when solved.
Step 3 – Find a Solution
Being solution-focused (spending less time thinking about the problem and more time working out a solution) is an important part of making a fresh start.
There are many ways to find a solution. Here's are a few ways to find the answers that you are looking for:
ask your teacher friends and colleagues how they do it
search the Teach Starter website for tips, ideas and resources
read teacher blogs
take a look at how other teachers are doing it on Instagram.
Remember, that making a fresh start in a particular area of your teaching or classroom management doesn't necessarily mean it's all on you. One of the best ways to implement change in your classroom is to collaborate with your students.
A Fresh Start for Classroom Organisation
Who doesn't want to improve classroom organisation?
Check out these brilliant ideas to set your mind free from clutter and chaos. Even if you just take one idea from here you will be winning on your quest to make a fresh start.
Using labelled binder clip labels to keep paperwork together.
Using daily sorting drawers on your desk to sort worksheets and activities.
Use a clothes hanger to keep spare notes and worksheets.
For more ideas – head to our blog – 10 Cheap and Clever Classroom Organisation Hacks.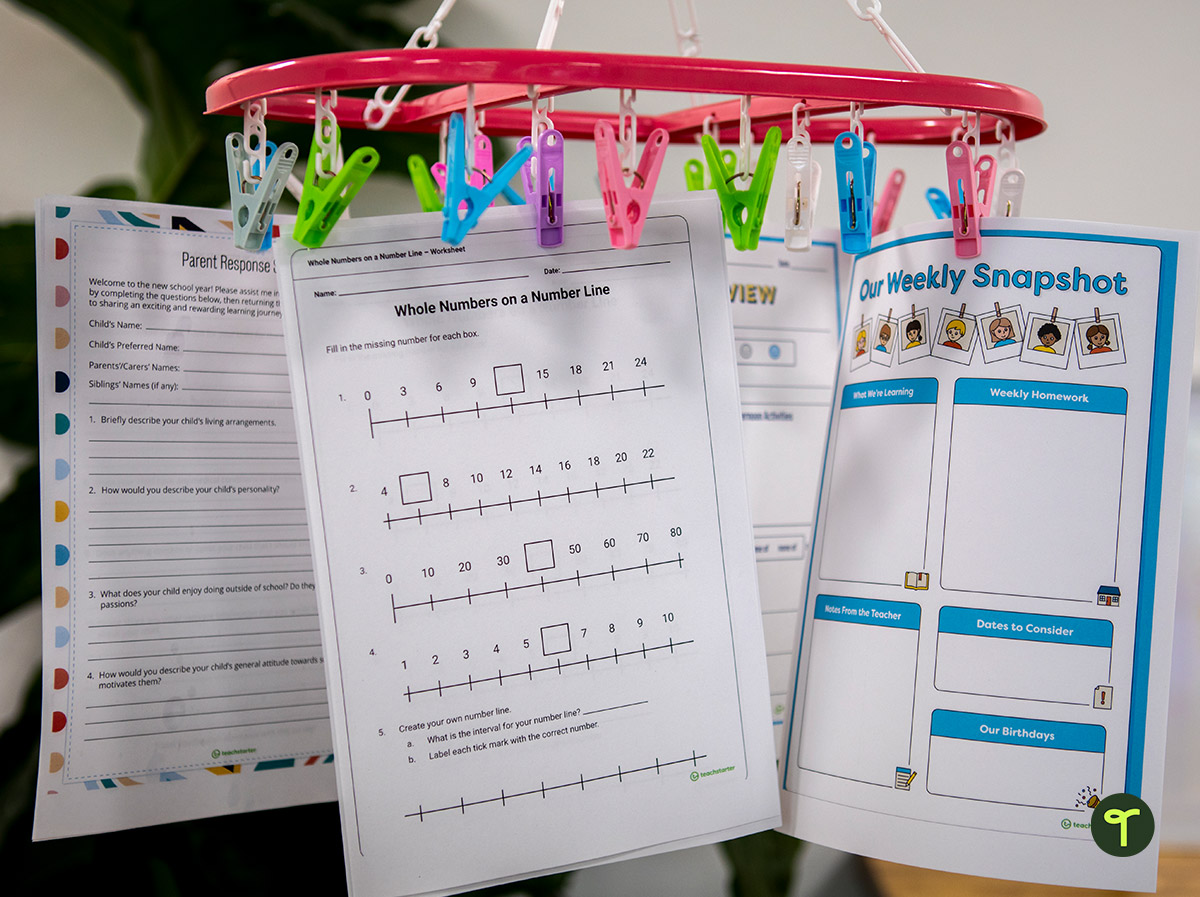 A Fresh Start for Classroom Management
Classroom management systems have a shelf life. What worked during the last term may not work during the next term. If behaviour management is your pain point, it's time to make a fresh start.
Does your class seem extra chatty? Have they got a serious case of the blurts?
Blurt Buttons are a great way to curb calling out in your classroom. This bright, fun classroom management strategy is a brilliant way to help curb calling out. All you need is 2 jars, some buttons and the Blurt Buttons Set Up – Classroom Management download. 
For more information on how to use Blurt Buttons in your classroom, read Bron's blog Blurt Buttons | A Fun Way to Curb Calling Out in the Classroom.
Check out our extensive Behaviour Management Collection for everything you need to make a fresh start.
Make a Fresh Start with Self-Care
Most importantly, if you were feeling completely burnt out at the end of the last term, it's time to make a fresh start with looking after you.
You owe yourself the love and care that you so freely give others.
Use this checklist to monitor your mental wellbeing and to remind yourself of the importance of mindfulness. Read our blog on Tips for Teacher Wellbeing to maintain a happier, healthier mind!
Take a Load Off
Finally, don't put yourself under too much pressure. Give yourself a break.  Remember that every day is a fresh start.
Share what you've decided to freshen up this term on our Facebook page Teacher Talk.