Do you know the number of kids in your class who are from an EALD (English as an Additional Language) background?
How many of your students require support for literacy, social skills or concentration?
What about the kids who are deaf or hard of hearing? Or those who have family members who are?
Did you know that Teachers hold the experiences of each of their students in their hearts – we enter our classrooms each day knowing that our job is to support young people as they learn about the world, learn about themselves and grow into the best version of themselves that they can be. Inclusivity is, of course, such an important part of this and there is so much that we need to be aware of. This week is Hearing Awareness Week. It culminates in World Hearing Day this Saturday, March 3. Here at Teach Starter, we want to join in the voices, both spoken and signed, that are helping to make truly hearing inclusive classrooms a common part of mainstream schools across the world.
Do Hearing Aids and Cochlear Implants Make Inclusivity Happen Automatically?
Many teachers make the assumption that physical aids such as cochlear implants or hearing aids make inclusivity in the classroom just "happen". However, for children who are deaf or hard of hearing (particularly those whose hearing loss began after their linguistic development), relying on a physical aid in order to be a part of the "hearing world" can sometimes feel like a mask they need to put on in order to fit in. When what hard of hearing students really need is to see is that their language, and the culture of their language, is a valued part of their classroom community. Just as you would acknowledge and celebrate the diversity of all languages and cultures in your class.
Children pick up sign language quickly and easily. It really is something teachers can integrate into their regular lessons, without having to "find extra time to teach it".
Sign Language in the Classroom
Integrating sign language into your classroom displays, activities and communication is an important part of making a classroom truly accessible and inclusive.
The easiest and best way to teach sign language is through integration, not isolation.
Have you got the alphabet and numbers displayed across the top of your board? Add fingerspelling and number sign pictures to the displays. When you speak about a number, a letter or phoneme in class, sign the letters and numbers as you speak about them.
Do you have a clock display? Stick time sign pictures around it, beside each of the digits on the clock. When you speak about "going to the library at 11 am", practise signing "11 am".
In Australia, our native sign language is called Auslan. If you still need convincing of just how wonderful it is to teach young people this language, take 5 and watch this BTN video about signing on the ABC website. Or find out why Emma Wiggle has made Auslan interpreter videos a part of The Wiggles concerts!
---
How to Integrate Auslan Basics into Your Classroom
Auslan is a language – just like French, Spanish or Mandarin, it's a new language that is accessible to us all. Auslan is not only for Deaf or hard of hearing people and their families. After teaching your students the basics of fingerspelling and numbers, you can easily incorporate basic Auslan into your regular classroom activities.
Try out a spoken and signed Maths warm up for your lower years students – counting to ten or counting in 2s both verbally and in sign language.
Set an Auslan homework task – ask students to teach a member of their family how to fingerspell their own name.
Add fingerspelling to sight word practice – students can fingerspell as they sound out their sight words.
During Maths rotations, have students both speak and sign the answers to operation questions.
---
To help you make the integration of Auslan as easy as teaching the spoken alphabet, we are creating a fantastic Auslan Teaching Resource Collection. Here are some of the wonderful activities that are available to download right now.
Do You Know Your Hands? Activity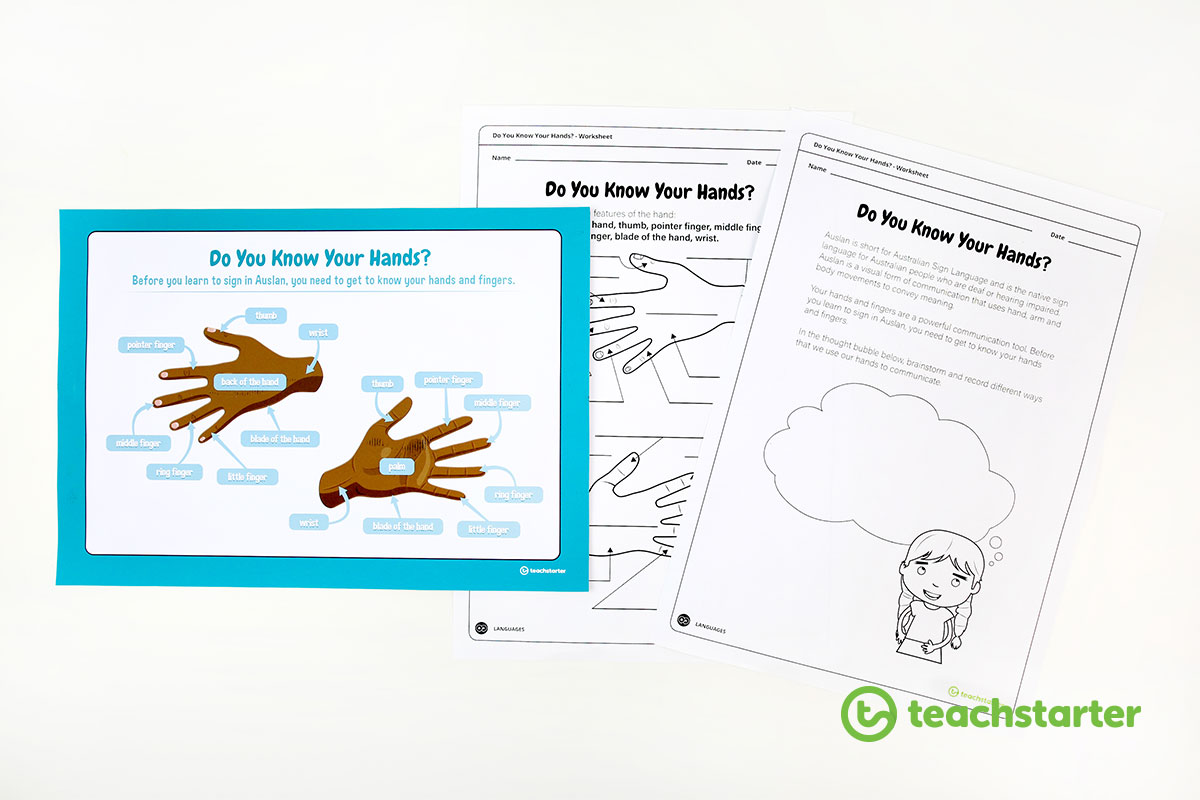 This is a great activity for students to do before they begin to learn sign language. The Do You Know Your Hands? Poster can be used in conjunction with the Do You Know Your Hands? Worksheets to help students learn the anatomy of their hands. Here are links to each of these teaching resource downloads: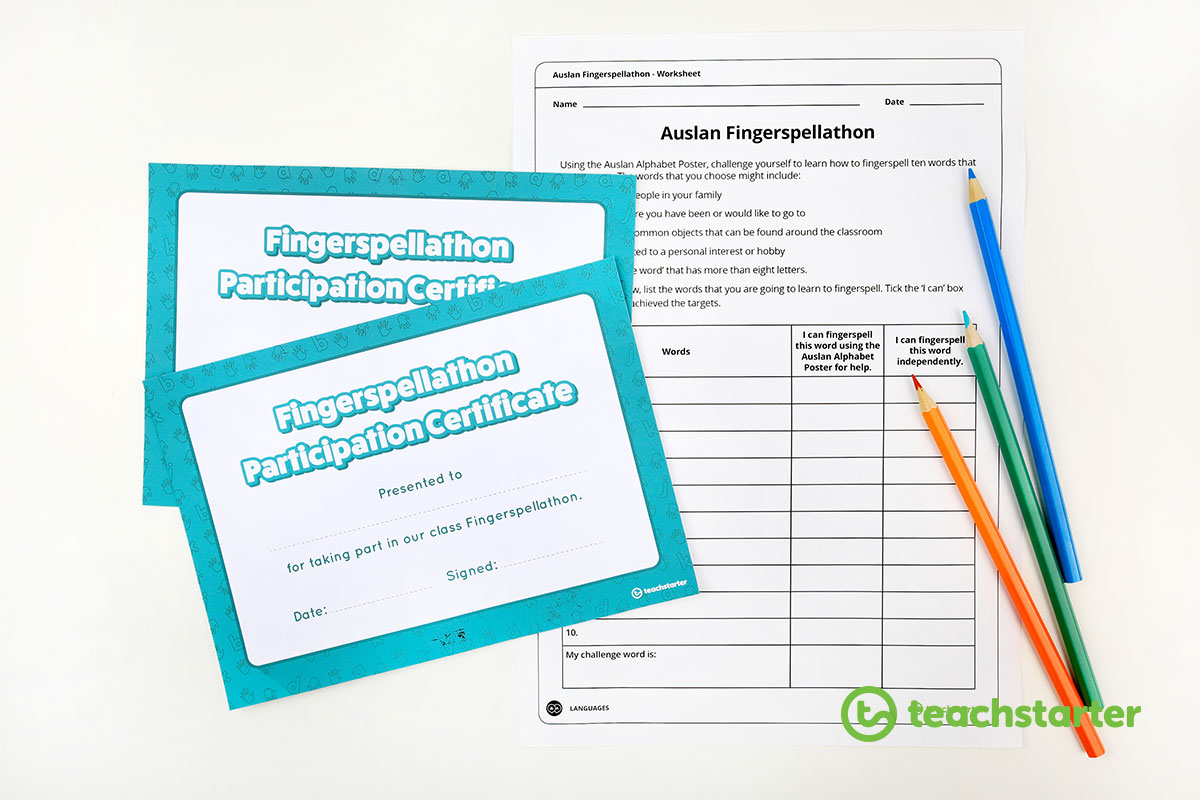 When your students are learning how to fingerspell, you can use this fun Fingerspellathon Activity as a way to ensure they practise what they have learnt. This download comes with fun certificates that you can present to students who complete the Fingerspellathon.
---
Making Auslan an integral part of your students' learning experiences is supported by having Auslan classroom display resources up in your classroom. Add the Auslan language to your visible classroom with these great printable resources.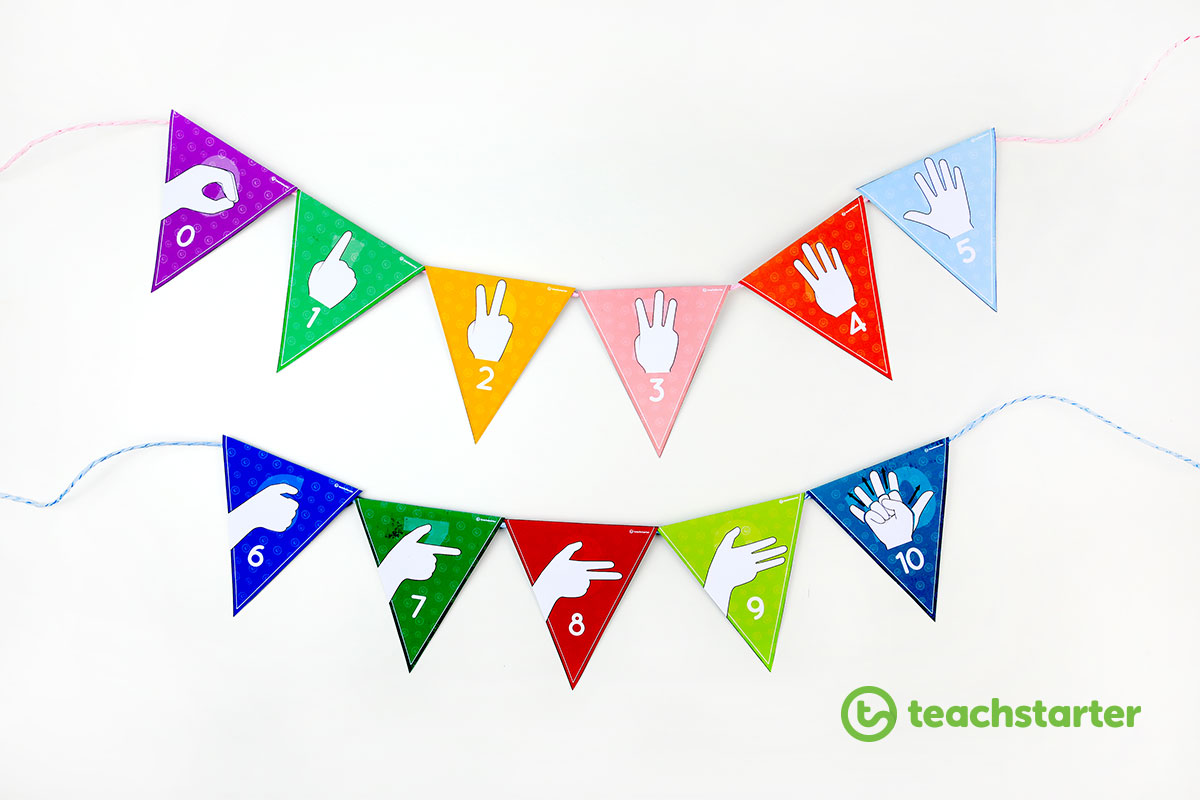 Adding these beautifully illustrated Auslan Number Bunting and Auslan Alphabet Bunting to the number and alphabet displays in your classroom is a simple way to increase the visibility of sign language in your classroom community.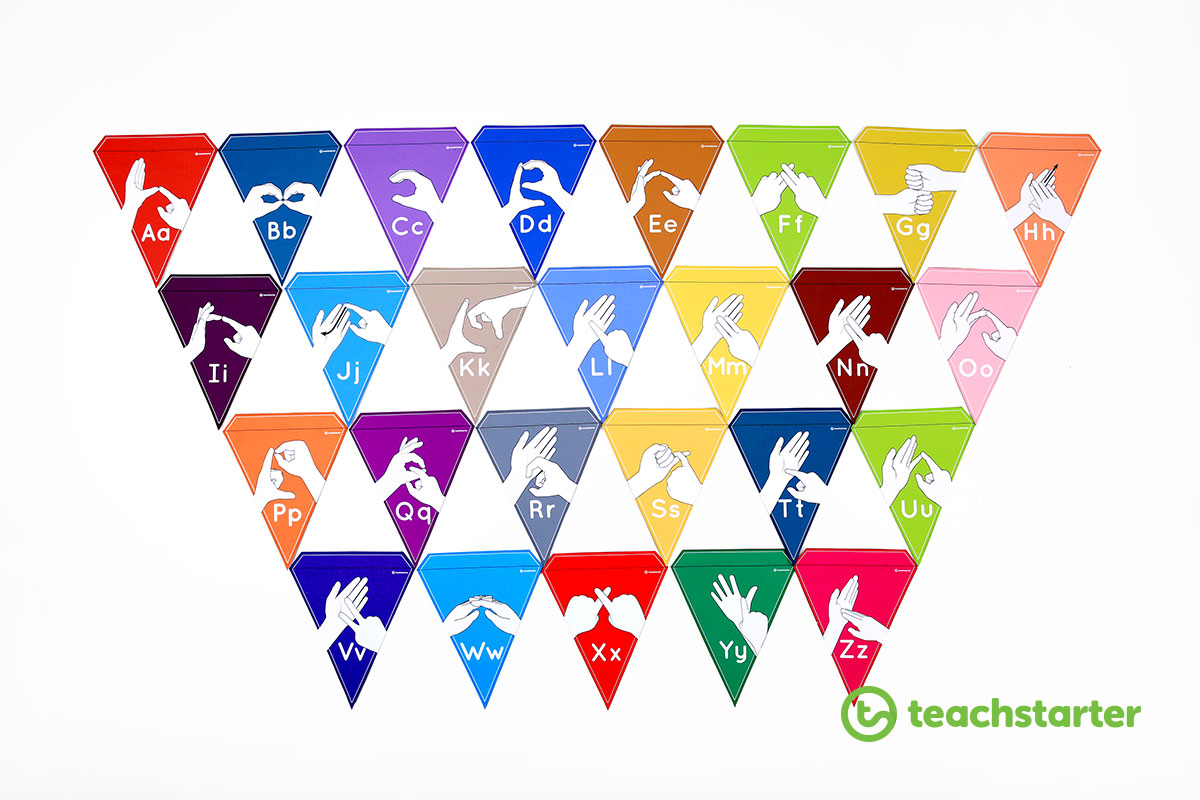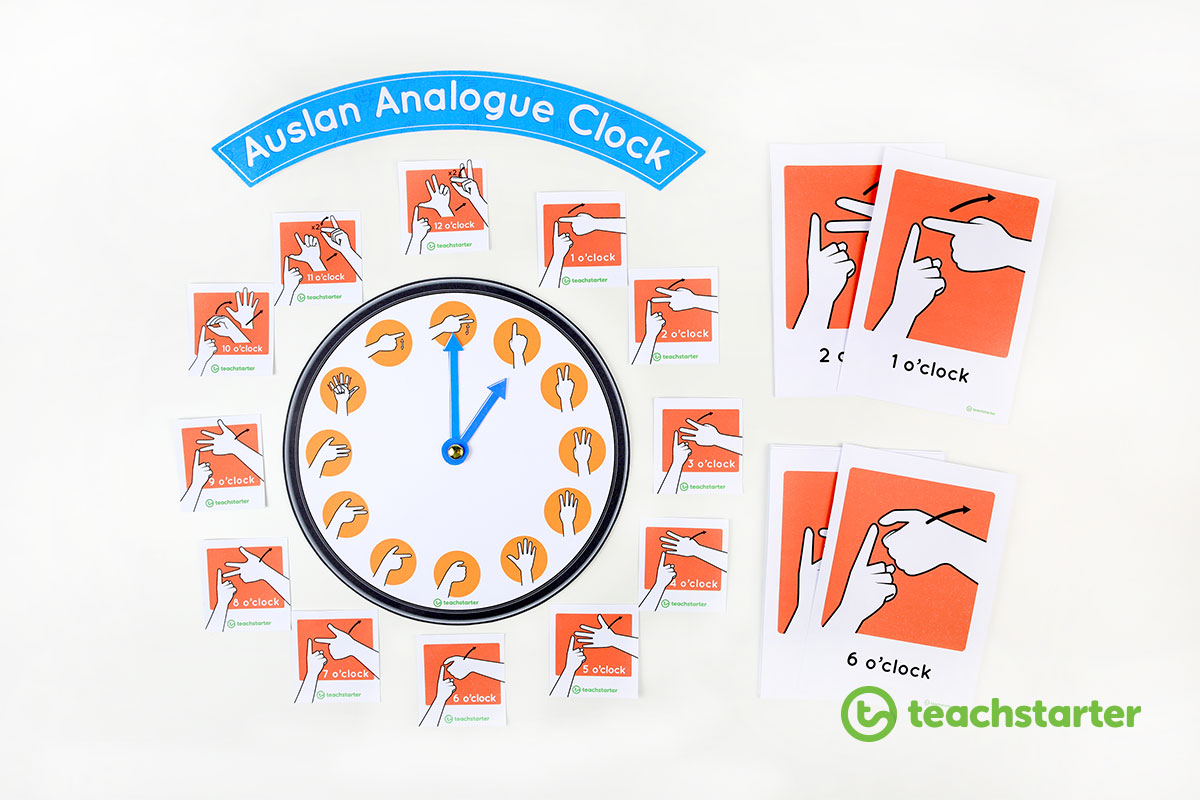 How amazing is this Auslan Analogue Clock?! Print and display this clock beside your regular clock, or use the Ausland time cards to stick around your regular clock. This classroom resource is available in both Northern and Southern Auslan Dialects.
Posters, Flashcards and More…
---
Characteristics of a Hearing Aware Classroom
There are some other simple ways you can ensure your classroom is inclusive. Many of the following tips will benefit students from EALD backgrounds, those with diagnosed learning needs and students who are deaf or hard of hearing.
Ensuring that videos you show are captioned, or that you use the accessibility options that are built into many Microsoft and Apple products.
Use voice amplification devices such as those from Thinc Products (who offer a great discount through the Teach Starter VIP Club).
Consider the seating arrangements in your classroom, to ensure students who are deaf or hard of hearing can see your face and lips, and hear your voice easily.
Reduce background noise by closing windows or doors when needed.
You may want to bookmark our Auslan Teaching Resource Collection.
Make sure you check in to see new resources when they are added too!