Behaviour management… it's no doubt a term that teachers are madly typing into their keyboards, desperately hoping and praying that an awesome suggestion or idea magically appears on their computer screen. These teachers are often searching late at night after what they think is one of the worst days they have had in their classroom. Have you been there?
Behaviour management is one of those 'taboo' topics in education that everyone has an opinion on. Teachers spend hours upon hours at university discussing the varying behaviour management strategies. The differences between extrinsic and intrinsic motivation and then the importance of the latter, which we all know and understand, however the day to day realities in a classroom are very different.
---
A Behaviour Management Strategy for the Classroom
This new behaviour management resource may just be what these teachers (or perhaps you) have been searching for! It's fun, engaging and can be changed to suit the needs of your class.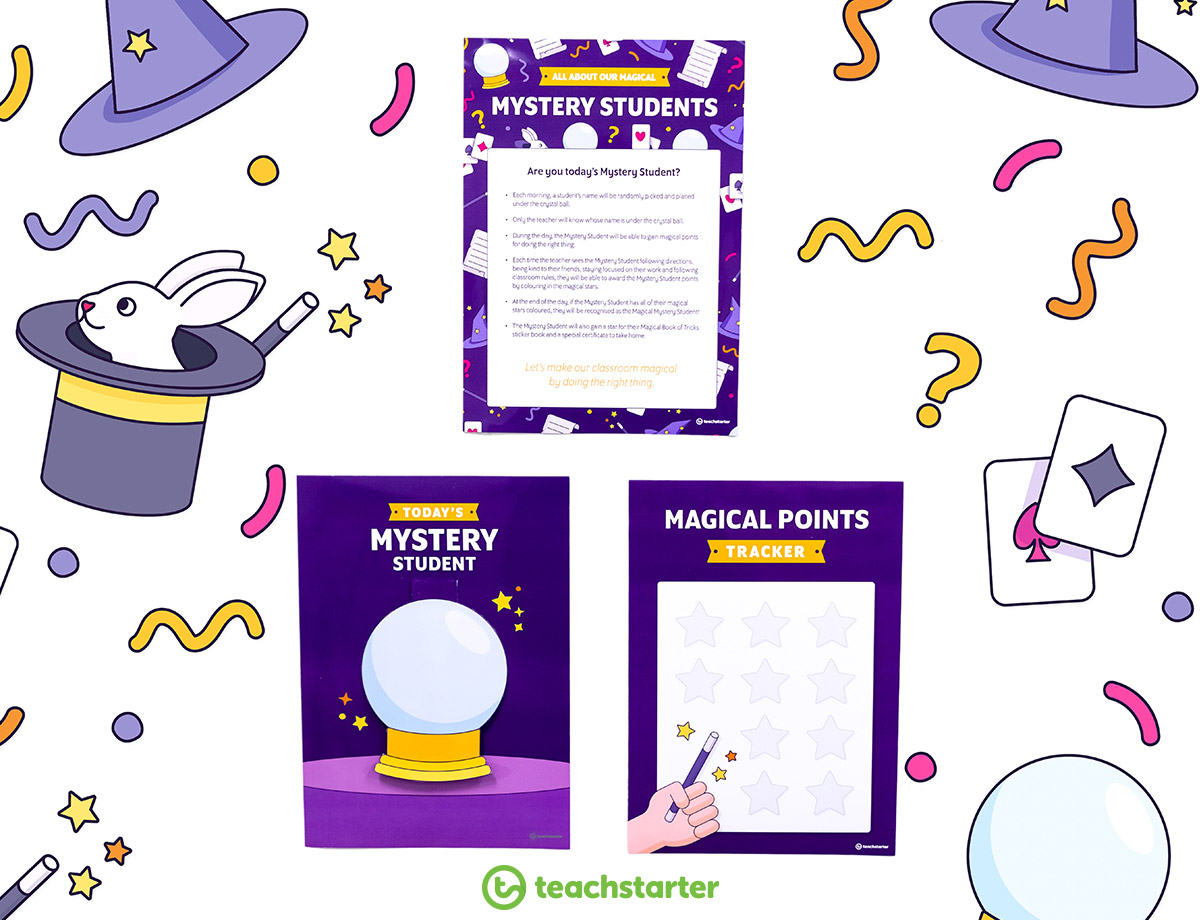 The idea behind this strategy is a simple, yet effective way to focus on positive behaviour choices rather than negative behaviour choices. If there is one thing that I found imperative in behaviour management in the classroom, especially in my first couple of years of teaching, it was the importance of focusing on positive behaviour rather than negative behaviour.
It's all about giving attention to those doing the right thing – and this behaviour management strategy does just that, in a mysterious way.
Students will love the 'mystery' behind whose name is under the crystal ball.
The beauty is they won't know till the end of the day. They wouldn't want to risk making the wrong behaviour decision or doing the wrong thing as their name may be under that magical crystal ball!
---
Mystery Student Behaviour Management Resource Pack
This behaviour management strategy resource pack includes the following: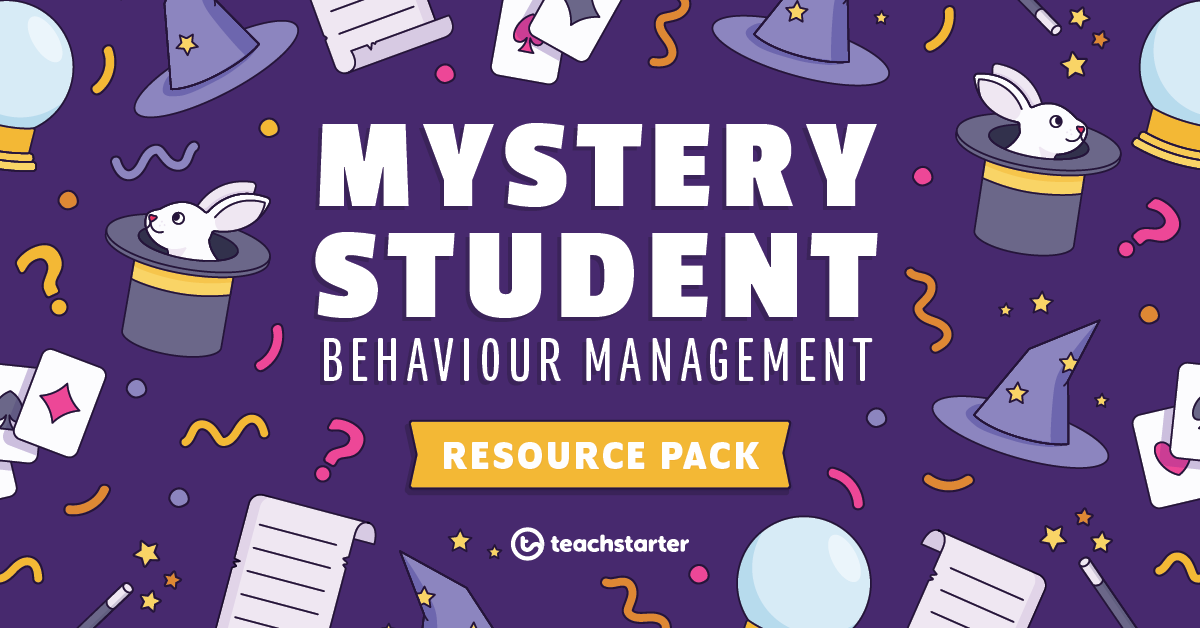 ---
How to Implement a Behaviour Management Strategy into Your Classroom
After printing all of the above resources, you can begin to set up this awesome strategy in your classroom. This resource is available to print in full colour, low colour and black and white.
Don't have access to a colour printer? Printing in black and white on coloured paper can be just as effective!
You may like to use the Microsoft Word version of the Daily Mystery Student Classroom Display so that you can type your students' names into the name tags that are used to go under the crystal ball.
It's also imperative to discuss what good choices in behaviour may look like in your classroom. As a class, you may like to brainstorm and create your very own behaviour choices anchor chart that can be displayed in the classroom so that you and your students can refer back to it if required.
We love this idea by Proud to be Primary of creating a Y chart for what a great classroom looks like, sounds like and feels like!
---
Mystery Student Classroom Process
Each morning, a student's name is 'randomly' picked and placed under the crystal ball. Of course, you may need to ensure that the same students don't get picked out again and again. Only you will know whose name is under the crystal ball!

During the day, the Mystery Student will be able to gain magical points by displaying positive behaviour choices.
Each time you notice the Mystery Student doing the right thing, you can colour in a star on the Magical Points Tracker. By laminating the tracker, you can use a whiteboard marker and re-use the tracker every day. You may like to let the class know that you have noticed the Mystery Student doing the right thing while you begin to colour in a star.
You can, of course, give hints along the way and if a few students are doing the right thing, explicitly mention what they Mystery Student is doing to earn that point.
This is all down to teacher discretion as well, your expectations for one student may be slightly different to those of another.
If a student doesn't quite get there with their magical points, you wouldn't tell the class whose name was under the crystal ball. The Mystery Student wouldn't be awarded on that day.
---
Recognise Good Behaviour in your Classroom
At the end of the day, if the Mystery Student has all of their magical stars coloured, they will be recognised as the Magical Mystery Student for the day. This is where you can choose how you would like to reward this student.
You may like to provide this student with a Mystery Student certificate and a Mystery Student badge. Students will get a kick out of going home with a certificate and badge to show off to their family and friends!

Part of this pack includes a Magical Book of Tricks template.
Each time a student is awarded the Mystery Student, they can receive a sticker for their sticker book.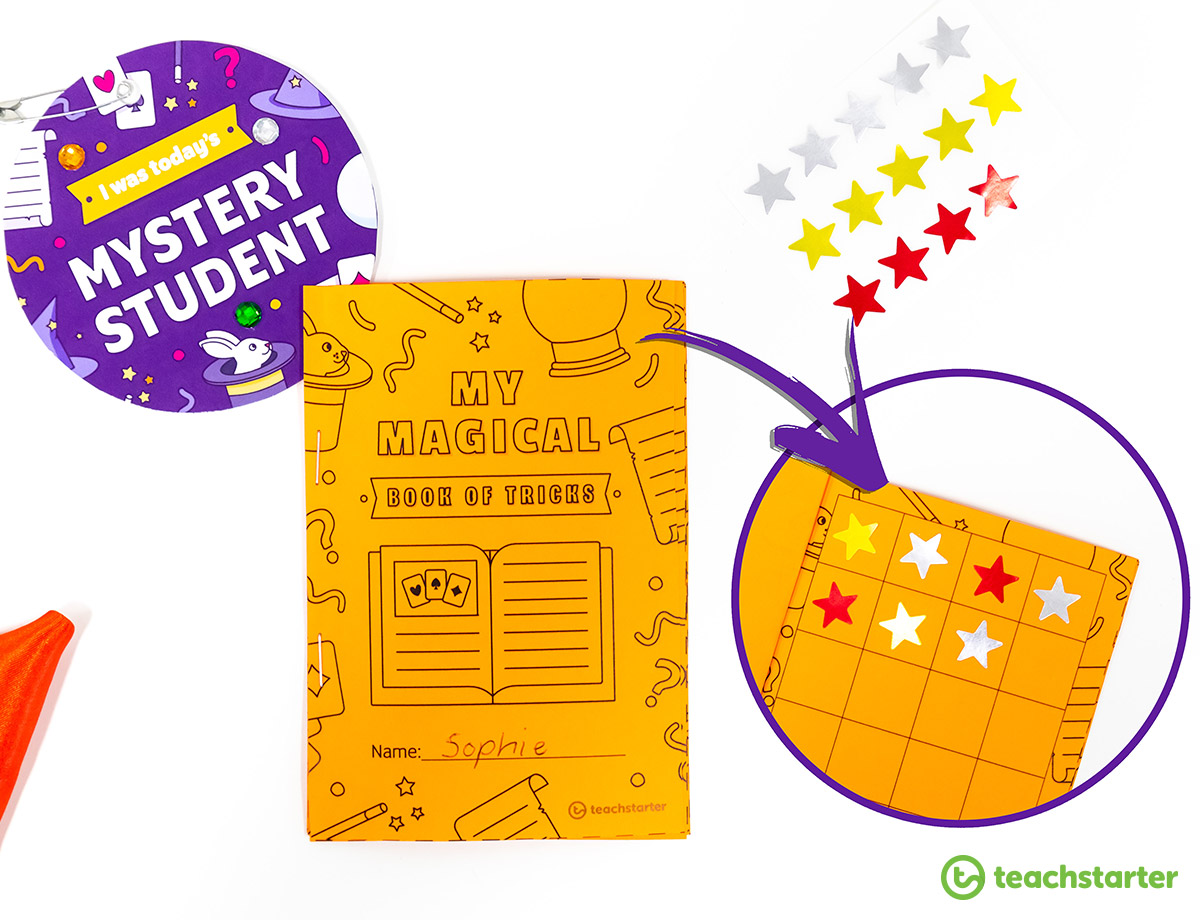 Have you found that a prize box works for your students? You could maintain this and the Mystery Student could be awarded a certain amount of raffle tickets for being the Magical Mystery Student for the day.
The more tickets they have in the box the more chance they have of getting their name pulled out on a Friday.

We'd love to hear from you if you try this behaviour management idea out in your class.
Let us know how it goes and what adjustments you have made in the comments section of this blog!