Starting school is a momentous time in a child's life, and it's also of great significance to his or her whole family. Regardless of whether the student has come from a kindergarten, a child care centre, family daycare or a full-time home environment, the transition to school is huge. It's an exciting time which can also seem daunting to kids and families.
Often schools schedule interviews, orientation days and uniform fitting times.
These lead-in occasions are all opportunities to build trust and welcome our newest little students into our school communities.
My own daughter started school a few years back, and I still remember her eagerly awaiting that first day with excitement and anticipation. At her initial interview, the deputy principal gave her a bag full of preparatory treats for use at home. She was delighted!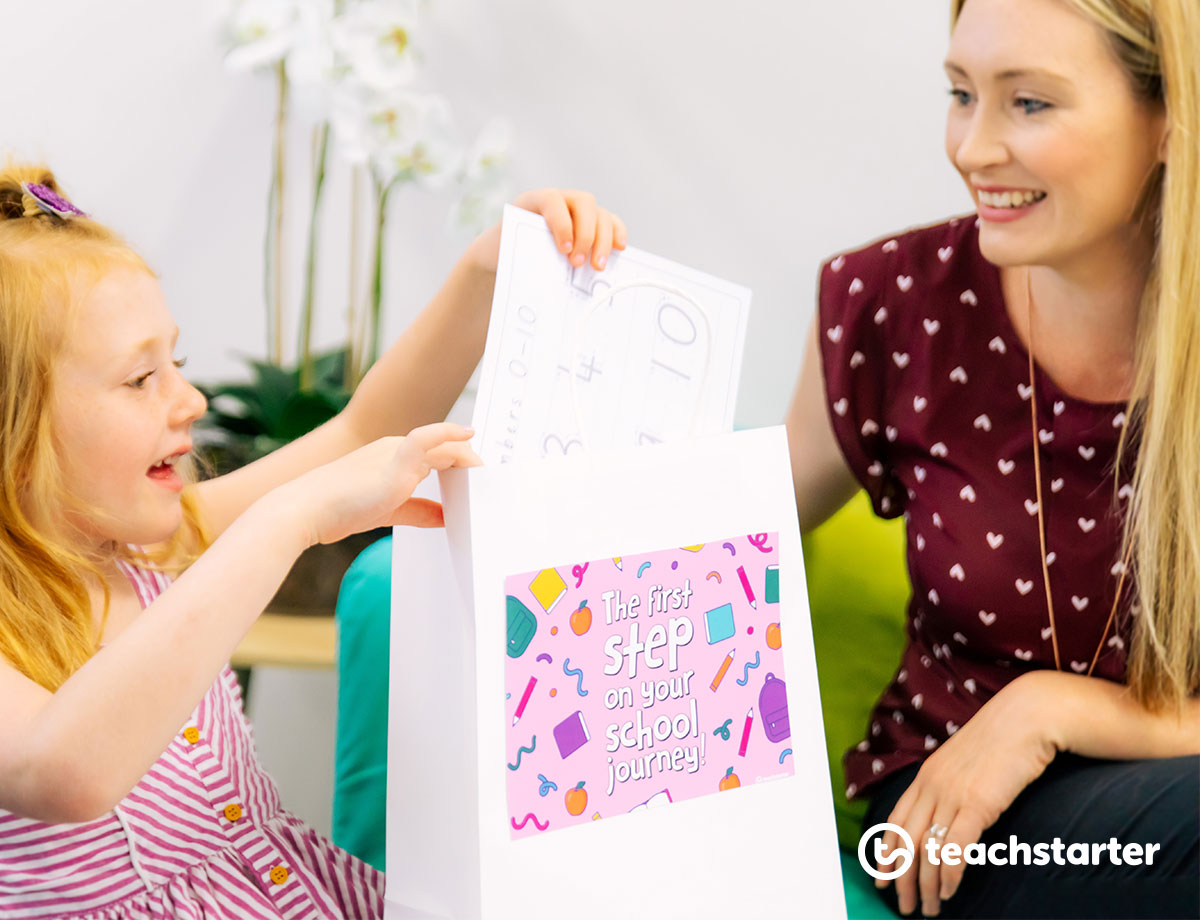 As a parent, seeing her feel valued in the place she'll spend so much of her time really set my mind at ease. It made me think about how we, as early years teachers, can offer our incoming students a useful gift to help them prepare for the coming year – in the form of a Starting School Pack!
Setting Up a Starting School Pack – Labels
Our Starting School Pack Label (available in four colours) is perfect to decorate your choice of bag. We've chosen to use these white paper gift bags, because they're designed to fit A4 sheets of paper and are recyclable.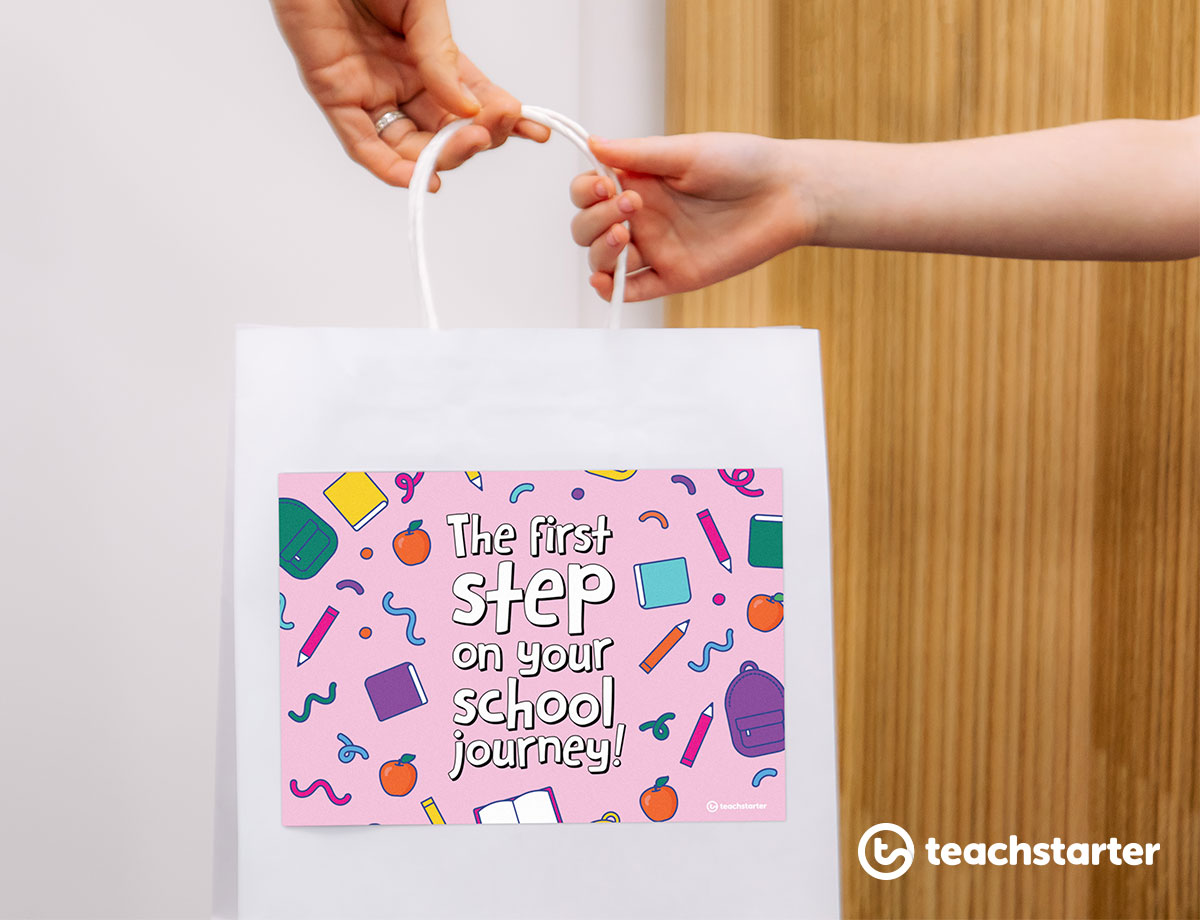 What to Include in a Starting School Pack
A Starting School Pack can include anything you can think of which will prepare your future students to embark on their learning journey! Here are some items from our wonderful resource collections to get you started!
Downloadable Resources

Pencil Grip Poster
Correct pencil grip is vital to establish early on! Give your students a head start by giving them their own Holding Your Pencil Poster to keep at home.
All About Me Workbook
This gorgeous little workbook was a hit with my five year old daughter! It asks the child to tell all about their favourite things by drawing pictures!
To print in booklet form:
Open in Adobe Acrobat
In the Print menu, select Booklet
Booklet subset: Both sides
Binding: Left
(Ensure paper size is set to A4).
We used a coloured cover page.
You may wish to ask the children to bring these back to use to get to know one another.
Letter/Sound Cards
These graph and digraph cards are part of our Word Building Mat resource, and make excellent stand-alone flash cards. You may even choose to laminate these for longevity and to incorporate them into your class's home learning routine.
Bookmark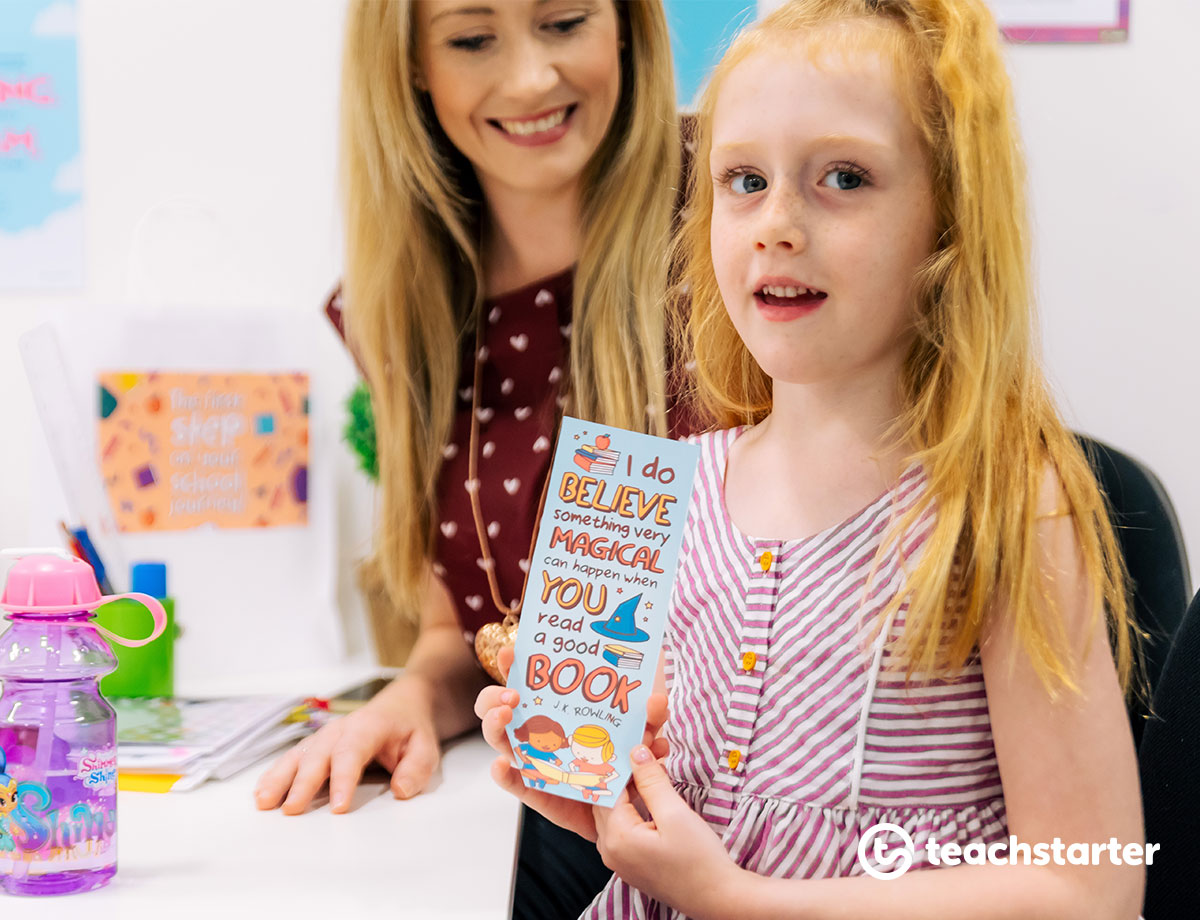 Children love to read and this is a practical gift they'll treasure! We have a large collection of bookmarks ready for you to browse!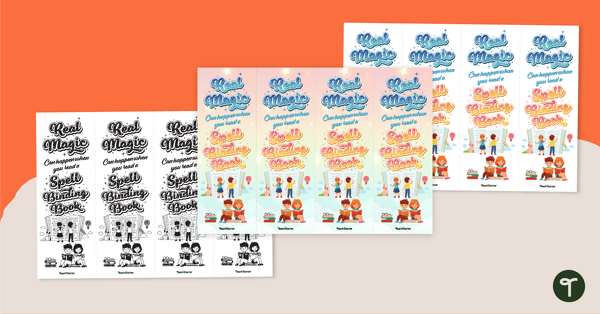 teaching resource
Highlight the magical properties of reading with a spellbinding bookmark!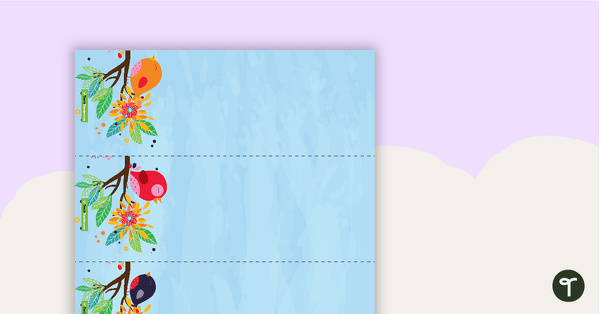 teaching resource
Customisable Bird themed bookmarks for your students to use.
Customisable Resources
Name Writing Sheet
Our Handwriting Sheet Widget is a user-friendly app which allows teachers to make custom handwriting sheets for their students. Here, I've created an individual name writing sheet for the student to practise writing their name in the lead up to starting school.
To do this:
Launch the Handwriting Sheet Widget (found under Menu: Widgets on the Teach Starter homepage)
In the Content field, enter your student's name eight times, separating each with a line break (enter)
Select your preferred School Font from the drop down menu
Select your preferred line style for each line
Select 8 lines per page and landscape orientation
Select Download at the top right of the screen.
Name Badge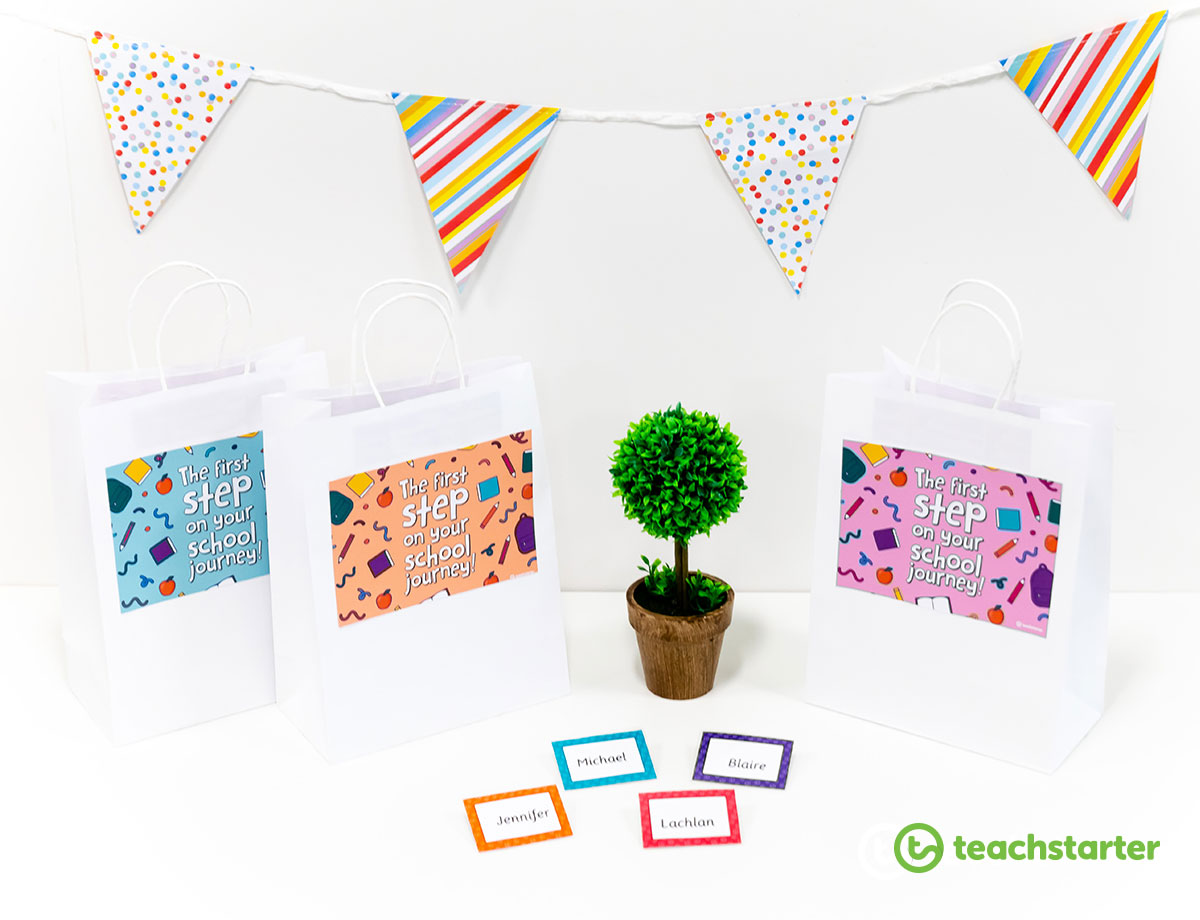 Often that very first day of school is a rush – children and parents arriving en masse (some happy, others teary). Although we as teachers try to remember everyone's name, it's inevitable that we can't match everyone. By sending home student's name badges early, and instructing them to wear them on the first day, we can save time and streamline the morning routine on the first day (somewhat!). These bright Emoji Name Tags can be customised with students' names in our Studio Application (print at 50% size to fit into standard clear plastic name badges).
Stationery Items
Scissors
Adding a pair of junior scissors is a lovely gesture that will enable your students to practise their cutting skills at home. These safety scissors have a blunt tip and are designed for little hands.
Pencils
Perfect for practising handwriting or drawing in the All About Me Workbook, pencils are a must-have in your Starting School Pack!
Looking forward to the first day with your new students? Be sure to read our great blog,