As both a parent and a teacher, I know that it can be hard to navigate the world of teacher gifts. After a lively conversation here in the Teach Starter office about the whole idea of gifts for teachers, here's a little food for thought about the best teacher gifts!
Best Teacher Gift Ideas
(that your child's teacher will love!)
The consensus amongst our teaching staff is that teachers want and expect nothing. Most are happy with a smile and a heartfelt thank you at the end of the school year! However, if your inner giver can't settle with the idea of gifting thoughts and words, then here are some thoughtful and useful teacher gift ideas for you.
---
A Picture or Letter from Your Child
If you're compelled to give your child's teacher a gift as thanks for the rapport they have built with your child during the school year, then this is the perfect present.
Simply ask your child to draw a special picture, or write a letter to their teacher. Believe me, this is the kind of gift that makes a teacher's heart swell!
---
Stationery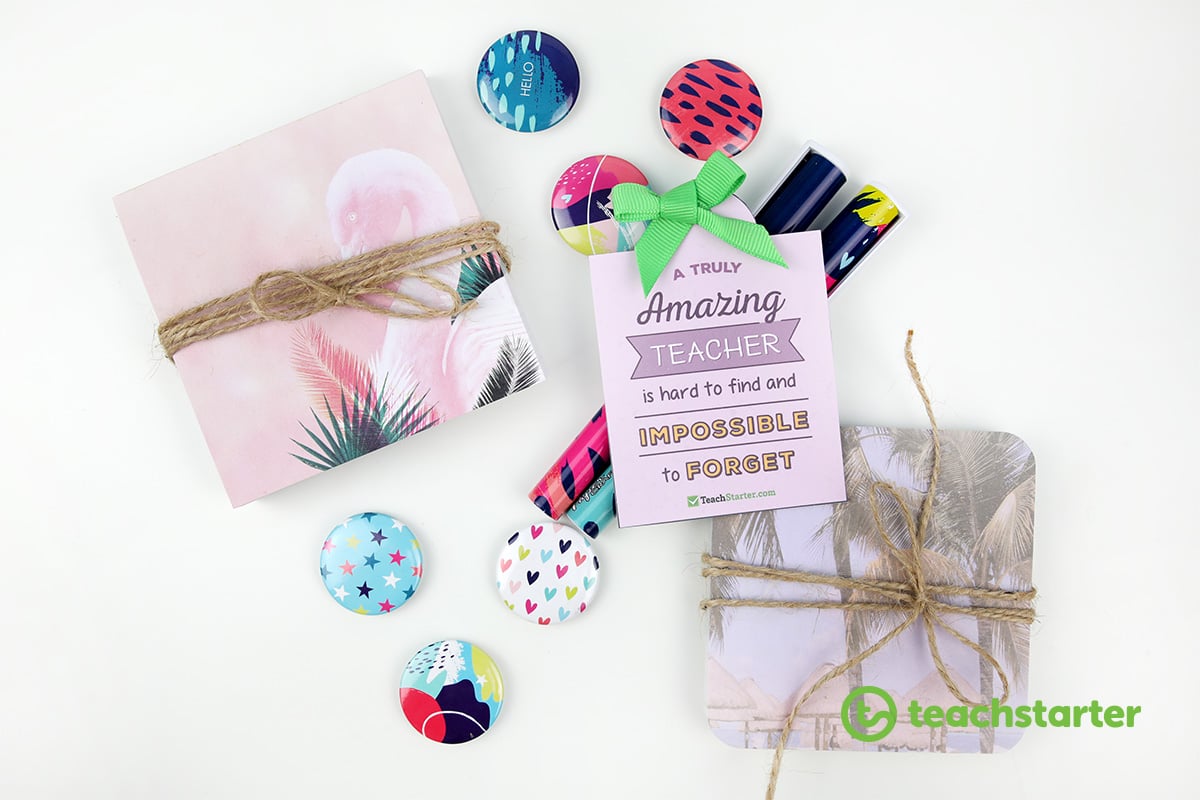 If there is one thing that most teachers love getting their hands on, it's new stationery! Here are a few things that can never go astray in a classroom teacher's stash:
funky post-it notes
coloured markers
writing pens
highlighters
stickers
decorative magnets
washi tape.
You can download these beautiful gift tags for teachers to personalise your present!
---
Experience Voucher
You don't need to know if your teacher loves skydiving to get them a great experience voucher. Sticking to things like a massage or a voucher for a local restaurant is a great way to say "Thank you for taking care of me, now go take care of yourself!".
---
Pot Plants or Flower Seeds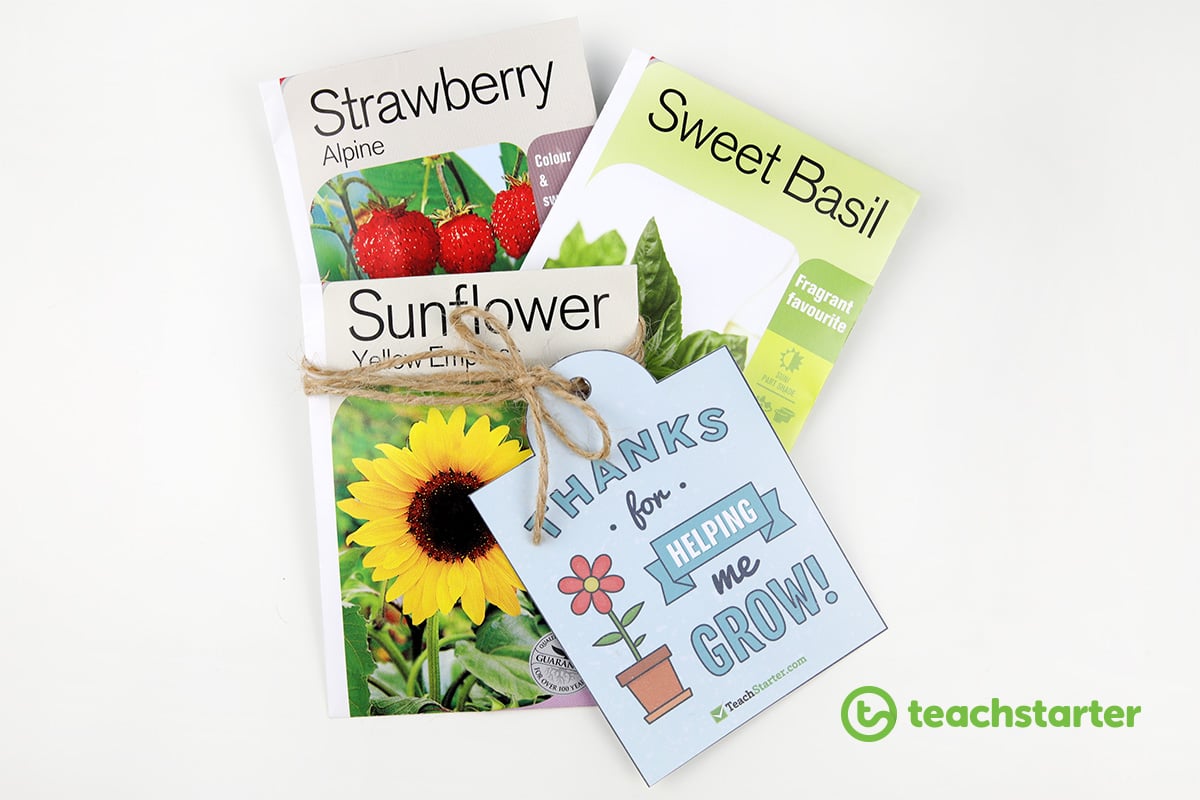 Pot plants are a beautiful gift, unless you know your teacher is heading overseas during the school holidays in which case some carefully selected seed packets are equally good too! We've created some sweet little gift tags with the message "thanks for helping me grow" on them that are perfect when gifting a pot plant or seeds.
---
Keep Cup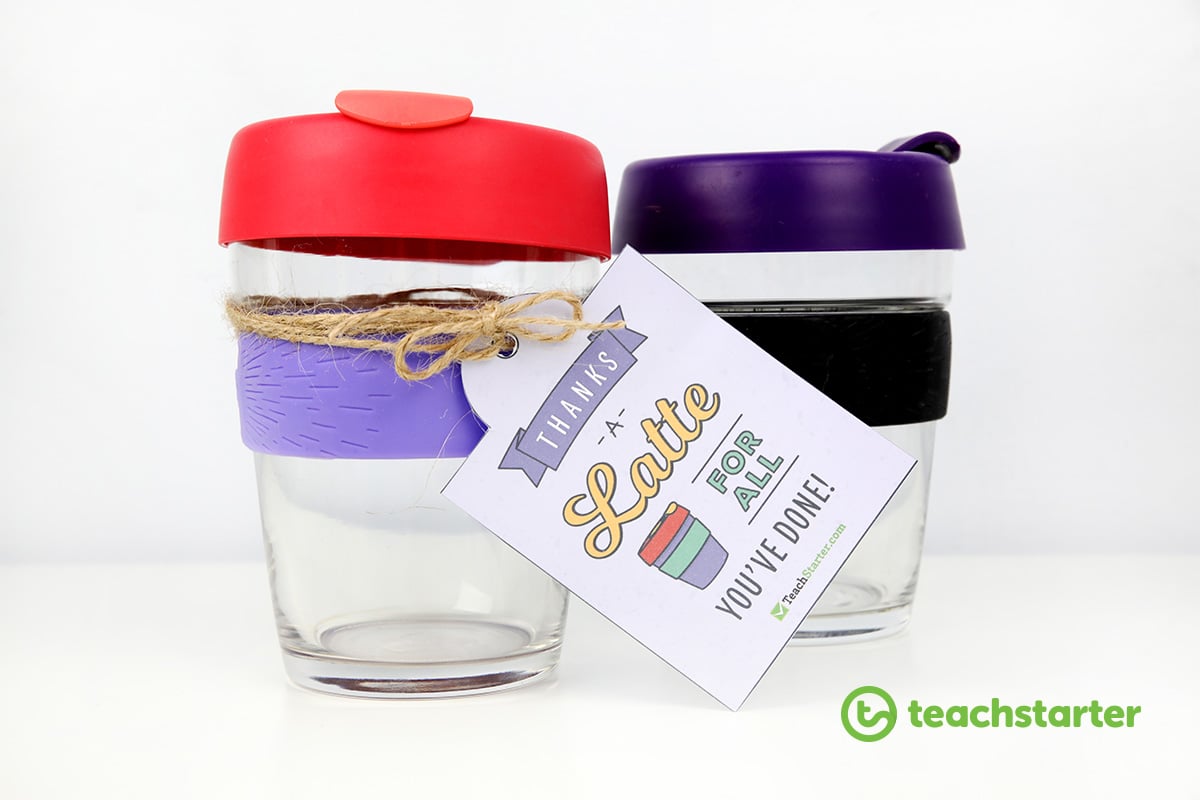 Most teachers live on coffee. And the ones who don't probably live on tea! These awesome reusable cups are made in Australia and are the best of the best. Keep Cup sizes match standard disposable cup sizes so baristas love them!
We might be biased, but Keep Cups are a pretty great match with our "thanks a latte for all you've done" teacher gift tags!
Head over and visit our friends at Biome too see the wide range of colours and styles available.
---
Gift Card
Now, before you start worrying about gift cards being too impersonal for a gift, hear me out! Teachers spend a lot of their own money on resources, materials and decorative items for their classrooms. Not because they have to, but because they want to! By giving your teacher a gift card, you are acknowledging how much you appreciate the work they do, and how much you value the extra effort they put into making sure all of the students in their class have the best school experience that they can.
We think that some of the best gift vouchers for teachers here in Australia include:
Coles Myer
Kmart
Bunnings
Officeworks
Kikki K
Smiggle.
---
Teach Starter Membership!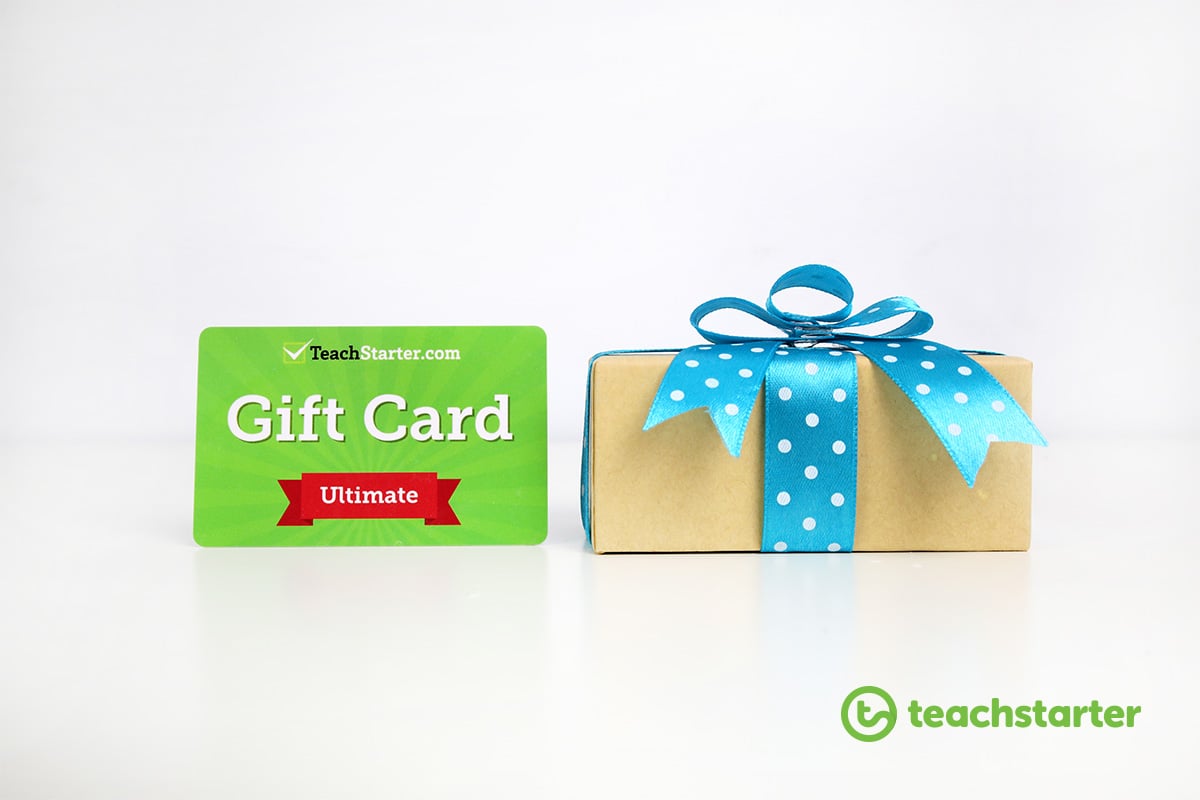 It would be crazy for me not to inform you of the Gift Cards we have available too! Giving your teacher the gift of a 12-month membership to Teach Starter is the equivalent of going to their house at 10 pm on a school night and writing new resources and lesson plans for them!
A gifted Teach Starter membership is truly giving the gift of time. Which is something that has more value to teachers than any material object. If your class parent group is a close-knit one, you might consider collecting a few dollars from each family to put towards one gift card.
To purchase a Teach Starter gift card:
View our plans on our Teach Starter Plans page.
Purchase the corresponding Gift Card via this form.
– If you don't want your teacher to receive the email about their Gift Card straight away, enter your own details into the "Recipient Information" section. Then you can forward on the Gift Card email at a later date.
Prepare to be lavished with more thanks than you could ever imagine!
---
So, what do you think?
Did you notice what things didn't make the cut after our little office debate? We're talking no mugs, no "best teacher" gifts, hand-cream or bath related things, no candles and (however controversially) no chocolate! ?‍♀️
If you have been wanting to give your child's teacher a gift, hopefully, there is something on this list that will be just right for them.
Don't forget to download our beautiful printable teacher gift tags to add the perfect finishing touch!