Hey, teachers! Have you got the buzz in your classroom for 2020? Do you need something special to get this year fired up and ready to go? Are you looking for a teaching resource that will get your students excited?
We're here for you! We have created a fabulous and Year 4 Back-to-School Teaching Resource Pack to help make this your best year yet!
Now that we've got your attention, take a look for yourself!
This wonderful resource pack has been selected by teachers in the know and is jammed with the best 20 printables, downloads and digital resources your teaching hearts could desire! Not only this, but these curriculum-aligned resources have been specifically chosen with Year 4 teachers in mind.
For an even closer look into the amazingness inside our Year 4 Back-to-School Teaching Resource Pack, check out the breakdown below…
---
Year 4 Back-to-School Teaching Resource Pack
These carefully selected teaching resources from across the curriculum will inspire your teaching for the first days and weeks of the new year … and beyond.
An Inspiring Classroom Theme – Geometric Boho
As we all know, having a classroom theme helps to lift the spirit of your classroom. Decorate your classroom with beautifully illustrated border trimmers, labels and signs and get the perfect look. Add educational posters and other display items to make your classroom shine.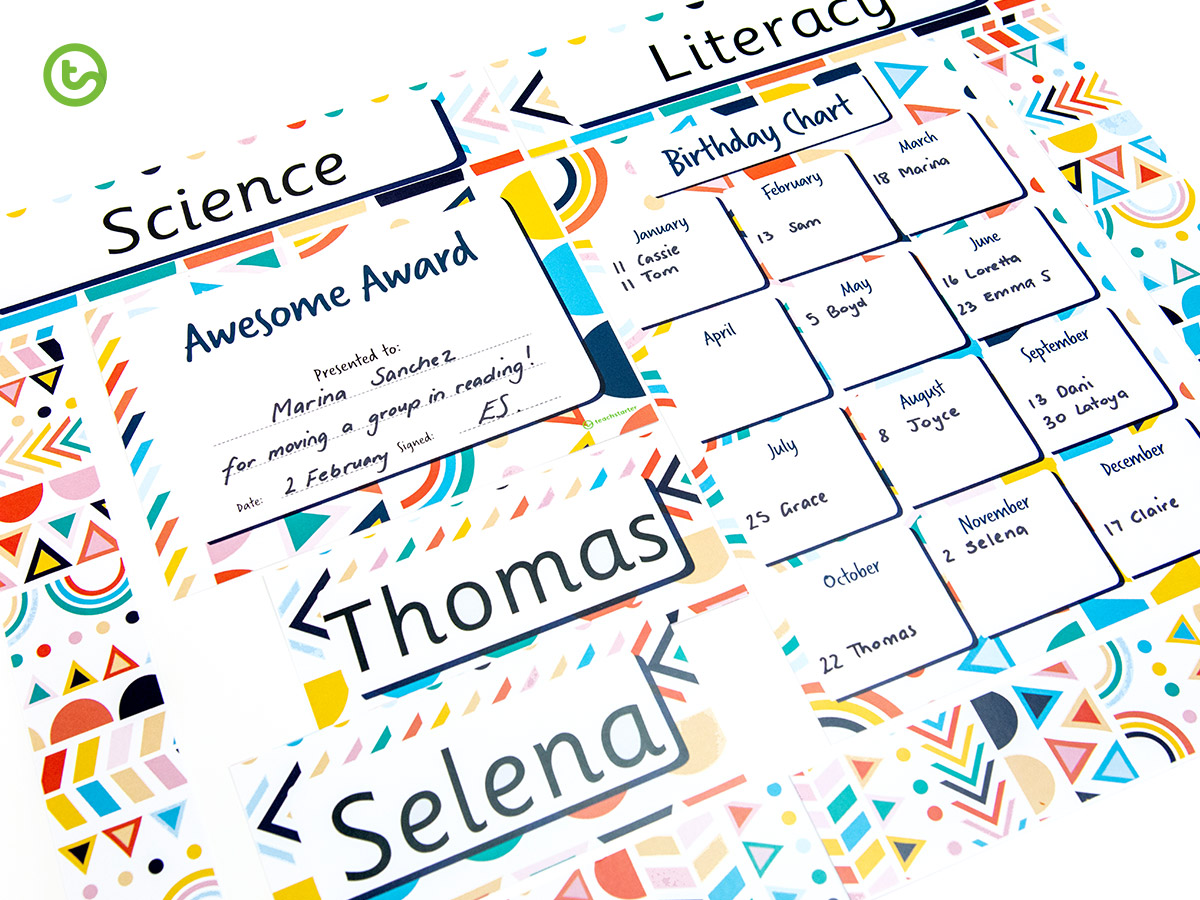 Our Geometric Boho Resources have been some of our most popular yet! In this pack, you will get the Geometric Boho:
---
Curriculum-Aligned Resources
Are you looking for fun, engaging and inspirational classroom resources – that are curriculum-aligned? Look no further!
Take, for example, our Word of the Week Flip Book for Year 4! Without a doubt, this will become a favourite in your classroom.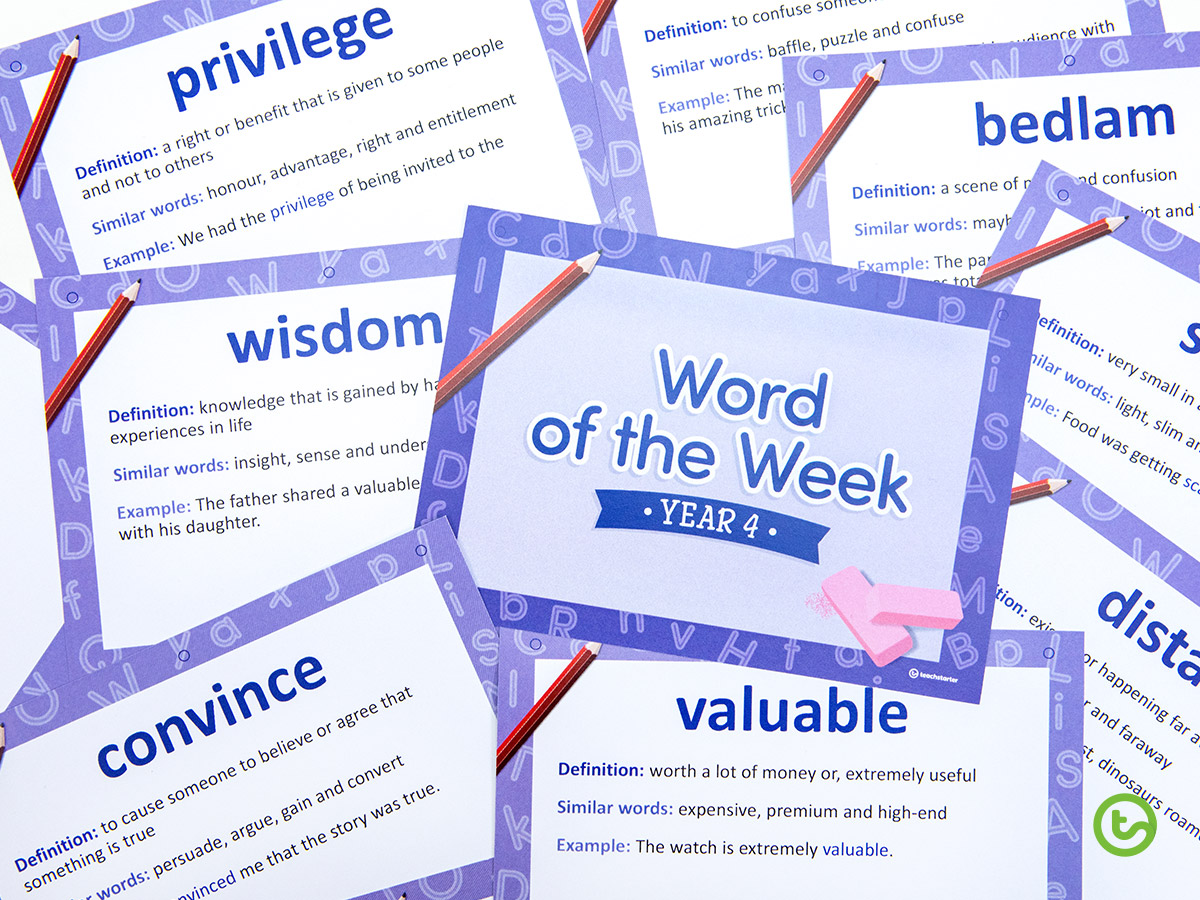 Analyse a new sight word each week with this fun and interactive resource.
In this teaching resource, each page contains:
a new word
the definition of the word
an example sentence, showing the word being used in context.
Literacy, numeracy, science, as well as HASS – you name it, there's a resource for all KLA's in this pack. Just download it and see for yourself.
---
Resilience and Growth Mindset
The middle years of schooling are a wonderful time! There is so much social and emotional growth as our students start to mature. Helping your students blossom and become more independent is one of the best parts of being a teacher, in my opinion!

Use our Resilience Tool Kit Poster – With Explanations when talking to your class about bullying and resilience. In the Year 4 Back-to-School Teaching Resource pack you'll also find the Growth and Fixed Mindset Poster, which is perfect for providing a visual reminder to your students of what they need to have a growth mindset.
---
Making Homework Fun
These resources aren't just for the classroom, they're for home as well!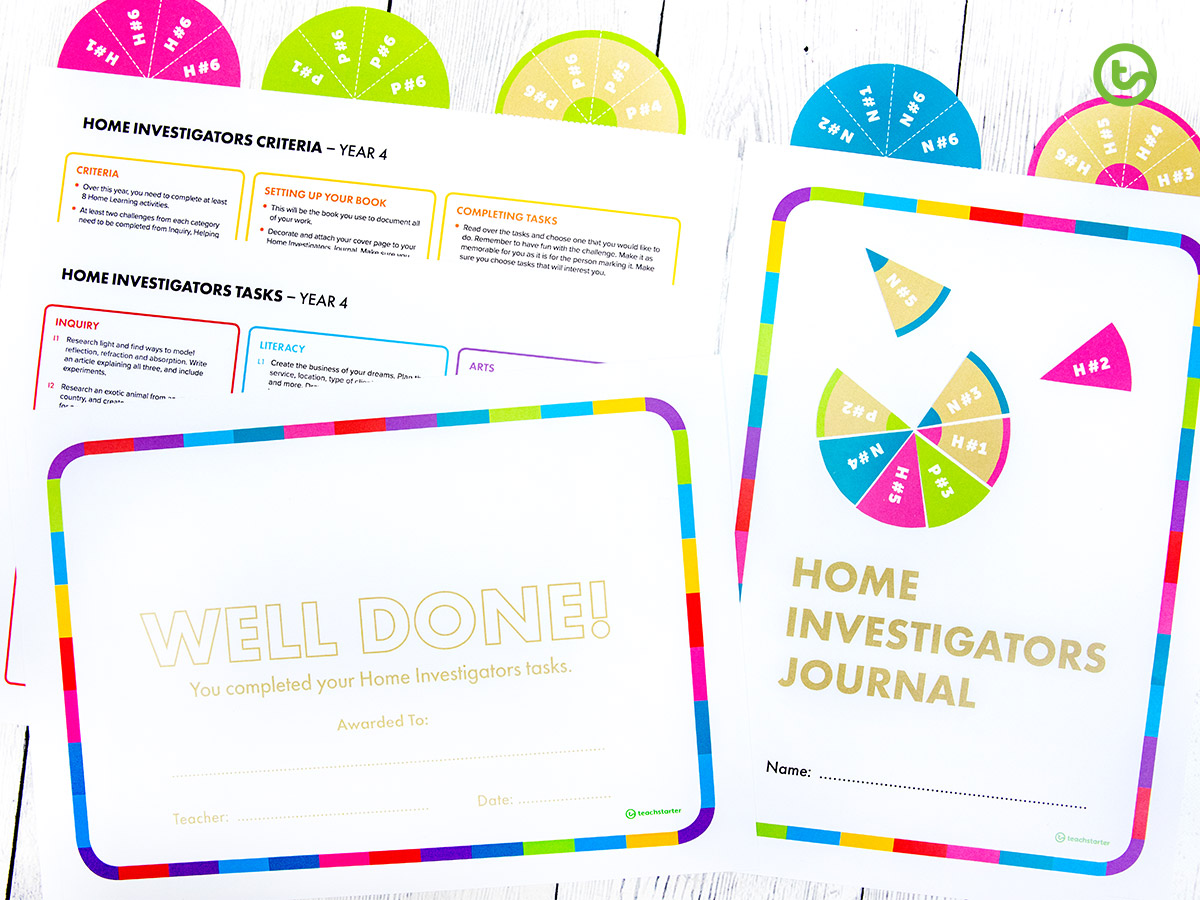 The Home Investigators Inquiry Tasks innovative homework program appeals to students' passions and interests, encouraging them to participate in tasks that are relevant to their everyday lives.
This teaching resource provides a large variety of learning experiences for students to complete at home or in the wider community. In your classroom, these tasks can be the homework vision for the year, or use them to complement homework maintenance such as nightly reading and maths.
---
20 Teaching Resources
Obviously you're itching to get your hands on this pack now that you know what is in it!
If you're excited by these teaching resources wait until you see what else is included! To find out what other teaching resources are included and to claim your Year 4 Teaching Resource Pack click on the link below.
Year 4 Back-to-School Teaching Pack
This is your year to be the teacher you were meant to be!
Looking for a resource pack for a different year level? Head to our Back-to-School Teaching Resource Packs collection.
Download your Year 4 Back-to-School Teaching Pack now!