Teachers, it's time to put up your feet and relax! Find a hammock somewhere on a nice sunny day or curl up on the couch with a cuppa. This is your time to recharge. If you are anything like me, you haven't picked up a book since the last school holidays. So perhaps you feel out of the loop when it comes to knowing what books are hot property right now. We decided to ask our wonderful teachers their current must-reads for the summer of 2018.
This list includes a huge range of books from memoirs to thrillers…there's something for everyone.
Holiday Reads for Teachers to Read This Summer
We couldn't compose a list of books for teachers to read during their holidays without including this amazing book! Gabbie was recently a guest at a Teachers' VIP Event and she's just as lovely in person.
A powerful and moving memoir about how the current system is letting down children and parents, and breaking dedicated teachers.
Personally, I finished this book in only a couple of sittings and it's a beauty!
A fantastic take on ex-husbands and second wives, mothers and daughters, schoolyard scandal, and the dangerous little lies that we tell ourselves just to survive.
An intimate, powerful and inspiring memoir by the former First Lady of the United States.
An inspiring read that you won't be able to put down…
Eleanor Oliphant leads a simple life. She wears the same clothes to work every day, eats the same meal deal for lunch every day.
Eleanor Oliphant is happy. Nothing is missing from her carefully timetabled life. Except, sometimes, everything. One simple act of kindness is about to shatter the walls Elanor has built around herself.
This book was suggested by one of our lovely followers on Instagram. After some research, we discovered that it was written by educators with a focus on helping other educators create a lifestyle that allows them to break free from 'shoulds' and 'have tos'
Balance is a myth, but living with purpose, passion, and priorities is within your reach.
Another popular book by the amazing Liana Moriarty (another one I can vouch for).
Cecilia Fitzpatrick, devoted mother, successful Tupperware business owner and efficient P&C President, has found a letter from her husband.
'For my wife, Cecilia Fitzpatrick, to be opened only in the event of my death'. But, Cecilia's husband isn't dead.
Winner of the 2015 Pulitzer Prize for Fiction. An intricate novel inspired by the horrors of World War II.
A beautiful, stunningly ambitious novel about a blind French girl and a German boy whose paths collide in occupied France as both try to survive the devastation of World War II.
This is Liana's third book featured in this blog. It's trending in the top ten at the moment and it's no wonder why.
Could ten days at a health resort really change you forever? These nine perfect strangers are about to find out.
If you could ask Santa for absolutely anything, what would you ask for?
Samuel Johnson OAM, Australia's favourite skylarker, brother and determined cancer vanquisher, has asked his friends and supporters (who just happen to be some of Australia's best writers, comics, actors, artists, musicians and personalities) to share their letters to Santa.
An amazing book all about the new science called neuroplasticity, overthrowing the centuries-old northern that the human brain is immutable.
We see a woman born with half a brain that rewired itself to work as a whole, blind people who learn to see, learning disorders cured, IQs raised, aging brains rejuvenated, stroke patients learning to speak, children with cerebral palsy learning to move with more grace, depression and anxiety disorders successfully treated, and lifelong character traits changed.
Arcadia (Di Morrissey)
A breathtaking Tasmanian tale of ancient forests; of art and science; of love and, above all, of friendship.
In the 1930s, in an isolated and beautiful corner of southern Tasmania, a new young wife arrives at her husband's secluded property – Arcadia. Stella, an artist, falls in love with Arcadia's wild, ancient forest. And when an unknown predator strikes, she is saved by an unusual protector…
An incredible story of the Auschwitz-Birkenau tattooist and the woman he loved.
'The Tattooist of Auschwitz has the quality of a dark fairytale. It is both simple and epic, shot through with compassion and love… Everyone should read it'
-Hugh Riminton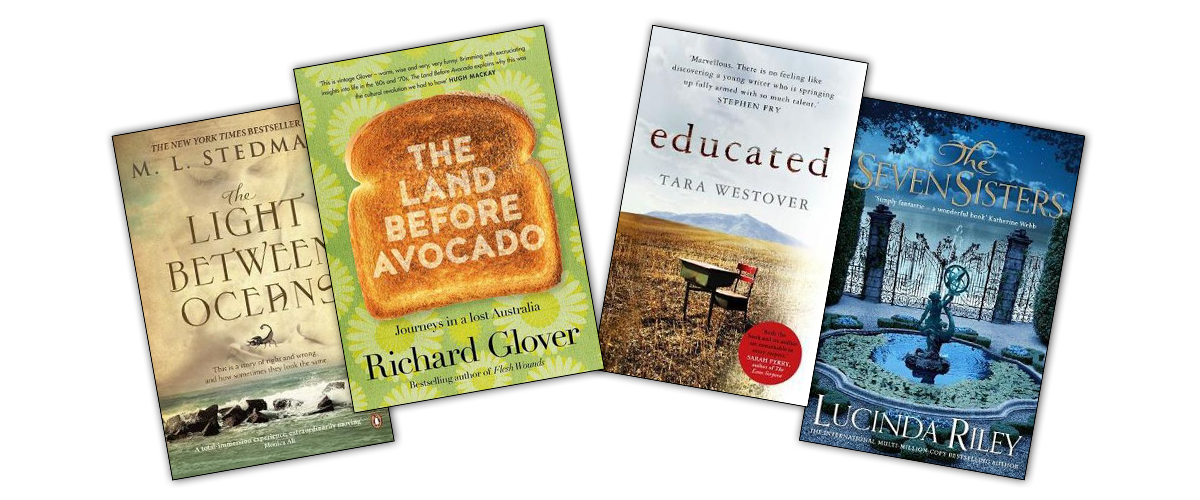 If you are keen to get your head into a series of books. This is a must read!
The Seven Sisters is a sweeping epic tale of love and loss. Maria and her five sisters gather together at their childhood home, having been told that their beloved adoptive father, the elusive billionaire they call Pa Salt, has died. Each of them is handed a tantalising clue to their true heritage…
This is a little bit left of field, a new book from the bestselling author of Flesh Wounds. It's a funny and frank look at the way Australia used to be and just how far we have come.
Let's break the news now: they didn't have avacado.
This mesmerising Australian novel has been a bestselling book around the world, and Hollywood movie rights were recently snapped up by Dreamworks. So before the movie comes out, get reading!
Tom Sherbourne is a young lighthouse keeper on a remote island off Western Australia. The only inhabitants of Janus Rock, he and his wife Isabel live a quiet life, cocooned from the rest of the world.
Then one April morning a boat washes ashore carrying a dead man and a crying infant – and the path of the couple's lives hits an unthinkable crossroads.
Tara Westover grew up preparing for the End of Days, watching for the sun to darken, for the moon to drip as if with blood. She spent her summers bottling peaches and her winters rotating emergency supplies, hoping that when the World of Men failed, her family would continue on, unaffected.
She hadn't been registered for a birth certificate. She had no school records because she'd never set foot in a classroom, and no medical records because her father didn't believe in doctors or hospitals.
According to the state and federal government, she didn't exist.
If you are into thrillers, this was the most hotly anticipated thriller of 2018.
It follows our hero Jack Reacher on a quest into his father's past, and climaxes in the most stomach-clenching, hair-raising, blood curling, ticking-time-bomb of an adventure yet.
Severine Kassel is asked by the Louvre in 1963 to aid the British Museum with curating its antique jewellery, her specialty.
Her London colleagues find her distant and mysterious; her cool beauty the topic of conversations around its quiet halls. No one could imagine that she is a desperately damaged woman, hiding her trauma behind her chic, French image.
Who really killed the Hadler family?
Luke Hadler turns a gun on his wife and child, then himself. The farming community of Kiewarra is facing life and death choices daily.
If one of their own broke under the strain, well…
After putting this list of books together. This is one of the books that I am definitely going to read!
Every Thursday morning for two years in the Islamic Republic of Iran, a bold and inspired teacher named Azar Nafisi secretly gathered seven of her most committed female students to read forbidden Western classics.
What are your hot picks this summer?
Leave a suggestion in the comments section of this blog for us to share.