Why is it important to recognise gender equality in my classroom?
This is a question some of you may be asking as we approach International Women's Day, 2019.
Perhaps you're not familiar with International Women's Day, which falls on March 8th. Or, perhaps, you feel that in the world of number sense and vowel sounds, the issues surrounding gender balance are a bit too 'grown-up' for the classroom.
Here at Teach Starter, we are proud to be champions and supporters of International Women's Day.
We believe the classroom is the PERFECT place to explore women's equality! We have even teamed up with the people behind International Women's Day to provide you with a range of FREE empowering and inspirational resources to help you explore and promote gender equality in your classroom.
What is International Women's Day?
International Women's Day is a global day to celebrate the achievements of women. Not only this, the day serves as an annual reminder and call to action for moving towards gender equality.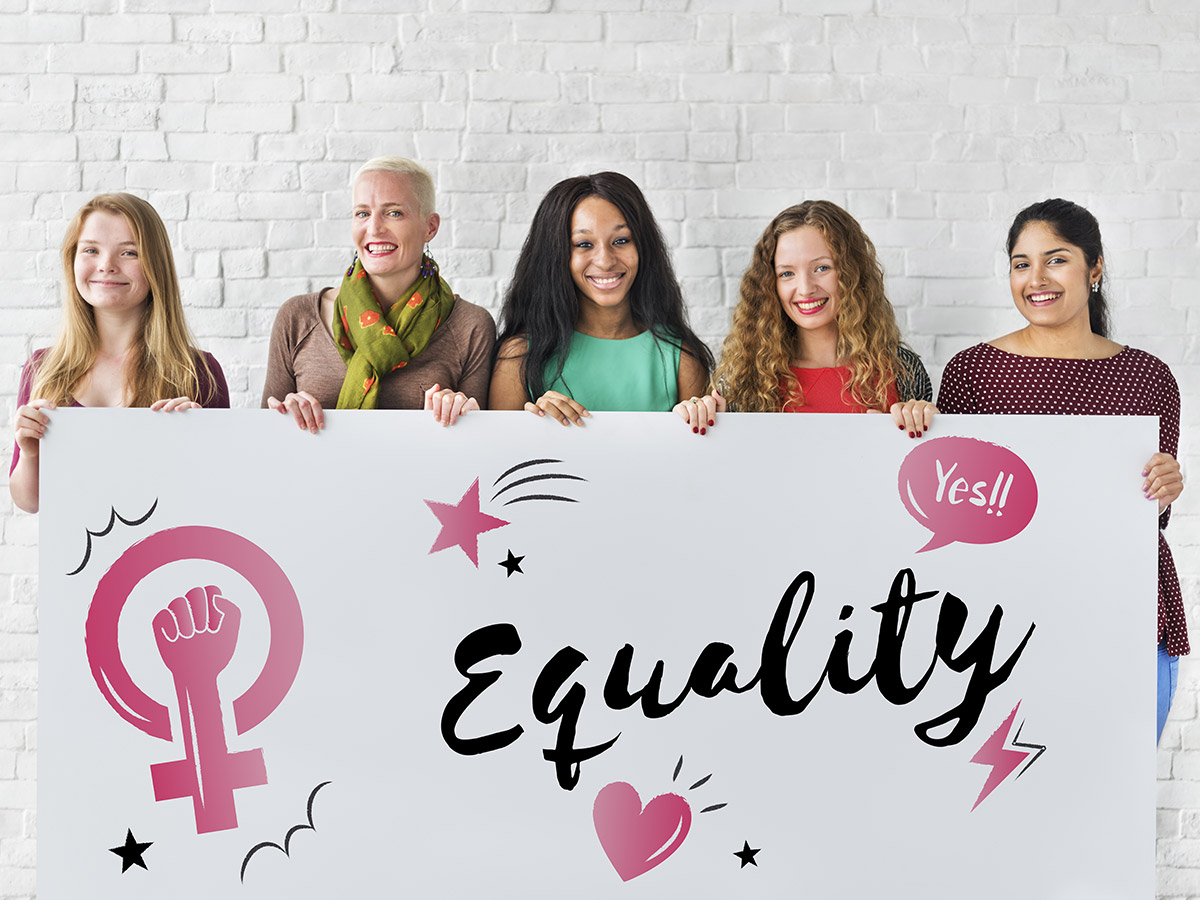 In the 21st Century, we have never been closer to a gender-balanced world. However, we still have a long way to go! The International Women's Day theme for 2019 – #BalanceforBetter – promotes the message that it is everyone's responsibility to work towards equality for women.
Why the Classroom is a Great Place to Promote Gender Equality
You will hopefully agree with me when I say that teachers are an incredibly privileged bunch. It's true! We are able to touch numerous lives and families every day, creating positive little people with our actions in the classroom. Teachers foster a love for learning about the world around us. While we do this, we address social issues such as equality, compassion and empathy in order to teach our students to be good people.
We already strive daily to show students that they are valued and to value each other. As part of this, we encourage our class to challenge inequality.
International Women's Day and #BalanceforBetter aims to promote this very message in our society.
The ways in which students are encouraged to interact with their peers at school carries on to how they interact with those in their communities. Our students will grow and carry these habits into adulthood.
Teachers are in a perfect position to help our students become informed, conscientious citizens. So…why wouldn't you do your part?
Exploring Gender Equality in the Classroom
The teachers, designers and illustrators in the office here at Teach Starter HQ have put our heads together and come up with a range of resources aimed at women empowerment. The best part is, they're FREE! Use these resources to make your classroom buzz while helping celebrate International Women's Day!
If this is your first time exploring International Women's Day in your classroom, Cassie's blog 25 Inspiring International Women's Day Resources and Activities showcases some of our amazing resources from last year – they haven't lost their usefulness!
To help you continue to inspire and educate your students in 2019, we have produced even more engaging activities to help your students aim for a more gender-balanced world.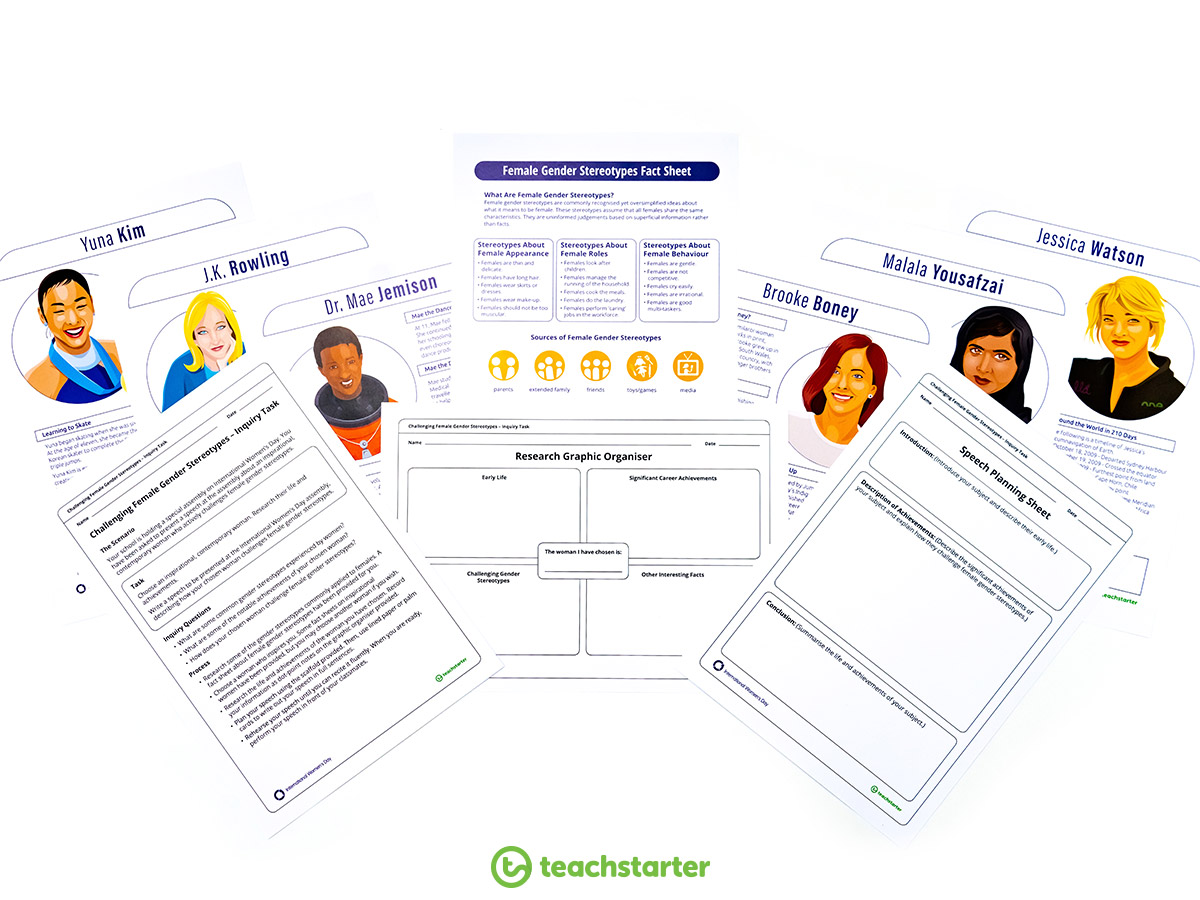 Our International Women's Day resources include some of the most empowering and informative International Women's Day activities around!
Whether you're having a whole day to focus on International Women's Day, or you're going to focus on gender equality-related issues over the course of a few weeks, take a look at how you may like to teach them below.
Introducing International Women's Day Into the Classroom
Teach Starter has produced an International Women's Day Assembly PowerPoint to explain to your students exactly why this day is so important. This PowerPoint also helps students clearly understand the inequalities that women around the world face every day.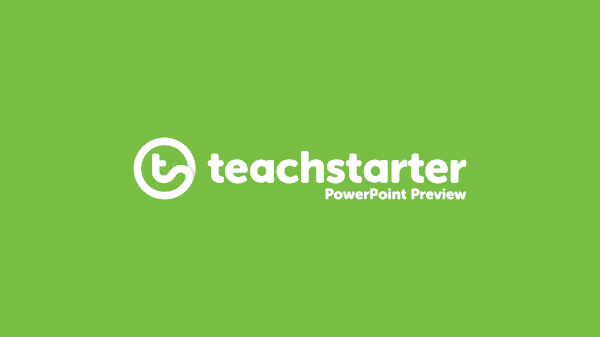 Read through our International Women's Day Fact Sheet with your students, before having a class discussion on why it's necessary to have such a day.
A great way to follow up a class discussion is with our International Women's Day Activity Task Cards. These cards provide a range of levelled activities to help your students explore the issues and ideas related to International Women's Day.
Placing Gender Stereotype Issues Under the Microscope
By now your students will have developed their understanding of the facts! We have some brilliant resources which can help your class zoom in on gender-related issues.
Gender stereotypes are often so ingrained in society that many students may not even be aware of them.
Help your students examine the stereotypes with our Female Gender Stereotypes Fact Sheet.
The Examining Gender Stereotypes PowerPoint links to small group and individual learning activities that help your students consolidate this information.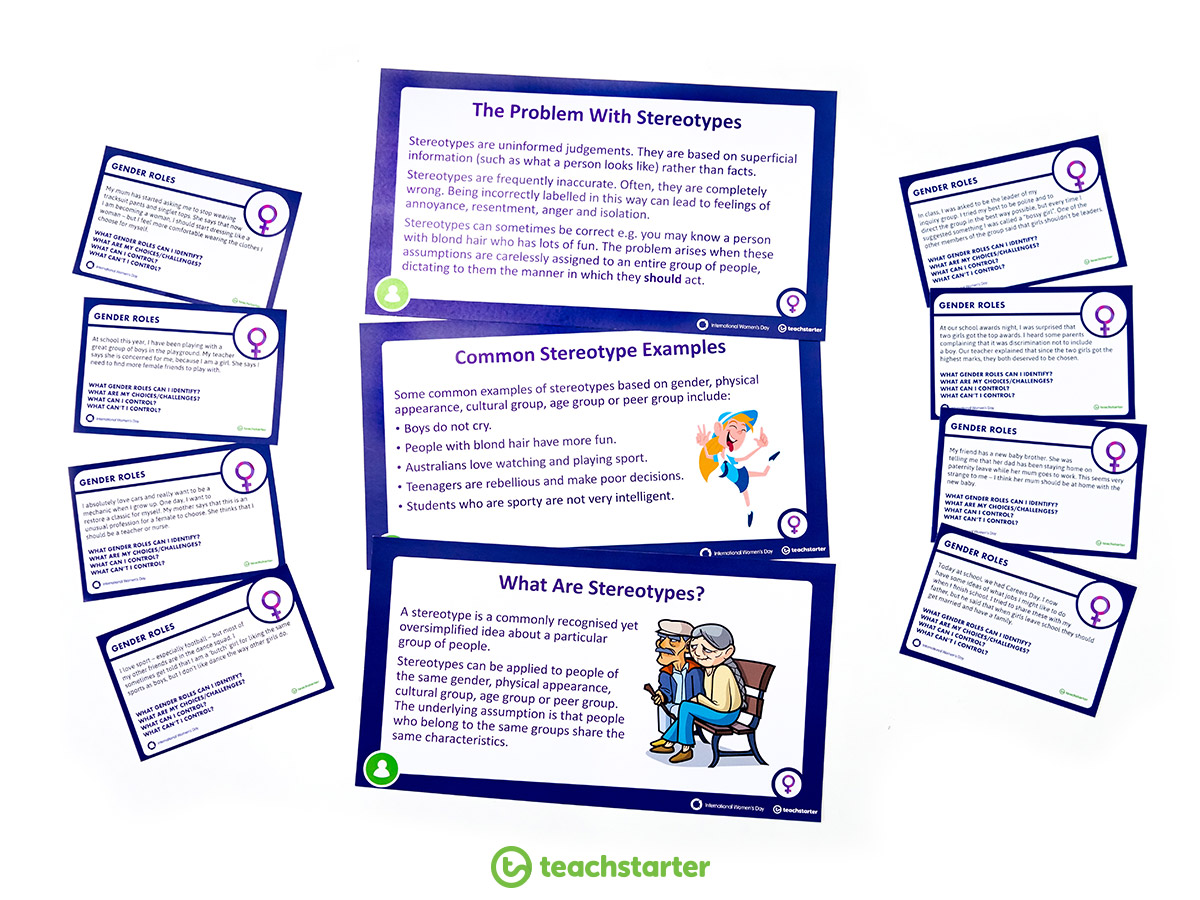 Your students will then have the opportunity to demonstrate their understanding of gender stereotypes with our International Women's Day Gender Roles – Task Cards. 
Examining Gender Inequality in Education
Around the world, there are at least 32 million girls of primary school age out of school, compared to about 28 million boys.
Of the world's 774 million illiterate adults, 2/3 are women. The share of illiterate women has not changed for the past 20 years.
15 million girls of primary school age will never have the opportunity to learn to read and write in a school setting, compared to about 10 million boys.
As teachers with a passion for education, how do these facts make you feel?
These and many more facts can be explored with our Gender Inequality in Education Infographic Poster and Female Participation in Secondary Education World Map. You may like to ask your students to write a reflective piece on the facts that they learn about. Alternately, why not do a class brainstorm of how this may impact society for adults?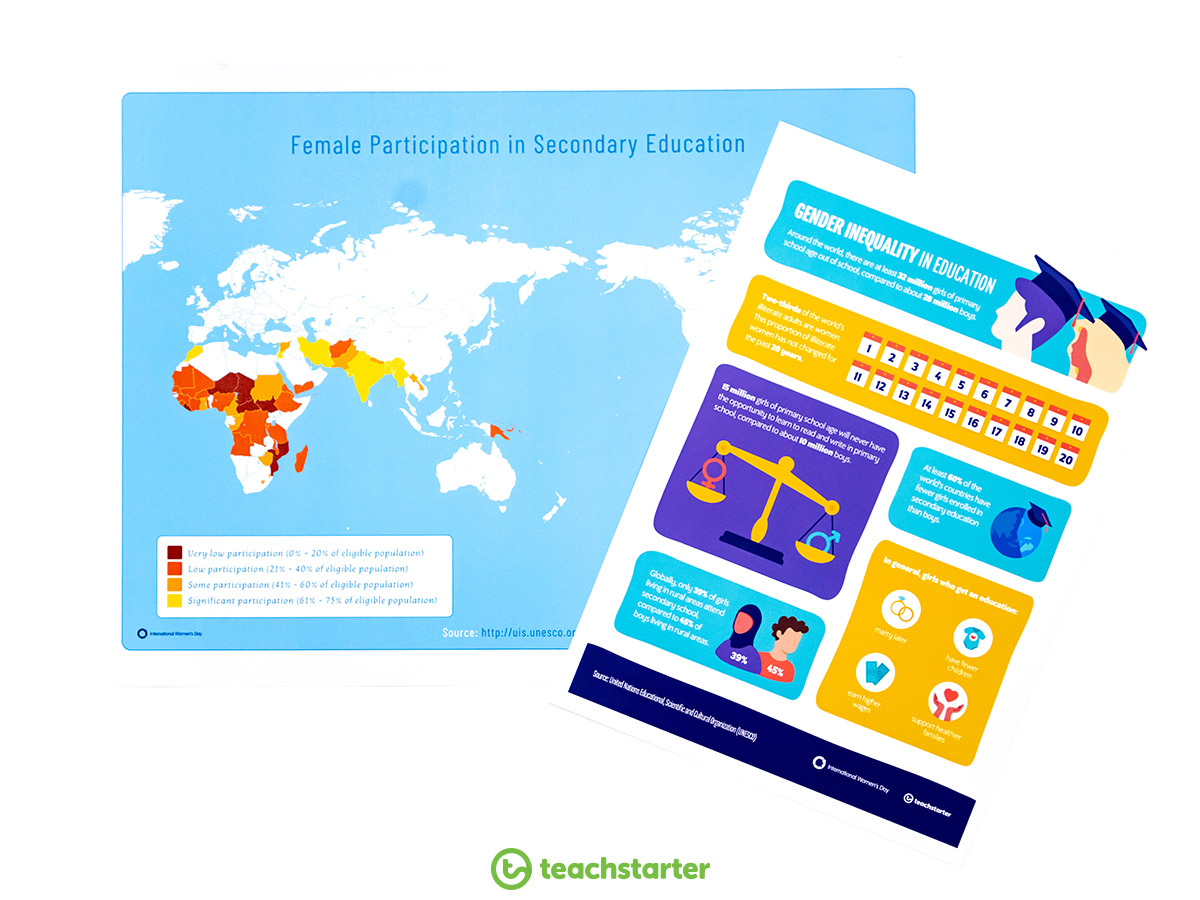 Where there is inequality in education, there will be inequality in other areas of the community. Why not further study one of the countries noted on the above map? We have a resource to help you with this too!
Looking at Inspirational Women
International Women's Day is not just about bringing attention to gender inequality. It is also about celebrating the achievements of women around the world!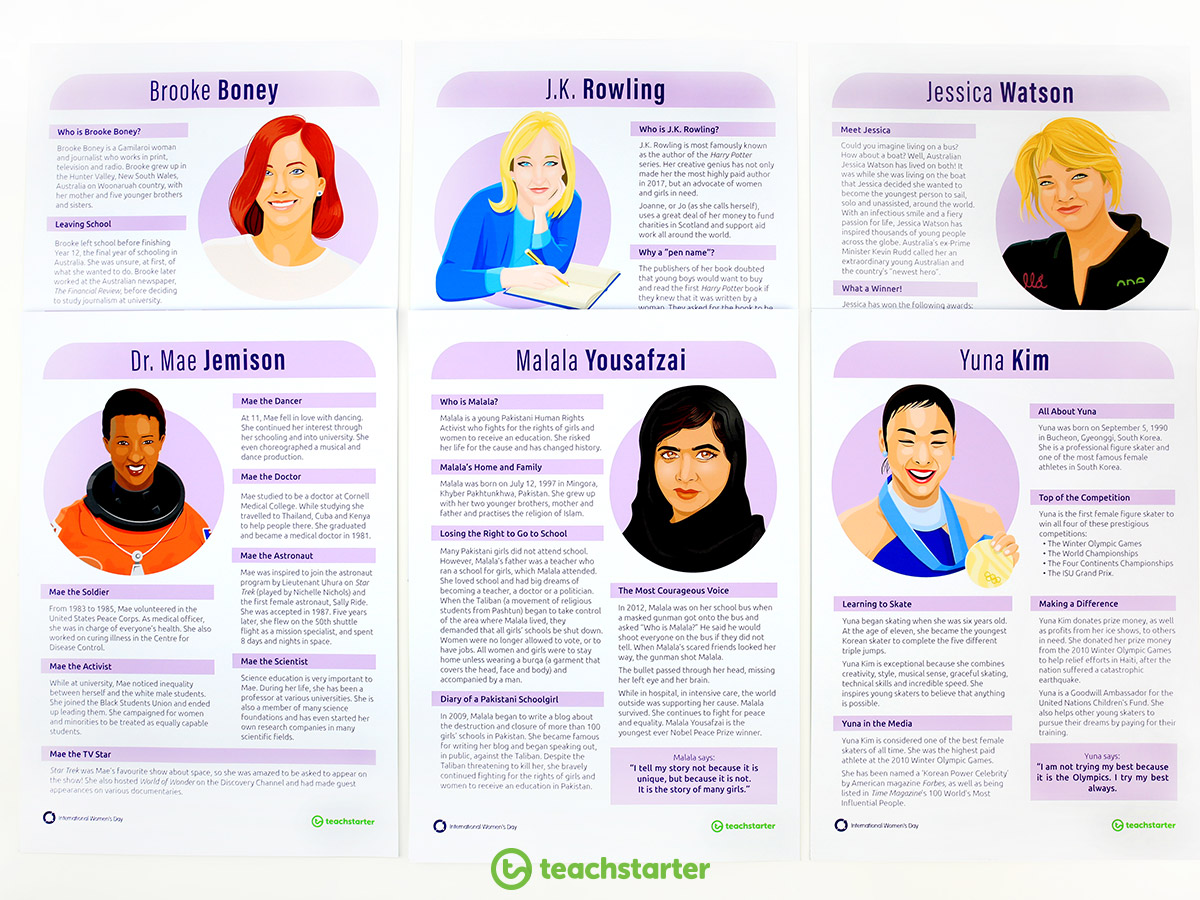 Encourage your students to think about inspirational women in their own lives. Maybe their doctor is a woman. Perhaps their mother is a great role model! Ask your students to complete the beautiful All About My Role Model Activity Booklet to tell you about a woman they admire.
This teaching resource can be used in conjunction with our Celebrating Inspirational Women Inquiry Task. In this task, older students will love researching the life and achievements of inspirational contemporary women.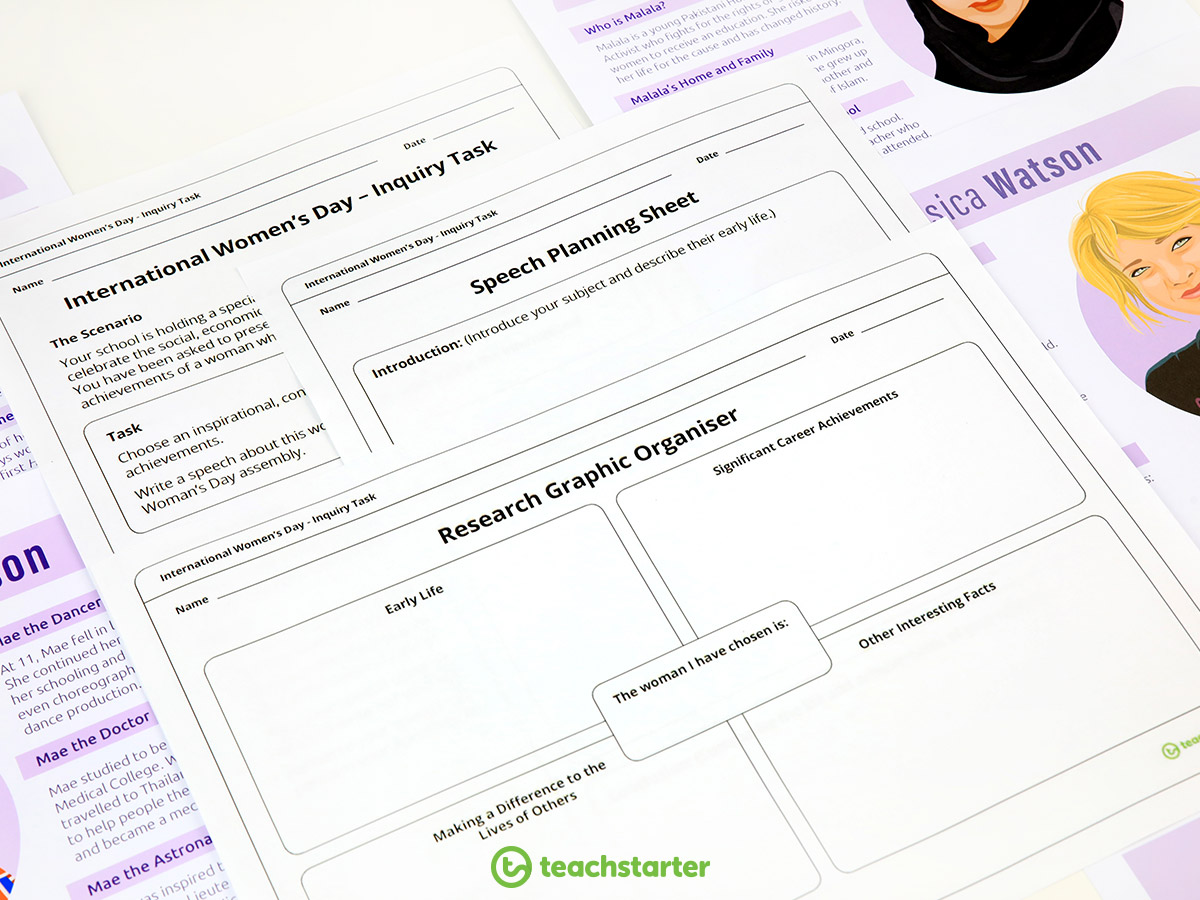 Your students will love the chance to explore how these inspirational females have worked to banish gender stereotypes! To extend their understanding, students can create a speech as part of our Challenging Gender Stereotypes Inquiry Task.
Putting Equality into Practice
It's all well and good for students to show their understanding of the issues surrounding gender-balance. But for there to truly be a change, these thoughts need to be put into action.
There are several things you can do in your classroom to encourage equality:
Encourage students to see each other for their individual personality traits, rather than their gender.
Remind students that there are no such things as 'boy things' and 'girl things'. Discourage your students from using this language in the classroom.
Read books that empower girls – for some ideas, read our blog 8 Amazing Children's Books and Activities for International Women's Day.
Invite a guest speaker who goes against gender stereotypes to share their story with your class. Perhaps a female firefighter or builder would love to encourage the girls in your class to follow their passions!
Role-model to your students ways to maturely and respectfully challenge inequality when they see it around the school.
Encourage your students to discuss gender equality with their families.
Thank you for joining us in this year's International Women's Day! Together, we are encouraging our students to actively engage in challenging gender inequality. Let's help our students engage in conversations and experienced that teach them to question stereotypes, promote gender balance and celebrate women's achievements.
Tell us how you celebrate International Women's Day in your classroom! Comment below or follow us on Facebook, Instagram or Twitter to share your experiences.
#BalanceforBetter #TeachStarter #IWD2019