The Elf on the Shelf is a relatively new tradition which originated in the United States in 2005, when the book of the same name was first published. Its authors, mother and daughter Carol Aebersold and Chanda Bell, based the story on their own family tradition of hosting a visiting elf each year in the lead up to Christmas. Now, families around the world have embraced the Elf on the Shelf tradition in their homes, and it's becoming increasingly popular in Christmas-loving classrooms, too.
Listen to our episode about Elf on the Shelf on our podcast, For the Love of Teaching!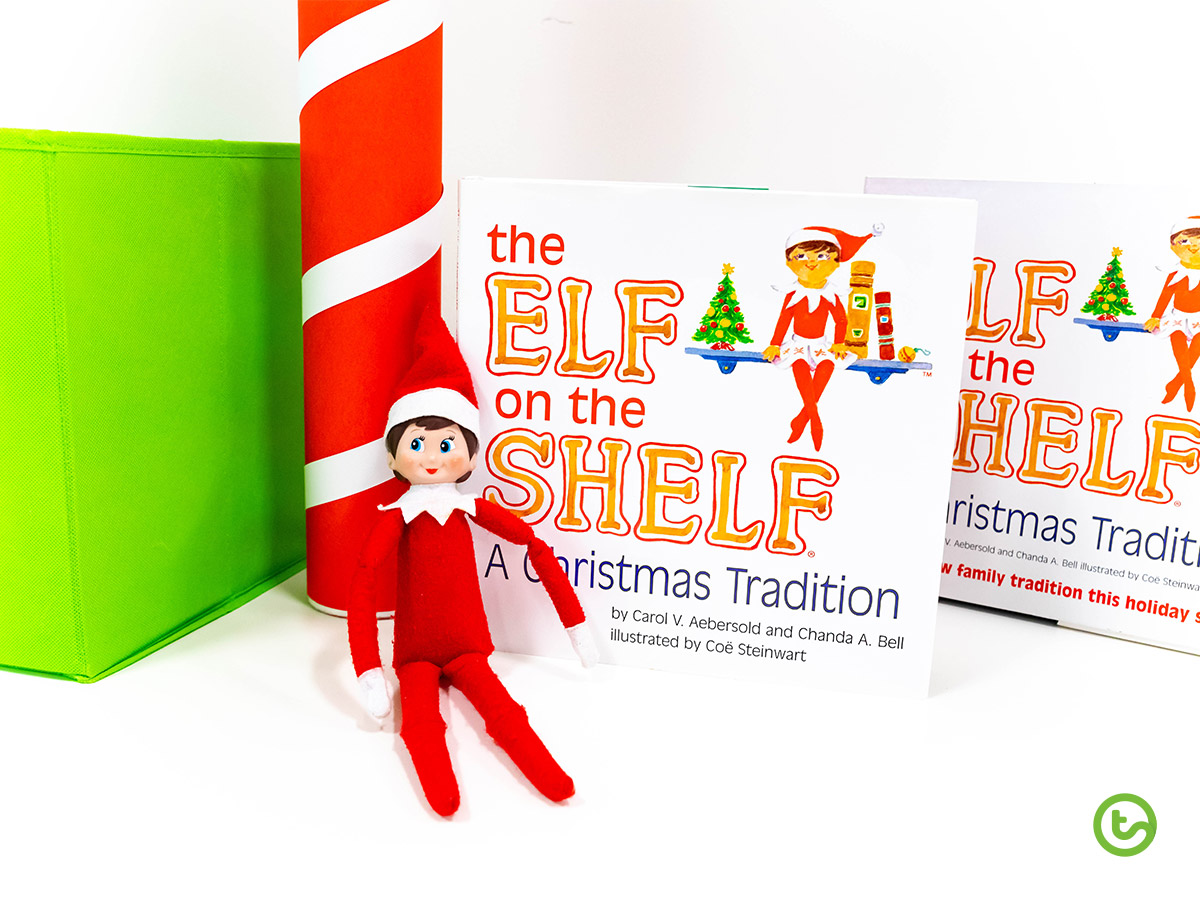 If you've never done Elf on the Shelf with your students, there's no better time than the present to get involved!
We've brought together these great ideas for making your classroom magical this Christmas with a little help from a special visitor – your very own Elf on the Shelf!
Elf Arrival
If you've got a copy of The Elf on the Shelf  – A Christmas Tradition, you could read through the story with the children, to begin with. Or, if you don't have access to the book, watch the above video together to hear it read by a real elf!
Elf on the Shelf 2020 Edition

You may like to follow other teachers and have your little visitor complete a class quarantine stint. How cute is this image from @littlemissbright?
Official Letterhead of the North Pole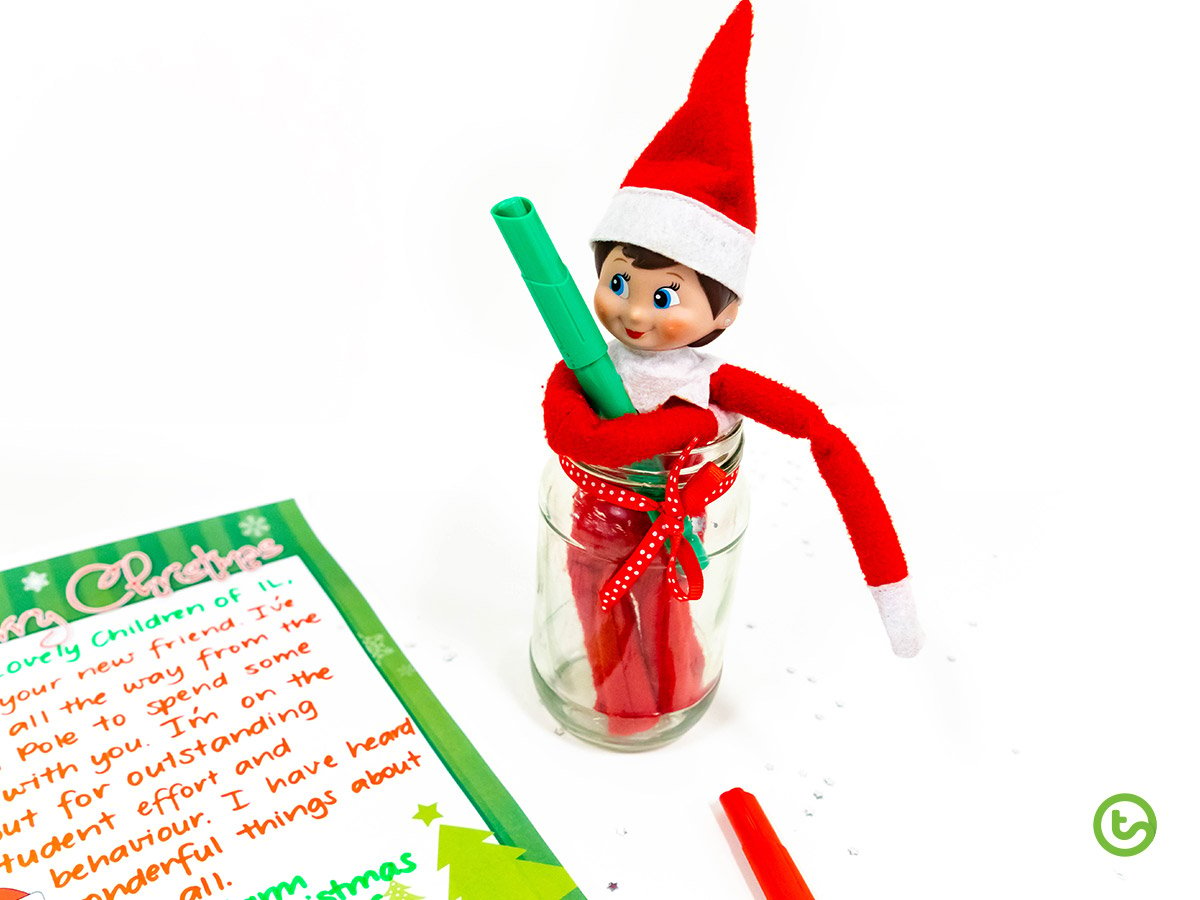 Every elf needs his or her own official North Pole stationery! Download our beautiful Christmas-themed page borders to write special notes to your class from their new little friend.
Choosing a Name for Your Elf on the Shelf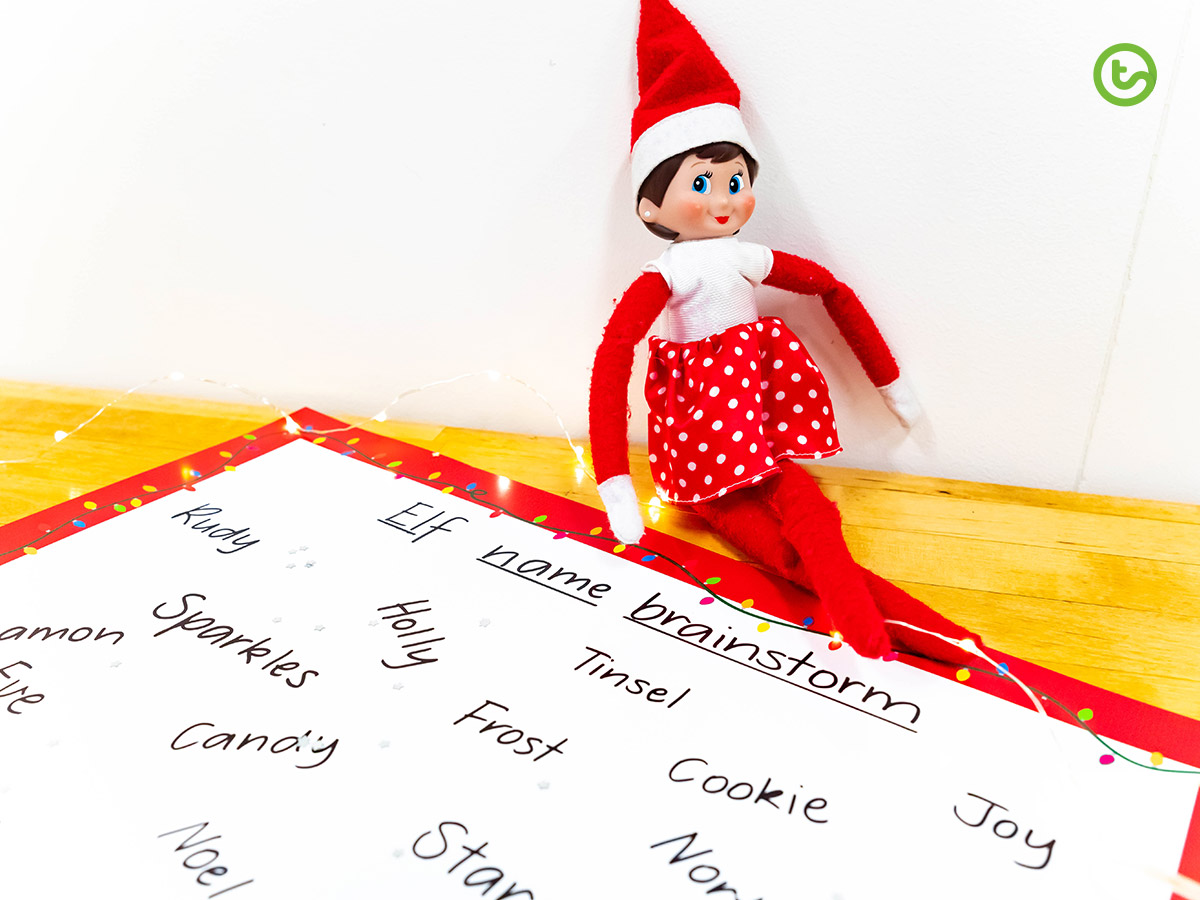 "The first time I come to the place you call home you quickly must give me a name of my own." – The Elf on the Shelf
When your elf arrives from the North Pole, he or she won't have a name! Your class will have to decide on a name together. We used our Landscape Christmas Page Border, printed on A3 card, to brainstorm ideas on! Meet Teach Starter's own Elf, Tinsel!
Elf on the Shelf Rules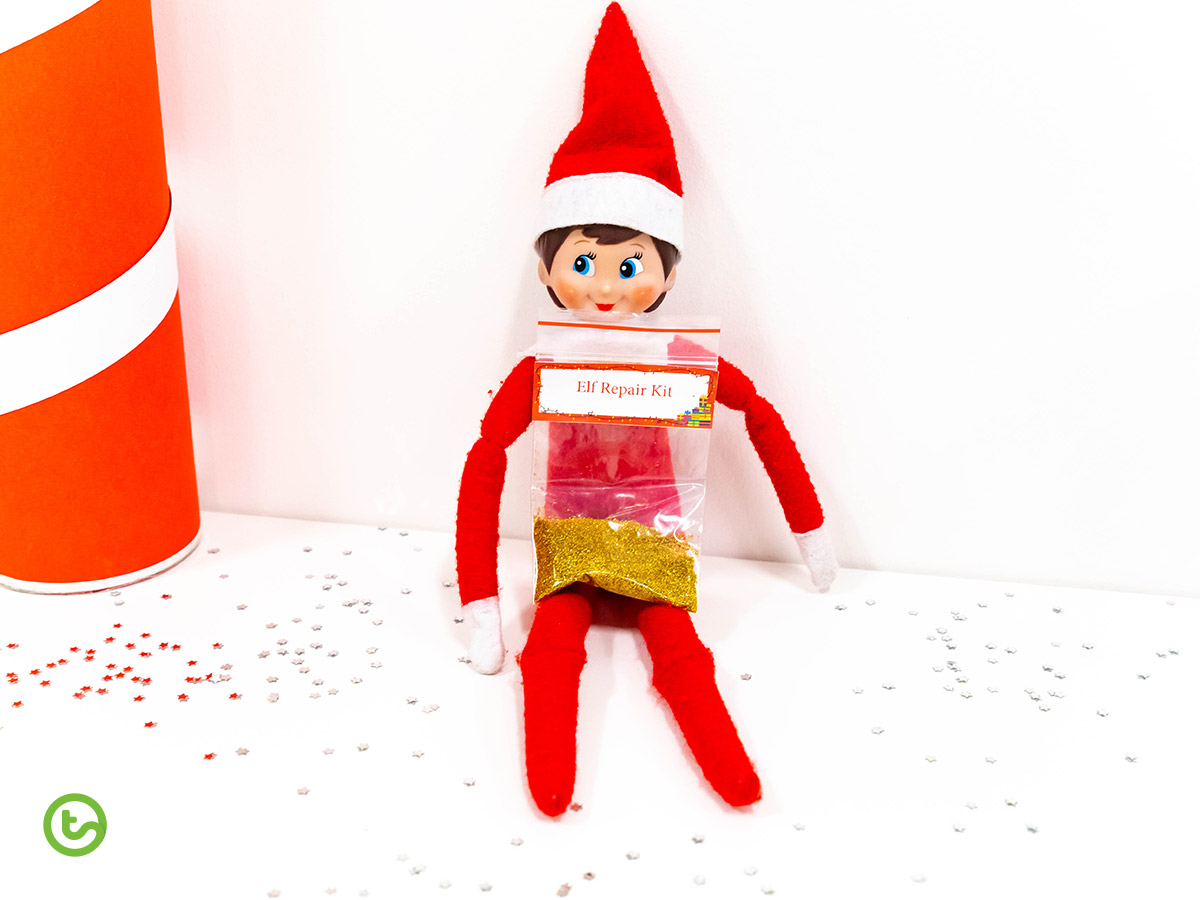 "There's only one rule that you have to follow, so I will come back and be here tomorrow: Please do not touch me. My magic might go, and Santa won't hear all I've seen or I know." – The Elf on the Shelf.
I'm pretty sure this rule is purely preventative so that your elf survives your class and returns to see another Christmas. It's the golden rule of the Elf on the Shelf that humans aren't allowed to touch them! You may like to come up with some other rules.
Teacher Cindy from The Gap uses an 'Elf Repair Kit' – a small packet of glitter to restore Elf on the Shelf magic in case the elf is accidentally touched.
We used one of our customisable Christmas Desk Name Tags to label our Tinsel's little repair kit.
Enlisting Santa's Helpers
Teachers are always busy, but particularly so at the end of the year! You may wish to ask some adult helpers (teacher aides, administrative staff, specialist teachers and parents) to get in on the elf fun! Some teachers have a member of the administration team deliver the package containing the elf on the first day. Others have a neighbouring teacher move their Elf on the Shelf after school to add an element of surprise (for you, too!).
Joking Around With Your Elf on the Shelf

We've just added a brand new resource to our huge collection of Christmas resources  – these Christmas Joke Cards, which are a free download. These are elf-approved, kid-safe jokes your students are going to love!
 #Elfie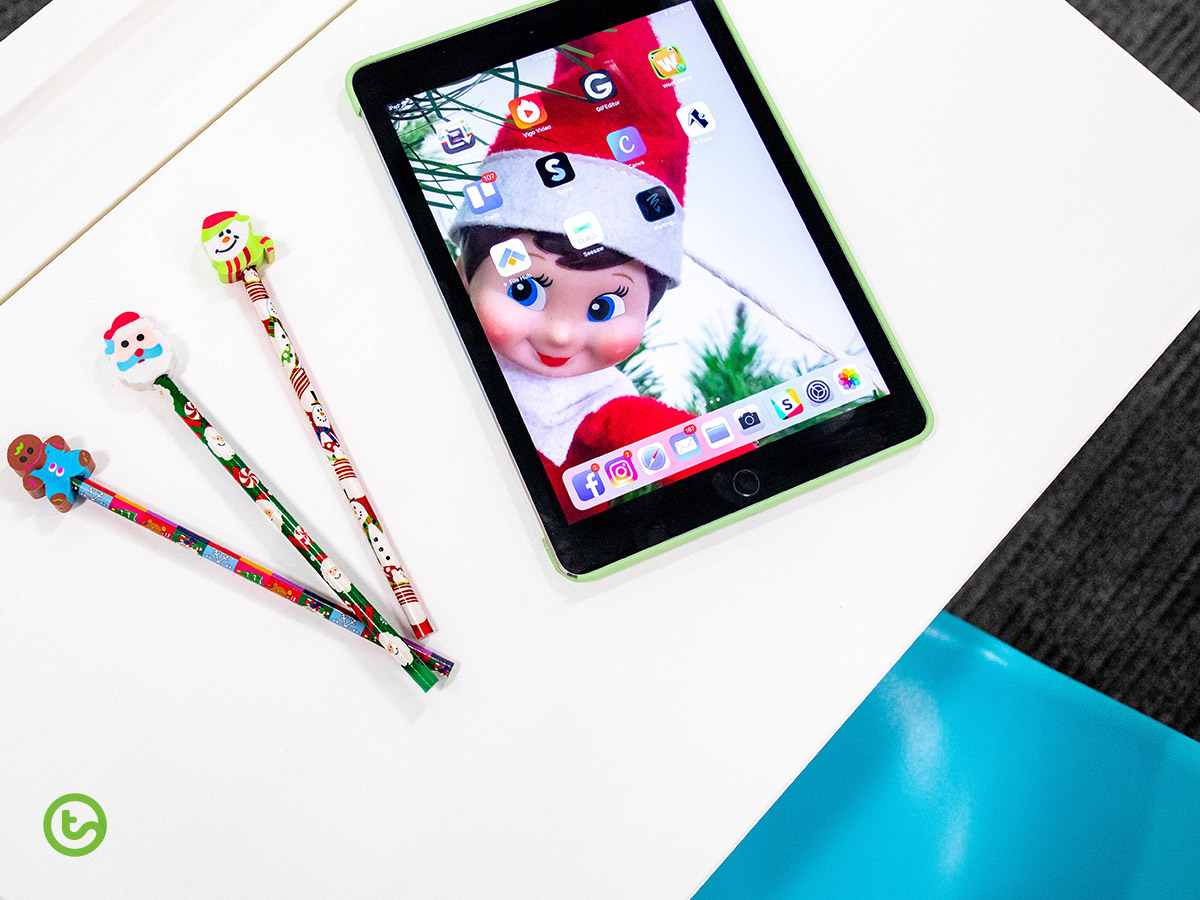 Leave a little "elfie" for your students to find on any screens you have in your room – iPads, laptops and interactive whiteboards are all great places for cheeky elves to hide!
Getting Your Class Buddies Involved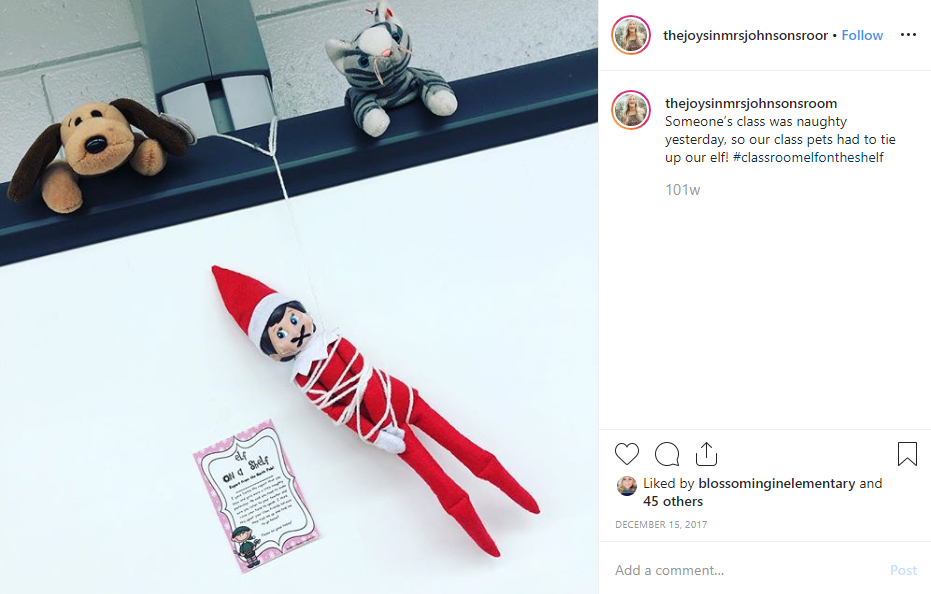 This naughty Elf on the Shelf was out of line, so the class buddies took matters into their own hands!
Elf's Play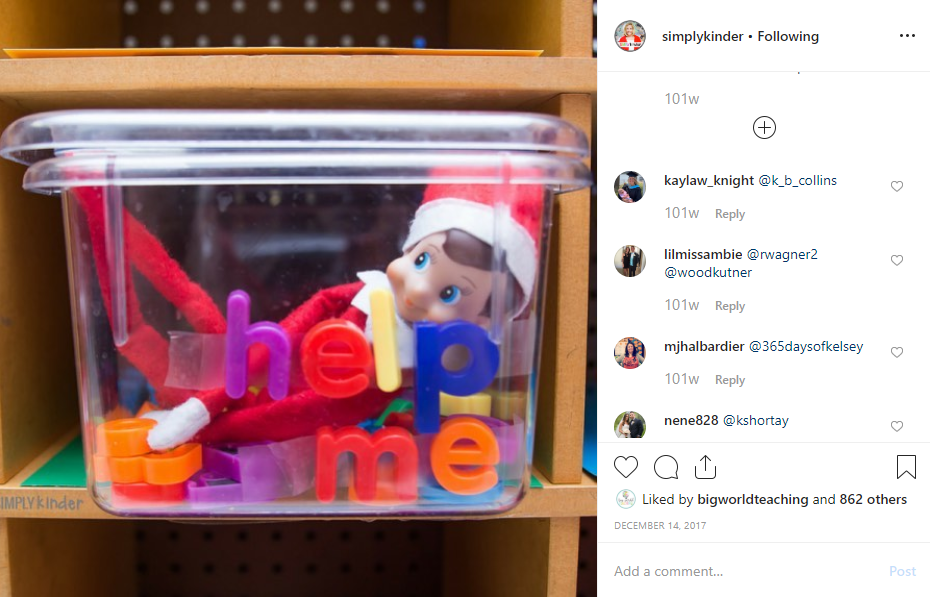 If you've got a lower years class with lots of play-based activities, let your Elf run wild overnight getting into all of your games! Forget child's play; it's all about the elves!
Class Rewards From Your Elf on the Shelf
Elves are very good at spotting great work and behaviour! Usually, they report good deeds back to Santa, but they are great at helping teachers, too! Have your elf keep an eye on your students and allocate rewards, points or warm fuzzies to groups or individuals. Just make sure your elf can be trusted with the prize box!!!
Don't Let the Elf Drive the Bus!
If you look around your classroom you'll probably find several instant Elf on the Shelf set-ups. We love this amazing Kombi van that teacher Andrea made for her Grade One students' fundraising lap-a-thon earlier in the year! It's a perfect hideout for their cheeky elves!
We hope you LOVE our Elf on the Shelf ideas for the classroom and can't wait to see lots of elf high jinks over on Instagram using #teachstarter