Are you still in the thick of enjoying your holidays or are you starting to slowly think about back to school activities? Either way, this blog features a really fun getting to know you activity where students create their very own time capsule. A fantastic activity that you can do with your students on the first day, to ease them (and you) back into school life.
The purpose of this first day of school activity is for students to include information about themselves on the first day of the school year. The time capsules are then put away until the last day of the school, where students can then open up their time capsule to see how much they have changed in just one short school year.
Why not invite parents into the classroom to have an 'opening of time capsules' celebration at the end of the school year?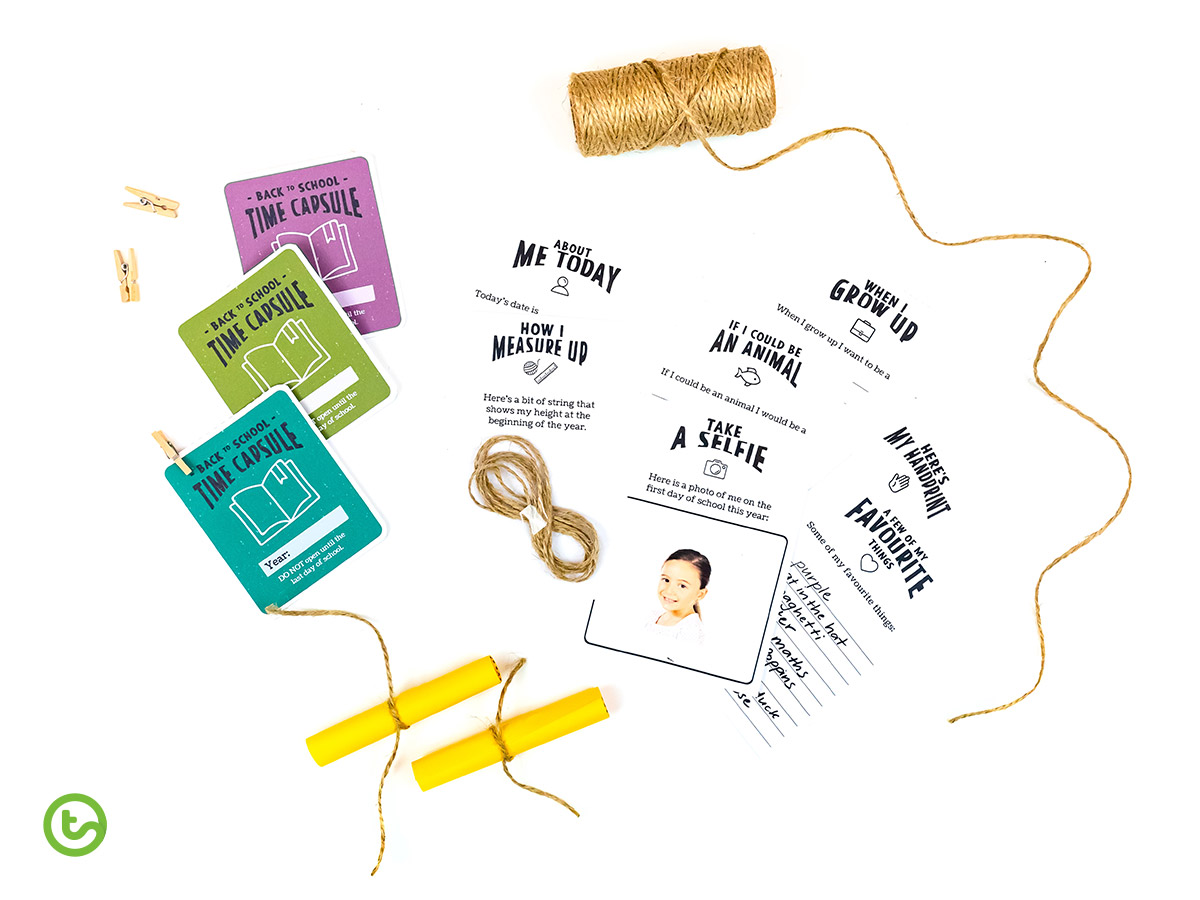 ---
Must-Have First Day of School Activity Idea
This resource download includes everything you need to create a gorgeous time capsule with your students.
Here's a snapshot of what your students will include in their time capsule:
How I measure up – a template for students to measure their height with a piece of string and stick it to the piece of paper. Students can then open this on the last day of school to see how much they have grown.
Goals are important – students write down one or two main goals for the year. A great way for them to reflect at the end of the year to see how far they have come.
Take a selfie – students take a photo of themselves and stick it on this piece of paper. A great visual for them to compare themselves and how much they have changed on the last day of school.
A few of my favourite things – students write down a few of the favourite things and then compare these items on the last day of school. Have any of their favourite things changed?
When I grow up – students write what they want to be when they grow up and why.
Here's my handprint – how much has their hand grown in a school year.
If I could be an animal – a little bit of fun! What animal would they be and why.
About me today – a few other facts about themselves. Including how many teeth they have lost, their weight etc.
---
How to Create a Student Time Capsule
Download and print our Beginning of Year Time Capsule Template. Help your students fill out each of the boxes of information and then roll up the pieces of paper and use some twine or ribbon to fix them into place.
The glass jars we have used in our photos are readily available at cheap shops, you could also put out a request for students to bring in their own bottle or glass jar for their time capsule. This just means you can fill out the time capsule template on the first day and put it all together once the donations of jars and bottles start coming in.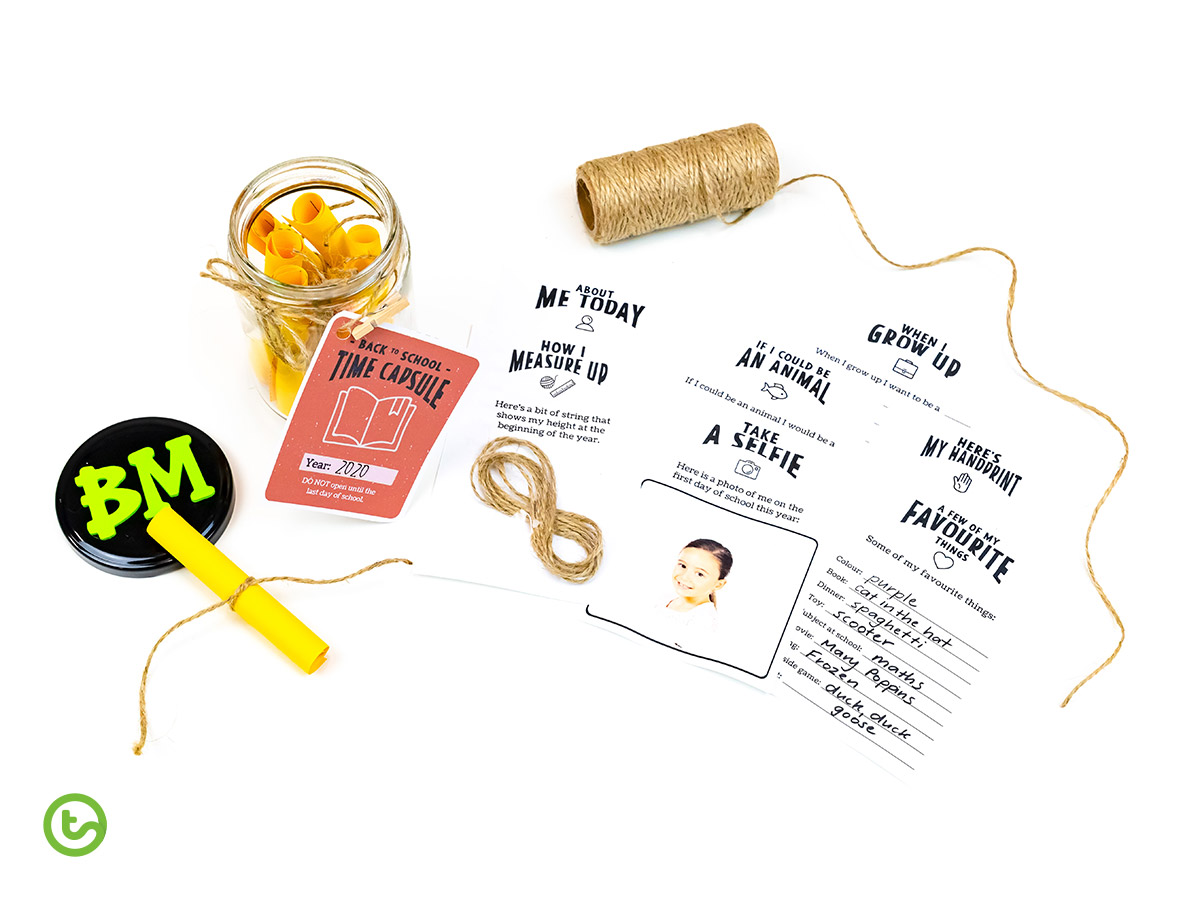 To make each of the time capsules look pretty, we used the Back to School Time Capsule label available in the download and used some twine to attach the label to each of the capsules. We then used some foam letters to initial each of the time capsules, alternatively, you can just write the students' names on the jars.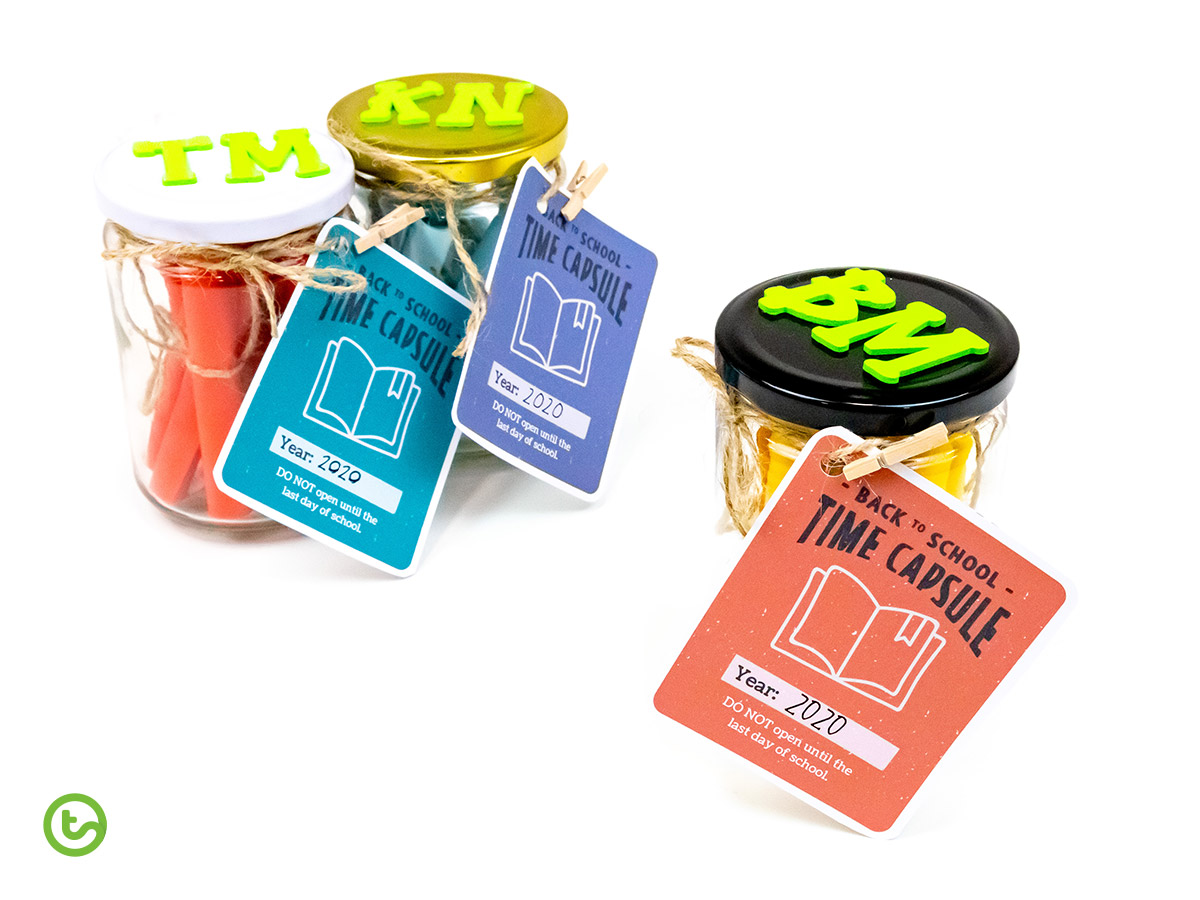 Once they are all complete, you may choose to pop the time capsules in your classroom storeroom. Alternatively, you could store them somewhere visible in the classroom to ensure you don't forget to open them on the last day of school.
Imagine the joy on your students' faces when they open up their very own time capsule. Why not have a Time Capsule Opening Afternoon Celebration where students can invite their family members to open the time capsules together!
We'd love to see your first day of school activity ideas – share your ideas in the comments section of this blog.