Are you and your students getting excited about Halloween? Or, perhaps you don't share the same enthusiasm for Halloween activities and Halloween crafts? We understand both points of view! So, here are eight educational Halloween craft ideas to give you options and to make your classroom spooky while learning!
---
Halloween Classroom Door Challenge
Students love a design challenge and it doesn't get much better than the official Teach Starter Halloween Door Decoration Challenge! This activity is ideal for upper-year students. This team challenge provides the opportunity for collaborative work and explores measurement, scale drawing and STEM.
Use our STEM Planning and Reflection Sheet – Upper Years to help your students to plan and reflect on each stage of the design process.  Students fill out each section:
Challenge – What is the challenge?
Research – What do you need to know?
Ideas – What are your ideas?
Design – What materials do you need? How will you create your design?
Outcome – How did you test your design? What happened?
Evaluate – What would you do differently? How could you make your design better?
Choose the most suitable design and use it to decorate your classroom door! Don't forget to share your photos on Instagram and tag us (@teachstarter).
---
Halloween Chatterbox Template
Halloween couldn't get any better with our brand new Halloween Chatterbox Templates. Your students will love to create and play with these friendly chatterbox characters. Most importantly, they can be used to create Halloween activities for learning! Spot the chatterboxes in the video and read on to learn more about the other fun ideas…
Here are some Halloween Activities to try with your Halloween Chatterboxes.
Write number problems on the inside of the chatterbox. With a partner, encourage students to use mental maths strategies to calculate the answer.
Explore and measure the angles of the chatterbox.
Create a simple phonics game by writing Halloween related vocabulary on the chatterbox. Break the words up into syllables, blends and digraphs.
---
Cotton Tip Skeletons
This easy Halloween craft activity requires very little planning and preparation, but creates an impressive piece of Halloween art to take home! Whether you choose to create a spider web or a skeleton made of cotton buds, your students are going to be engaged and focused while having Halloween fun!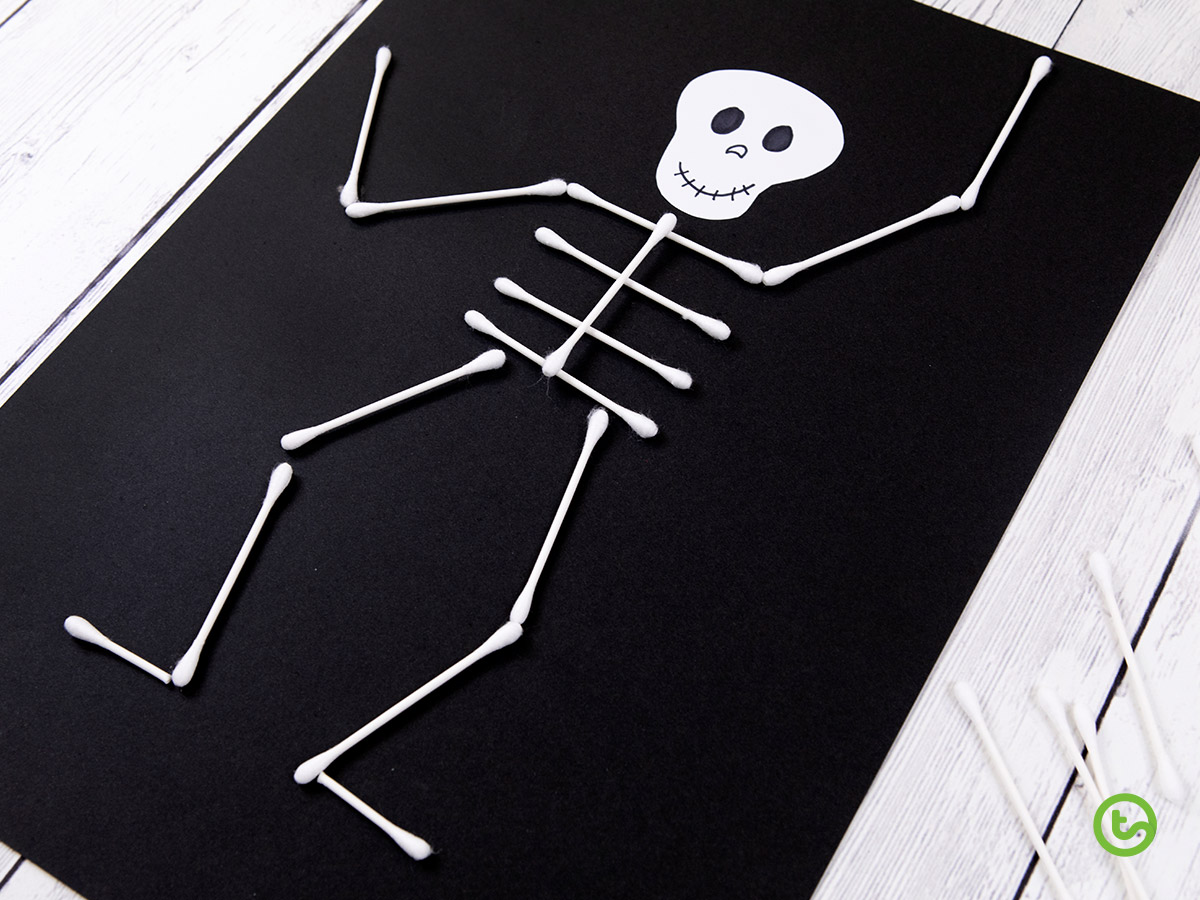 As a class, explore symmetry and angles! Useful eco tip: use eco-friendly cotton tips with paper stems.
For more Halloween activities read our blog on Scarily Awesome Halloween Art for Kids.
---
Hanging Bat Craft
I love these hanging bat decorations! As well as creating a spooky Halloween classroom display, they are a brilliant starting point for a classroom discussion about these amazing mammals. What's more, don't' miss the learning opportunity to teach and learn how to write an animal information report!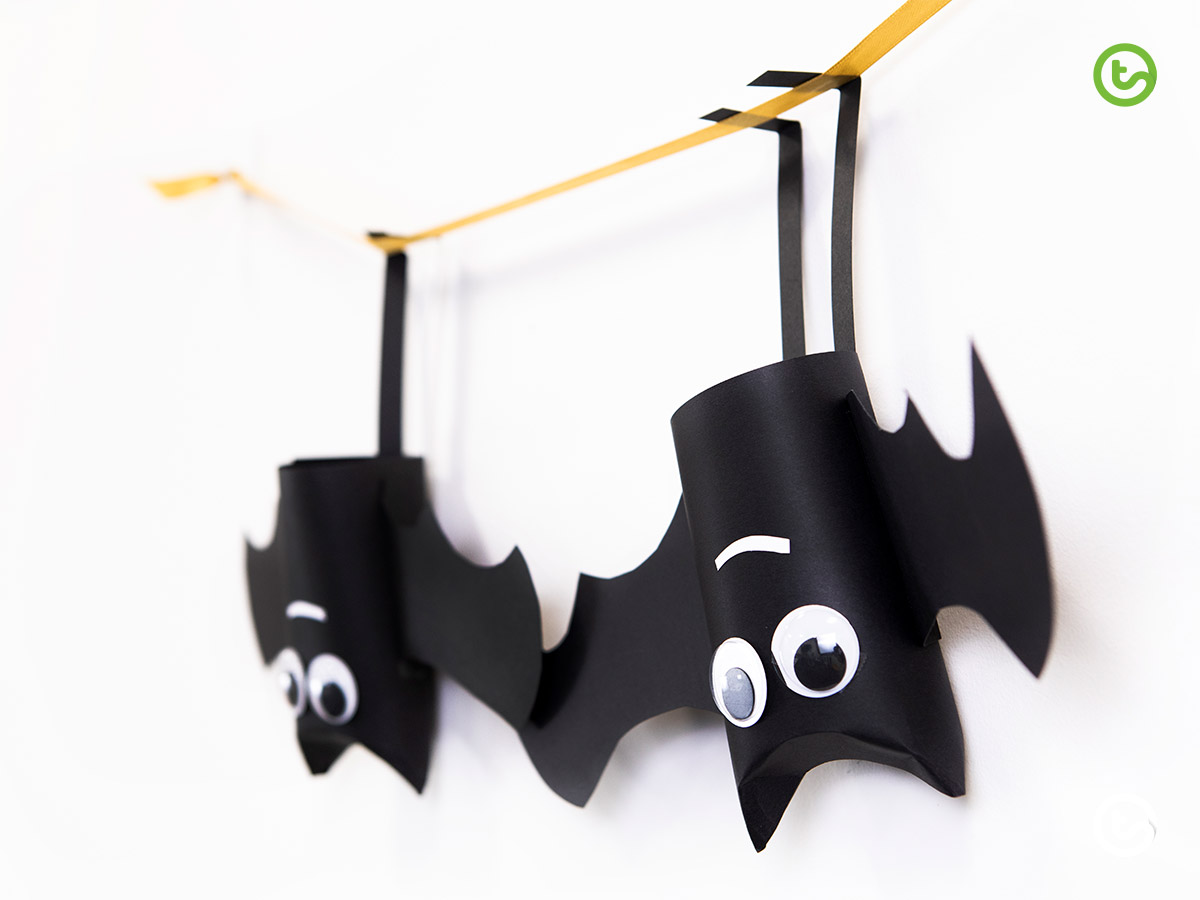 Do you know why bats hang upside down? Unlike birds, bats can't launch their bodies into the air from the ground. So, they hang upside down to make sure that they are in the perfect position to spread their wings and fly away.
Head to our Exploring Informative Texts Unit Plan – Year 1 and Year 2 for ready to go lesson plans:
---
Pine Cone Foxes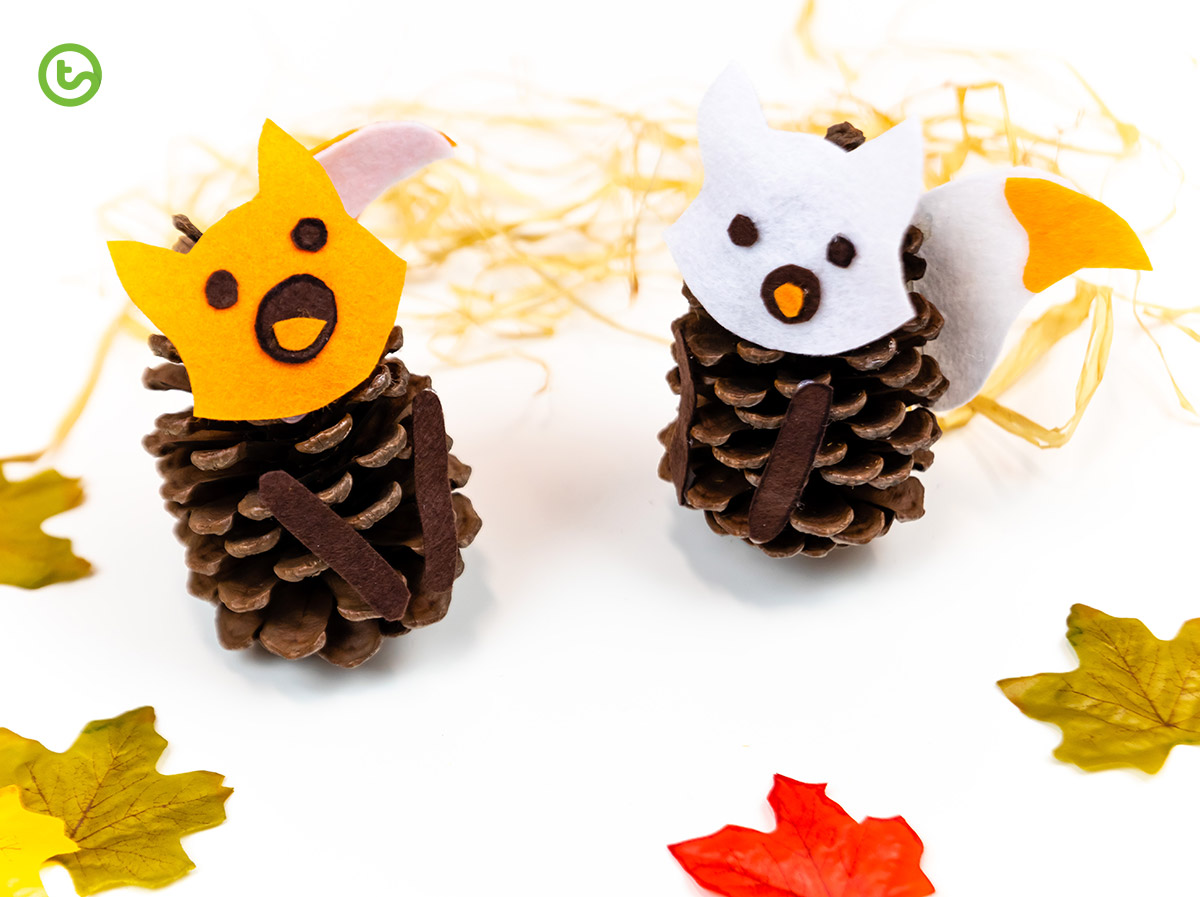 To make these cute little critters, your students will each need:
some pine cones (possibly foraged on an adventure walk)
our free Fox Craft Template 
some staples from your craft supply cupboard (scissors, a marker, glue and felt squares).
How to make:
Cut out the fox pieces from the Fox Craft Template.
Place them on sheets of felt, making sure the eyes, nose and feet are a dark colour which will stand out. Trace the pieces with a marker.
Cut out the fox pieces.
Use craft glue to stick the fox's body parts to the pine cone (hold each piece for 30 seconds or until secure).
---
Friendly Scarecrow Craft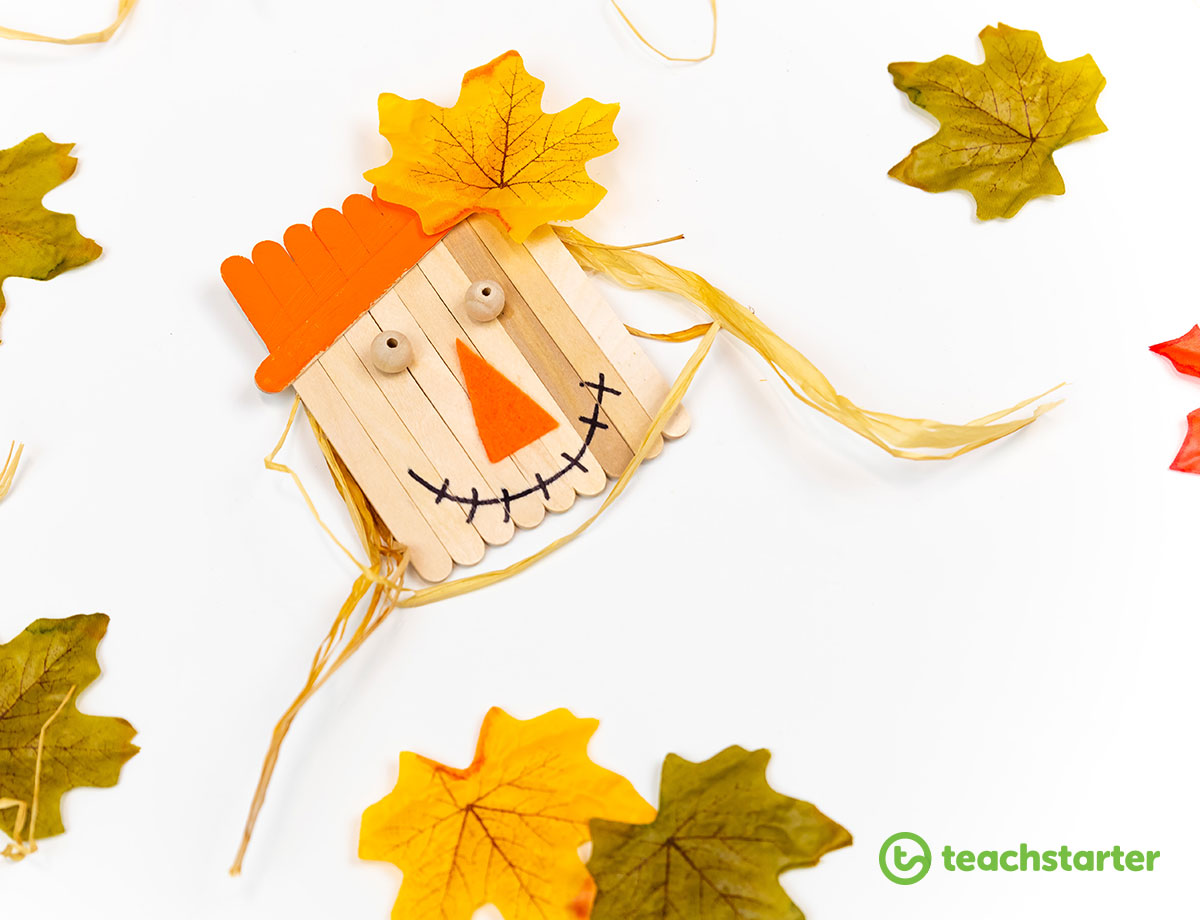 This fun popsicle stick scarecrow is a perfect Halloween craft activity for preschool or younger grades.
This simple craft requires:
Twelve pop sticks per student
Orange paint
Craft glue
Paintbrush
Natural raffia or straw
Beads or googly eyes
A black marker
A decorative flower
Coloured felt
Teacher Prep:
Each student requires two pop sticks with their curved ends cut off. This will need to be done by an adult with sharp scissors. Be careful! The wood can splinter, so safety goggles would be a plus.
How to make your popsicle stick scarecrow:
Lay out nine pop sticks in a row, vertically.
Using glue, attach a trimmed stick at both the top and the bottom of the row of sticks. Wait until dry.
Paint remaining stick orange (or the colour of the hat) and allow to dry. This is the brim.
Once dry, flip over the glued sticks and paint a straight, slanted line at the top to make the top of the hat. Fill in top portion with coloured paint.
Attach the single painted across the front of the sticks as the brim.
Glue on eyes and felt triangle nose.
Draw on smile.
Add a decoration to the hat.
Attach straw for hair to back of the scarecrow.
---
Painted Pine Cones
Left-over pine cones? Paint them up in Autumn hues (like these candy-corn-inspired ones). String them up together to make lovely DIY Halloween decorations for the classroom, or attach some ribbon so students can hang them up at home.
Its simplicity makes this one of my favourite Halloween craft activities for kids!
---
Apple Pinch Pots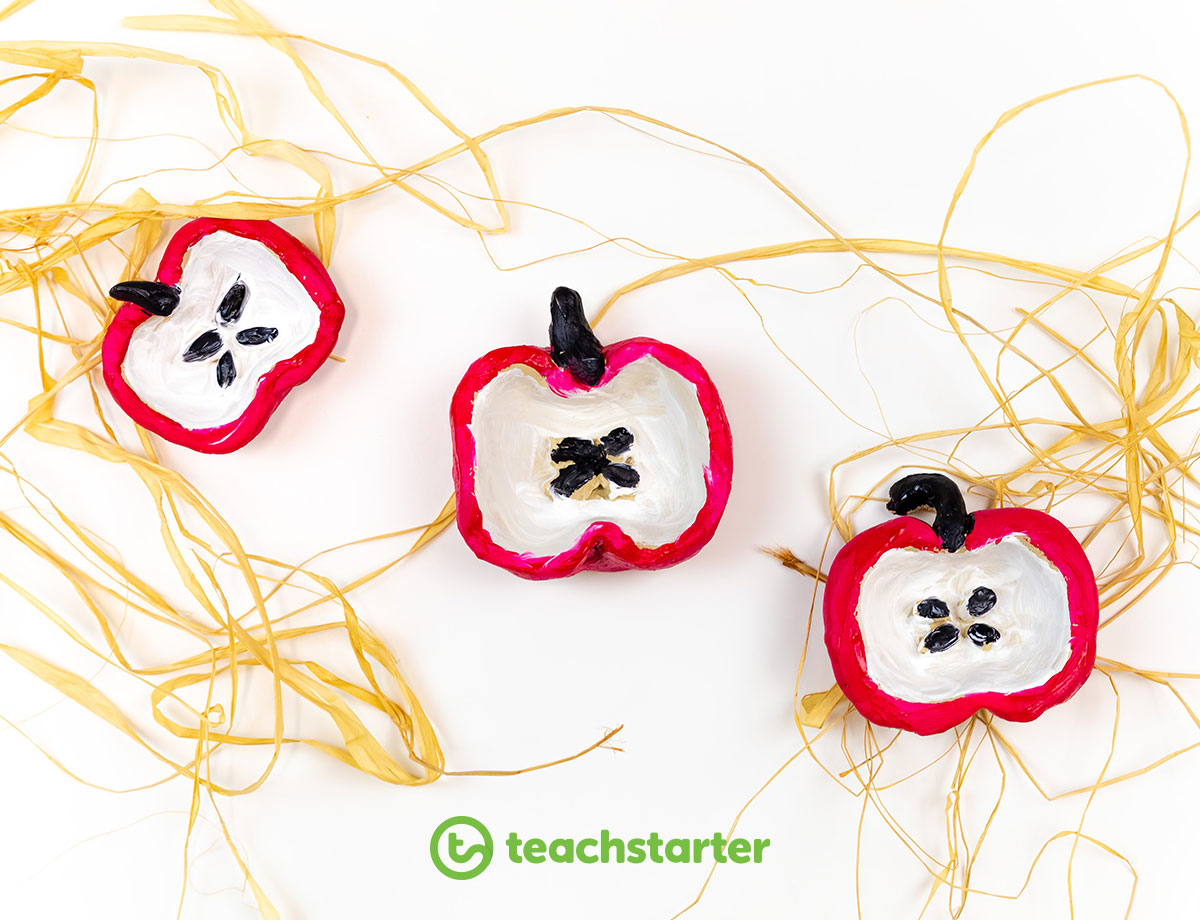 Who remembers making pinch pots in art class as children? This lovely variation on the traditional pinch pot requires students to look at the cross-section of a real apple and squash and mould their pinch pot into a crooked creepy apple (complete with seeds!).
All you'll need is:
Clay
Acrylic paint
Varnish or clear PVA glue (optional).
How to make:
Make a basic pinch pot. You may find it handy to show students the above video.
Observe the shape of a cut apple (cross section)
Squash the top and bottom of the pot to replicate the shape
Add seeds and leaves
Allow to dry (or fire in kiln)
A spray of varnish or coat of clear PVA glue will add a bit of glossy protection to your pots.
---
So, as you can see there are many ways that you can justify taking time out of your busy timetable to celebrate Halloween. Blow the cobwebs away this year with a little Halloween fun while feeling rest assured that your students are having a learning experience too!
So, it's time to fire up your cauldron and start planning one or more of these Halloween activities! For more fun ideas head to our Halloween Collection.
Don't forget to share your spooky Halloween photos on Instagram #teachstarter.