March 8th is International Women's Day! It's time to get excited about International Women's Day classroom resources that you and your students can dive into!
Teach Starter is a proud supporter of Women's rights. We are so excited to provide meaningful International women's Day activities for your classroom!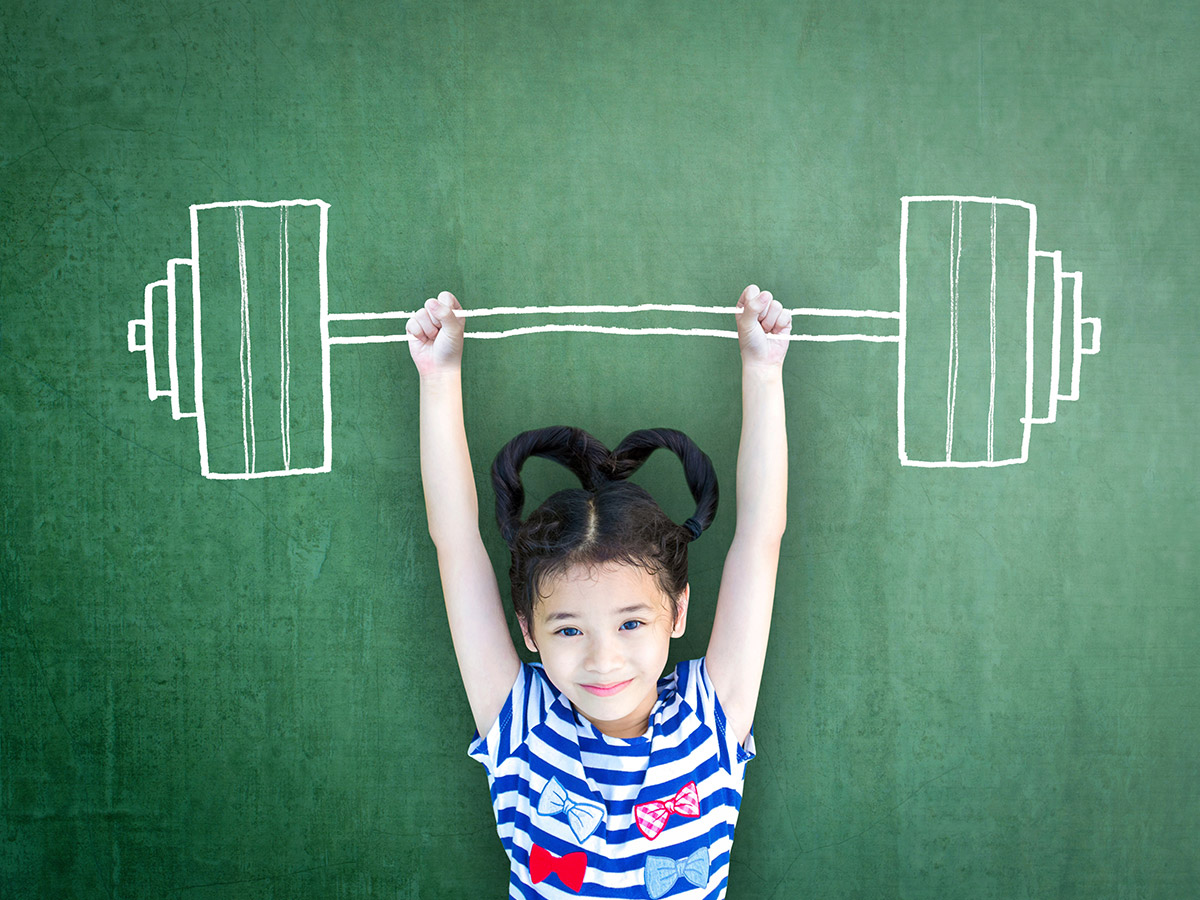 Chinnapong/shutterstock.com
We've teamed up yet again with the people behind International Women's Day to bring you some exciting NEW resources to help explore women's equality. Work with us to promote #eachforequal and banish stereotypes and bias against women once and for all.
International Women's Day 2020 – #eachforequal
On International Women's day, we celebrate the achievements of women and girls past and present, and we take further steps to bridge the divide between genders. In 2020, the campaign #eachforequal aims to encourage people to take individual responsibility for their thoughts and actions. In doing this, we will collectively create a more gender-balanced world.
Teachers are important role models when it comes to promoting gender equality. You can use your positive influence to help your students become more aware of the issues surrounding International Women's Day by:
encouraging students to question stereotypes in their day to day lives – including stereotypes you come across in classroom resources, such as storybooks.
fighting bias and gendered language in the playground and on the sporting field (I'd be pretty proud if someone told me I kick a ball like a girl, have you seen some of those women's football teams?)
broadening their perceptions of what it means to be a female or a male.
improving their own behaviour and encouraging them to promote gender equality amongst their peers.
In our blog on International Women's Day 2019, we discuss exactly why it's important to recognise gender equality in the classroom, and how you can explore these issues with your students.
---
NEW International Women's Day Resources and Activities
We've created some wonderful resources that you can share with your class on International Women's Day – and every other day too! There's something for everyone in our new collection.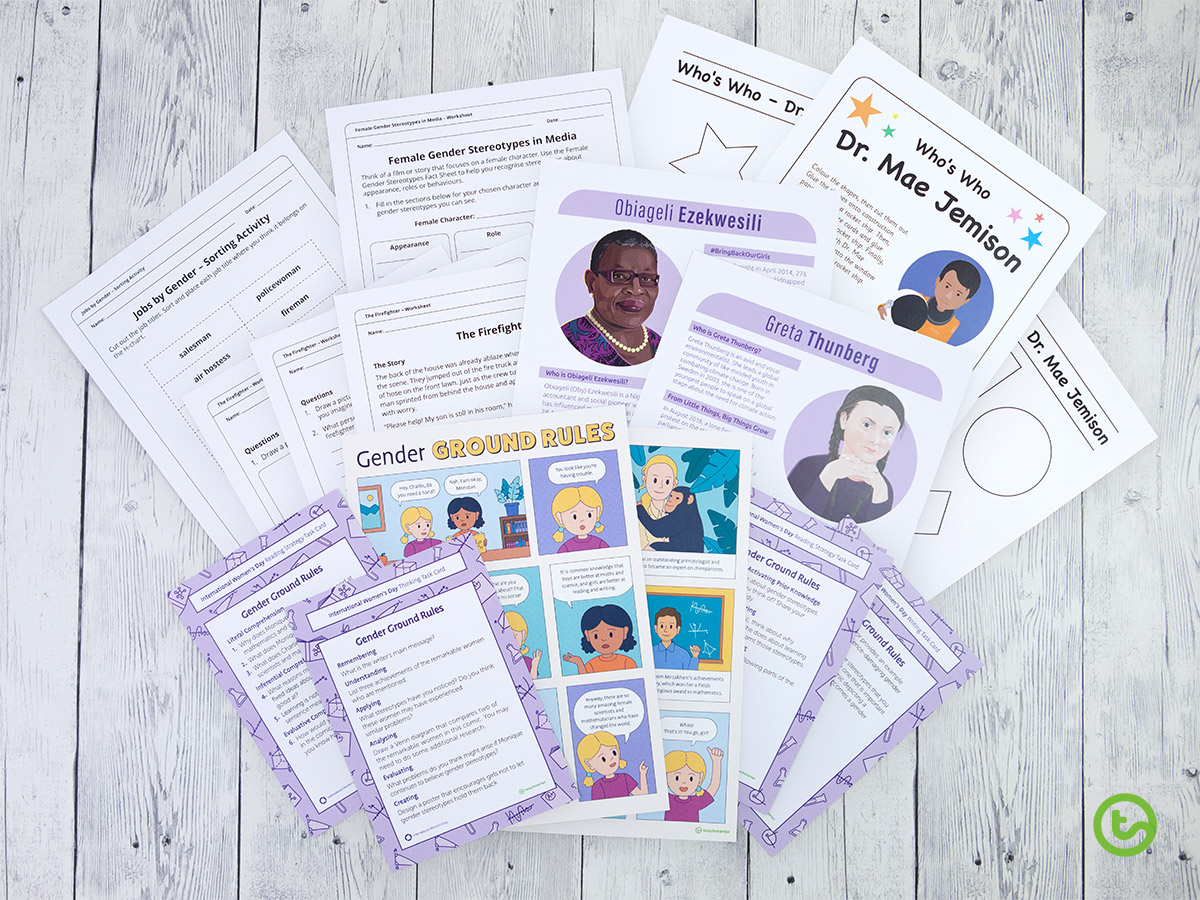 Gender Rules Comic and Task Cards
Sometimes it's difficult for children to see gender stereotypes. Take a look at our International Women's Day Gender Ground Rules – Comic to help your students see how they can start to think a little differently about 'rules' they may associate with gender.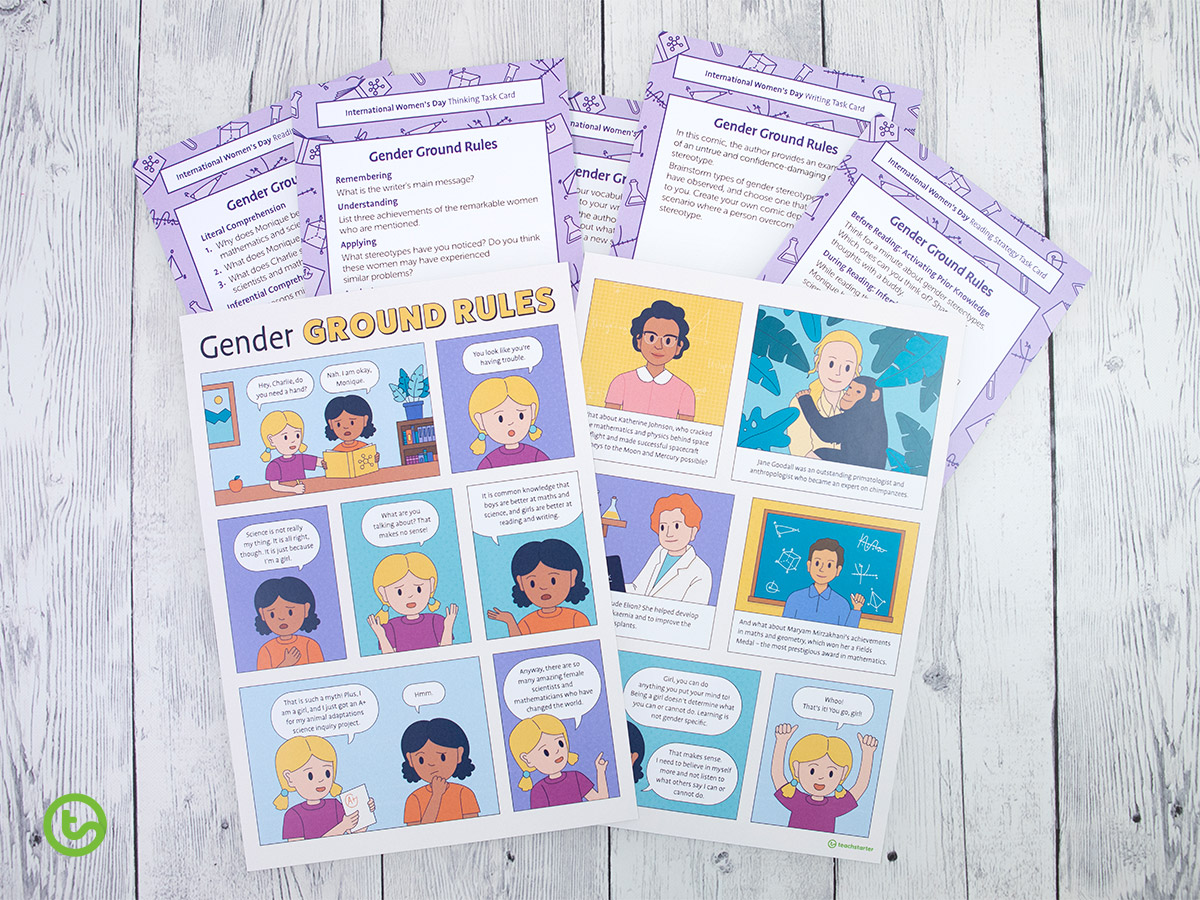 Follow Charlie and Monique as they realise that being good at something isn't attributed to being a boy or a girl! This resource is accompanied by our International Women's Day Gender Ground Rules – Task Cards to help your students analyse this resource more deeply. These cards include a variety of activities, including:
reading strategies
thinking
writing tasks and
language tasks.
---
Worksheets Exploring Gender Stereotypes
Read this exciting story about a brave firefighter with your students! How selfless! How strong!
Once you've read this story, ask your students to draw a picture of the main character.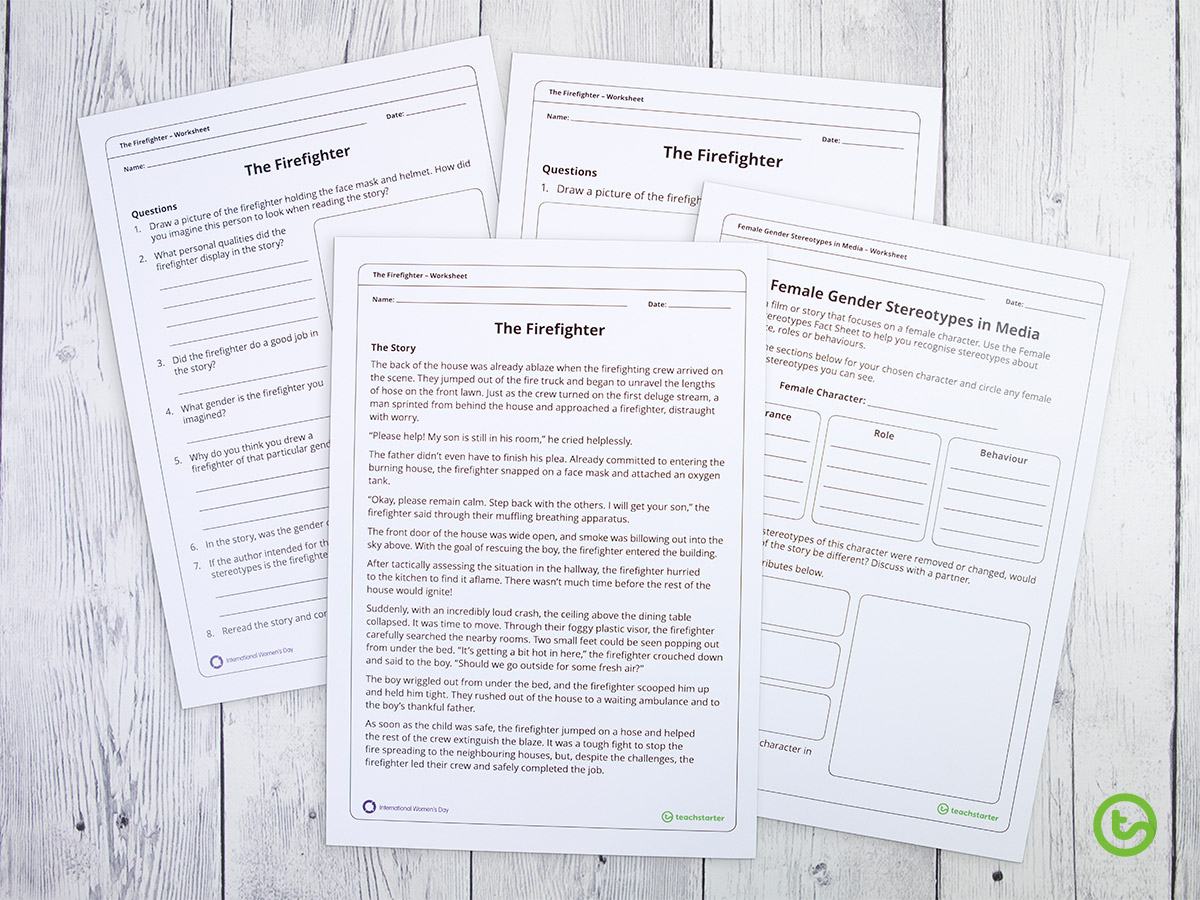 Then ask your students:
What gender is the firefighter you imagined?
Your students may soon realise they have not been as unbiased as they should have been. With this thought-provoking resource, there's even an upper and lower year version of this worksheet to help you differentiate for children of all ages.
Why not invite a real female firefighter into your classroom for a lesson? Providing real-life positive role models helps your students see that they can be anything they want to be!
For more exploration of female characters, our Female Gender Stereotypes in Media – Worksheet helps students observe and challenge stereotypes they may come across in movies and stories.
---
Who is Dr. Mae Jemison?
Younger students are especially impressionable – this is why it is so important to help them develop an awareness of gender equality from a young age. Help them celebrate International Women's Day with this Dr. Mae Jemison – Cut and Paste Activity!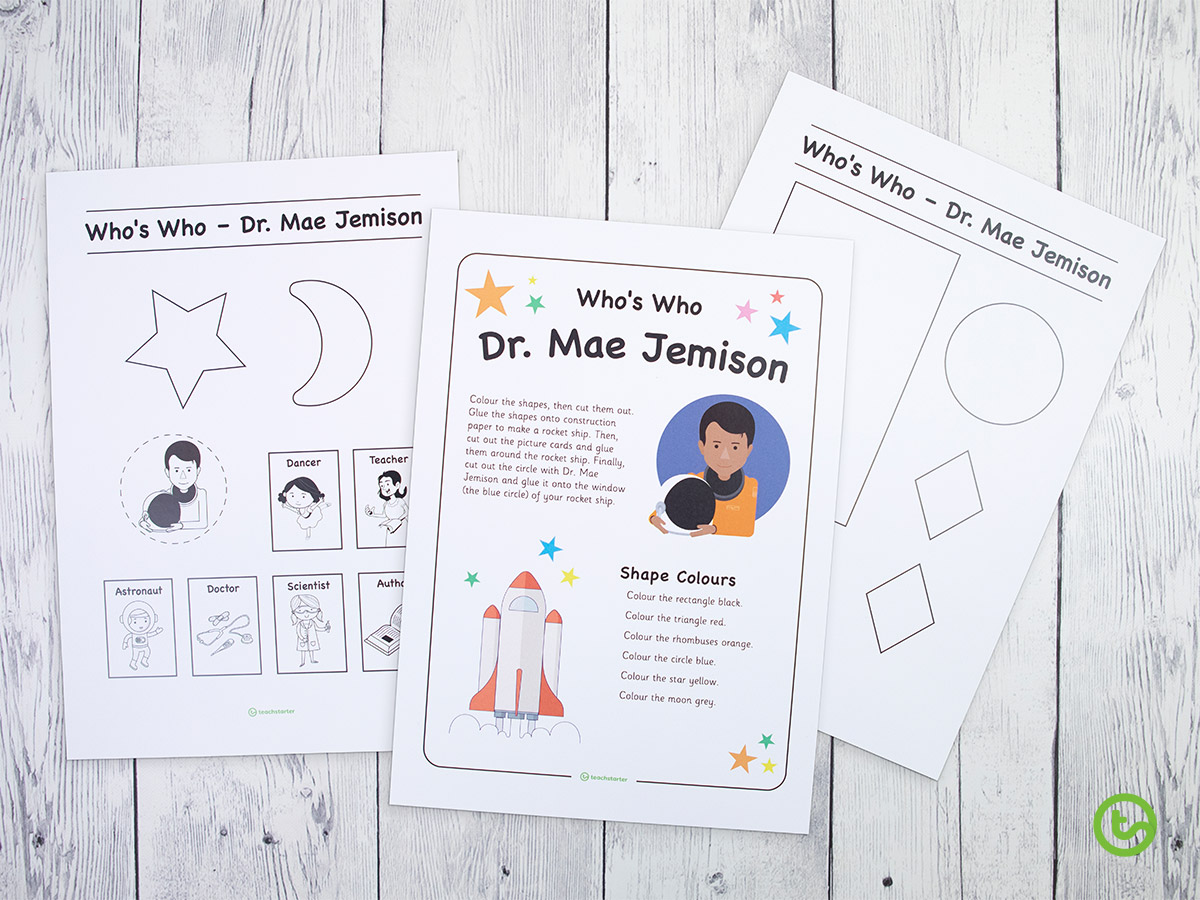 Dr. Mae Jemison is an impressive woman! Aside from being the first African-American woman in space, she is also a scientist, doctor and human rights activist.
As well as celebrating influential women, this activity also helps your students develop their understanding of 2D shape, colour and fine motor skills.
---
What's Your Job?
The wonderful thing about these International Women's Day classroom resources is that they aren't over-complicated. You can help your students see evidence of gender bias with activities as simple as this Jobs by Gender Sorting Activity.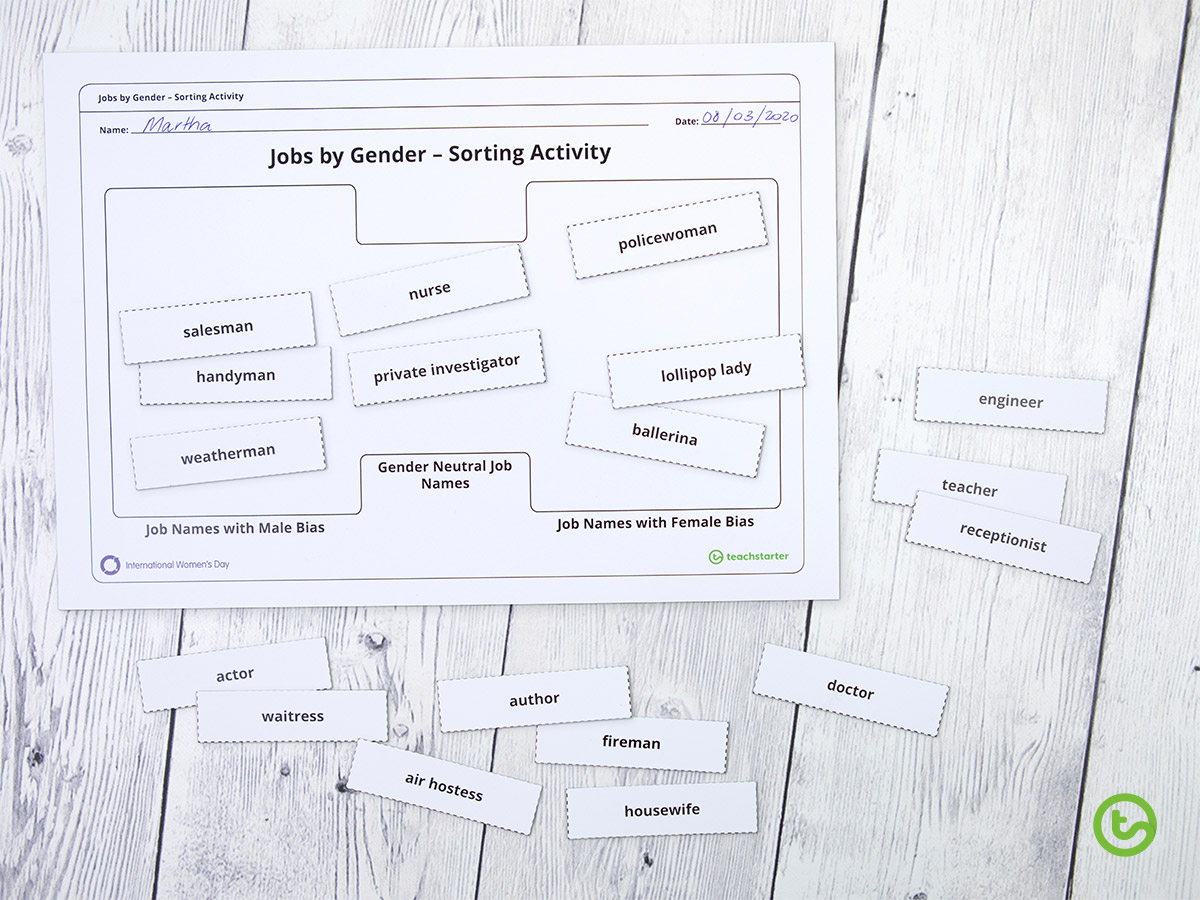 Ask your students to sort the jobs – and then come up with alternate names for jobs that show gender bias! And you may like to extend this lesson even further. Why not ask your students to share stories of people in their lives who break these stereotypes?
---
Inspirational Women
Female empowerment is easy when young girls have someone to look up to!
Our amazing illustrator and designer, Karen, has added these stunning new profiles to our Inspirational Women Profile Poster Pack.
Study Swedish environmental activist, Greta Thunberg and Nigerian social pioneer, Obiageli Ezekwesili with your class and show your students what girl power looks like.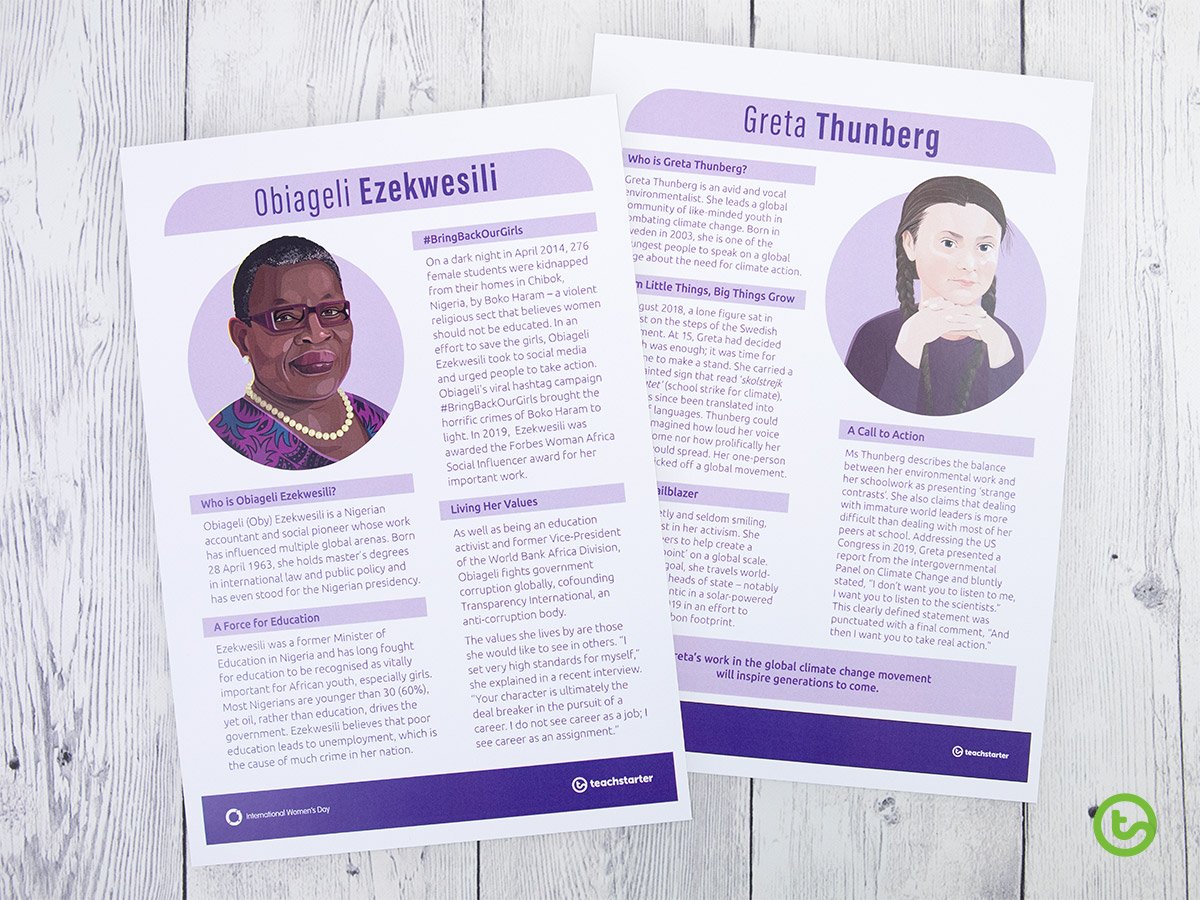 Use these profiles in your classroom to discuss how these women have overcome obstacles and fought for what was right. In doing this, they've influenced society for the better. Which other famous women can your students think of who've done the same?
---
Even More International Women's Day Classroom Resources…
It's important to take a moment to appreciate the women in our lives, not just on International Women's Day, but every day! If you're after even more resources to teach about this important subject look no further than our amazing collection.