Student finds teacher's Facebook profile. Student downloads teacher's personal photos and prints them out to plaster around the school with some not-so-subtle alterations.
Student uploads teacher's photo to their Facebook feed. Other student's join the slanderous conversation at your expense.
Whether we like it or not, everyone has a digital footprint online.
Very little we upload to the internet is private and even less can be removed.
This issue presents a unique problem for teachers with inquisitive students.
How do you retain your digital social life, while ensuring your students can't dig up those embarrassing photos from a few years ago?
Short of deleting your account, fortunately Facebook offers a range of privacy and security settings to help keep you protected.
---
Checking your Privacy Settings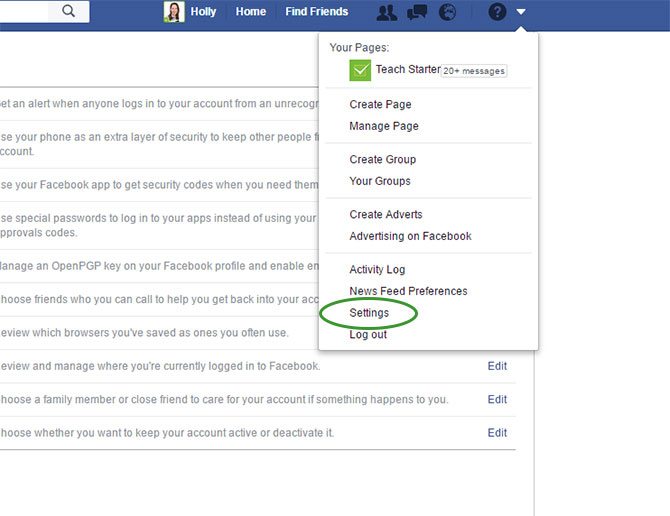 First things first. Let's assess your current privacy settings at a glance.
Step 1: Log in to your facebook account.
Step 2: Click on the arrow beside the question mark icon in the top menu bar.
Step 3: Click 'Settings'.
There are some quick fixes you can make right away to improve your privacy.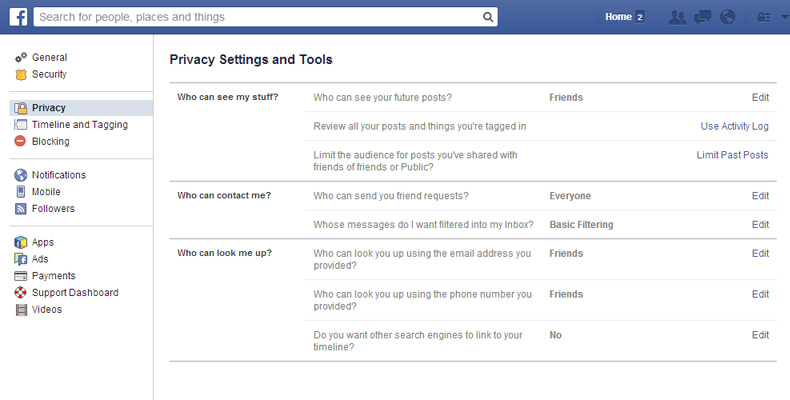 "Who can see your future posts?" should be set to 'Friends'.
This will ensure that only your friends will be able to see anything you post from now on. If you would like to tighten your security even further, change this setting to 'Only Me'. This will mean that only you can see what you post.
"Who can look you up using the email address you provided?" should be set to 'Friends'.
"Who can look you up using the phone number you provided?" should be set to 'Friends'.
"Do you want other search engines to link to your timeline?" should be set to 'No'.
These settings will make it more difficult for students to find your Facebook account.
---
Checking your Timeline and Tagging Settings
This section will ensure that you have control over what is posted on your wall.
Step 1: While still on the 'Privacy' page, click on 'Timeline and Tagging' in the left menu.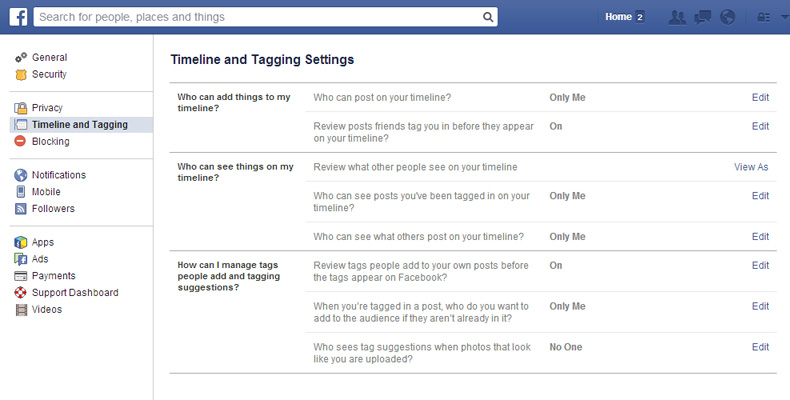 "Review posts friends tag you in before they appear on your timeline?" should be set to 'On'.
This is an excellent setting. It allows you to review any photos or posts you're tagged in, before they display on your wall.
"Who can see posts you've been tagged in on your timeline?" should be set to 'Friends' or 'Only Me'.
"Who can see what others post on your timeline?" should be set to 'Friends' or 'Only Me'.
"Review tags people add to your own posts before the tags appear on Facebook?" should be set to 'On'.
---
Checking to See What your Students' See
This is the final step. Let's see what your profile looks like when one of your students visits it.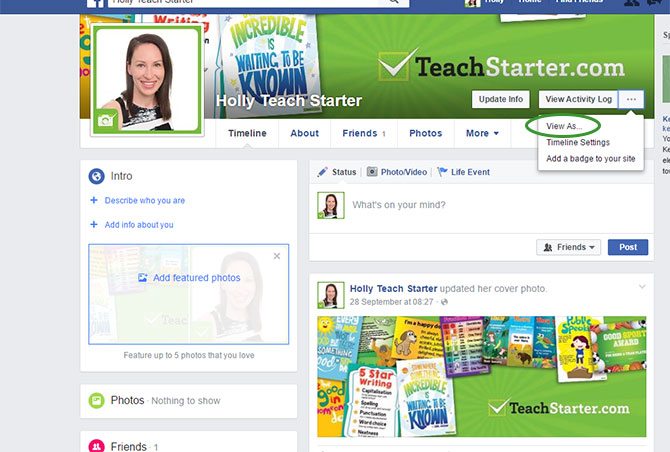 Step 1: Go to your profile.
Step 2: Click on the ellipses (…) beside the 'View Activity Log' button.
Step 3: Click on the 'View As…'.
Step 4: You are now seeing what your student's would see if they visited your Facebook profile.
This is your chance to go through your feed and assess what needs to be hidden or removed. I hope your public content isn't too shocking for you!
---
Use a Pseudonym
Another simple solution is to change your name. Using a pseudonym will make it difficult for your students to search for your profile.
It's important to note that, in the interest of transparency and preventing anonymity online, Facebook does not encourage using a pseudonym.
Some suggestions include using your middle name or maiden name.
In conclusion
Being aware of what you're sharing online is half the battle. Tweaking these simple security and privacy settings will help you take control of your digital footprint and prevent any unnecessary information slipping through to your inquisitive primary schoolers!
Related resources…
---
Do you have any other tips and tricks for keeping your digital social life private? Let us know in the comments below!