So you've gotten your classroom set up and decorated. You've organized everything from your manipulatives to your art supplies. But now you're starting at that teacher desk wondering how do I my desk organized? 
Welcome to the question every teacher asks at some point or another. Our desks can easily become dumping grounds for teachers and students. But there's an old saying about a clean space relating to a clean mind that really and truly holds true when it comes to organizing a teacher desk: I found when I was teaching that having an organized workspace helped my mind feel more organized too! Which in turn made me feel a lot calmer and ready to tackle the day. That's why I've put together some hints and tips for organizing a teacher's desk so that you can start each school day as calmly as possible!
Teacher Desk Organization Ideas
Whether you maintain a traditional teacher desk or just have a working bench area to store all of your items, I feel it is important to have an organized space – a safe haven you can go to during your planning period and before and after school!
Weekly Organization
These drawers are available at plenty of stores, and they are INVALUABLE when it comes to organizing your desk. We used a little bit of washi tape to jazz them up a bit and used our editable Tray Labels – Stripes to add the weekday labels on the drawers. When I was in the classroom, I would use these drawers to organize all of my worksheet activities for each day for the week ahead!
This organization hack is also a great way to check that you have done all of your copying for the week. Another bonus, if you need a substitute teacher during the week, you can tell them exactly where the worksheets are housed on your desk!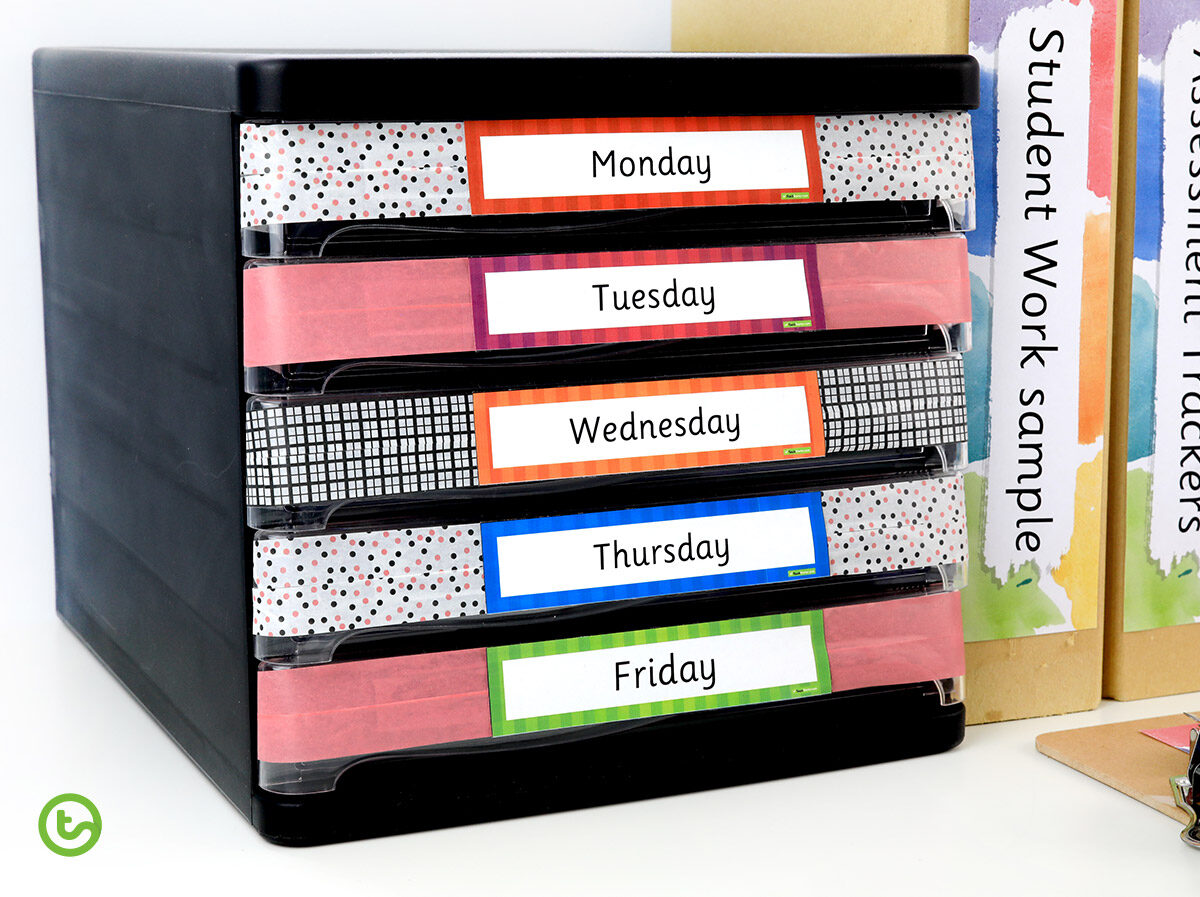 ---
Teacher Mugs = Perfect Pencil Holders
This isn't exactly a mind-blowing tip, we know. But we all struggle with what to do with ALL OF THOSE #1 Teacher mugs we've gotten from our kiddos over the years, and the answer is pretty simple. Use them for pencils, pens, rulers … all those classroom supplies that tend to end up loose on your teacher desk. 
Bonus: This will clear up the clutter in your kitchen cabinets too! 
---
Rolling Carts Are Desk Extensions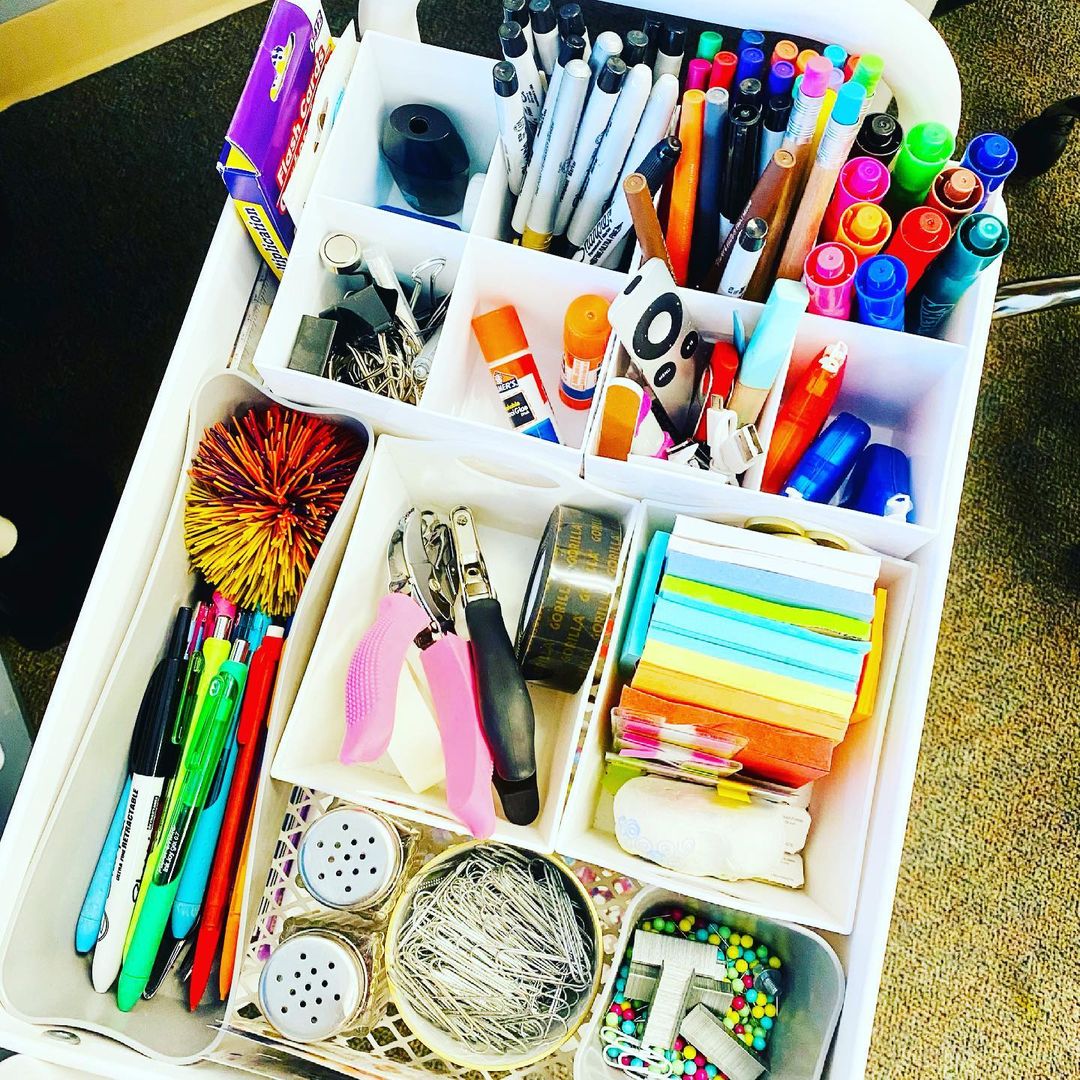 Did you end up with one of those teacher desks that doesn't have drawers? Or maybe you work on a teacher table. Either way, borrow this idea from teacher Jill of @hello_fifth who has been exactly where you are! Set a rolling cart upright next to your desk or table for an instant desk extension and the storage you need! And if you add a few organizers, you can keep your supplies neat and easy to find.
---
Assessment Organization
Assessments, trackers, checklists, student goals… all of this can become a little overwhelming and you may find you have bits and pieces all over the place! I had two main binders on my desk to ensure nothing went missing! I had my assessment trackers in one binder.
Then, in the other, I had student work samples that I was collecting throughout the marking period to refer to when it was time for report cards or parent-teacher conferences, or even when it came time to recommend students for extra support services. Having these binders with everything together made reporting and data meetings so much less stressful!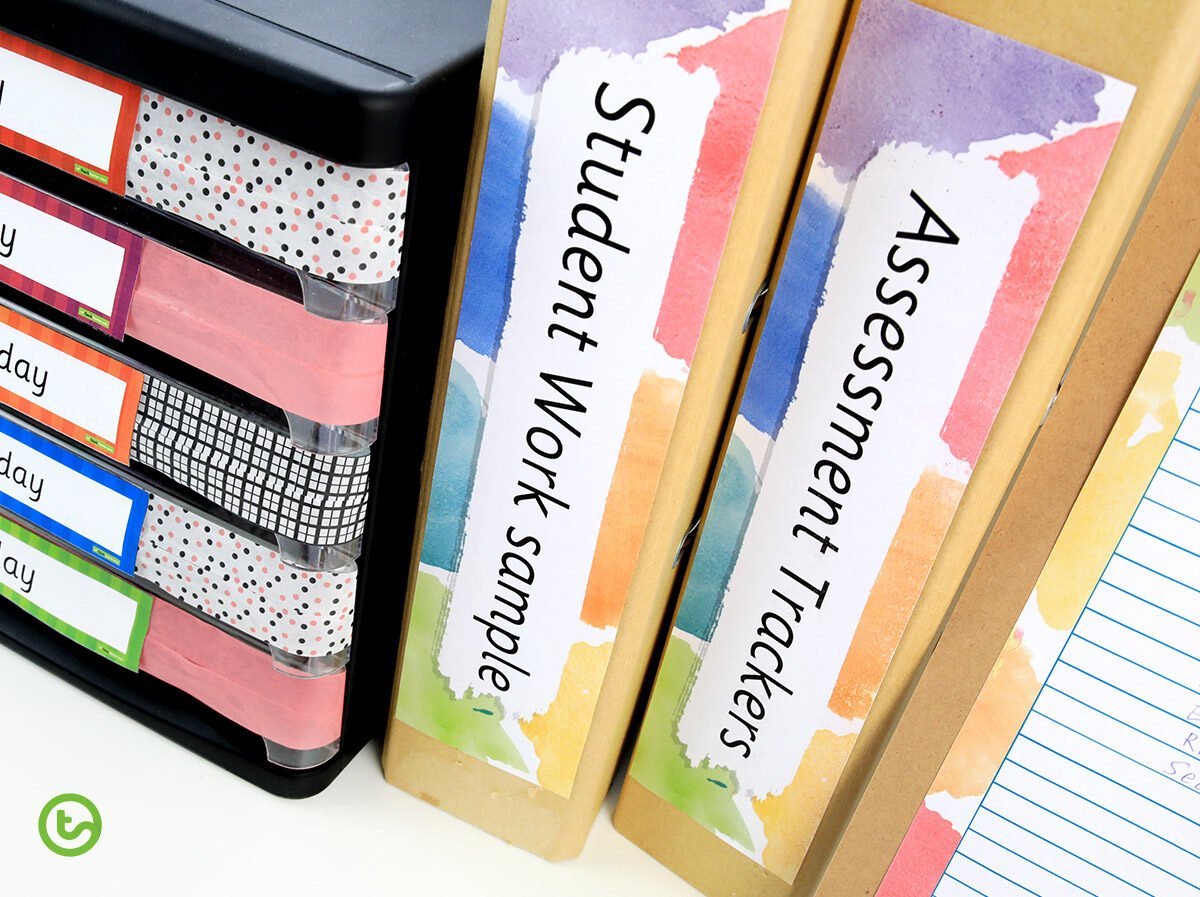 ---
Spare Notes and Worksheets
I found that spare notes and worksheets that had been handed out would often end up in a pile on my desk… somewhere! If a student was absent one day and came up to me the next day asking for notes or missed work, I was scrambling through my piles of paperwork trying to find the spares!
Not anymore… with this simple idea!
Any spares for the week would be clipped here and it made life so much easier. Students were able to collect the worksheets and notes themselves by unclipping them from the hanger. Winning!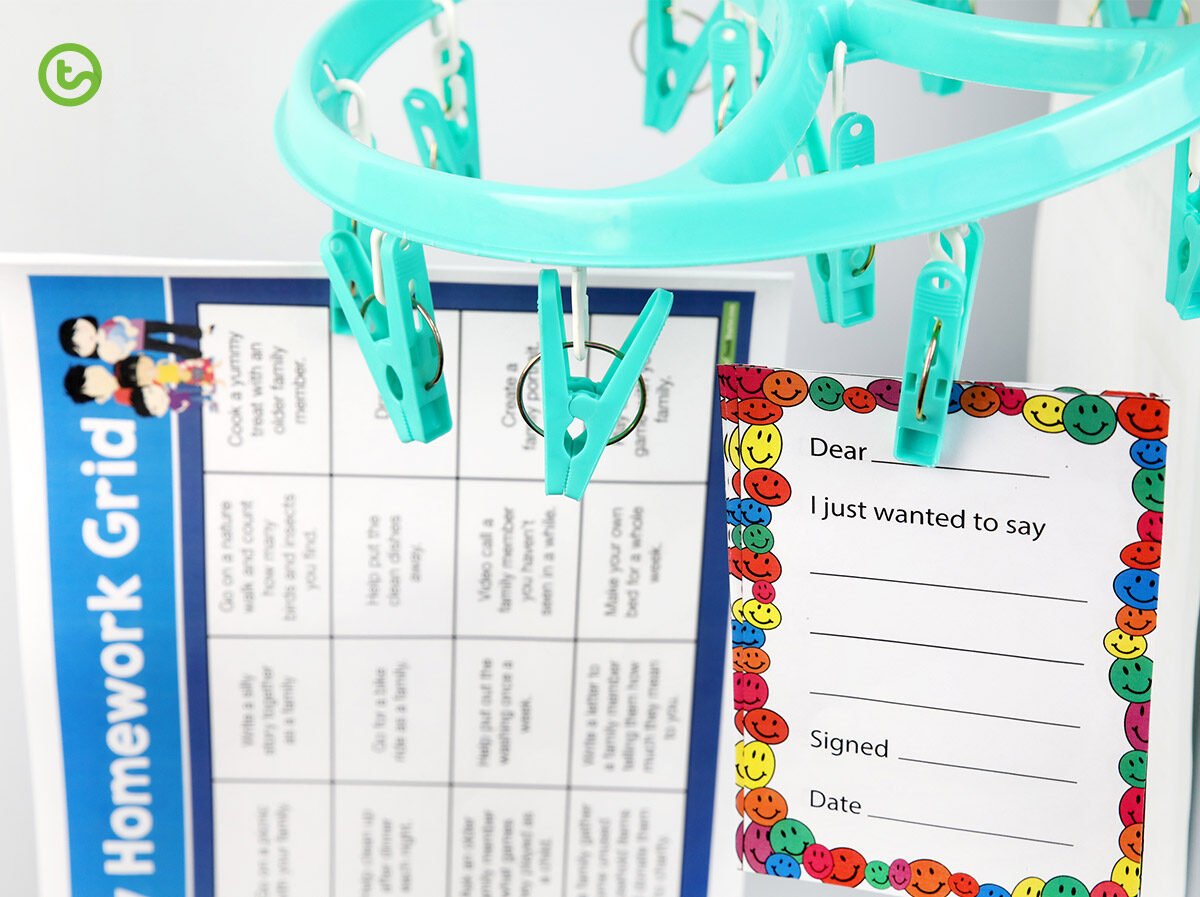 ---
Use a Gumball Machine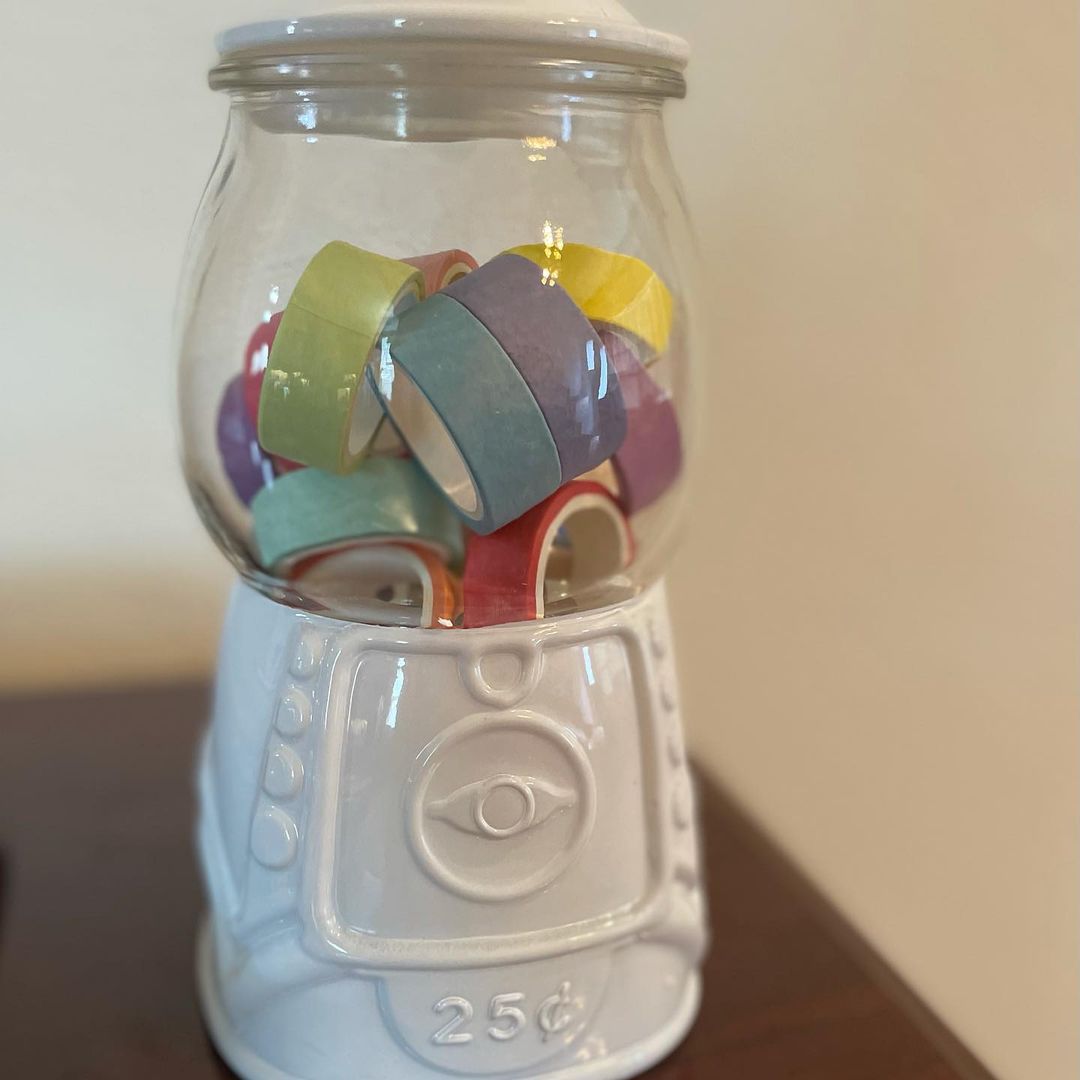 Have you seen the Target gumball "machine" that's taken Teacher Instagram by storm? Pre-K inclusion teacher Michaelle painted hers and uses it to store washi tape! 
With a lift-off lid, it's perfect for storing plenty of small but colorful things from desk pets to classroom prizes!
You can also use candy jars — the old-fashioned kind with lids — for the same thing.
---
Clipboard Notice Boards
One of my colleagues did this on her desk and I really liked how accessible schedules, homework trackers, or simple reminder notes were! I bought these clipboards for $3 each, such a great addition to an organized desk that makes it easy to grab when you need them and also easy to write on!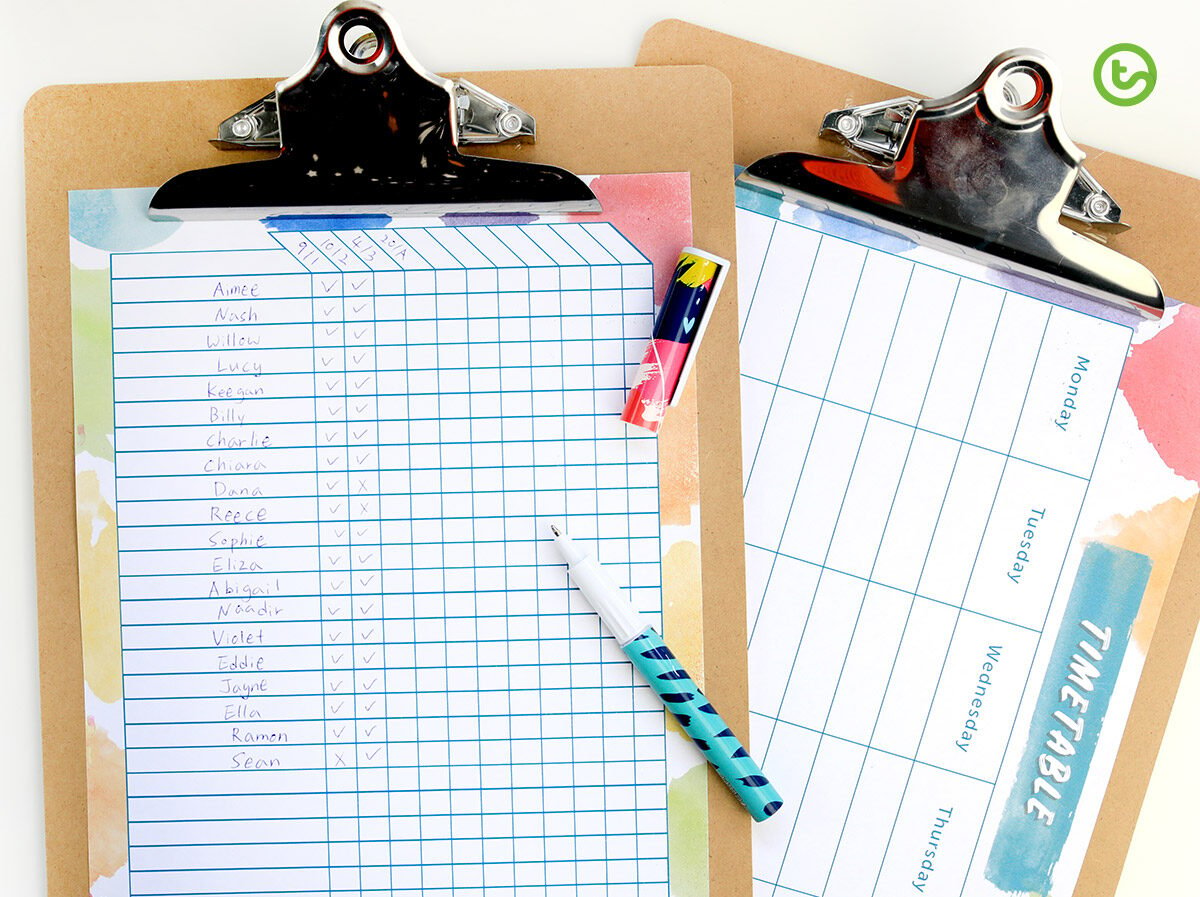 ---
Task Card Organizer
The storage of classroom resources is one that is never-ending. But, once you find something that totally works – you roll with it! This folder was one of them for me. The perfect way to organize any task cards that you may have sorted into subject areas.
This definitely made my life a lot easier! I would have this easily accessible on my desk so that I could just grab the folder, find the subject I was working on, and pick a task or activity that linked in well. This was also perfect for any substitute teacher that came in to my class!
Check out our huge collection of classroom task cards for some ideas and inspiration.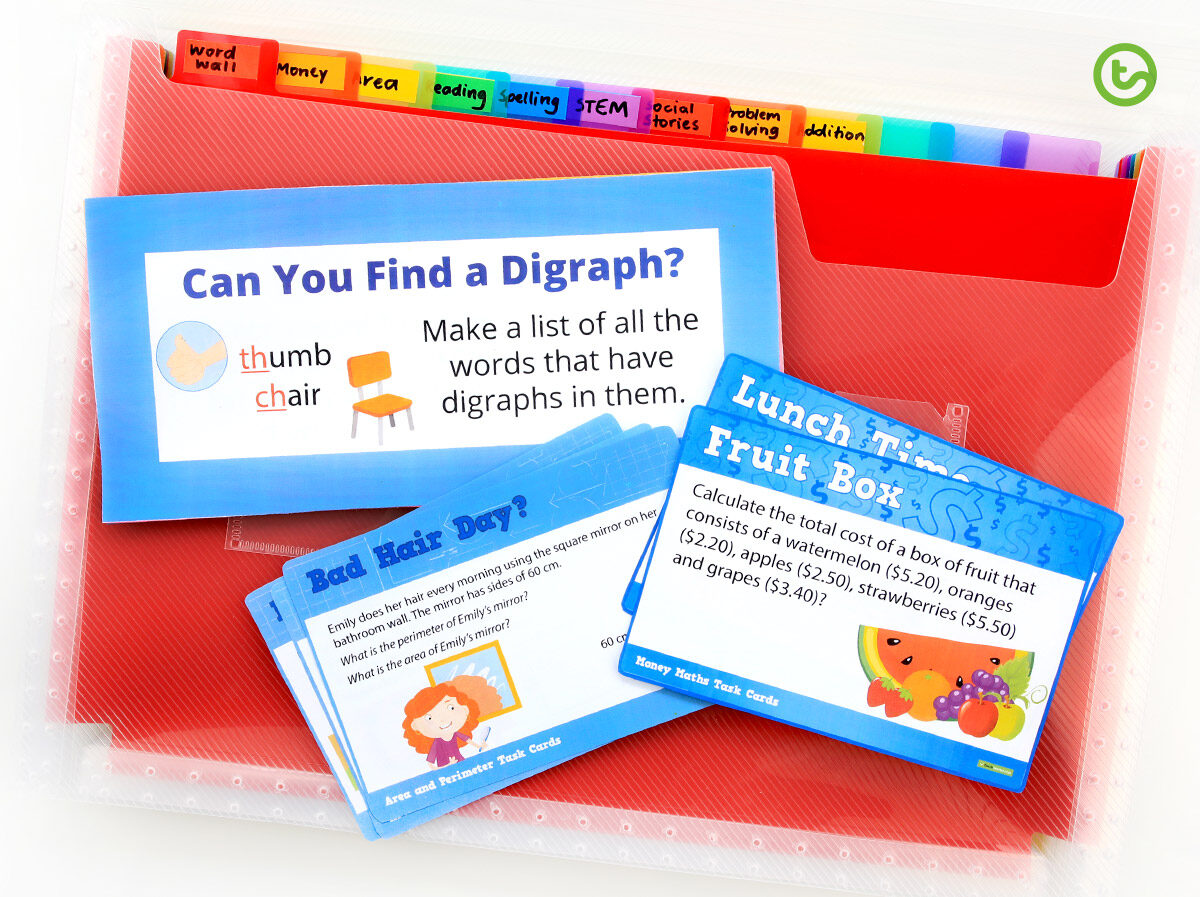 ---
Office Supply Organizer
It happens and it happens very quickly. You soon have drawers full of all those supplies that you seem to collect as a teacher. Then, when you want a particular item…you can't find it!! That is where this amazing storage idea comes in handy!
The one below has our Desk Name Tags – Dark Blue printed two to a page to get the right size for the drawer labels. You choose what would best go into the drawers for your classroom! I found having band-aids easily accessible, spare whistles, thumbtacks, rubber bands, push pins, and paper clips were a definite must!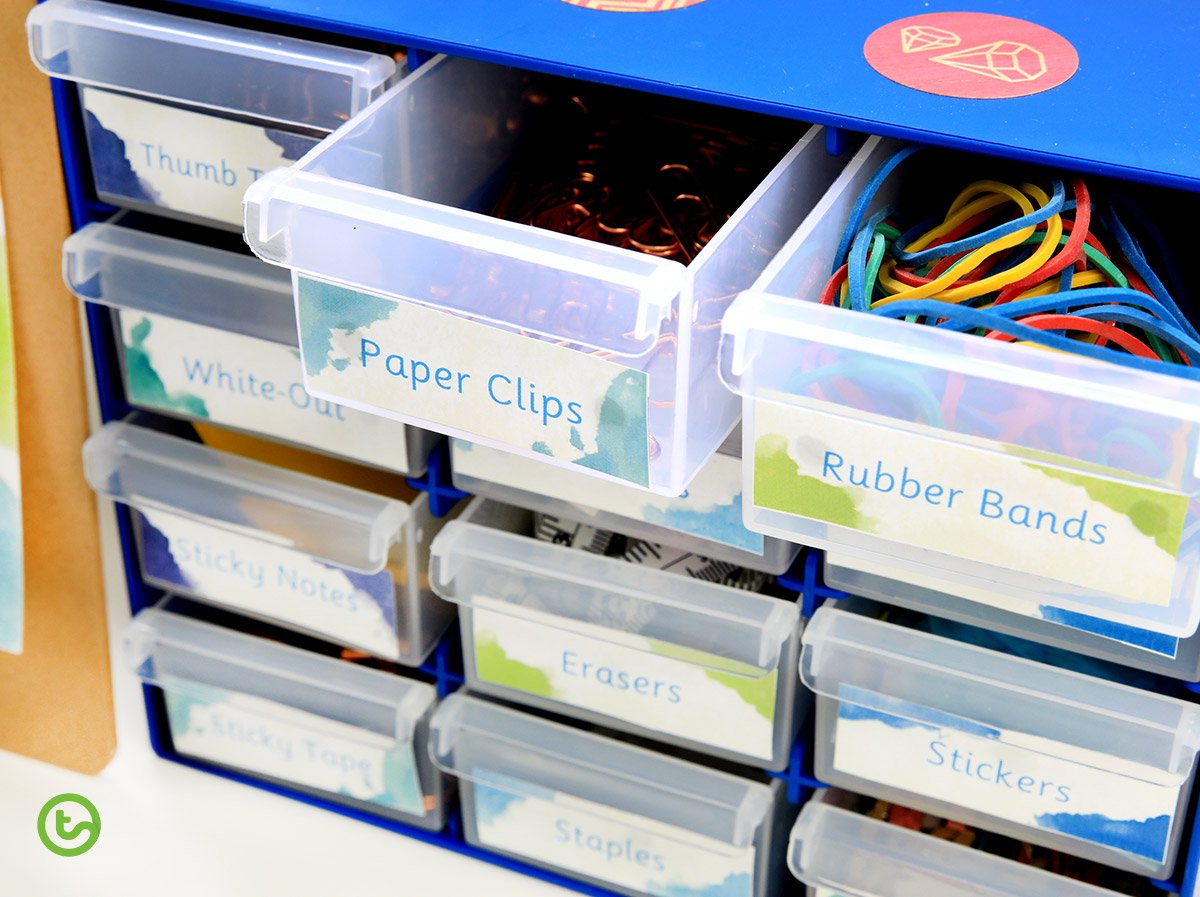 ---
Get a Sectioned Lazy Susan
Make sure you always have the thing you need right where you can reach it — buy a sectioned lazy susan that spins, so you can just use your finger to roll it around to the section you need! We spotted this one at the Container Store for $18.99, but they can certainly be found for less if you keep your eyes open!
---
There you have it. Some hints and tips on how to organize a teacher's desk and ultimately feel more at ease in the classroom. Obviously, we are all different in what works for us! But, using these ideas definitely made me feel more in control during my first year of teaching.
Share your hints and tips for teacher desk organization in the comments below.