Thanks to meg-made for this scrumptious looking recipe – I can't wait to try it out myself!
Pesto Pasta Salad
A healthy and simple pasta salad that you can make ahead of time and enjoy, really enjoy, chilled or at room temperature, the next day is a definite winner in my books.
I am not going to list exact measurements because this recipe is more of a guideline. There is no right or wrong quantity of ingredients, the flavours compliment each other so perfectly, it is all a matter of personal preference and availability.
A very simple lunch idea that is versatile and delectable!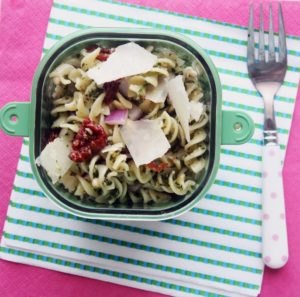 Ingredients
Fusilli pasta (the best shape is spirals because it really holds onto the pesto)
A good dollop of your favorite pesto, whether store-bought or home-made
Semi-dried tomatoes, sliced lengthways
Pine nuts
Parmesan shavings
Red onion, chopped finely
Salt and pepper to taste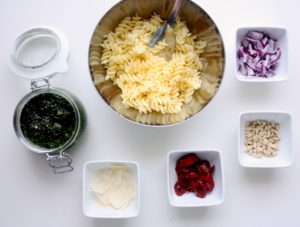 Method
Cook the pasta as per regular cooking instructions and allow to cool.
We eat huge amounts of pesto in our house, and so I make a habit out of pulsing any leftover herbs/spinach/rocket and turning them into pesto. I used a homemade basil & rocket pesto for this recipe, but If you have access to a nice store-bought pesto, this will be more than ok for this recipe! The idea is to keep it simple, so let's do that!
Toss the cooled pasta together with the pesto first to make sure the pesto grabs hold to the pasta first rather than the other ingredients. Once you have a sufficient coating of pesto, toss through the onion, semi-dried tomatoes, pine nuts and parmesan shavings.
Season with a little salt and pepper to taste.
You could add a little grilled chicken for protein, or grilled zucchinis or cooked peas for some added veggies.
The flavours of this simple pasta salad are vibrant and the carbohydrates will keep you well fuelled throughout the afternoon classes until that sweet home time bell rings out loud!