Save Tom the Turkey this Thanksgiving with a Disguise a Turkey project template.
Disguise a Turkey Template for Home and School
Looking for a fun Thanksgiving writing stimulus for your students this fall? Have your students design a disguise for Tom the turkey! He could be a monster, a rockstar, or even transform into a peacock! No one eats peacocks, right?
Students use their imagination by creating a disguise and an escape plan to save Tom the turkey! Once done, extend this activity by having your students write a narrative text that includes Tom, his disguise, and his escape plan!
This resource makes a great writing center activity leading up to Thanksgiving. It's also makes a great family project to make that school to home connection. Once your flock of turkeys are all dressed up, bring them together for an amazing Thanksgiving bulletin board !
Our Save Tom the Turkey – Thanksgiving Activity pairs nicely with this activity as well!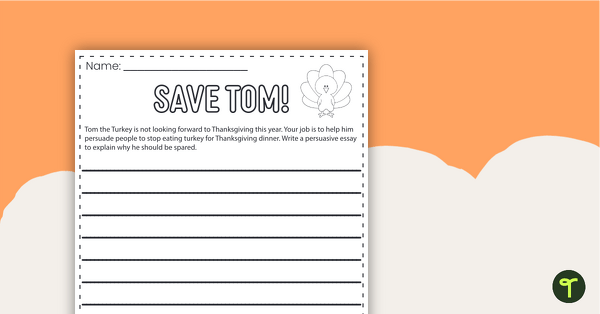 teaching resource
A fun Thanksgiving writing activity to use with your students.