In this figurative language matching game, students will pair 24 phrase cards with their corresponding literary device.
Have you ever appreciated someone's writing so much, you found yourself at a loss for how to describe it?
Many times, when casually discussing the way a storyteller's language makes us feel, we simply say that they have "a way with words."
Unless you're dissecting their writing, that is.
To help students understand why authors choose the words and phrases they do to tell a story, we created a set of figurative language task cards that allow students to analyze actual examples of writing. Then, they'll determine which of 6 kinds of figurative language it most closely represents:
Simile
Metaphor
Hyperbole
Idiom
Personification
Onomatopoeia
How to Use This Resource with Your Students
This game can be used in your reading center or as a small group activity. It has been designed to be played with partners or in small groups, rather than individually (though students could use the cards as a solo review activity).
The goal of this activity is to teach students to understand the importance of figurative language and why authors use it to enhance their ideas and emotions.
To play, students will take turns reading from 24 phrases and decide which of 6 categories of figurative language it applies to. Once they have determined the type of language it is, they will write their answer in the corresponding number box on the recording sheet.
An answer sheet is included in this download.
Expand This Activity with New Ways to Play!
You didn't think we'd just leave it at that, did you? Check out these additional uses for our Figurative Language Activity Cards.
Scoot Activity
Place each of the 24 figurative language cards around the room. Ask students to stand up with their recording sheet. Assign one card to each student to start, having students rotate through each of the cards, writing their answers on the recording sheet provided.
Which One Is It?
Place 3 cards at each station, making sure 2 of the cards represent the same type of figurative language and the 3rd card is different. Student pairs will rotate through each station and identify the card that is different, writing their answers on a separate sheet of paper.
Test Prep or Class Review
You can easily turn this game into a review session at the end of your lesson, or right before a test to give students some extra practice. Hearing the sentences out loud will also help clue them in on important clues in the phrase that narrow down which figure of speech the phrase applies to. Simply read the cards in order 1-24 out loud to your class, and ask them to write which kind of phrase it is on the recording sheet. It would be helpful to project the sheet that lists the names of each figure of speech using your smartboard or other projection devices.
How to Extend This Activity or Bring Others up to Speed
In every classroom, there will be students who easily grasp the lesson in front of them, and those who need a little more time and practice.
For your fast finisher students, invite them to add their own example of each type of figurative language. They'll have fun applying their own creative spin on the game while developing their sense of the author's purpose—a valuable skill to have as students build their own writing skills.
If students are having trouble identifying which figure of speech the cards apply to, we suggest they work in a small group or with the teacher. You can also help students feel less overwhelmed by reducing the number of examples per figure of speech.
Preparing This Resource for Your Students
Print this activity on cardstock for added durability and longevity.
Before You Download
Use the drop-down menu to choose between the PDF or Google Slides version.
---
This resource was created by Kelli Goffredi, a teacher in Texas and a Teach Starter Collaborator.
Looking for more lesson plans, activities, and more to teach your students how to analyze figurative language? Check out a few of our favorite resources below!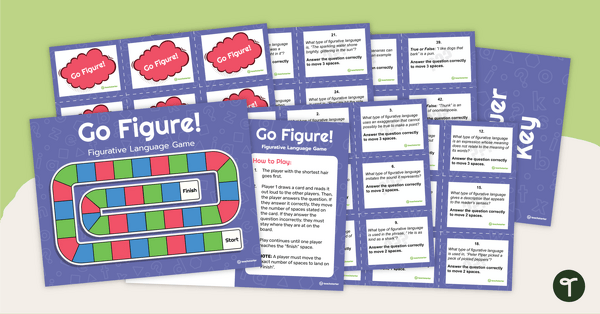 teaching resource
A board game to practice working with different types of figurative language.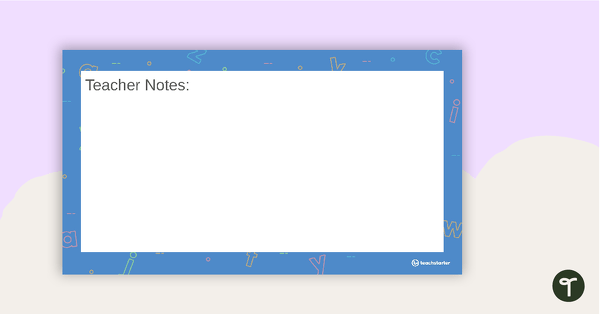 teaching resource
An editable PowerPoint to use when teaching figurative language.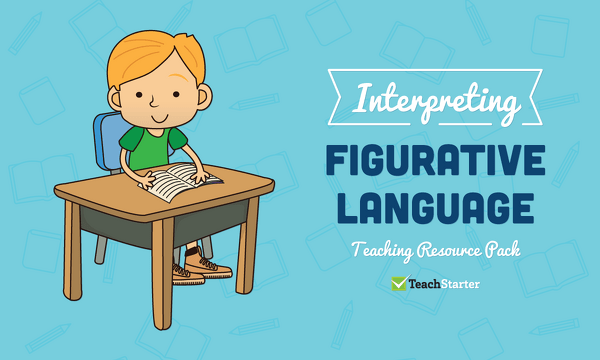 resource pack
A comprehensive resource pack helping students explore the concept of figurative language.