Make your Thanksgiving crafts a bit more funky with our Funky Turkey craft template.
Funky (and easy) Thanksgiving Crafts for Kids
Celebrate Thanksgiving in style with this Funky Turkey Craft Template, and practice zentangle patterns for some mindful coloring fun!
This simple turkey template printable is a perfect addition to your holiday bulletin board, and it will provide your students with some much-needed relaxation as they learn about the traditions and history of Thanksgiving.
Very similar to our fun Easter Bunny Craft Template and Funky Reindeer Craft Template, students use different patterns to fill in the different sections of the turkey. Then they can choose a pair of funky glasses and a hat to finish off the funky turkey craft.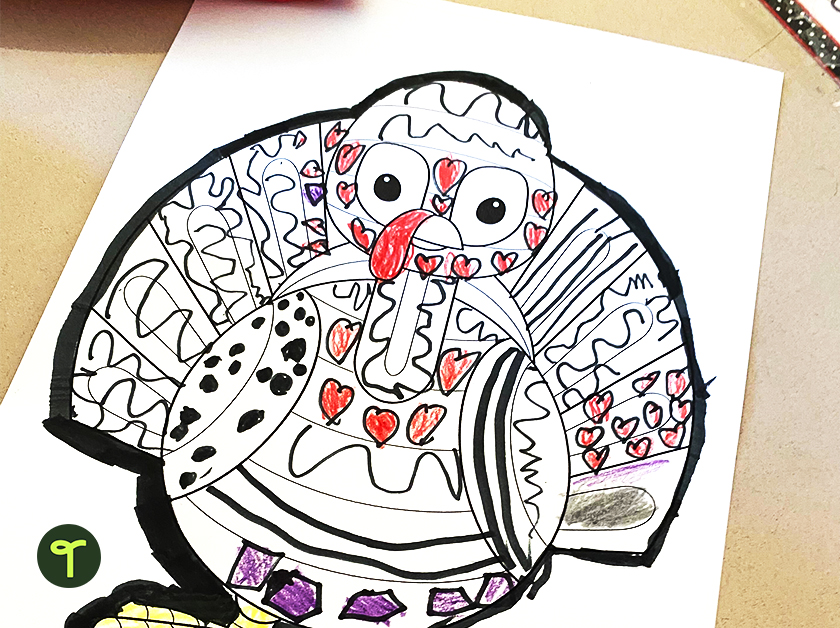 How to Use the Turkey Craft Template:
Using a pencil, fill each section of the Funky Turkey Craft Template with a variety of lines, dots, and patterns.
Once you are happy with the finished product, go over each section with a thick black pen.
Cut out the template and paste it onto a colored piece of cardstock or construction paper.
Choose your funky glasses — color and attach!
Finally, color and add the finishing touches — a Pilgrim hat and collar.
Want more Thanksgiving fun? Check out our full list: Thanksgiving Classroom Activities for Holiday Fun Kids Love