Practice correct comma placement in dates and series with a Google Interactive Activity.
Master Comma Rules with Google Interactives!  
Commas save lives! Well, maybe not that dramatically, but they do make an enormous difference in the readability of your students' writing. Comma rules are easy enough to teach, but young writers need lots of practice using them correctly. This interactive allows students to practice using commas in the most common scenarios – date formats and series items. 
Through this activity, students will be able to edit and correct comma placement errors within dates and series.
You Don't Need Comma Worksheets After All…
This single download provides students with multiple types of activities to practice their comma skills. The slides included provide the following types of practice opportunities
Drag and drop commas into their correct locations within a date.

Read a calendar and use the correct date format to identify when events occur.

Drag and drop commas into their correct locations within a list or series of items.

Make a list and write it with correct comma placement.

Sort sentences based on correct and incorrect comma placement.
As a final formative (or summative) grammar assessment, students are given a ten-question pop quiz at the end of the activity to check for understanding.
Tips for Differentiation + Scaffolding 
A team of dedicated, experienced educators created this resource to support your writing lessons.
In addition to individual student work time, use this resource to enhance learning through guided writing groups, whole class lessons, or remote learning assignments. 
If you have a mixture of above and below-level learners, check out these suggestions for keeping students on track with the concepts: 
🆘 Support Struggling Students
Help students who need help understanding the concepts by providing access to previous assignments or notes.

Provide students with posters or comma rule

anchor charts

for students to reference during the activity.
➕ Challenge Fast Finishers
Challenge your students to create their task cards or assessments on index cards or sticky notes.
Plan lessons for all ability levels with our 10 Best Scaffolding Strategies! 
Easily Prepare This Resource for Your Students
Use the

Download button to download the Google Slides version of this resource. 

Assign the activity in Google Classroom or another LMS system of your choice. 

Students will open the file in edit mode to interact and complete the activities included.
---
Don't stop there! We've got more activities and resources that cut down on lesson planning time:  
teaching resource
A poster that explains commas and provides an example of how to use them.
teaching resource
A set of 6 worksheets to reinforce punctuation in the upper grades.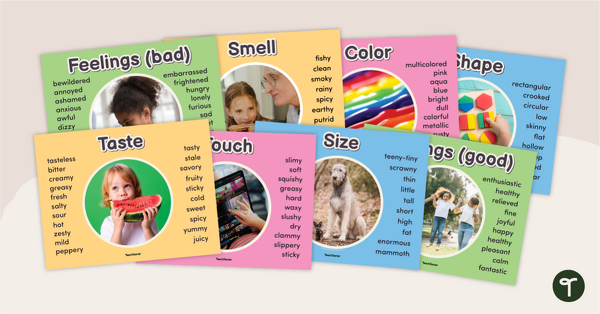 teaching resource
Get your students to use new words to describe objects with this set of 13 bright and colorful posters.