Build and master the ability to identify land and water formations in the physical environment with a game of Physical Environment Bingo!
Looking for Landform Games for First Grade?
Identifying landforms is an essential educational concept that every student should practice. Looking at maps and watching slideshows is great, but young learners need to get their hands on materials to really internalize the content.  This physical environment Bingo game was designed to help students practice identifying the different types of natural landforms and physical features using images and verbal descriptions.  Your Science and Geography lessons are sure to be rigorous when using this resource.
The significant landforms and objects in the physical environment referenced in this activity are
Mountain

river

waterfall

desert,

volcano

island

Forest

And more!
👨‍🏫Physical Environment Bingo Game Play👨‍🏫
Provide each student with a game board and counters as board markers.

Pull a clue card from the stack and read it aloud. You can choose to use single-word calling cards or description cards.

Students will listen to the feature described and attempt to locate an image representing it on their game board.

The first student to get four in a row wins.
Tips for Differentiation + Scaffolding 
In addition to independent student work time, use this game as an activity for:
Lesson warm-up

Lesson wrap-up

Fast finishers

 

Homework assignment
To provide an extra challenge, 
Provide opportunities for students to draw, write, and discuss the different physical features in environments around the world.

Assist struggling students with the tasks by providing notes,

 landform 

anchor charts

, or individual assistance as needed.
Easily Download & Print
Use the dropdown on the Download button to download the PDF or Google Slides version of this resource.
---
This resource was created by Lindsey Phillips, a teacher in Michigan and a Teach Starter collaborator.
Don't stop there! We've got more landform activities to shorten your lesson planning time: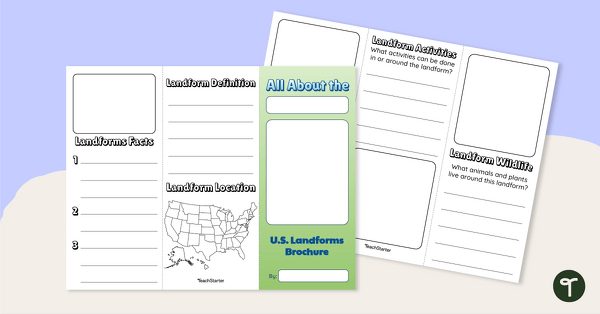 teaching resource
Research and present knowledge of famous landforms in the United States with a brochure project.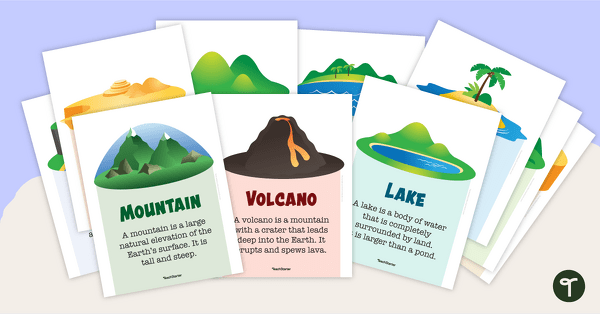 teaching resource
Display and teach the types of landforms on Earth with a set of fifteen Natural Landforms posters.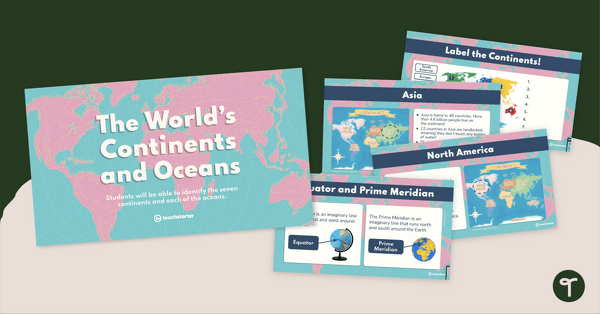 teaching resource
Explore the seven continents and five oceans of the world with this comprehensive teaching presentation.