A fun Thanksgiving writing activity to use with your students.
Let's Talk Turkey! Thanksgiving Persuasive Writing
Turkey Day is approaching, and it's the perfect time of year to get a jump on writing persuasive or opinion texts. Each year, the President of the United States pardons one turkey and saves him from being eaten on Thanksgiving Day. This year, let your students help make the case for saving Tom, the terrified Thanksgiving turkey.
Pair with a Disguise a Turkey Project
Everyone loves Thanksgiving dinner, but no one wants to BE Thanksgiving dinner. Have your students put themselves in Tom's place and use every bit of humor and emotion they have to write a convincing persuasive text.
With this printable Thanksgiving writing prompt, students will write a persuasive text to stop people from eating turkey on Thanksgiving.
Use this resource as a writing center activity leading up to Thanksgiving.
Our Turkey in Disguise – Thanksgiving Activity also pairs nicely with this activity! Have your students write their persuasive letter, and then create a convincing disguise for Tom to help him escape the oven!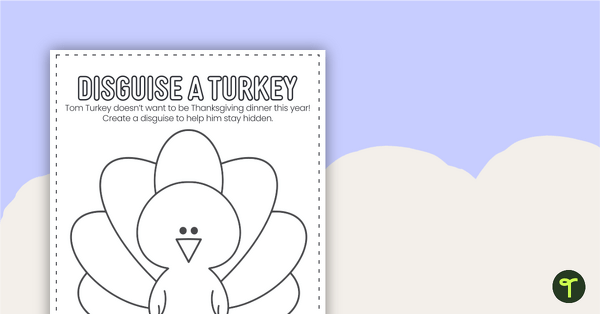 teaching resource
Save Tom the Turkey this Thanksgiving with a Disguise a Turkey project template.