Practice decoding words with the ie vowel team in this board game.
The ie vowel team is especially prevalent in our language, usually due to the focus on the (*ahem*) flexible guideline we all know:
I before e, except after c. 
But when it comes to literacy, we believe…
…it's better to know the rules before you break them. 😉
Let's not digress, though.
In this activity, students will decode words that use ie vowel team, honing another essential phonological awareness skill needed to become excellent readers. 
Have Fun & Practice Decoding ie Vowel Team Words 
Use this resource as a reading center activity, with your guided reading group, or as a whole class activity (see Scaffolding & Extension Tips below) to decode words with the ie vowel team convention.
Players take turns choosing a card from the deck, reading the word, and moving their game piece to the first picture that matches their card. If there are no more pictures that match, the player loses their turn. Play continues until each player draws a card that matches the last space on the game board.
The vowel team ie words included in this game:
pie

pliers

fries

ties

tie

die

flies

cries

lie
Scaffolding and Extension Tips + More Vowel Team ie Activities
Use this resource as independent practice for fast finishers, and full-class learning opportunities like scoot activities, lesson reviews, comprehension assessments, and more.
Challenge students who already understand the concept by having them put the word cards in alphabetical order, or produce rhyming words that use the same vowel team. 
Invite students to use a visual reminder, like an anchor chart or an alphabet display, to sound out words they may struggle with. 
Swat! 
During small group instruction, create a grid of vowel team word cards on top of a table and give each student a fly swatter. Read the word on one of the cards. The first student to swat the word correctly sets the card aside in their own pile to keep score. The student with the most cards wins. 
Knock Off
Have your students stand up and make a line across the room. Project a word on the screen and use our Random Name Picker widget to draw a student's name to answer. If the student correctly identifies the word, they tap the person on their left or right to send them back to their seat. If the student answers the card incorrectly, they must sit out. Play continues until only 1 student is standing.
Scavenger Hunt
There are 9 words featuring the ie vowel team in this game. Pull a card for each, number them, and hide them around the room when your students are not around. When they return, set them loose—as soon as they find a card, they sound out and write the word on a blank sheet of paper numbered 1-9. When they've written the word, they leave the card in the same spot they found it, and then set off to find the others. NOTE: You may want to make a rule of only 1 student at a card at one time so things don't get crazy. 
Get our 10 Best Scaffolding Strategies to try today! 
Easily Prepare This Resource for Your Students
Print on cardstock for added durability and longevity. Place all pieces in a folder or large envelope for easy access. 
Before You Download
Use the drop-down icon on the Download button to choose between the PDF or Google Slides version of this resource. 
---
This resource was created by Lindsey Phillips, a teacher in Michigan and a Teach Starter Collaborator. 
Get loads more vowel sounds activities below!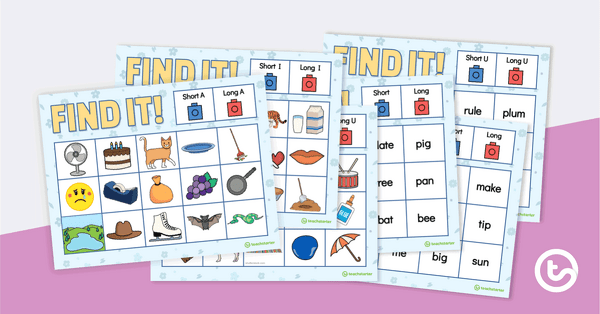 teaching resource
Practice distinguishing between short vowel sounds and long vowel sounds with this set of 16 task cards.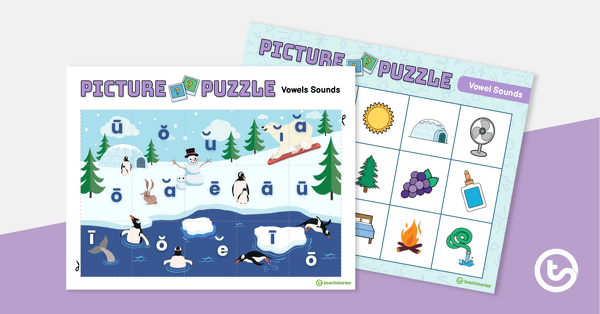 teaching resource
Distinguish between long and short vowel sounds with this 15 piece vowel picture puzzle.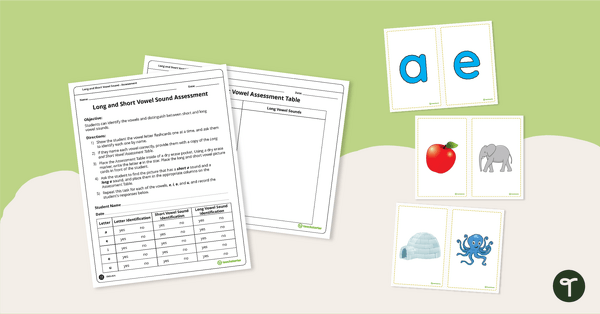 teaching resource
Test your students' long and short vowel sound knowledge with this phonics assessment kit.