Practice decoding words with long vowel team conventions with this 15 piece picture puzzle.
Vowel teams are a phonological awareness strategy for decoding words with 2 consecutive vowels that make one sound. 
For example, /ea/, /oa/, /ie/. 
In this game, students will identify words by picture and match them to their vowel team sounds in each word.    
Get Vowel Team Practice through a Fun Puzzle! 
Use this resource as a reading center activity, with your guided reading group, or as a whole class activity (see below) to practice decoding words with vowel team conventions for representing long vowel sounds.
This vowel team activity includes the following words:
honey
tree
rain
soap
fries
To play, students will read each word and cover the matching picture to complete the puzzle. 
The great thing about this resource is that it is self-checking: when students have finished placing the pieces onto the board, a complete picture is revealed!
Scaffolding and Extension Tips + More Vowel Team Activities
Use this resource as independent practice for fast finishers and full-class learning opportunities like scoot activities, lesson reviews, comprehension assessments, and more.
Students who need the extra challenge can produce rhyming words for each word, and/or put the words in alphabetical order.
Invite struggling students to use a visual reminder of vowel team conventions, like a poster or anchor chart, to sound out words that give them any difficulty. 
Draw It! 
Use this activity as a formative assessment. Pick a random assortment of puzzle pieces and project them on the board for the whole class to see. Have each student pick 3 words and write them on a separate sheet of paper. Then, have the students draw a picture for each word, showing they've read the word and understand what it is.  
Match Me If You Can
In your guided reading group, give each student 3-5 cards that only they can see. Then, point to a picture on the board and have them say the word as a group. The student who has the vowel team word card lays it down face up. The first person to have all their cards face up wins.
Upcycle into Playing Cards
When students tire of the puzzle element, turn this game into a deck of cards! Break out your scissors and cut up the board so that you have an equal amount of words and pictures. Students can play card games like Match It, Go Fish, or Snap!, to name a few.  
Check out our 10 Best Scaffolding Strategies here! 
Easily Prepare This Resource for Your Students
Print on cardstock for added durability and longevity. Place all pieces in a folder or large envelope for easy access. 
Before You Download
Use the drop-down icon on the Download button to choose between the PDF or Google Slides version of this resource. 
---
This resource was created by Lindsey Phillips, a teacher in Michigan and a Teach Starter Collaborator. 
We've got vowel activities galore! Check out a few teacher- (and student) approved games and more below: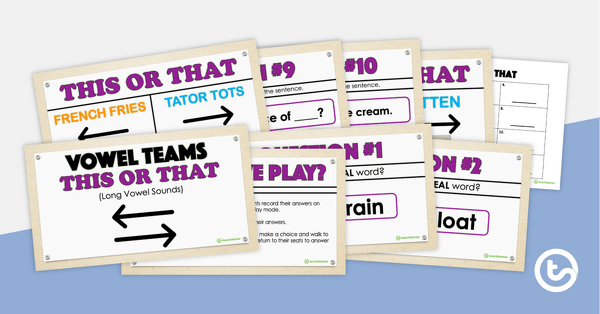 teaching resource
An active PowerPoint game to practice decoding words with vowel teams.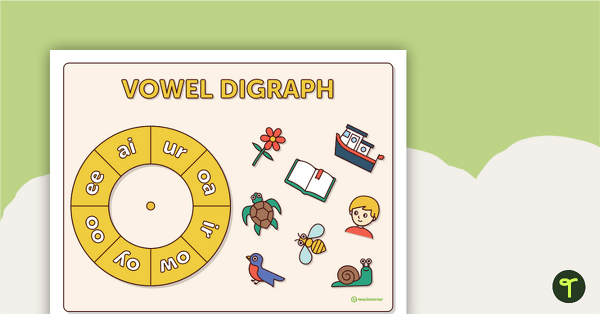 teaching resource
A fun phonics game for students to practice digraphs.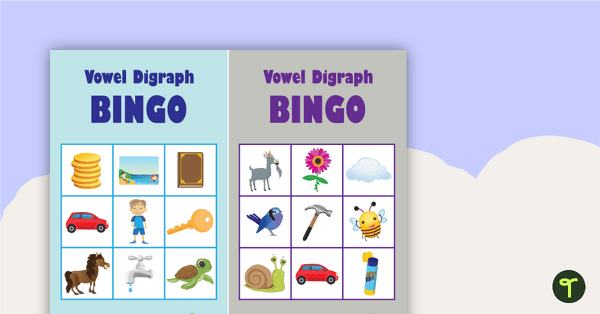 teaching resource
30 different bingo cards using vowel digraph graphemes.