We don't really need an excuse to spoil ourselves, do we?  School holidays feel like a pretty good reason to anyway! You have worked hard this semester, and it's time to put yourself first for a little while.
I recommend that you indulge in a few self-care spoils during your break. Like taking yourself for a walk by the sea or in the bush, spending time with family and friends, and maybe a little meditation practice too (check out the Insight Timer app for beautiful free guided meditations).
That said, here are some bits and pieces that may just encourage your online shopping endorphins. Plus, most of these products have the added benefit of being useful at work, making your return to school next term a little more exciting too!
Just so you know… this is not a sponsored post, nor did I receive any goodies in exchange for my recommendations. You are basically just getting a little glimpse of my #shoplocal shopping-happy brain!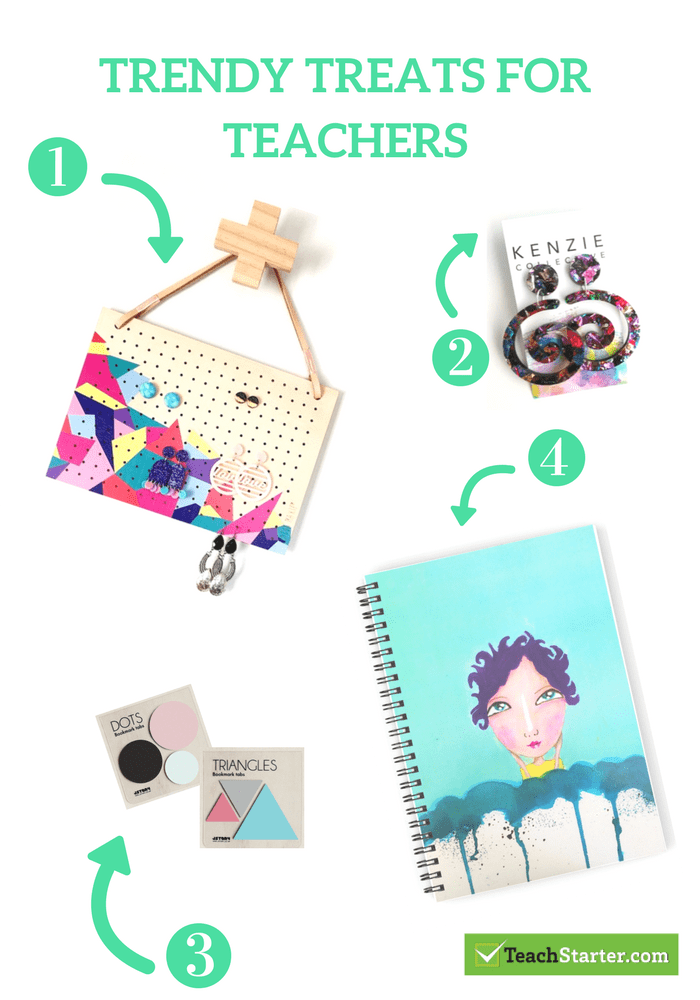 1. Handpainted Hanging 116 pair Earring Board from Bon Maxie – $49
Earrings are the easiest way to add some excitement to a work outfit, am I right?! Though for all of their awesomeness, studs can be a bit of a pain to store.
Never fear, Bon Maxie is here! Made in Brisbane, Australia, Bon Maxie has a spectacular range of earring boards and stands in all colours, shapes and sizes.
This Colour Block Hanging Earring Holder stores 116 pairs and at $49 is my pick of the current Bon Maxie range.
2. "Twirly Woo" Metallic Acrylic Earrings from Kenzie Collective – $40
Kenzie Collective is the creative brain-child of ex-primary school teacher Marayna, who both makes AND sources some of the best statement earrings around.
If earrings are your thing and you haven't yet discovered Kenzie Collective then maybe you shouldn't click the link…
Nope, ignore that, you totally should.
You can thank me later!
3. Sticky Notes from Little Paper Lane – $9.95 each
Using stickies like these two beautiful trios from Little Paper Lane make note-taking and note-making just that little bit more wonderful.
These simple and elegant designs can add a bit of personality to an otherwise regular activity.
4. "Daydreams" A5 Spiral Notebook – $15.25
This sweet spiral bound notebook is available on the Red Bubble website and features work by Australian artist Jess Crawford.
Red Bubble is another rabbit hole of online shopping excitement, where all purchases come with the warm fuzzy of knowing that you are supporting the artist whose work is featured on your chosen goodies.
5. Dino Planters by Squiddy Design Co – from $15
If you can show me anything cooler than this for having on your school desk, I want to know!
These totally Instagram-worthy, hand painted dinosaur planters are made in Melbourne by Jennifer of Squiddy Design Co.
They can also be used as a pen holder if you aren't too fond of trying to keep both plants and children in your classroom alive.
6. D Series Watch in Black by The Horse – $269
There are a few things that turn a good watch into a great watch and The Horse D Series has all of them.
A clear face, featuring numerals and a second hand, this watch out-styles pretty much any other teacher time-keeping method.
7. Custom Backpack by Grunge & Lace – $35
Yes, these are meant for kids. However, I cannot get past the idea of a custom teacher backpack featuring whatever combination of letters, numbers and symbols you might go by at school.
Screen-printed here in Brisbane, custom backpacks and calico totes are available through the Grunge and Lace website.
8. Star Wars Keep Cups – from $26
Manufactured in Melbourne, Keep Cups are the original and the best. Swapping out your regular disposable coffee cup for one of these Star Wars Series cups is yet another way to continue the sustainability conversation into your classroom.
Not only that, but after using your Keep Cup a measly 15 times, you will have completely offset the energy that was used to make it.
Subscribers to Teach Starter can access our exclusive VIP Club member discount when purchasing a Keep Cup from Biome.
9. Custom Rubber Stamps by Woodruff & Co – from $39
Last, but not least, these beautiful, Australian-made, customised rubber stamps are the ultimate in teacher luxury.
Fashioned from recycled and sustainably sourced Tasmanian Oak, Woodruff & Co will create a one-of-a-kind stamp with the text or artwork of your choice.
It's all about balance, right?
It's true, the term "holidays" is a little misleading when it comes to the general perception about how teachers spend their time away from work.
So, while you do finish up the last of your Semester One work and prepare for next term, do schedule a little bit of time to relax and recharge.
A cheeky little shopping treat won't go astray either! Check out all of the stores who participate in our exclusive discounts at the Teach Starter VIP Club.