Science can be a bit tricky for little minds! All those abstract ideas and hypotheses… especially when it comes to teaching topics such as changing states. A Changing States unit plan covers things on a molecular level and for our younger learners, this is a mind-blowing concept!
We've come up with a unit plan that makes these tricky concepts easy to understand. We think your students will go gooey for it!
This curriculum-aligned unit plan is perfect for Year 3 students who are looking to grow their understanding of liquids and solids, or as a refresher for older kids.
What's In Our Changing States Unit Plan?
This Chemical Sciences unit plan addresses how changes in state from solid to liquid and liquid to solid can be caused by adding or removing heat.
It contains everything you need in six fun, easy to follow 60-minute lessons! Here's a brief breakdown of what your kids will learn over the course of this science unit:
Grow their understanding that matter can be classified as a solid, liquid or gas.
Explore the properties of solids, liquids and gases.
Observe how adding or removing heat can change the properties of a material.
Investigate what happens when heat is applied to a range of solids.
Investigate what happens when heat is removed from a range of liquids.
Explore how changes from solid to liquid and liquid to solid can help in the process of recycling plastic.
Create a Changing States Display
Hook your students' interest with a fun sorting activity, and turn your students' ideas into an interactive Changing States display! This Solids, Liquids and Gases – Sorting Activity is a great way to help your students visualise the differences between solids, liquids and gases.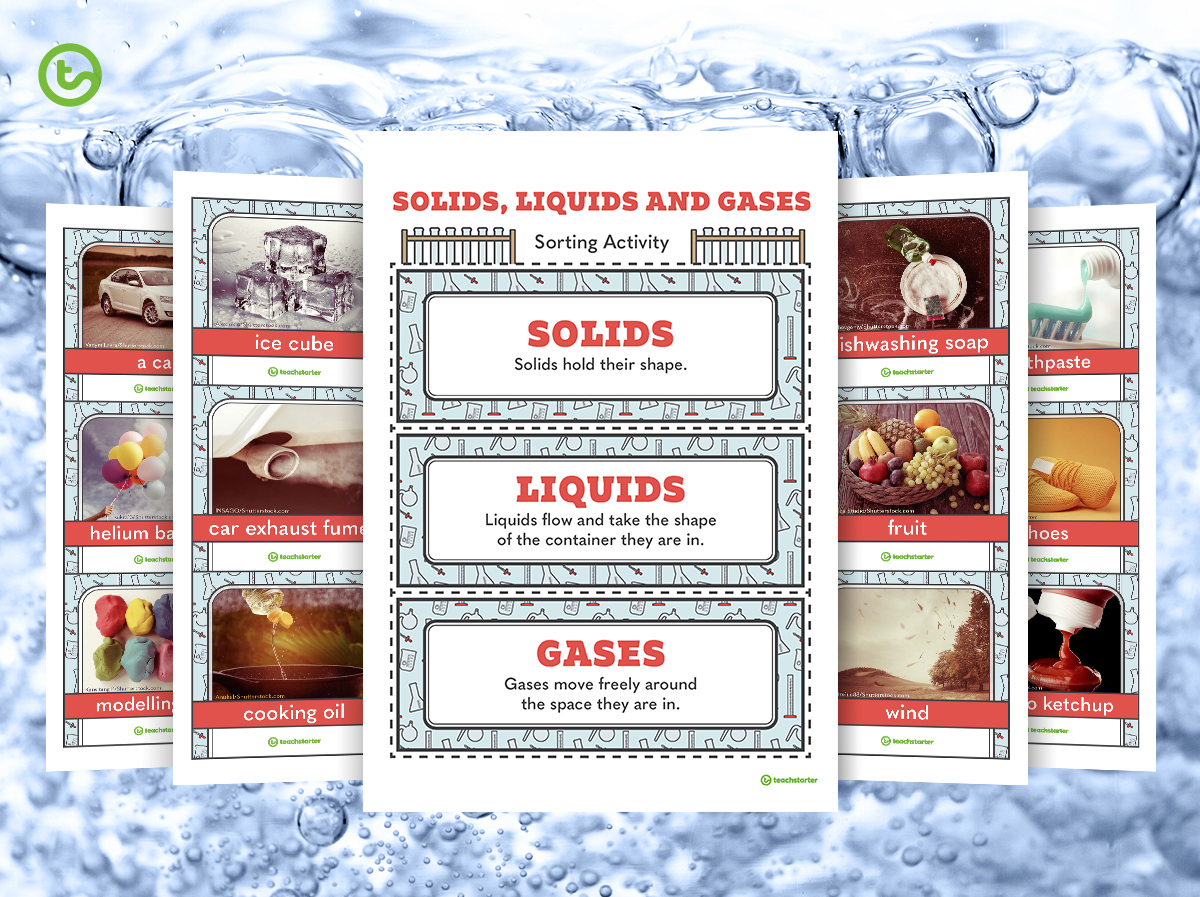 Aside from dispays, this resource features fun investigations and worksheets, as well as hands-on learning activities.
Learn About Solids and Liquids
So, exactly how do you make an abstract idea such as molecular behaviour easy to understand?
With fun and engaging experiments and activities of course! Students need to see heating and melting in action, as well as make predictions about how heat will change different materials.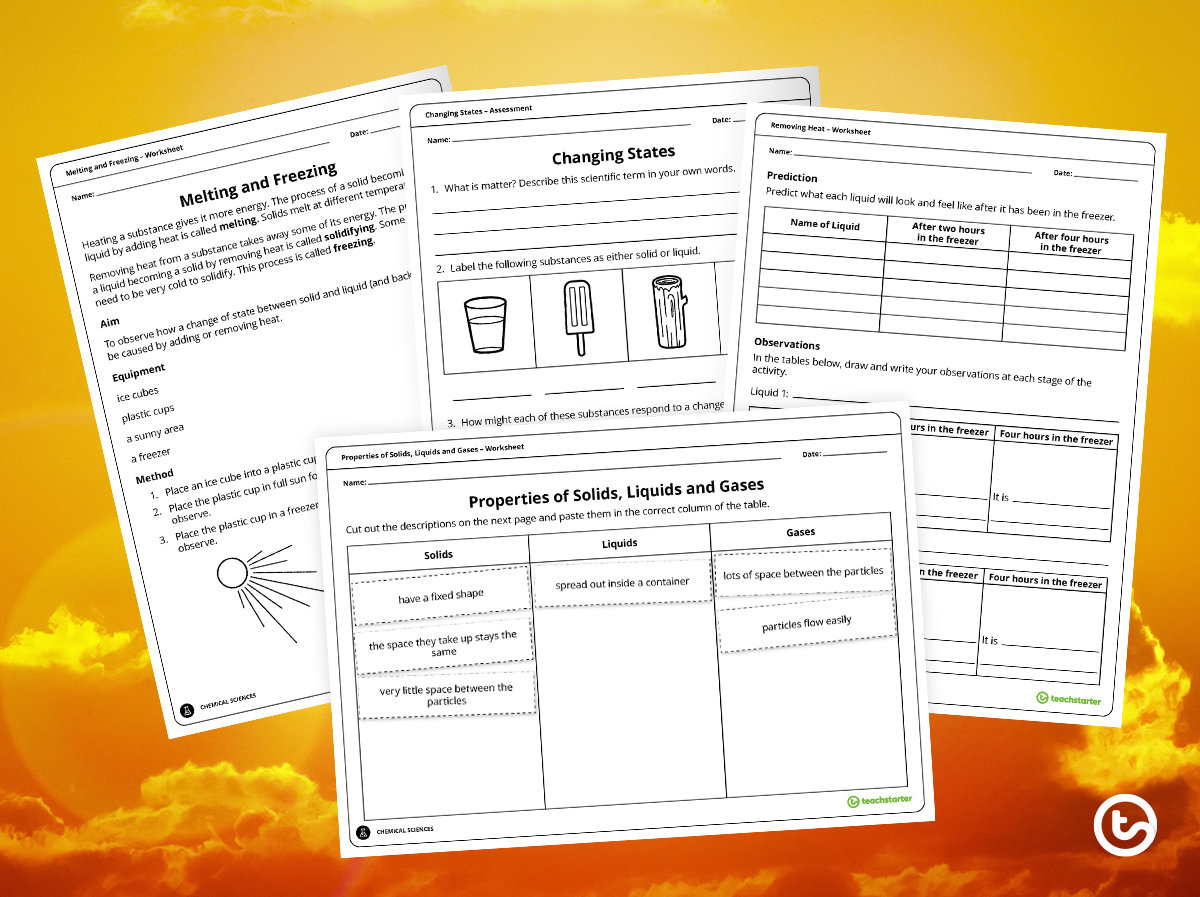 These lessons teach students the process of changing state by removing or adding heat in a structured way, that guides and builds on their knowledge. Following the scientific process, these activities teach your students all they need to know about hypotheses, variables, scientific observations and recording their findings.
An Amazing Experiment Video!
Did I mention this Changing States unit plan includes the most engaging experiment video ever? It features our very own Teach Starter resource-creating teachers in the starring roles! If you don't believe me when I say it's worth a look, take a sneak peek at the video below.
To watch the full video, head to Let's Experiment! – How Long Will It Take to Melt?.
A Sustainability-Focused Case Study
In case you've missed it, Teach Starter is incredibly passionate about the environment. We are even planting 1 million trees by 2033! That means that we will take any opportunity to throw a few lessons about sustainability into the mix.
This Changing States unit plan features a case study on the process of recycling soft plastics. Help your students see the problem with plastics, and feel empowered to take on the issue.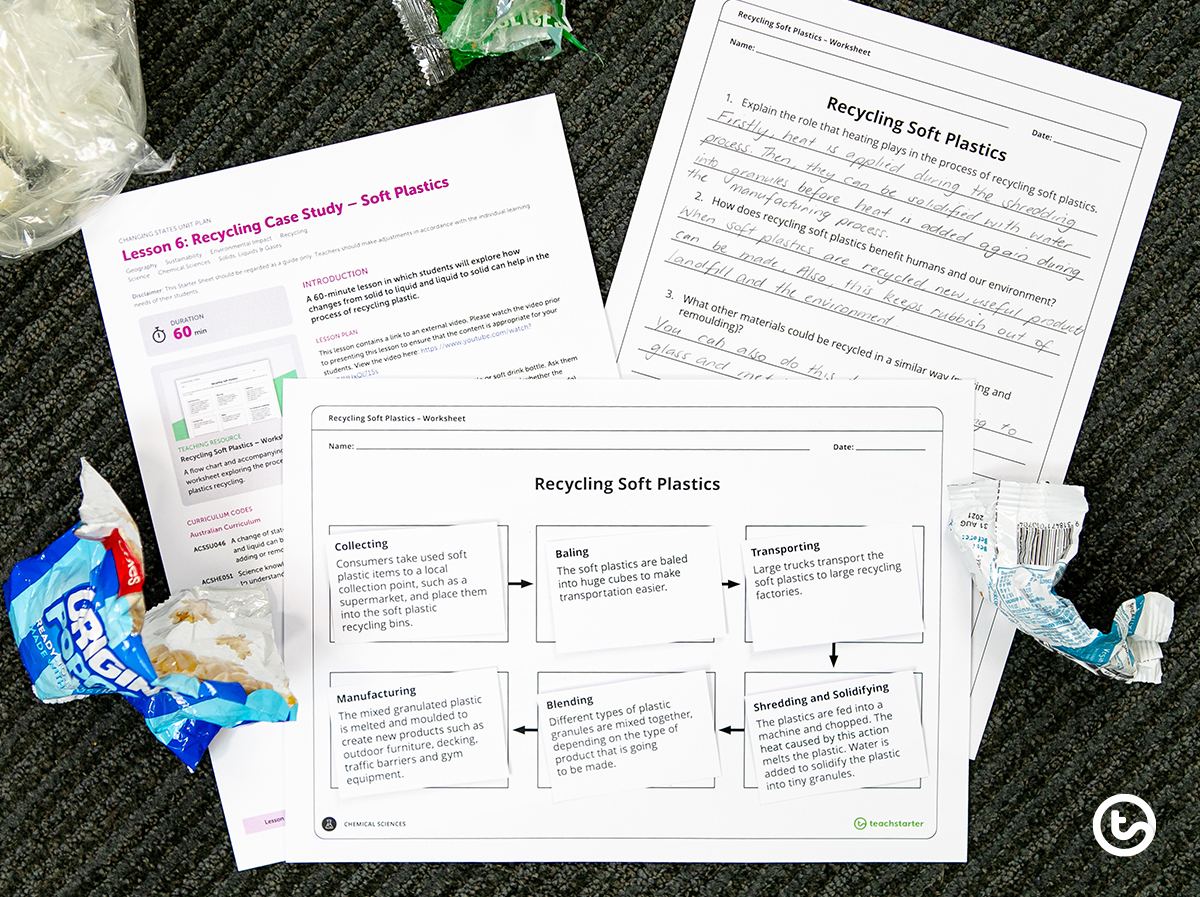 A simple assessment piece tests student's knowledge and understanding of the content delivered during the unit. Why not supplement it by getting your students to dramatically represent the changes a material makes when going from liquid to solid or vice versa?
---
Don't forget!
Teach Starter unit plans include all the resources you need, plus step-by-step lesson plans for teachers to help them deliver each lesson to their class. With curriculum links and differentiation advice, we've taken the stress out of planning and done it for you. Simply search the Teach Starter website for our extensive collection of unit plans.
Download this fun science unit plan by clicking the link below:
Banner image: Elizaveta Galitckaia/shutterstock.com