Do you find it difficult to set individualised student goals plus monitor and track each of your students' achievements in every subject area? You're not alone!
As teachers, we know the importance of setting goals for our students, however, monitoring and easily tracking these goals can leave you feeling like you're not getting anywhere. Putting in place a system that helps not only your students, but yourself to keep track of these goals is vital! Don't be afraid to pick and choose from the ideas in this blog to find what works best for your students and the concepts you are currently teaching.
Learning Goal Display Ideas for the Classroom
Setting up a learning goal display or 'bump it up wall' in your classroom definitely has its perks. However, there is an elephant in the room for teachers, the cringe-worthy factor of students visibly being able to see those students who are struggling and how that, in turn, affects these students mentally.
If you feel like you have students in your class that would struggle with this set-up, there are still ways that you can reap the benefits of a bump it up wall without making it obvious those students that may be struggling to reach the major goals of the class.
Here are some of our top picks and tips for managing goal setting in your classroom.
Simple, Effective and Individualised Displays
We absolutely love this bump it up wall display by @krazyaboutkinder. The different levelled writing examples give the students a clear understanding of what is expected of them.
This idea would work well if you have a huge range of abilities in your class. The students are working towards achieving their own individual goals rather than trying to compare their work to someone else's.
We love how each writing goal has a handful of smaller laminated flashcards for the students to take to remind themselves of their goal. They can then return it when they have achieved that goal and take the next goal card! Bravo!
Possible resources to re-create this display:
Not Just a Classroom Display
This is another display idea which allows you to still make it visible to the students what goals they are working on, however, it's not levelled and very individualised.
We created the little pockets by using some paper party bags and cutting them in half. Hot tip – use washi tape on large paddle pop sticks to write your students names on the paddle pop sticks. I have found when you write straight on the paddle pop stick the ink will often bleed into the wood.
Creating a goal stick for each student makes it easier to move the students around depending on what goals they have achieved and are working towards.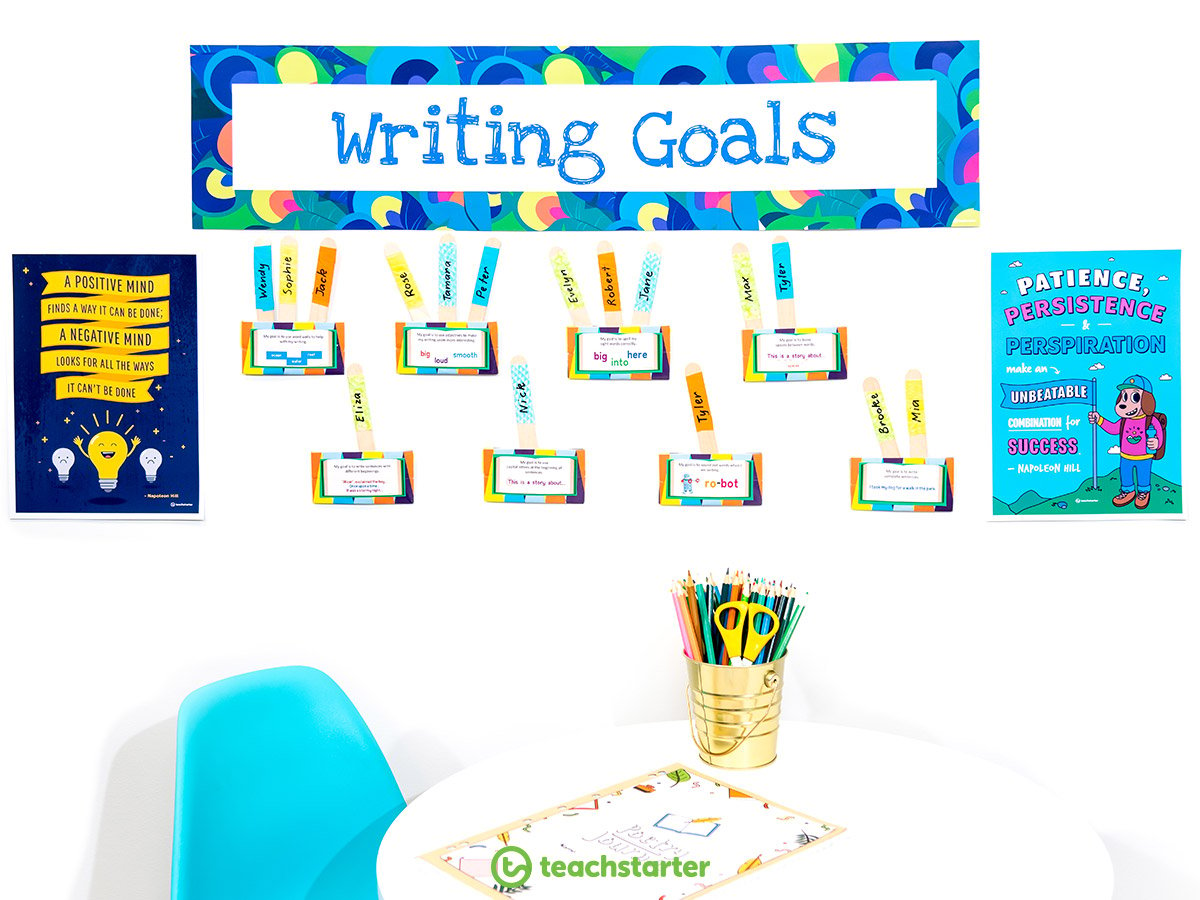 Resources used to create this display:
Now, it's all well and good to create a Pinterest-worthy display that shows students what goal they are currently working on, however, it can be much more than a pretty display.
Here are some simple ways to get the most out of a classroom student goal display:
Consider the location of your display. Make sure it's visible to your students. Along with the display, create an area in front of the display with a desk and chairs to encourage one-on-one feedback interviews for yourstudents that have finished their work. You don't need to do this with every student at the end of every session. Just focus on giving at least two or three students feedback that links to the goals display.
Track goals easily. All of our printable learning goal card resourcesinclude a printable checklist in excel or pdf which is a great way to keep track of each student's goals.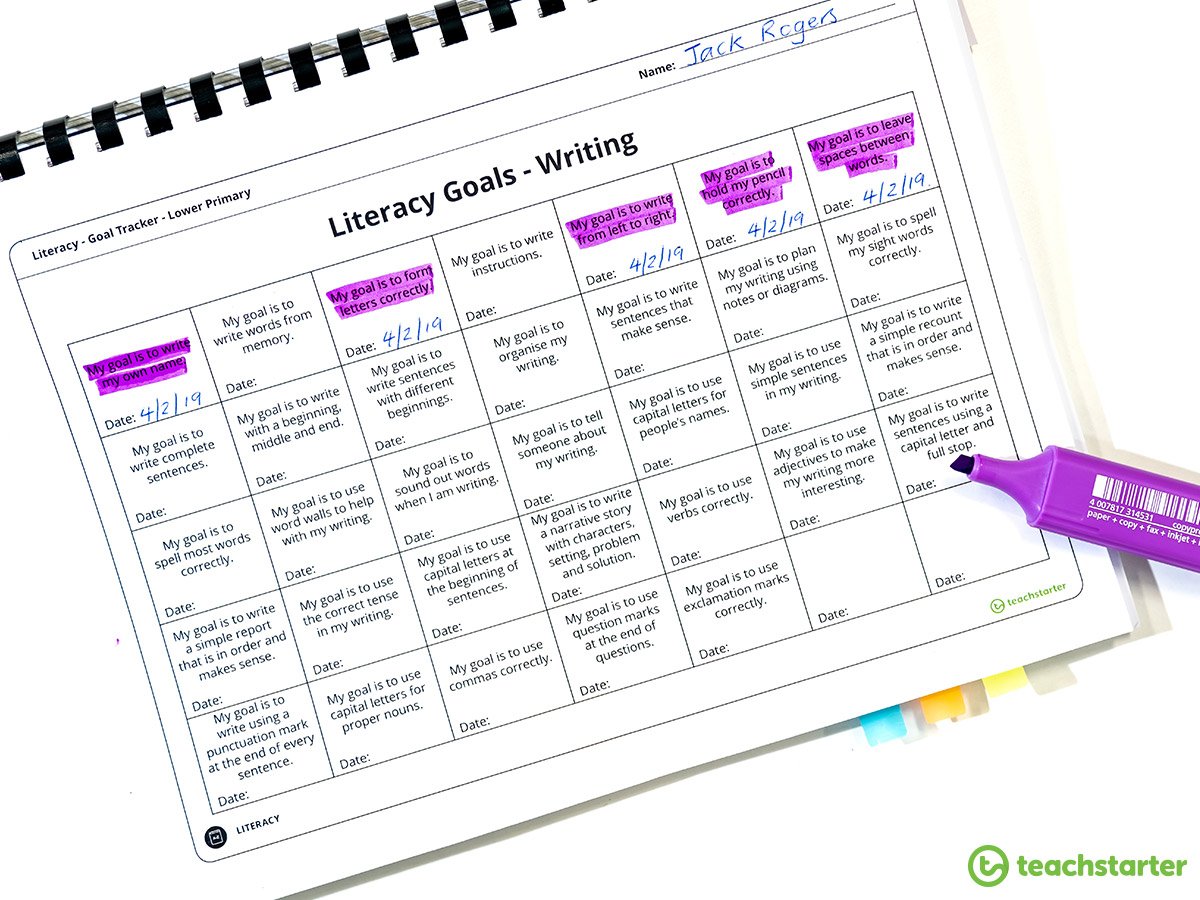 Create Inspirational Classroom Goal Displays
Don't reinvent the wheel and spend hours trying to find the resources or images required to set up a learning display. We have five gorgeously illustrated packs ready to download. Pick and choose what you want and display it the way that works best in your classroom.
Each pack includes the following printable resources to create a goal display:
display banner
Learning Intentions poster
Success Criteria poster
cute characters to move through the levels
display decorations.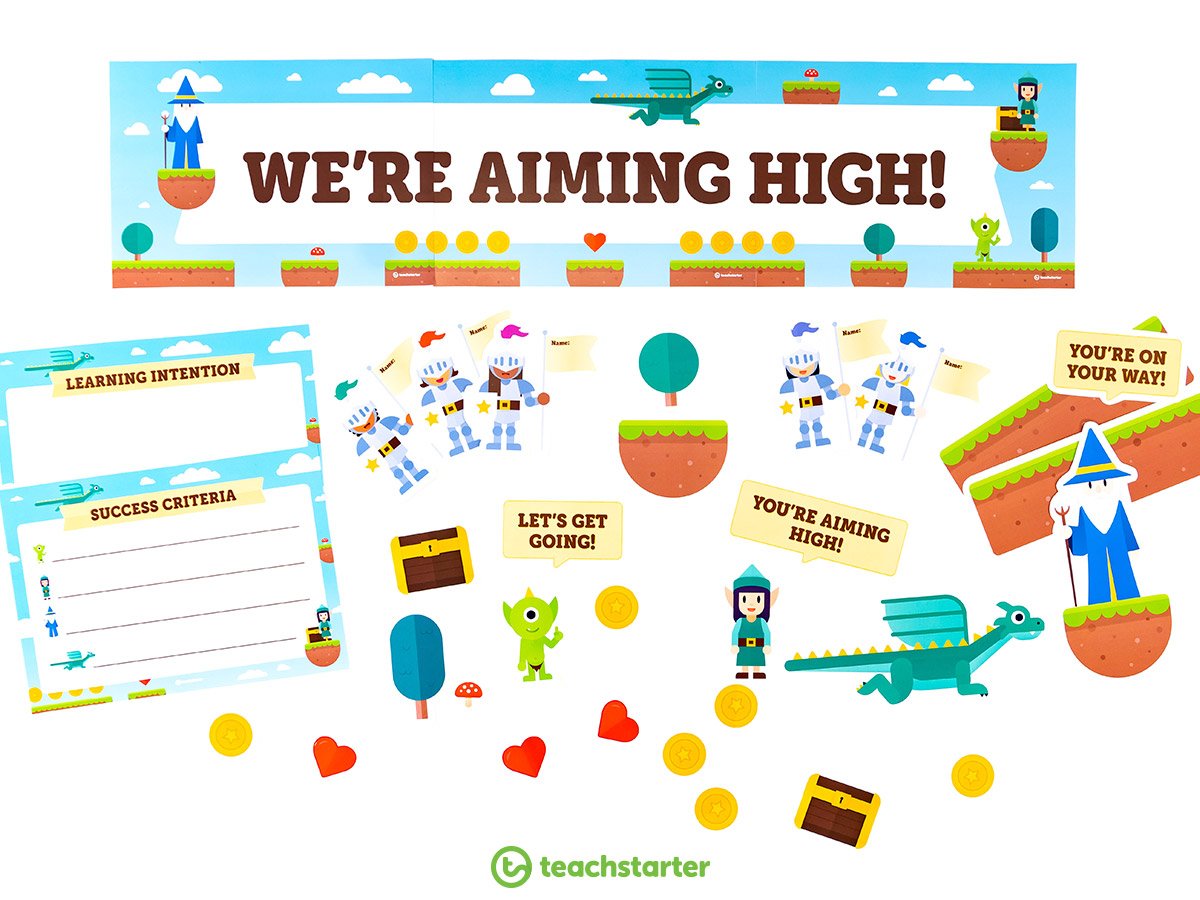 Here's a collection of our best printable bump it up wall templates: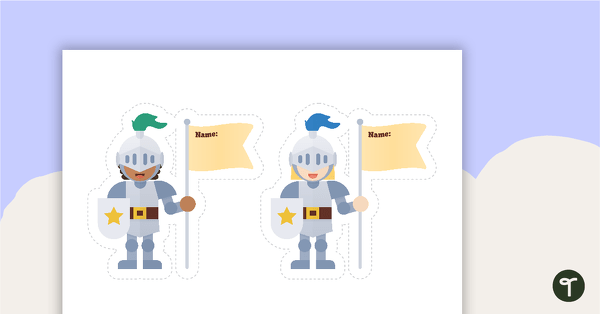 teaching resource
A fantasy adventure themed Bump It Up Wall to display in your classroom.
Vertical vs Horizontal
Such a simple idea, but it can really transform the way students perceive the goal display. Simply changing the layout of your display to go from left to right rather than from the bottom to the top instantly makes the goals seem more achieveable.
Here is an example of our rambling themed bump it up wall set out horizontally.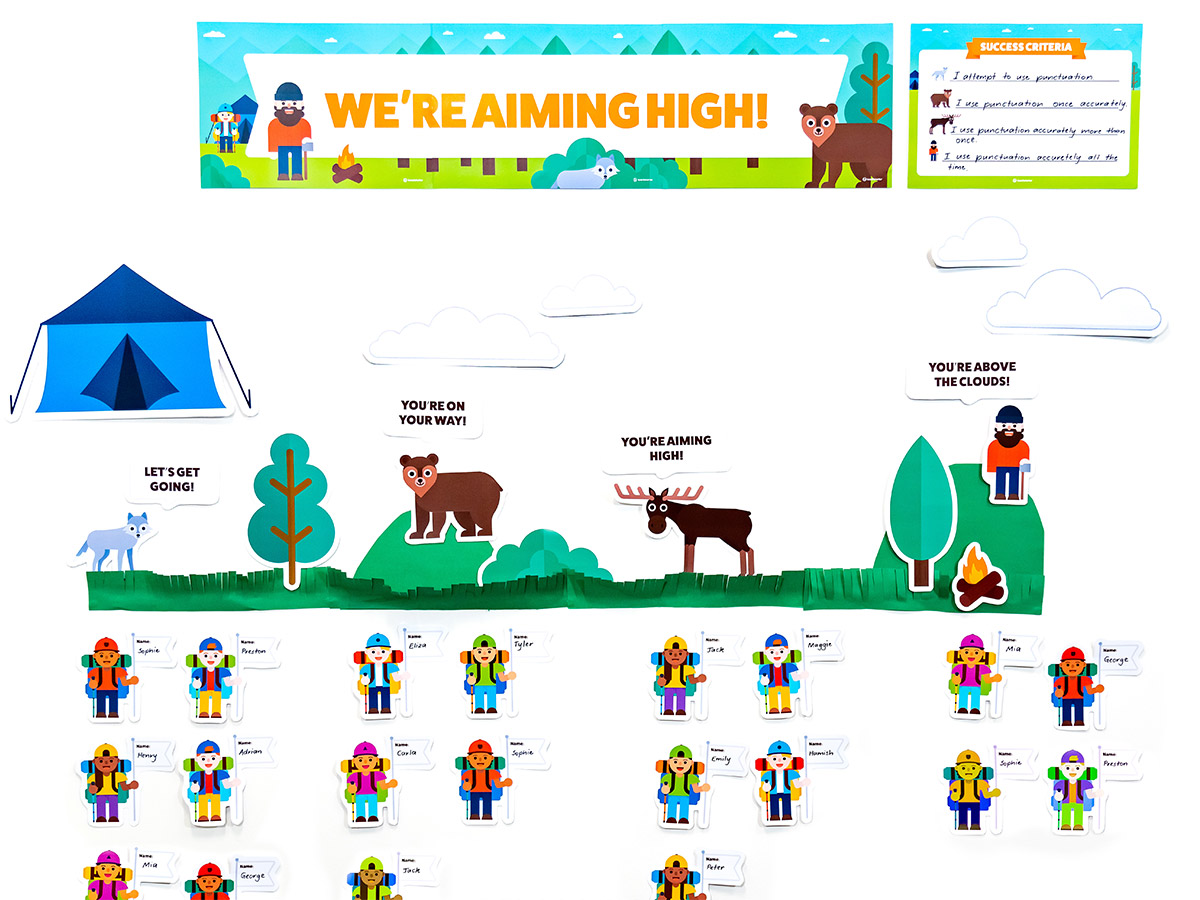 Here's another example of one of our Hot Air Balloon We're Aiming High Bump it Up Wall in action in @mrsstennettsclassroom.
As you can see, she has set it out horizontally as well. Often with the layout of classroom displays it can actually be easier to find space that suits this type of display.

Display Sets of Goals, not Student Names
Another goal display which we have fallen in love with is this gorgeous goal getters display by @little_learners_big_ideas. We just love the simplicity and soft colours used to create this display.
If you feel strongly about not putting your students' names visible on a classroom goal display, you may like to still display each set of goals in your classroom. You could then utilise our Goal Setting Desk Plates for students to track their own individualised goals either on their desk or stuck in a goal getters student book.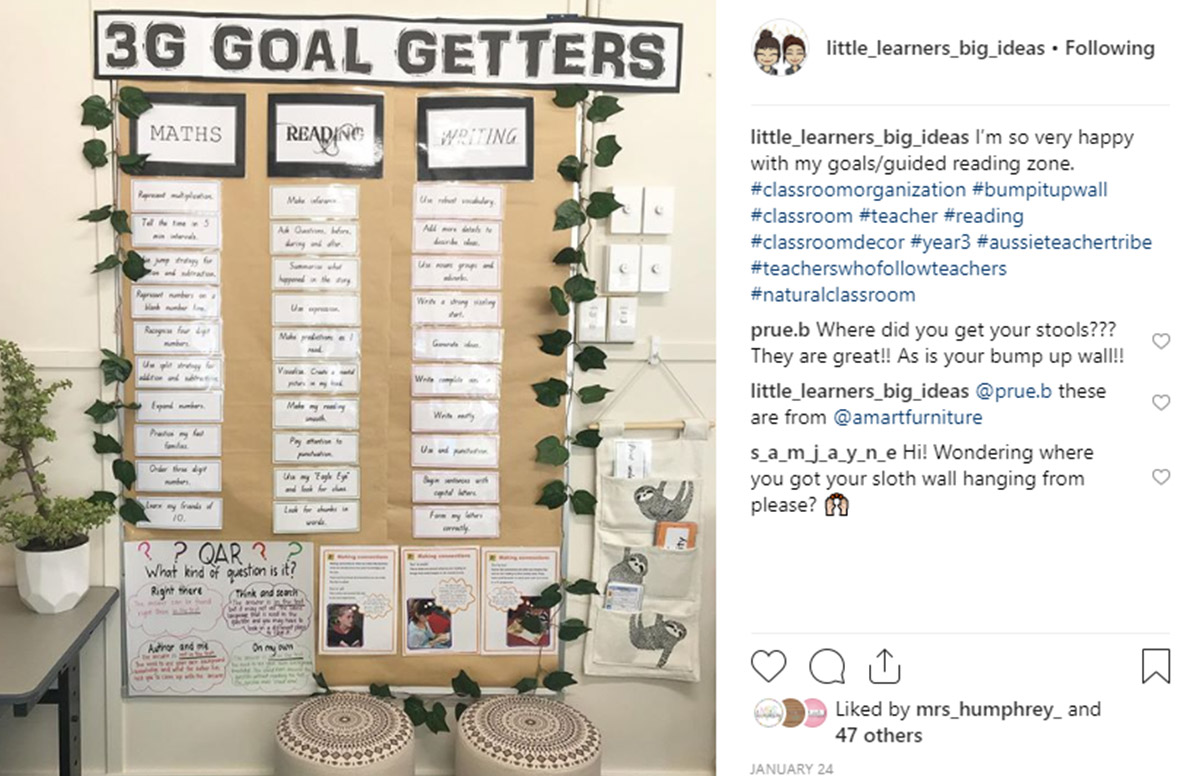 Possible resources to re-create this display:
Create a Portable Display
We think this is a super clever idea by @learnwithplayathome. Create a goal display for your students on a large piece of very thick card. That way you can move the goal display around where ever it is visible for your students. This is a great idea especially if you have flexible seating options in your classroom or have limited wall space.
We also think it's super nifty to use sticky notes for the students' names. That make it super easy to move them around depending on what goal they are working towards.
Our Writing Goals for Lower Years has been utilised to create this crafty goal display.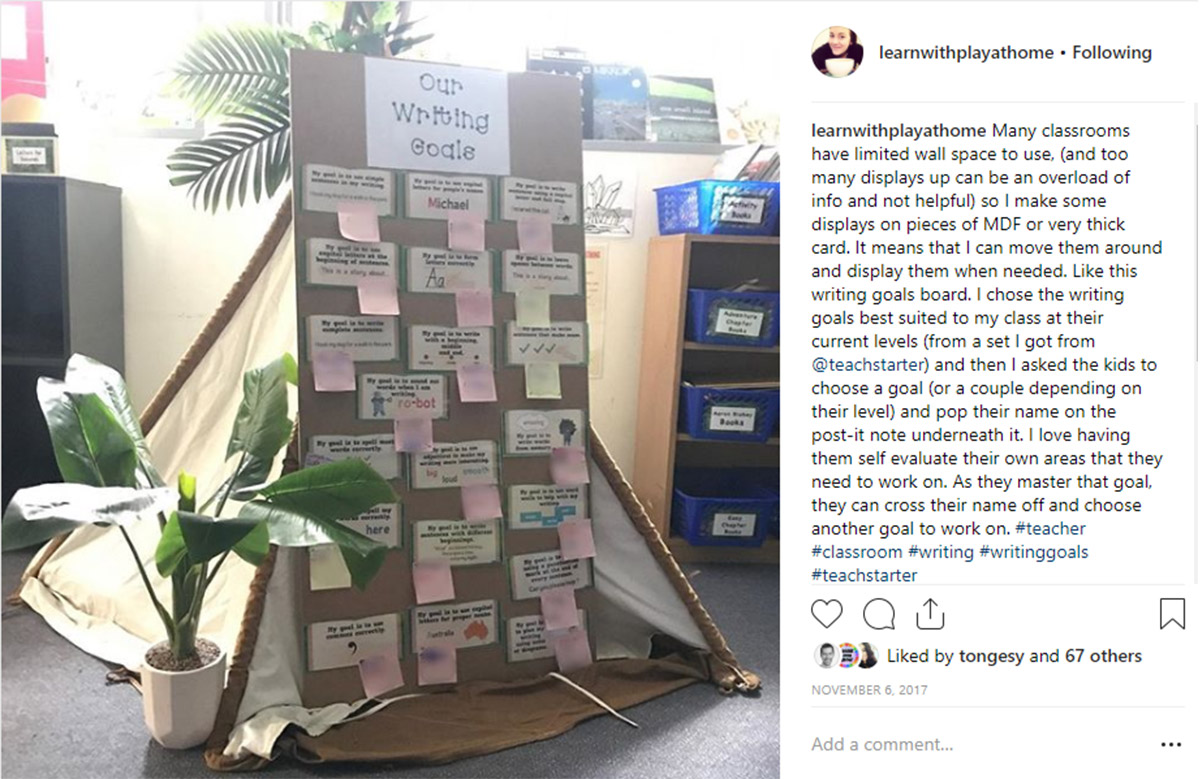 Celebrate Success Display
Display this gorgeous Summit of Success Goal Mountain to motivate your students to achieve their goals. Each time students reach one of their goals, they can move their Mountain Goat sticky note to the Summit of Success Goal Mountain. Read Emma's blog about clever ways to use sticky notes in the classroom.
Once the whole class has filled the mountain they get a reward of your choosing!
There you have it, some really nifty ideas for managing individualised goals in your classroom. We hope this blog has inspired you to give a learning goals display a go in your classroom.
We'd love to hear how you manage this in your classroom!
Leave us a comment in the comments section of this blog.