Learning about space is awesome. I mean, who doesn't get excited by the infinite possibilities of the universe? Luckily for our students, we don't need to charter a space shuttle to experience some real-world learning about how parts of our solar system work. The simple act of making a sundial provides us with the means to examine the Earth's rotation on its axis. Through this activity, students can begin to understand this key concept of space science.
How to Make a Sundial
This printable classroom activity teaches kids how to make a simple sundial, providing them with instructions and a worksheet for recording observations.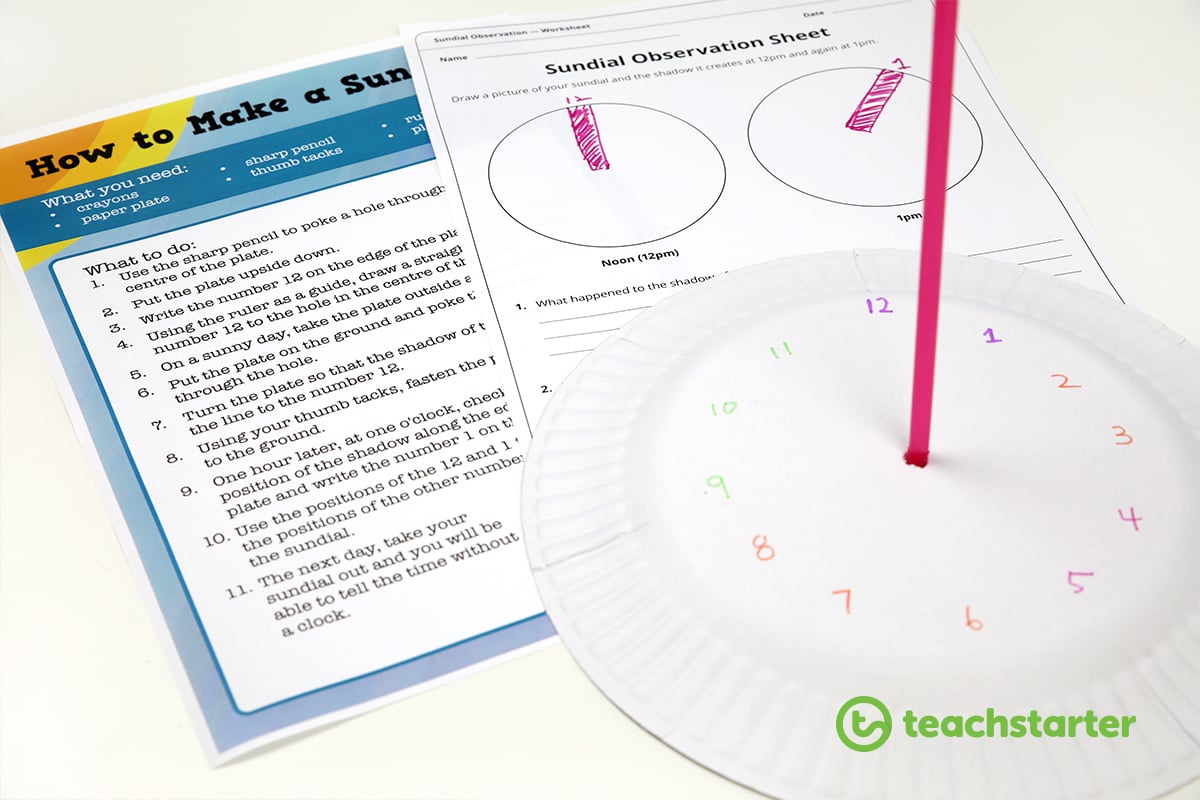 What You Need
Crayons
Paper plate
Sharp pencil
Ruler
Straw
Sticky tack or thumbtacks
How to Make a Sundial:
Download and print the "How to Make a Sundial" teaching resource.
Follow the instructions to assemble the sundial.
At midday, position your sundial as directed and secure it to the ground. You may like to use sticky tack to hold the paper plate sundial down on the ground, rather than thumbtacks.
One hour later, return to your sundial and mark where the shadow lays at the edge of the plate.
Mark this spot with the number 1.
Carefully remove your sundial from the ground and use the positions of 12 and 1 to predict the positions of the other numbers on the sundial.
---
Simple Sundial Ideas
While the old straw and paper plate sundial is a goodie, here are some other fun ideas for simple sundials you can make with your class.
Stone Sundial
Chalk Sundial
Shells and Sticks Sundial
---
There are lots of fun ways to explore the sun and moon. Creating a sundial is just one of them. Take a look at some of the resources from our Sun and Moon Resource Collection.