Did you know that one million Earths could fit inside the sun? We're off on a teaching and learning adventure out of this world, with a reveal of our new Earth and Space Science unit plan Our Place in Space – Unit Plan.
---
Our Place in Space – Unit Plan
The story of how our solar system was formed starts approximately 6 billion years ago, with a bang!
Our brilliant new Year 5 Our Place in Space – Unit Plan is creating a big bang of its own! This jam-packed Earth and space sciences unit is curriculum aligned and includes everything that you and your students need to explore the concept that Earth is part of a system of planets orbiting around a star (the sun).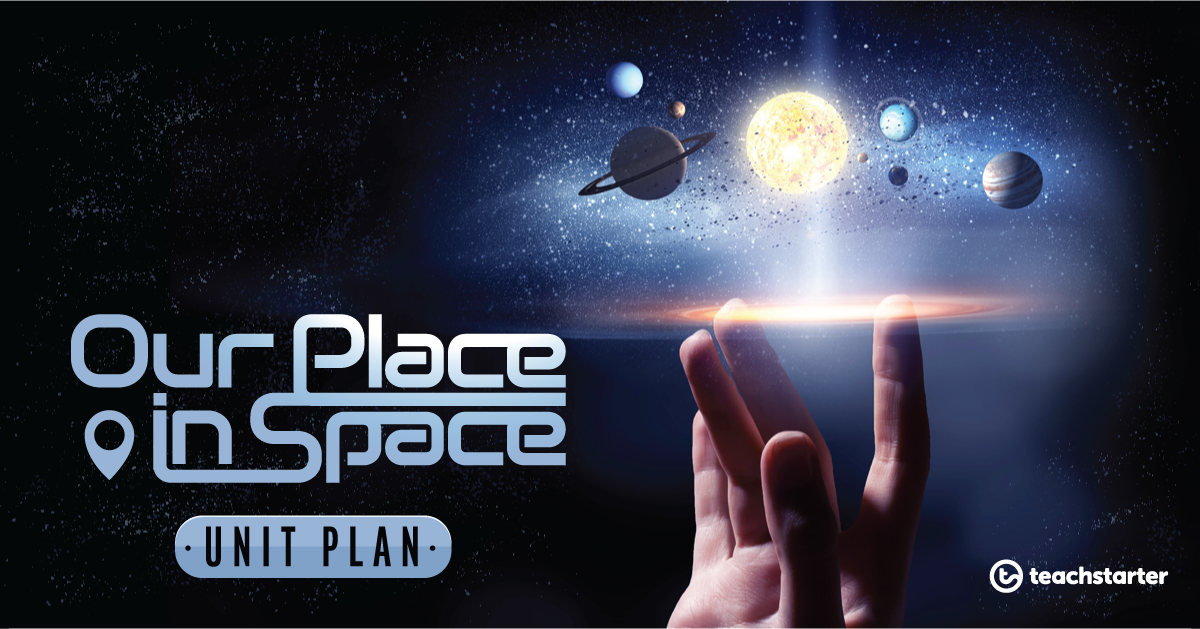 If you're drifting off to space at the thought of planning your Year 5 Earth and space unit plan, look no further. We have done all of the hard work for you!
There's so much that I love about this Earth and space science unit. Here's just a few:
It's current, up to date and packed full of original engaging learning experiences.
It's curriculum aligned and makes cross-curricular links.
It's comprehensive, easy to use and includes teaching tips and answers.
It includes hands-on science activities and maths investigations.
---
Lesson 1: The Solar System Begins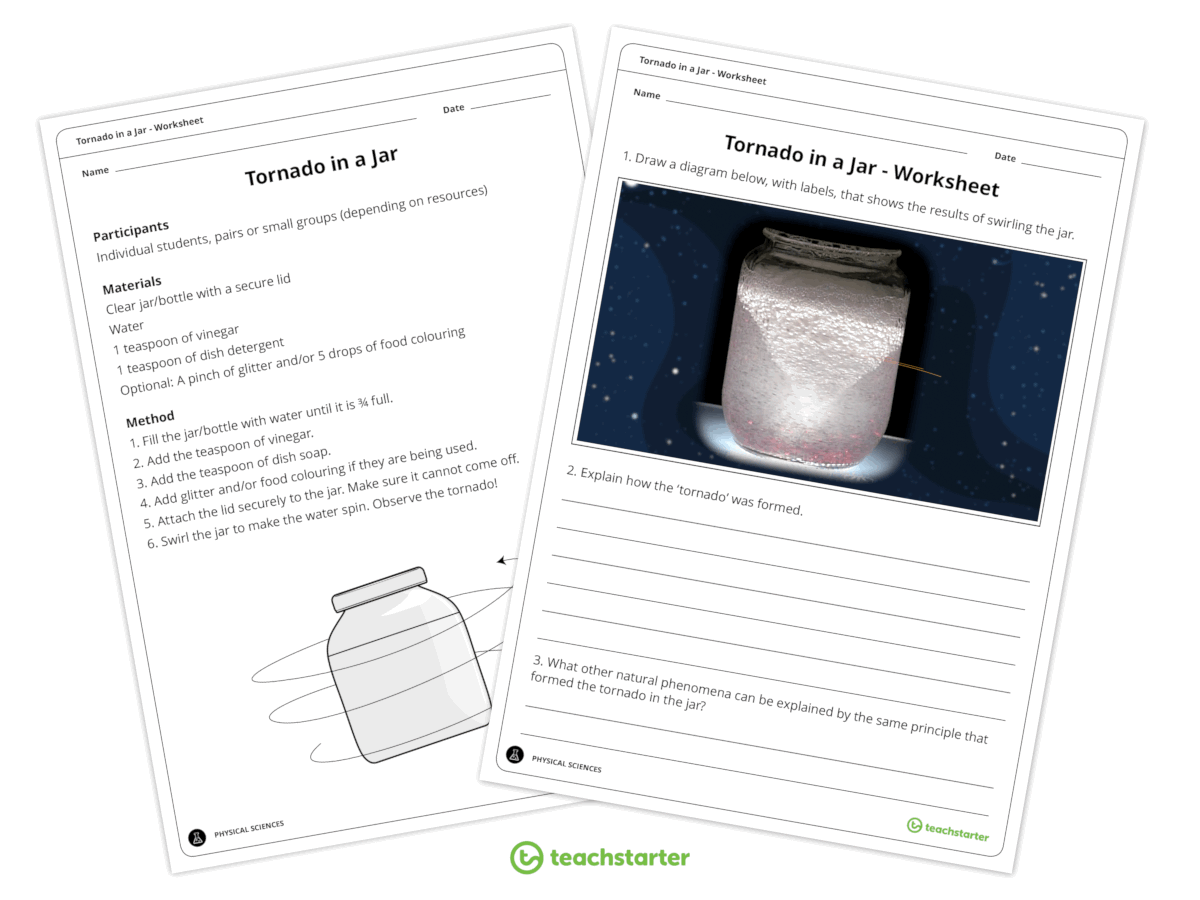 Lesson 1: The Solar System Begins explores the circumstances and processes that led to the formation of the solar system. The lesson includes engaging video content, a guided class discussion and a hands-on activity that your students will love.
During the classroom discussion, students are encouraged to discuss how:
The solar system began as a cloud of dust and gas in space (nebula).
The nebula began to spin, the middle of the cloud became more dense and it began to spin faster.
A flat disc formed with a heavy central area.
The sun ignited and planets eventually formed in the disc of materials surrounding it.
We all know that one of the best ways to understand a concept is to observe it.
Your students are going to love observing physics in action with this hands-on activity, Tornado in a Jar. During this science activity, students work in small groups to create a tornado effect with a few simple materials and observe the conservation of angular momentum.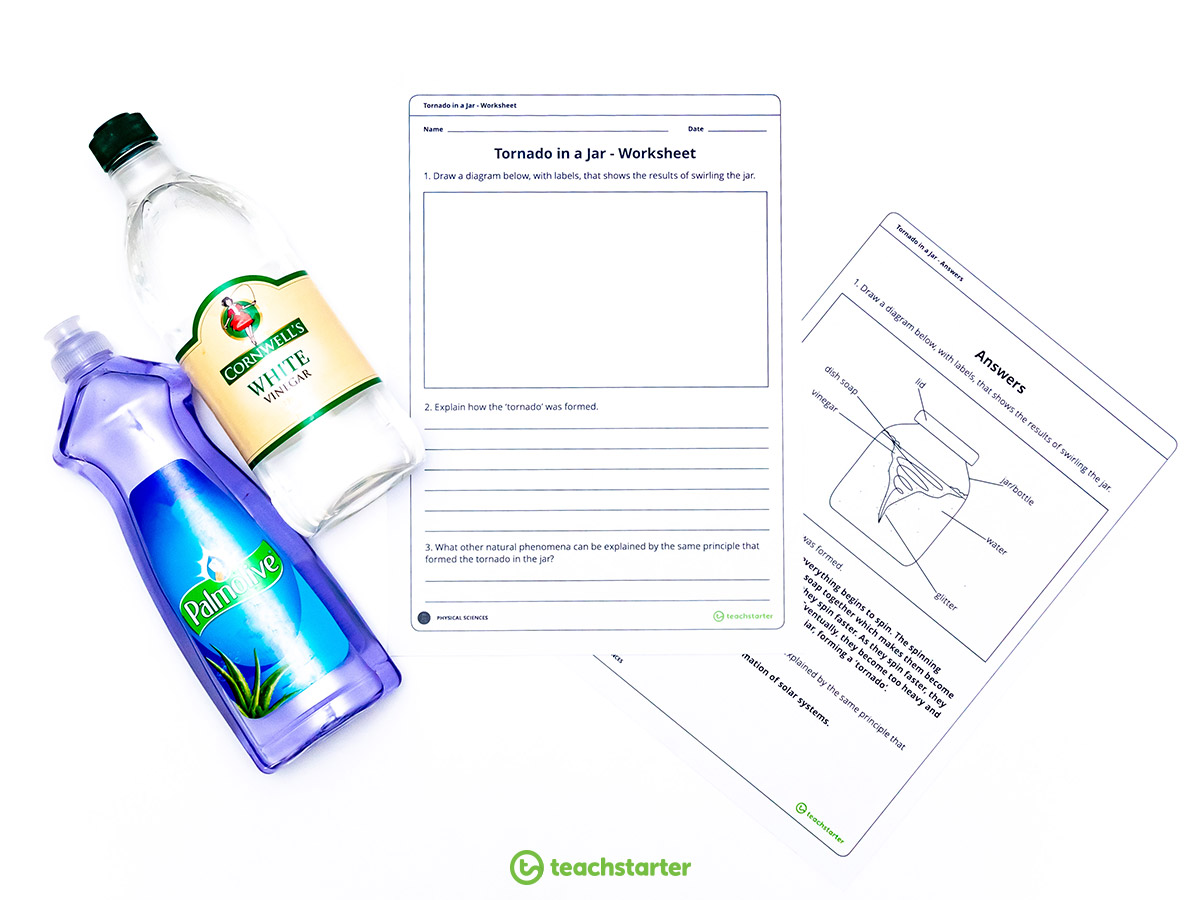 It's super easy to set up this science activity in small groups or as a whole class demonstration.
You will need:
Clear jar/bottle with a secure lid
Water
1 teaspoon of vinegar
1 teaspoon of dish detergent
Optional: A pinch of glitter and/or 5 drops of food colouring
Method
1. Fill the jar/bottle with water until it is ¾ full.
2. Add the teaspoon of vinegar.
3. Add the teaspoon of dish soap.
4. Add glitter and/or food colouring if they are being used.
5. Attach the lid securely to the jar. Make sure it cannot come off.
6. Swirl the jar to make the water spin. Observe the tornado!
---
Lesson 3: Earth – Third Rock From Sun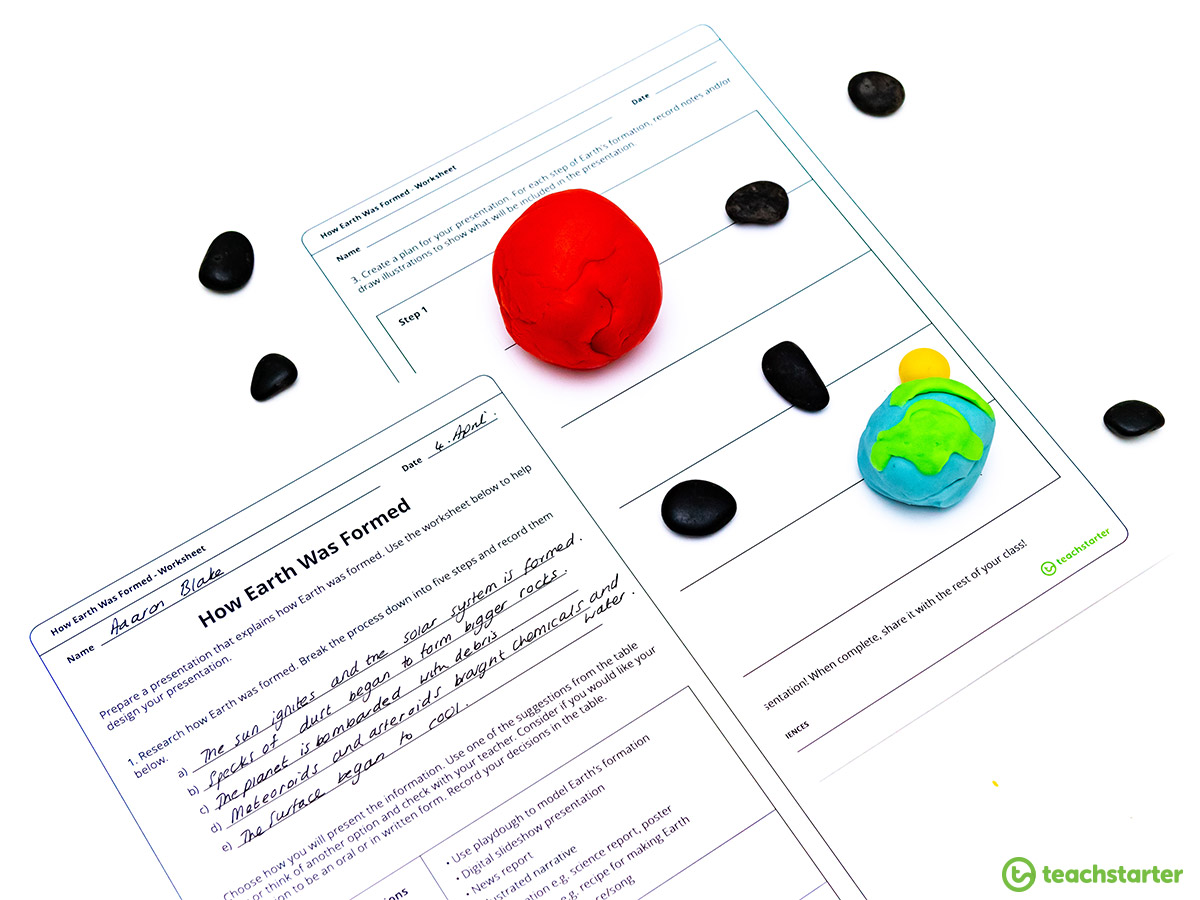 Lesson 3 entitled Earth – The Third Rock from the Sun, has been designed to develop an understanding of the processes that formed Earth. Students break down this complex process into five main steps and create a presentation to present this information.
This rich learning experience begins with a reading comprehension activity that helps develop literacy skills. This higher level thinking comprehension task outlines the events and processes that led to the formation of our home planet. Students read the text Formation of the Earth and then answer a range of questions designed to help students untangle and draw out the key information regarding how the planet was formed using comprehension skills including retrieval of literal information and summarising.
Next, students plan and prepare a presentation about the formation of Earth using the How Earth Was Formed – Worksheet.
---
Lesson 6: The Scale of the Solar System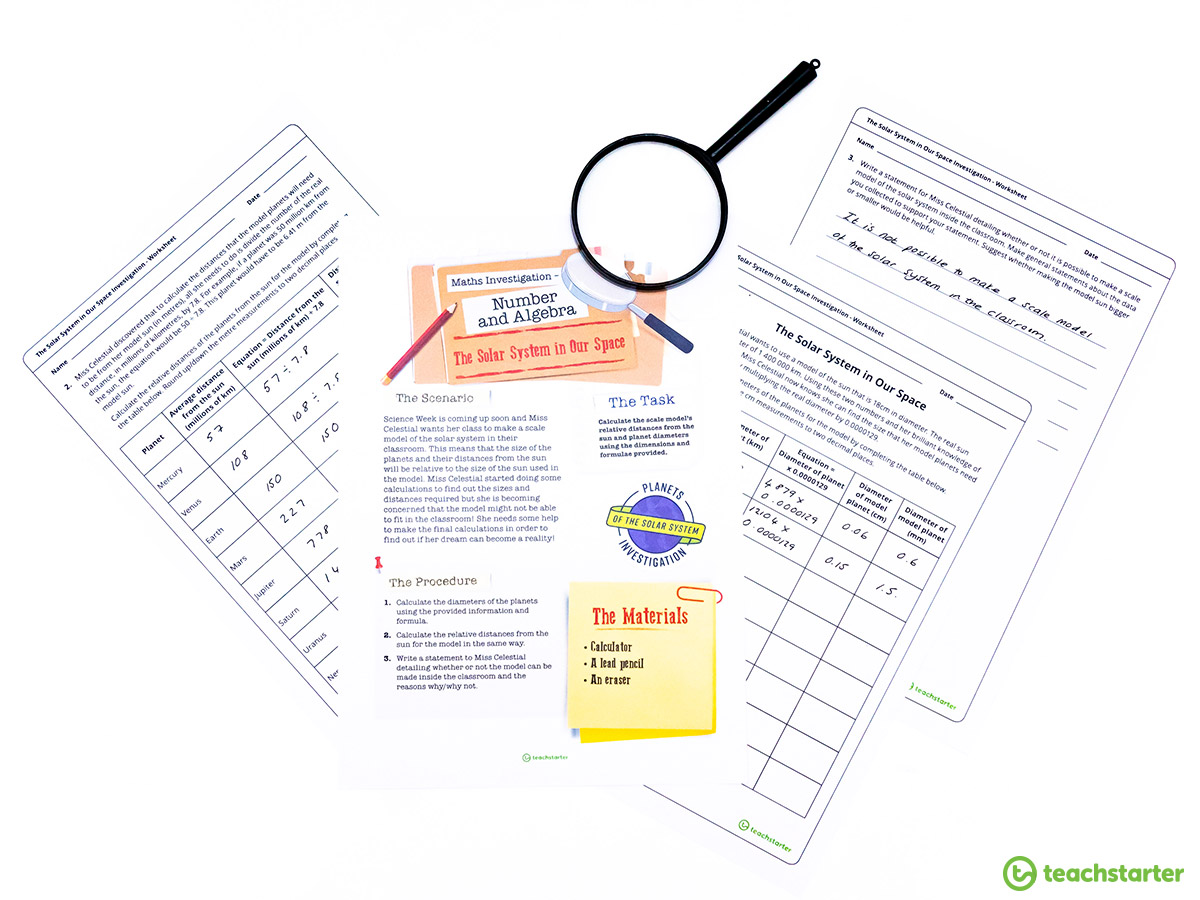 Lesson 6: The Scale of the Solar System is sure to get your budding astronomers thinking at a higher level as they investigate and explore whether it is possible to create a scale model of the solar system inside a classroom.
The lesson is based around a challenging open-ended mathematics investigation – Number and Algebra Mathematics Investigation – The Solar System in Our Space. The maths investigation has been designed to deepen students' understanding of number and the solar system.
If this sends you into an angular spin, don't panic!
Everything you need to teach and guide your students through this challenging task is provided, along with the answers that you need to mark it!
---
Space and Solar System Teaching Resource Collection
Check out our brilliant Space & Solar System teaching resource collection. You'll find everything that you need to teach and learn about space and the solar system with your students. Teaching resources include:
posters to display in your classroom
worksheets
PowerPoint teaching presentations
decorations to theme your room
vocabulary word wall cards
hands-on activities.
teaching resource
A set of solar system related vocabulary cards for a word wall.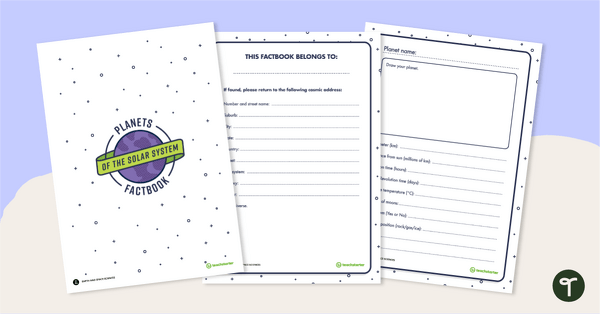 teaching resource
A worksheet that can be compiled into a factbook containing information about the planets in the solar system.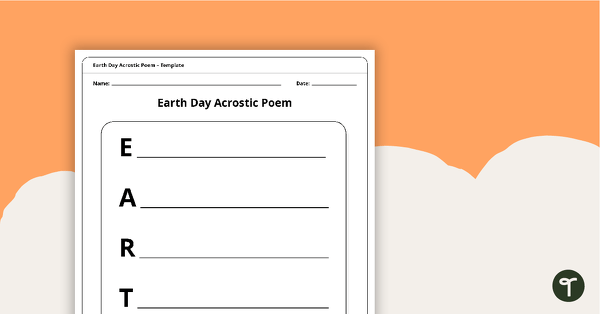 teaching resource
An acrostic poem template to use in the classroom to celebrate Earth Day.
unit plan
This Earth and Space Sciences unit addresses the celestial bodies of the sun, Earth and moon. It explores their sizes, shapes, positions and movements and the interactions between them.
---
Download this unit now and know that you've got your hands on the best Earth and space science unit out there.
Even if you're not teaching Year 5 this year, be the best teacher mate ever and spread the news that this awesome unit plan is out there, in Teach Starter space!

We'd love to hear from you! Share in the comments section of this blog.