Did you know that experts estimate that we have somewhere between 60,000 – 80,000 thoughts a day! What's even more shocking is that it's estimated that 80-90% of our thoughts are negative ones. So this got me thinking (ha)…how can we get kids to think positively and to have a growth mindset?
Our new empowering Positive Affirmations Cards for Kids are the latest addition to our Growth Mindset collection!
Read on to find out how you can use this teaching resource in your classroom.
---
What Are Positive Affirmations?
Positive affirmations are statements that can help to challenge and overcome unhelpful and negative thoughts. When you repeat them often and believe in them, you can begin to make positive changes in your life. Positive affirmations can be used to increase self-esteem, motivation, resilience, self-belief and to develop a growth mindset.
So, what about encouraging your students to use positive affirmations in the classroom?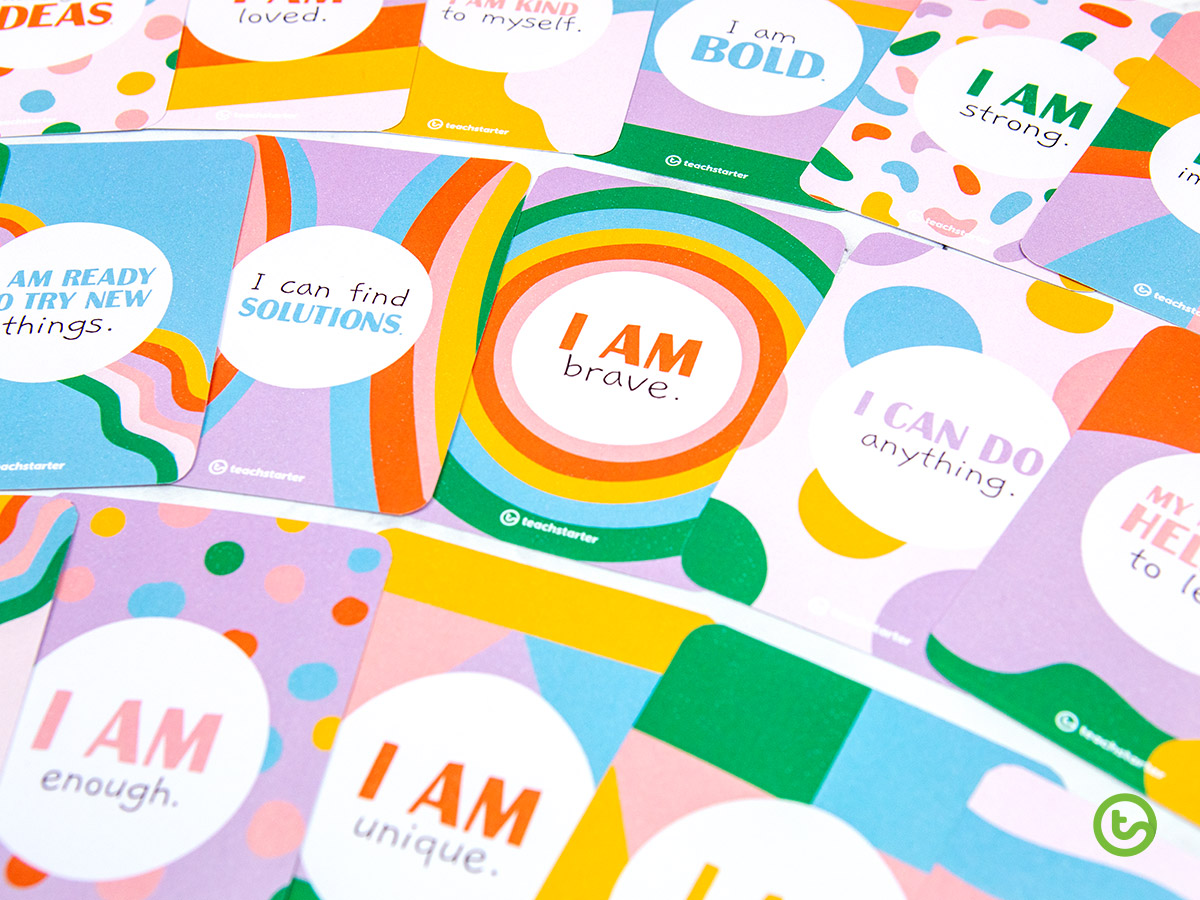 I know what you are thinking…declaring how amazing you are can feel awkward. But, the benefits far outway the awkwardness. So, give it a go with your students!
---
Positive Affirmations in the Classroom
As I have mentioned, many of our students think negative thoughts on repeat. And because many of our belief systems are formed in early childhood it is critical to challenge this! When you stop and listen to students' self-talk you're likely to hear comments like…
I can't do this.
This is hard.
No one likes me.
I am not good enough.
Does this sound familiar? With the help of our new Postive Affirmation Cards for Kids, you can help these students to develop the skill of positive thinking and self-empowerment.
Read on for some uplifting ways to use these affirmation cards.
---
Positivity Tree
I love the idea of creating a positive affirmation tree for the classroom. Not only does an affirmation tree create an eye-catching growth mindset display, but it's the perfect daily reminder to think positively. I found this beautiful wooden tree at Duck Duck Goose. But you could easily make a tree with large twigs that you find around the playground!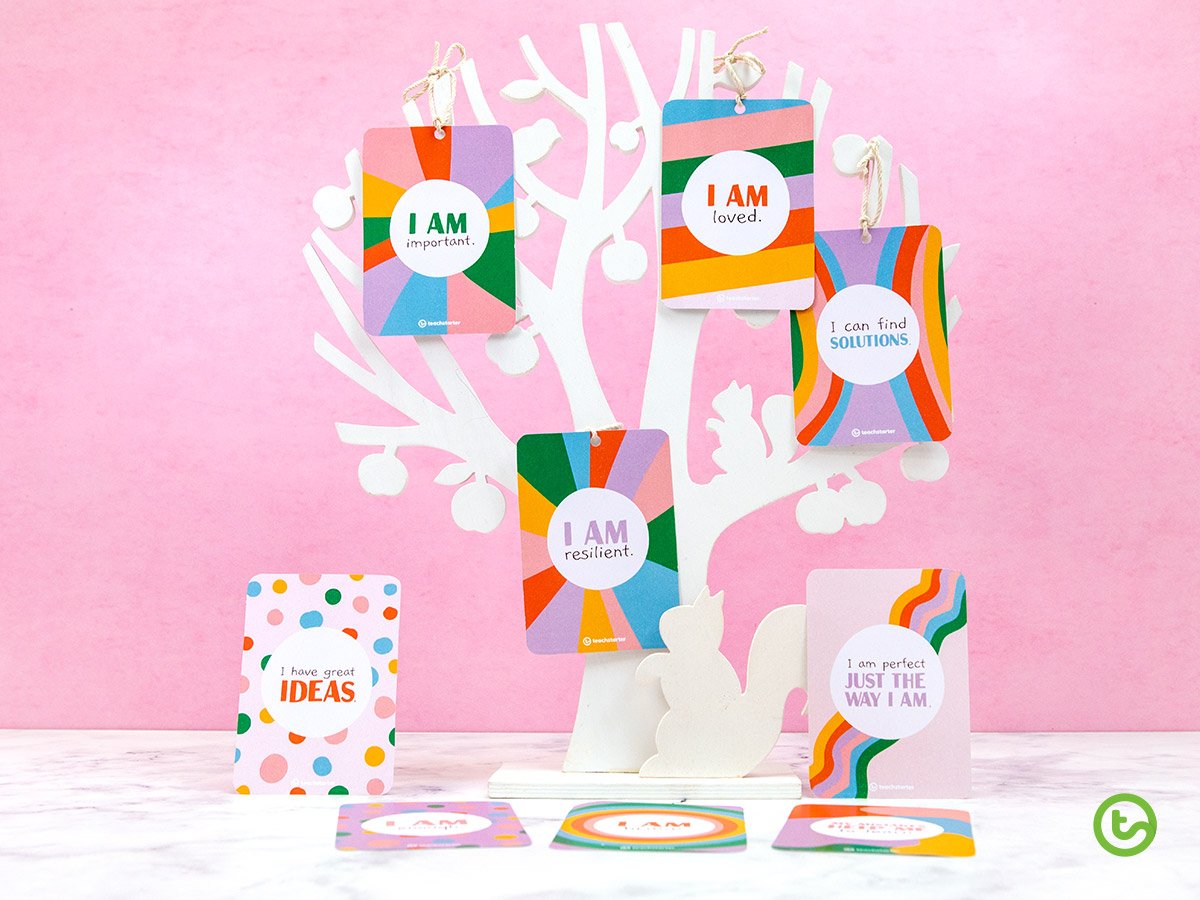 There are a few different ways that you can use a positivity tree in the classroom:
As a class, gather at the affirmation tree once a day. Choose one affirmation and say it aloud three times.
Encourage your students to visit the tree when they catch themselves thinking negatively.
Give students a Postive Affirmation Card (when they need a boost) and encourage them to hang it on the tree.
---
Affirmation Treasure Boxes
Affirmation boxes are ideal to use with individual students who need additional support in the area of emotional and social wellbeing. Affirmation boxes can also be used as an effective initiative for school guidance counsellors during one to one sessions.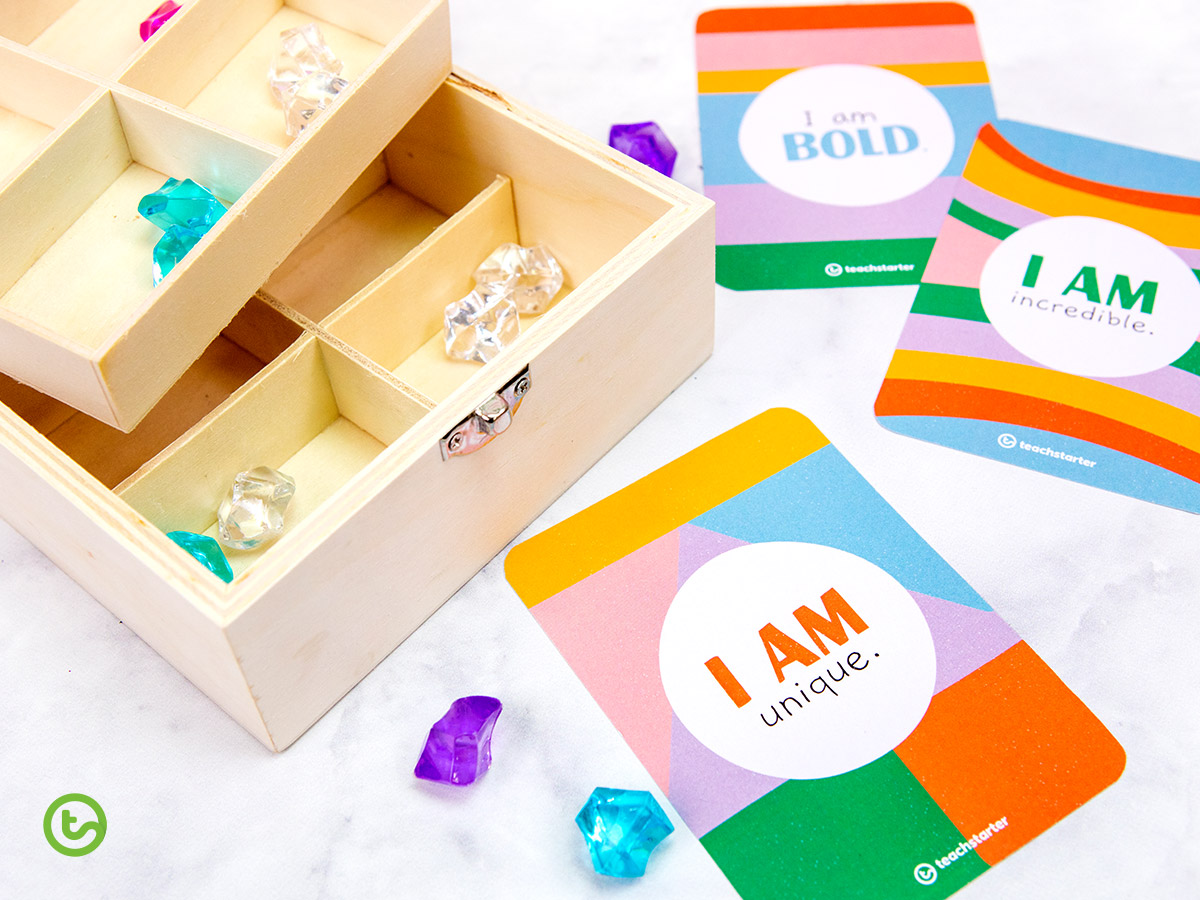 All you need is a suitable box and a set of Positive Affirmation Cards for Kids. I love these cute wooden jewellery boxes from Kmart. Using a small box creates a sense of hidden treasures.
Suggested Activity
Reveal the affirmation box to the student emphasising how special it is.
Place all of the cards (face-up) on a table.
Ask the student to describe how they are feeling. Listen.
Together, select the card that best helps to change the student's negative narrative.
Encourage the student to say the positive affirmation aloud. Repeat this several times with a strong posture and conviction.
---
Affirmation Mirror
Saying positive affirmations while looking into a mirror makes the experience more powerful. This is because mirrors help us to connect with ourselves. So, saying affirmations in front of the mirror can help to change the thoughts on the inside, by looking at the outside.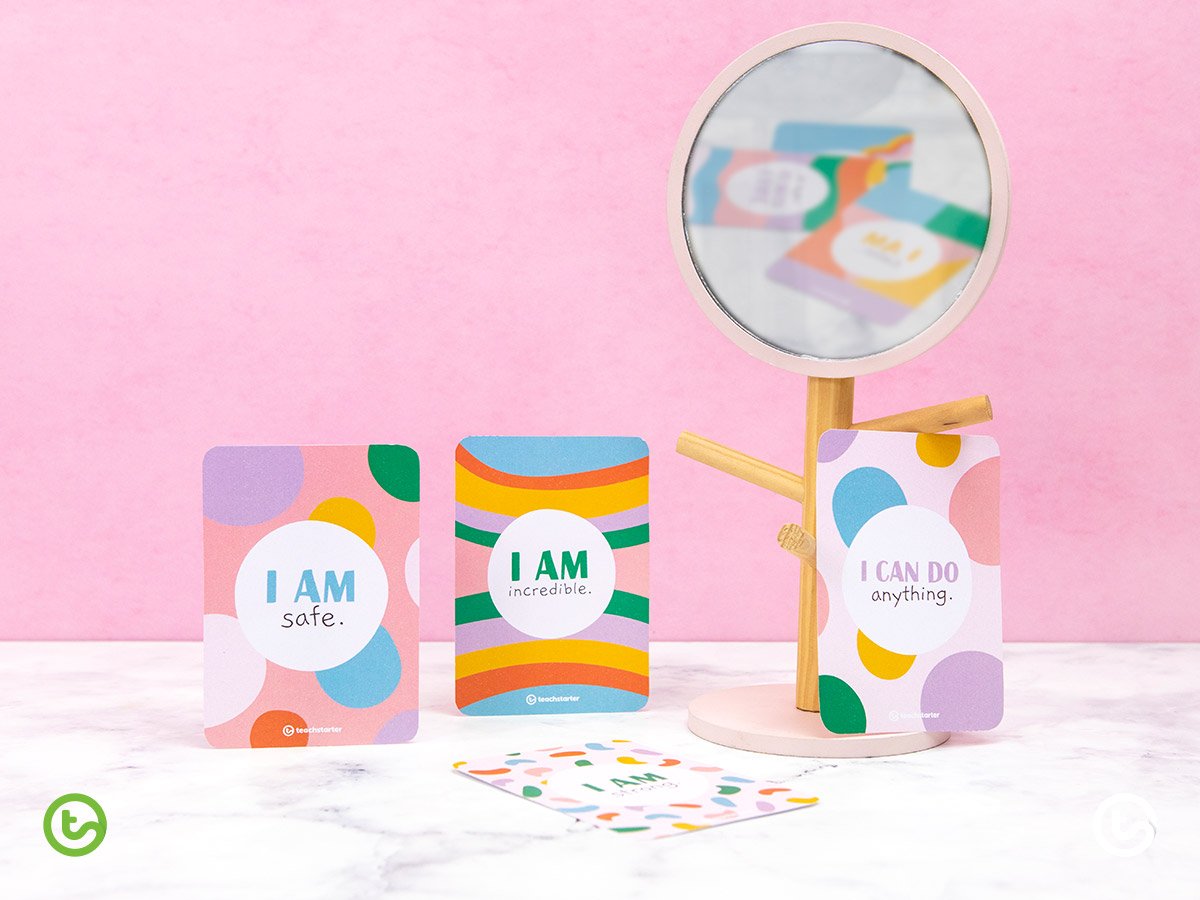 Affirmation mirrors can be big or small, round or square. So, choose one that's inexpensive and works for you! I found this one at Kmart. I love it because it's on a stand and the cute hooks are perfect for propping up cards.
Encourage your students to visit the affirmation mirror whenever they need to. Bear in mind that most students will need some privacy to do this. So, set up your affirmation mirror up in a cosy corner.
---
Positive Affirmation Desk Drops
This has to be the easiest way to make a big difference to someone's day! Simply, place a positive affirmation card on a student's desk for a silent and powerful reminder to believe in themselves.
You could even encourage upper years students to make this thoughtful gesture for a friend in need.
---
Teachers Need Them Too!
Because you need positive affirmations too, we have created a Daily Affirmations for Teachers – Positivity Poster.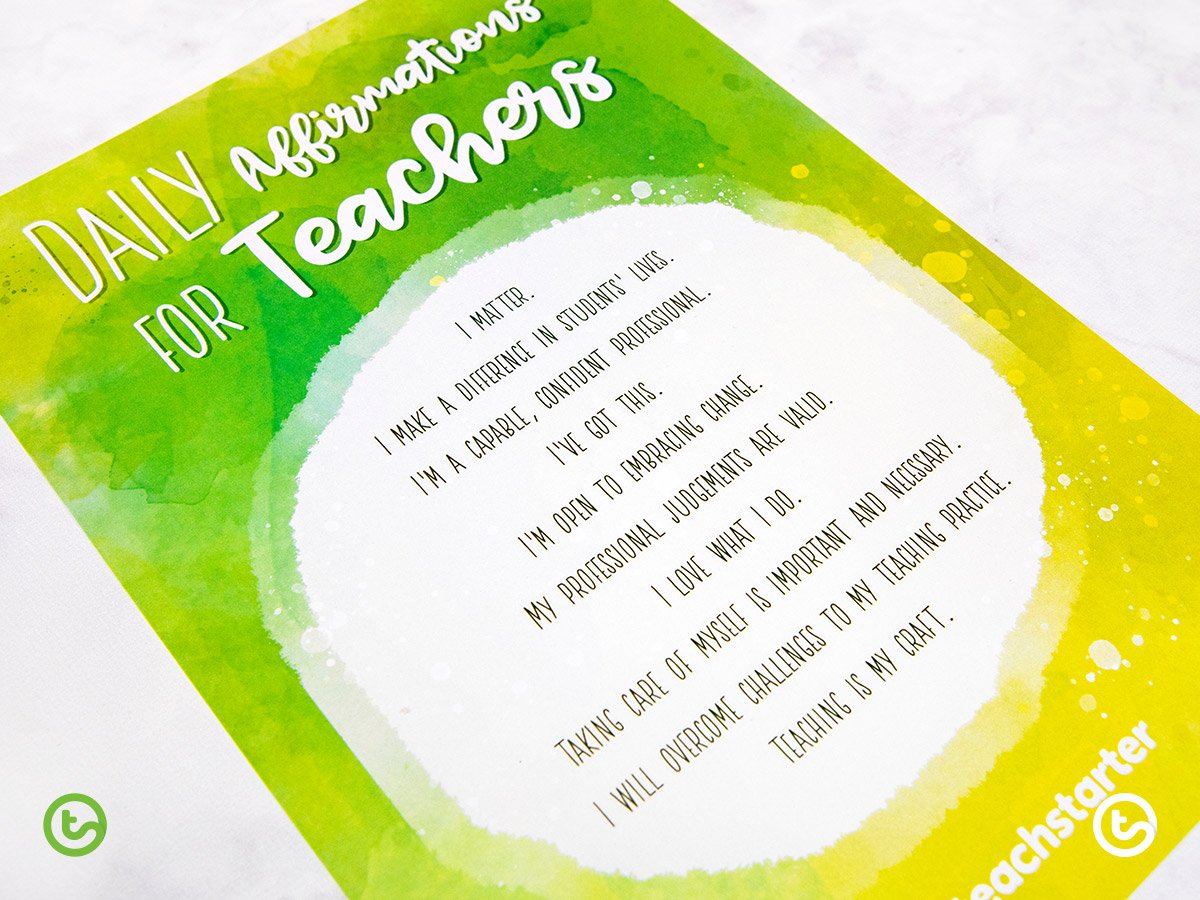 Be kind to yourself and encourage your students to do the same.
Display this poster next to your desk or in your staff room. Say positive affirmations first thing in the morning, during your journey to work, during your break times. Say positive affirmations whenever you feel like you need a supportive friend.
---
Get Ready for the Most Positive Year, Ever!
Creating a positive classroom culture and encouraging a growth mindset is a critical part of our role as teachers. Get ready for the most positive year ever, and download these Positive Affirmation Cards for Kids now!
Support your tribe and share on Instagram #teachstarter