Have you ever wanted a classroom theme pack so spell-binding that your students (and even your colleagues!) fall in love with it? Are you looking for something to give your classroom that extra abracadabra at the start of next term? Well, you've come to the right place! Our new Sorcerer Supply Classroom Theme Pack is the magical classroom theme you've been waiting for!
We've included everything you need to weave your magic throughout your classroom and get your kids excited about their learning in the new term.
---
Magical Classroom Themes – Sorcerer Supplies
Some might say that there is magic in learning… we certainly have seen some teachers work some impossible spells in their time! With these sorcerer supplies, you'll have all the classroom tools you'll need to create a magical classroom. Throw in a pinch of fun, a dash of learning, some great classroom relationships and you won't need any extra hocus pocus to have a fantastic term!
Magical Classroom Decor
Welcome your students back into the classroom with a freshen up of your classroom decor. The cute toadstools and mystical crystals of this classroom theme pack are just what you need to turn your room into an enchanting place! Perhaps you'd like to welcome your class with the Sorcerer Supplies – Welcome Sign and Name Tags, or maybe you want to go bigger and create a whole word wall with our Sorcerer Supplies – Word Wall Template!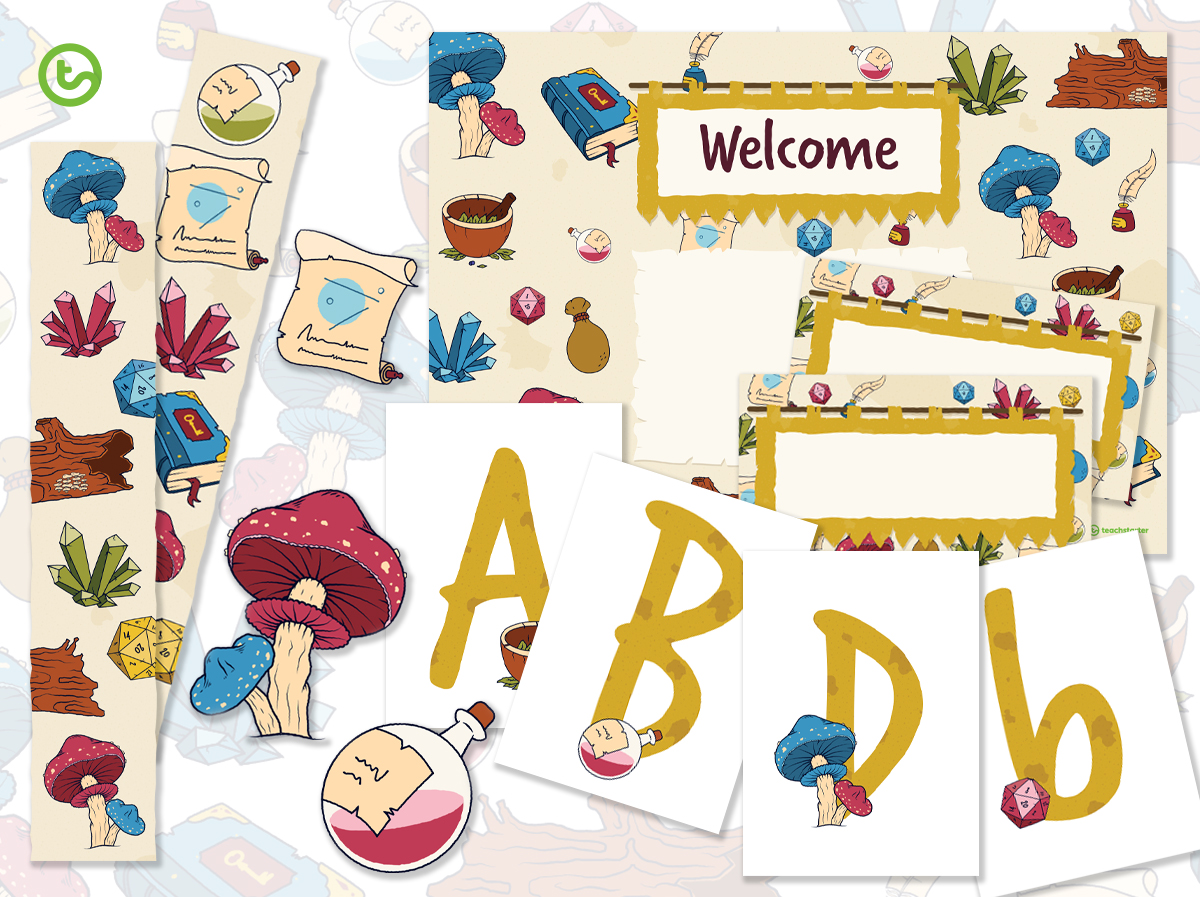 It doesn't stop there! Give these Sorcerer Supplies resources a chance to help you decorate your classroom:
Sorcerer Supplies-Themed Teacher Organisation
Classroom theme packs are perfect for creating a cohesive classroom environment – and this includes your teacher planning! Start your term diary off with a flash with our Sorcerer Supplies – Diary Cover. Then, follow it up with a Sorcerer Supplies – Monthly Overview, a Sorcerer Supplies – Weekly Timetable and a Sorcerer Supplies – Weekly Task Chart.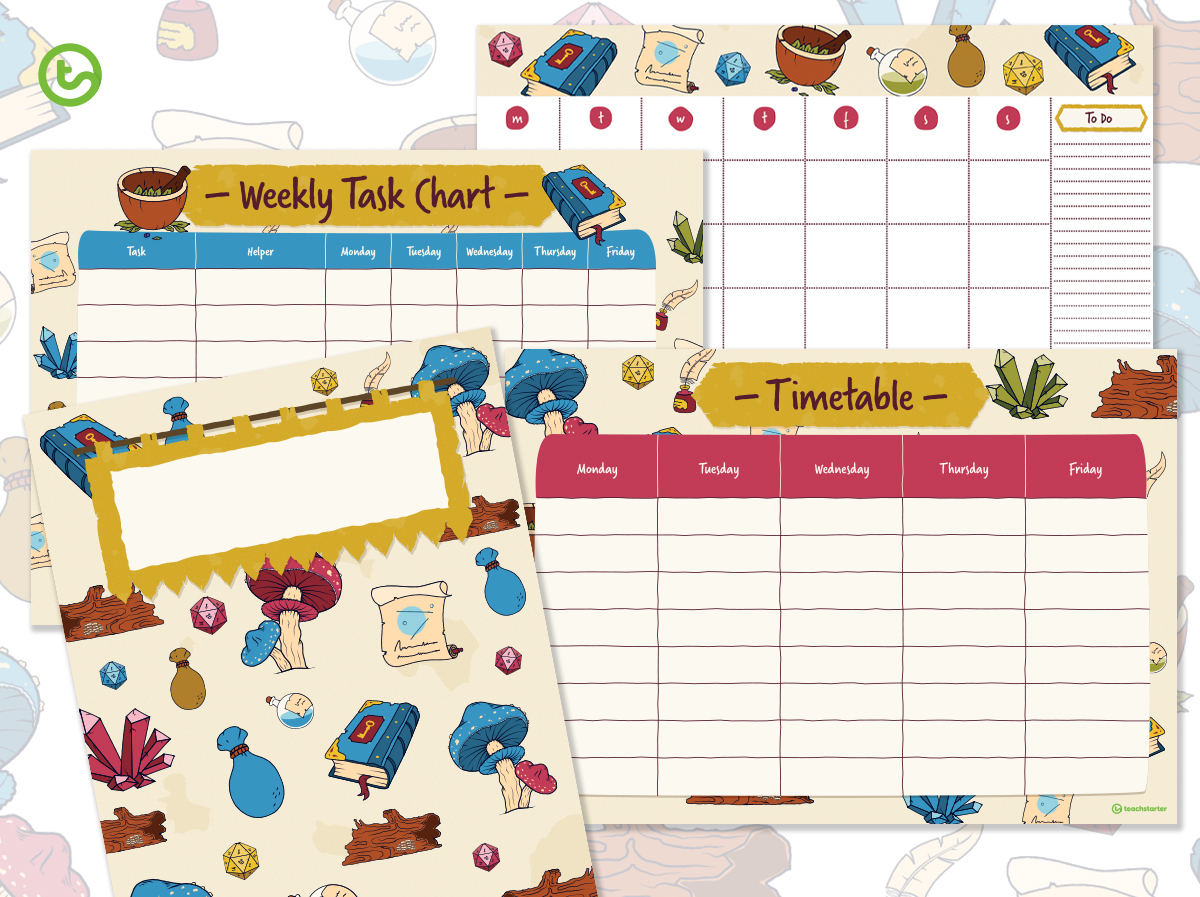 Can you imagine taking your rollcall or grading your papers with the Sorcerer Supplies – Class List?
Magical Student Inclusion
Help your students get in on this magical classroom theme! Your students will love the opportunity to wear one of the dazzling Sorcerer Supplies – Star Student Badges. Our Sorcerer Supplies – Award Certificate is also perfect for special occasions such as weekly awards!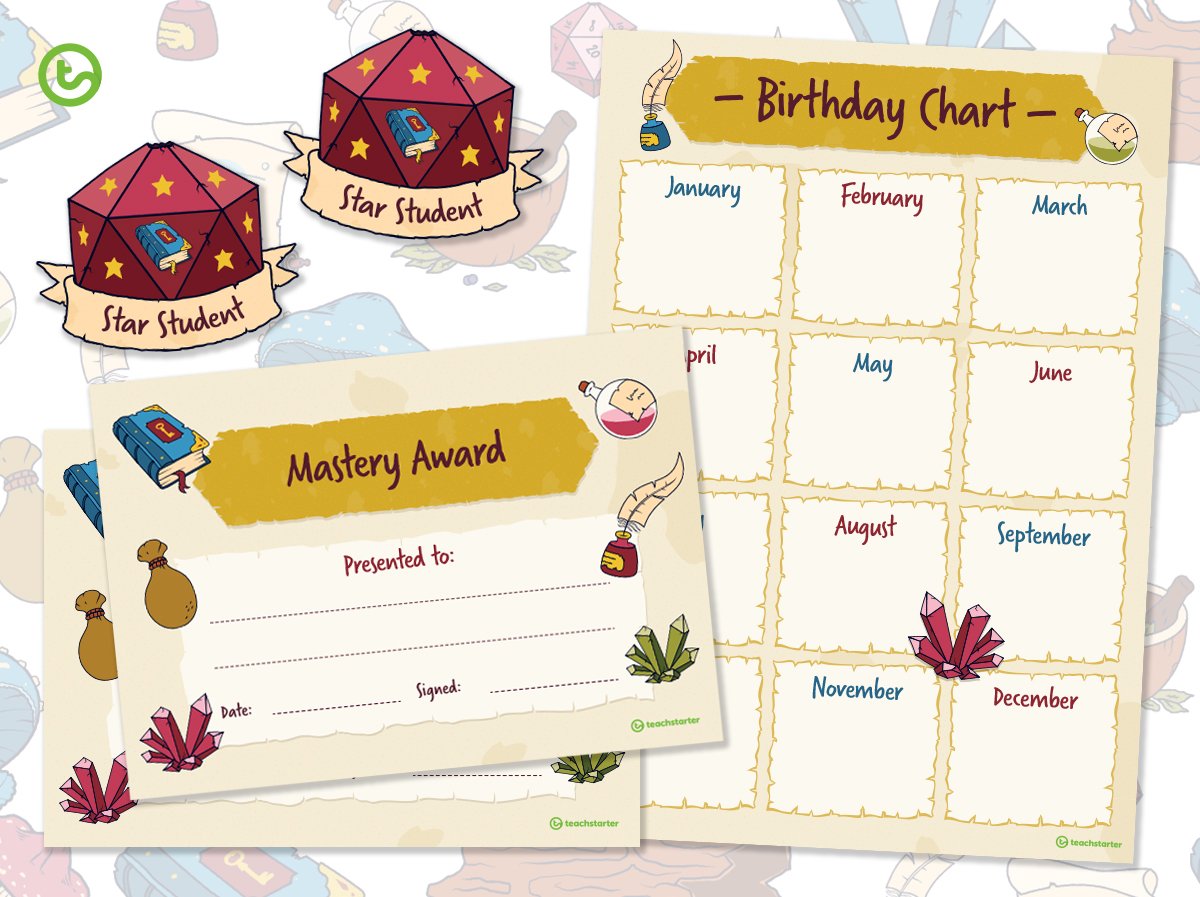 To add to your classroom decor, give your little sorcerers a birthday treat with our Sorcerer Supplies – Happy Birthday Chart.
Sorcerer Learning Tools
Lastly, we couldn't have a classroom theme pack without some sorcerer's learning tools!
Why not create some maths groups with our Sorcerer Supplies – Grouping Posters, then use our Sorcerer Supplies – Numbers 1 to 100 Chart and Sorcerer Supplies – Desk Plate Alphabet and Number Line to help your students with their numeracy lessons?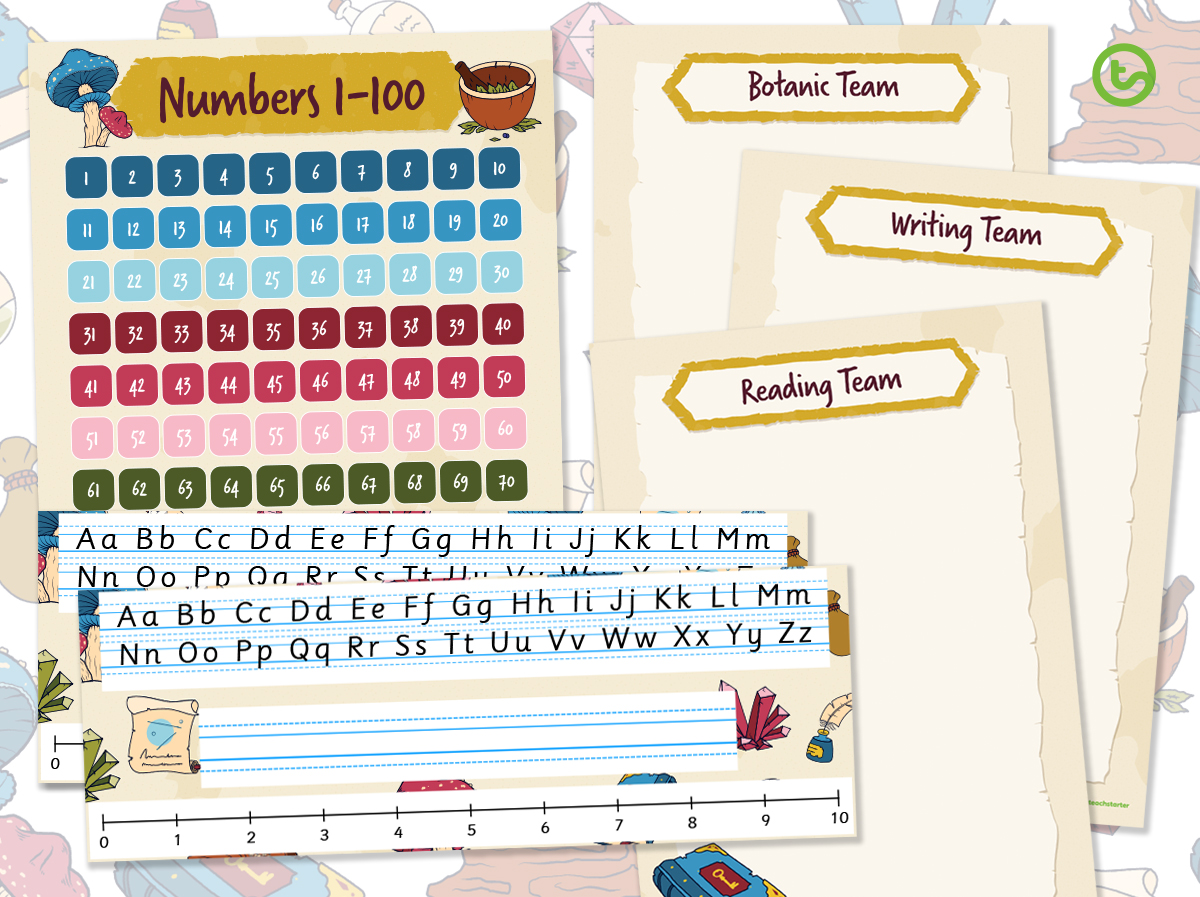 For more general learning resources, you can't go past our Sorcerer Supplies – Landscape Page Border, Sorcerer Supplies – Portrait Page Border and Sorcerer Supplies – PowerPoint Template.
---
Take a look today and see what magic you can bring to your classroom.