"My name is Molly and I am 9 years old.
I want to ban plastic straws in every school in Tropical North Queensland.
We owe it to the Great Barrier Reef."
This is Molly Steer. A Year 4 student from Cairns in far north Queensland, Australia, who is making waves of exactly the right kind. After watching the documentary "A Plastic Ocean" in February 2017, Molly began a campaign to rid schools in her local community of all single-use plastic straws. In less than a year this inspiring environmental activist has over 16 schools on board, spoke on local and national radio and gave an inspiring talk at her local TedX Cairns event.
But even more inspiring than the reach of her campaign, is her no-nonsense approach to activism. Molly tells it like it is. Straws really do suck.
With millions of particles floating in our oceans, plastic is a monumental environmental concern. Most distressing to Molly are the impacts these drifting pieces of plastic have on wildlife, with a huge number of ocean and land animals killed each day.
"All my life I've loved turtles and turtles are most affected by plastic. They get straws stuck up their nose and swallow plastic bags and die," said Molly during her interview with the ABC.
Why Focus on Straws?
These small and seemingly unexceptional plastic objects are used once and then thrown away. This happens almost 500 million times every. single. day! Lined up end-to-end, they would wrap around the earth four times. The reality of this is a staggering one.
While some straws end up in landfill, others end up in washing into stormwater drains and are carried out to the ocean.
So, it's simple really.

Molly realised that by making this one, small change to our everyday lives, we can drastically reduce the amount plastics affecting wildlife in the ocean.
Take the #strawnomore Pledge
It's true that some members of our communities need to use straws on a daily basis. Molly's campaign acknowledges that it isn't going to be possible for everyone to stop using plastic straws, but encourages those that can stop, to stop.
For Schools
Your school can take the Straw No More Pledge on Molly's website. It's a great idea to get your administration team and P&C Committee on board to help make sure the pledge can be actioned at the tuckshop or canteen, as well as at other events held by your school community. We've made a PDF poster for the Straw No More campaign that you can download and post up around your school.
Your school's canteen may want to swap out plastic straws for biodegradable or compostable straws. If you have a school garden, consider having a straw collection bin so that the straws handed out at the tuckshop do make it into the compost.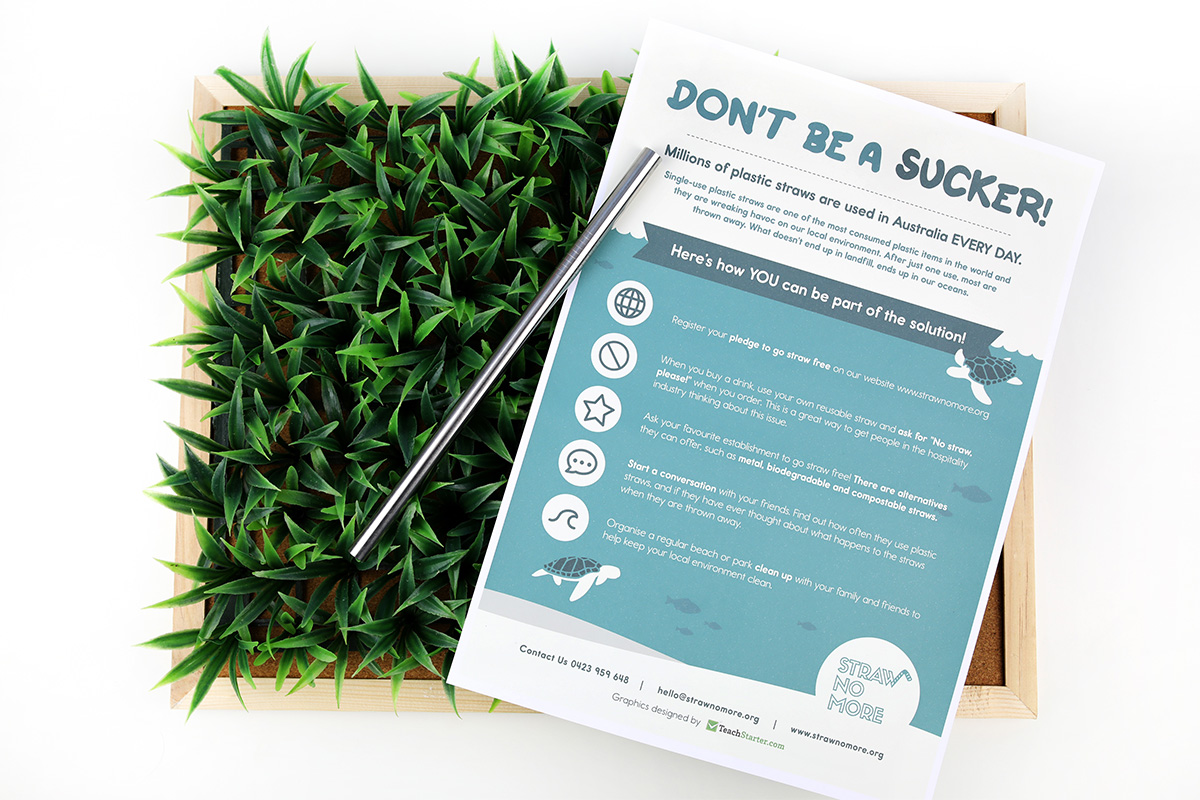 For Businesses
We've taken the Straw No More Pledge too! Even though we aren't a hospitality business, we will encourage the use of reusable straws by our staff and paper straws in the hands-on classroom activities that we love to make for our members. If you stumble across a Teach Starter resource that suggests using plastic straws, please let us know! We will update the resource to ensure it encourages the use of environmentally friendly materials.
For Individuals
By taking action yourself, you will inspire others to make a change too. Take the pledge to stop using single-use plastic straws!
Adding a stainless steel drinking straw to your bag means that every time you order a drink, you can proudly ask for "No straw, please!". Biome has a fantastic range of glass, silicon and stainless steel reusable straws, as well as little brushes for cleaning out the straws too.
Molly Steer's "Straw No More" TedX Talk
Really, it's not my words that should be convincing you, it's Molly's. Take five minutes to listen to hear the Straw No More message delivered by the young person who started it all.
---
For more information or to connect with Molly, check out the following links:
And don't forget, if you're a Teach Starter Member on a Starter, Teacher or Ultimate Plan, you can access a 10% discount at Biome for all orders over $30 using the code listed in our VIP Club!