Introducing synonyms to early writers is the perfect way to expand their vocabulary and in turn improve and enhance their writing. By exposing your students to a variety of different synonyms for common words used in writing, you are providing ample opportunities for them to add more excitement and suspense into their writing. This blog will give you some hints and tips for teaching synonyms to your students.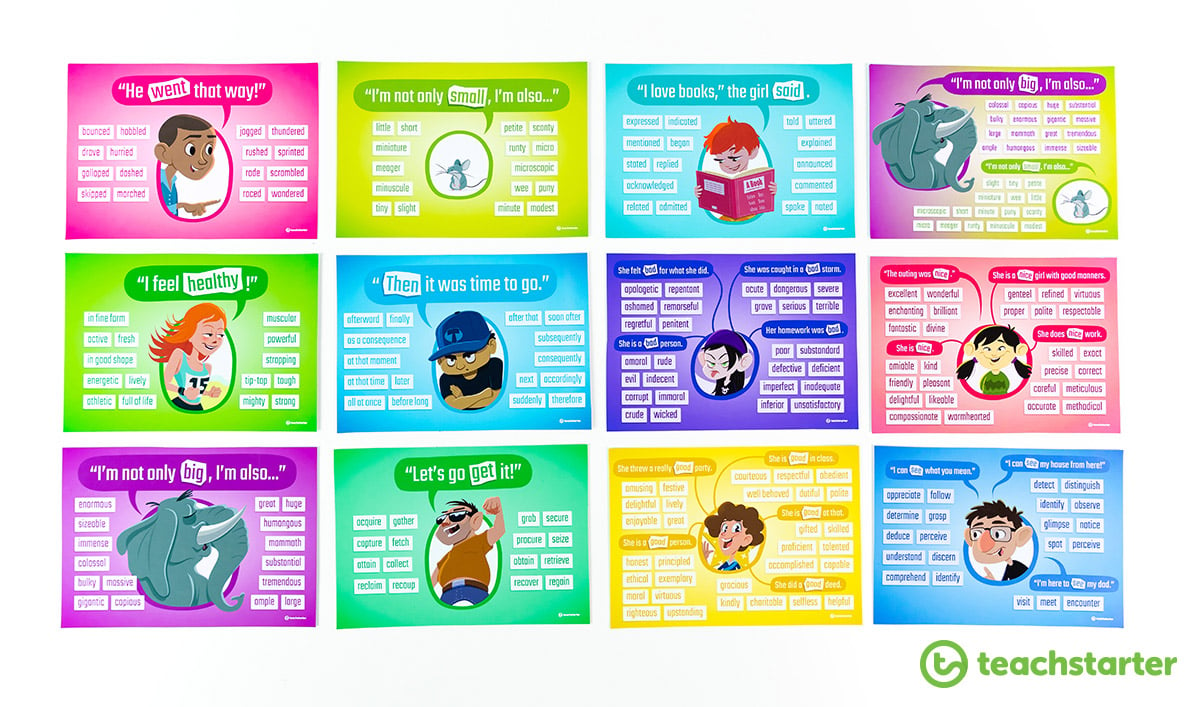 ---
Ways to Explore Synonyms with Young Children
Watch YouTube Videos about Synonyms
As always, there are a number of really cute YouTube videos that are great to introduce synonyms to your students. I have always found that using a YouTube video or something interactive to begin the learning journey of particular concepts, to be a great way to engage students from the get-go!
This simple video uses gorgeous illustrations and includes a clear definition of synonyms. Plus, it uses repetition by providing a number of examples of synonyms. At the end of the video, there is an engaging activity your students can do together as a class to reinforce their knowledge.
Explore Synonyms in Books
Along with YouTube videos, there are also a number of story books that explore synonyms. This is one of my favourites and kids love it because it's all about animals' bottoms! This book features a gazillion names for them, from 'cheeks' to 'tush' to 'heinie'.
Kids will giggle their way through the book, however, this is where you can explain that all of the words are synonyms for bottom!
How boring would it be if the word 'bottom' was used on every page?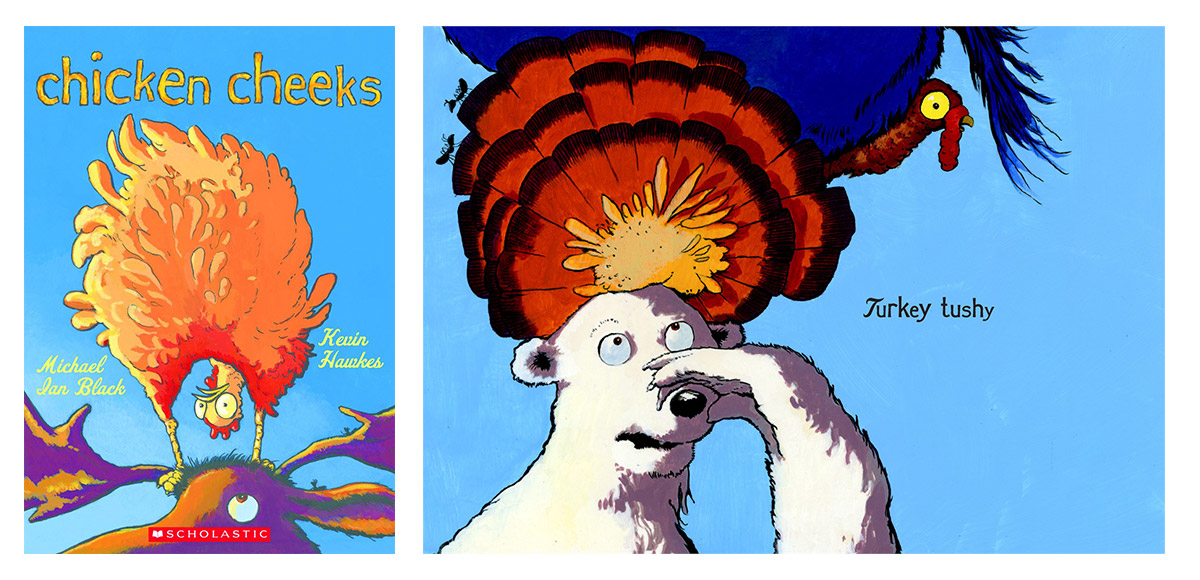 Display Synonym Posters in the Classroom
It's all well and good for your students to understand what synonyms are, however, applying this knowledge and using synonyms in their independent writing can be a challenge. It's a great idea to encourage students to develop their own word bank of synonyms they can use for particular words in their writing?
This is where our beautifully designed Synonym Posters for the classroom come in handy. This beautifully illustrated pack includes 27 posters covering a range of synonyms for basic words and feelings!
During writing sessions, I would encourage my students to look at the synonym posters to make their writing more interesting. Also, during proofing, I would encourage my students to circle words that were a little 'boring' and see if they could find a better word for each of the circled words.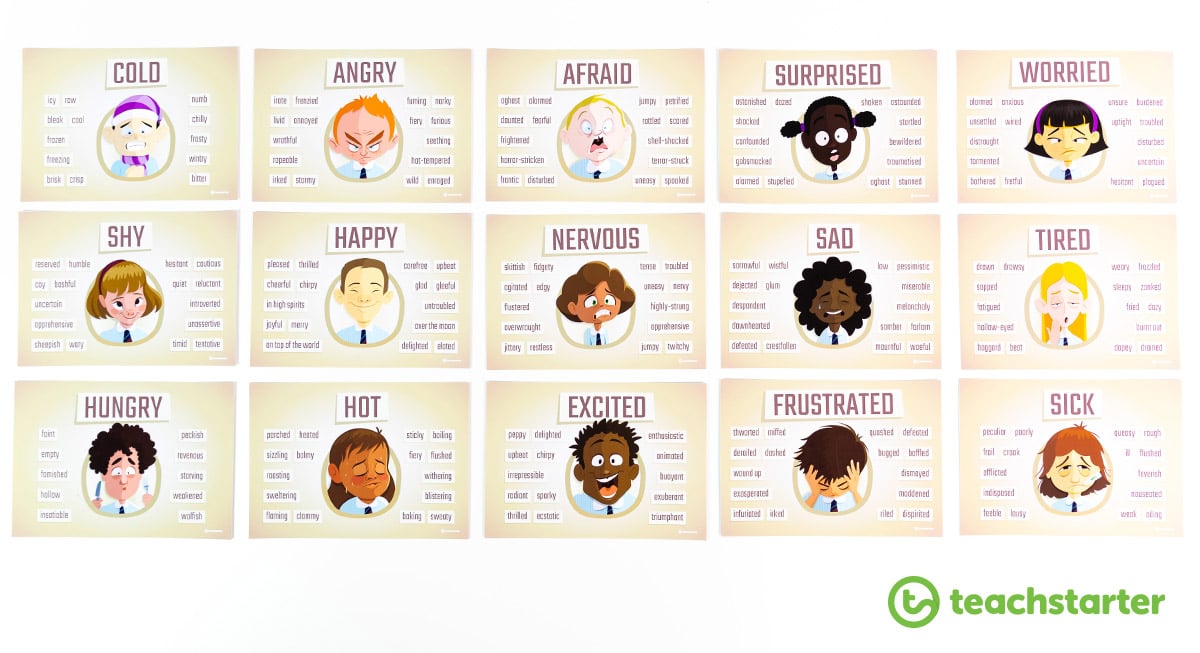 Individual Synonym Flip Books
Using our Synonym Flashcards, create a flip book by attaching them to a card ring. Having these flip books easily accessible to students during writing will encourage them to look for 'better' words to use during their writing.
Our set of 11 Synonym Flashcards are bright and the images are too cute!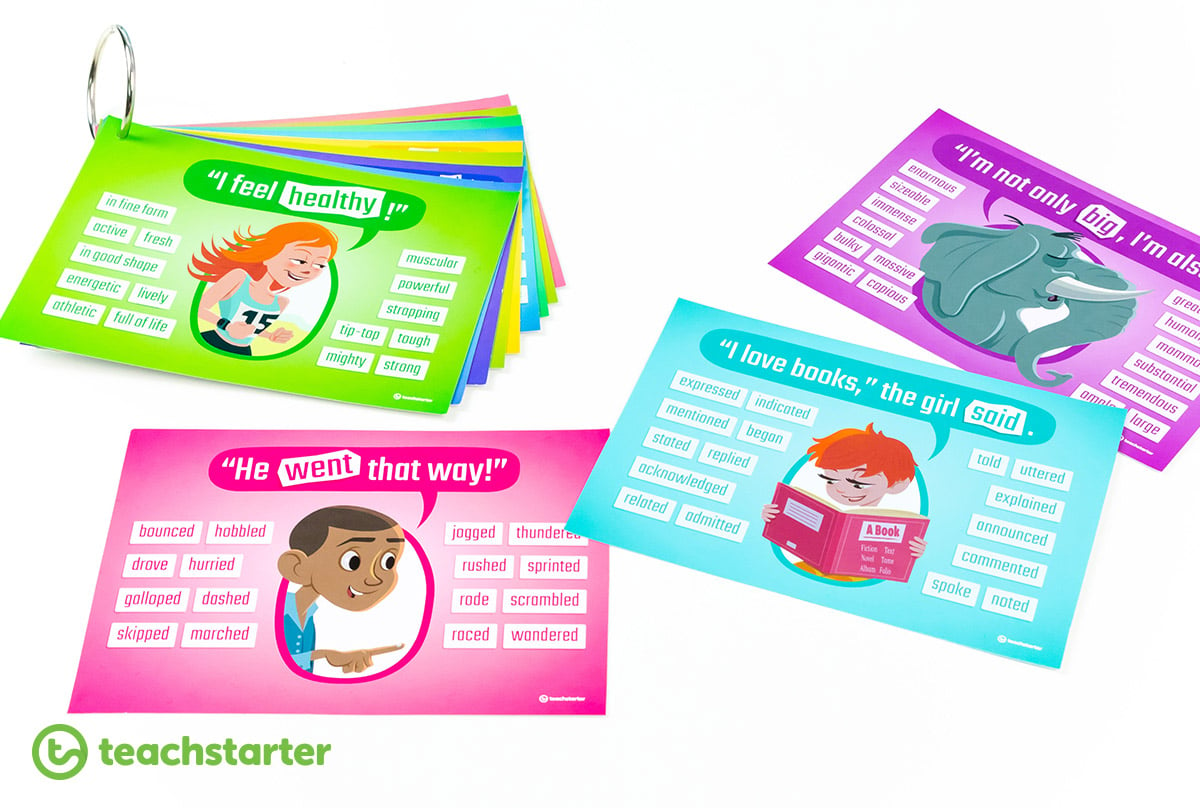 Our Feelings Synonym Flashcards are perfect when students are writing narratives and coming up with words to describe different characters' feelings.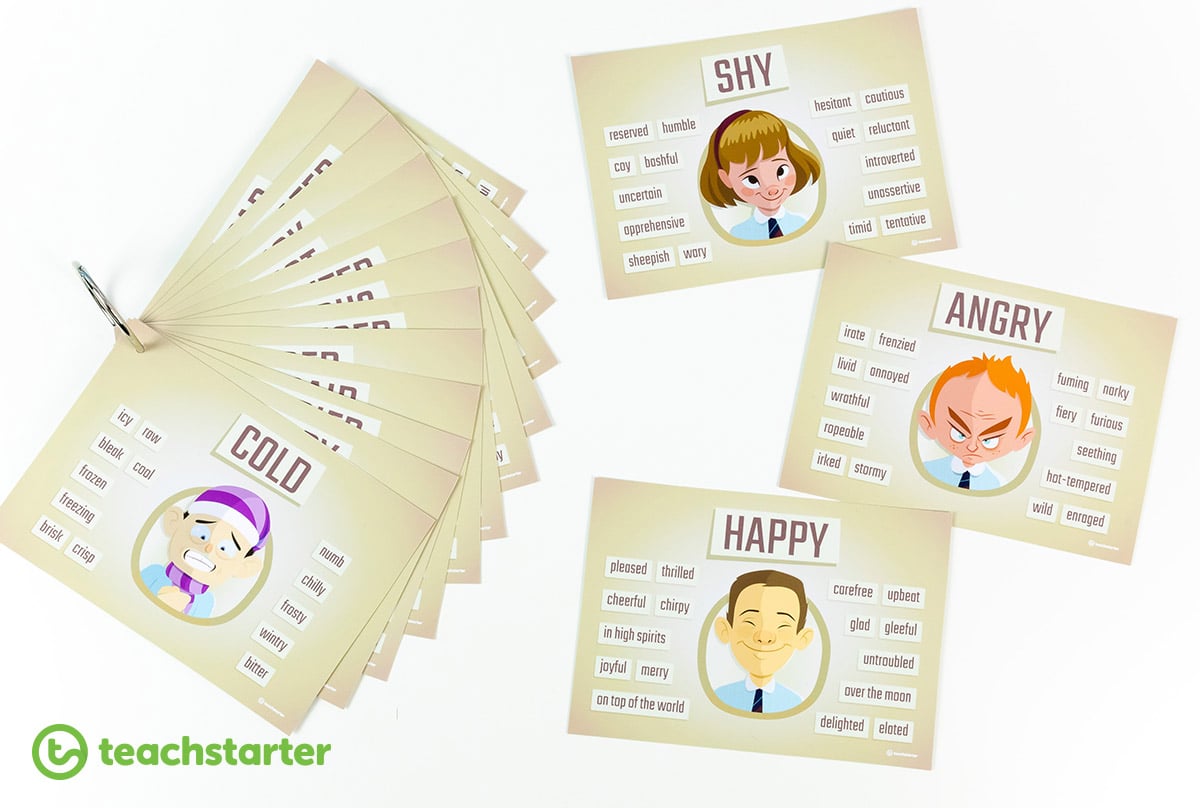 Incorporate Synonym Activities During Literacy Rotations
Like anything your students are learning, continual repetition and hands-on activities to help consolidate your students' knowledge of synonyms are vital. Using different hands-on synonym activities during your literacy rotations is another fantastic way to embed this knowledge.
Our Synonyms Puzzle Activity is a fantastic example of a synonym activity you could use with your students.
Cut out the puzzle pieces, mix them up, and spread them out. Students need to match up all the words! You could then encourage your students to write a sentence using some of the words they matched up!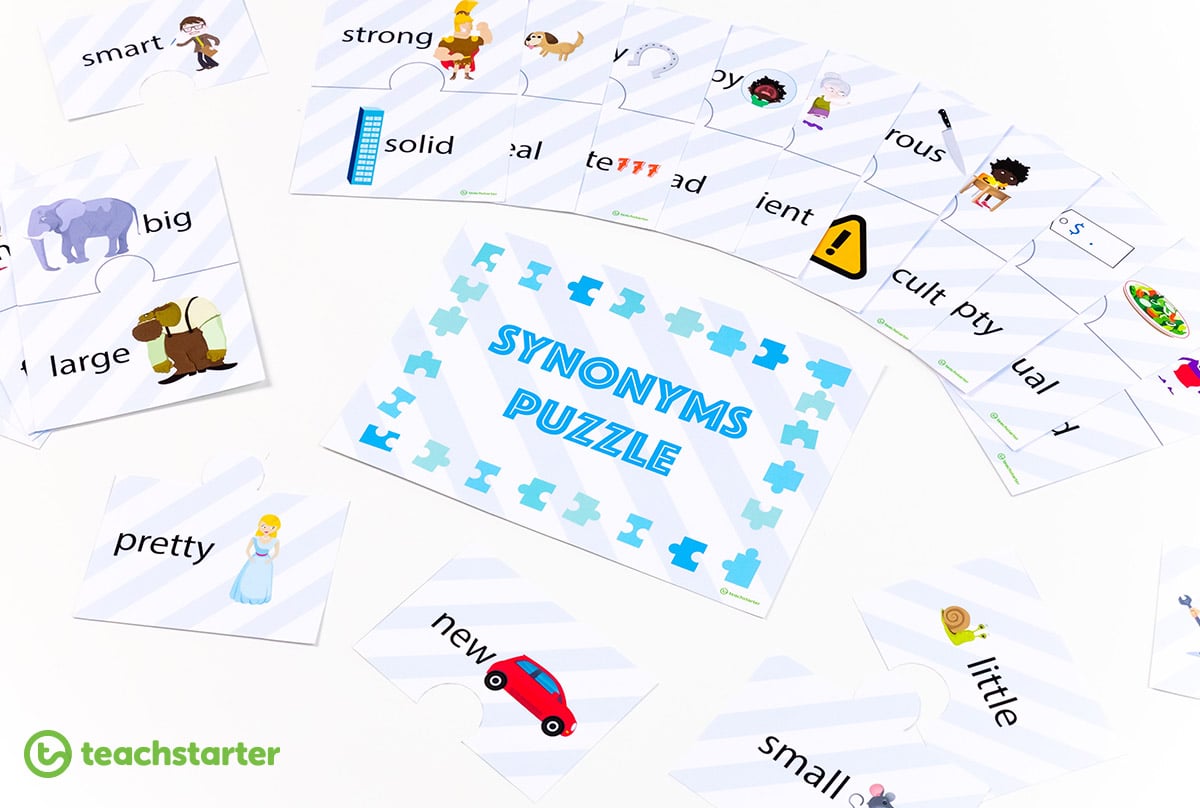 This Synonyms Polygon Puzzle is also a super fun way to get your students thinking about synonyms.
In this activity, students are required to cut the polygons out. They are jumbled up, so they will need to put the puzzle back together by looking at the words and then placing the corresponding synonym next to it.
Your students can either stick this in their workbooks. Alternatively, you can laminate this puzzle and use it again and again.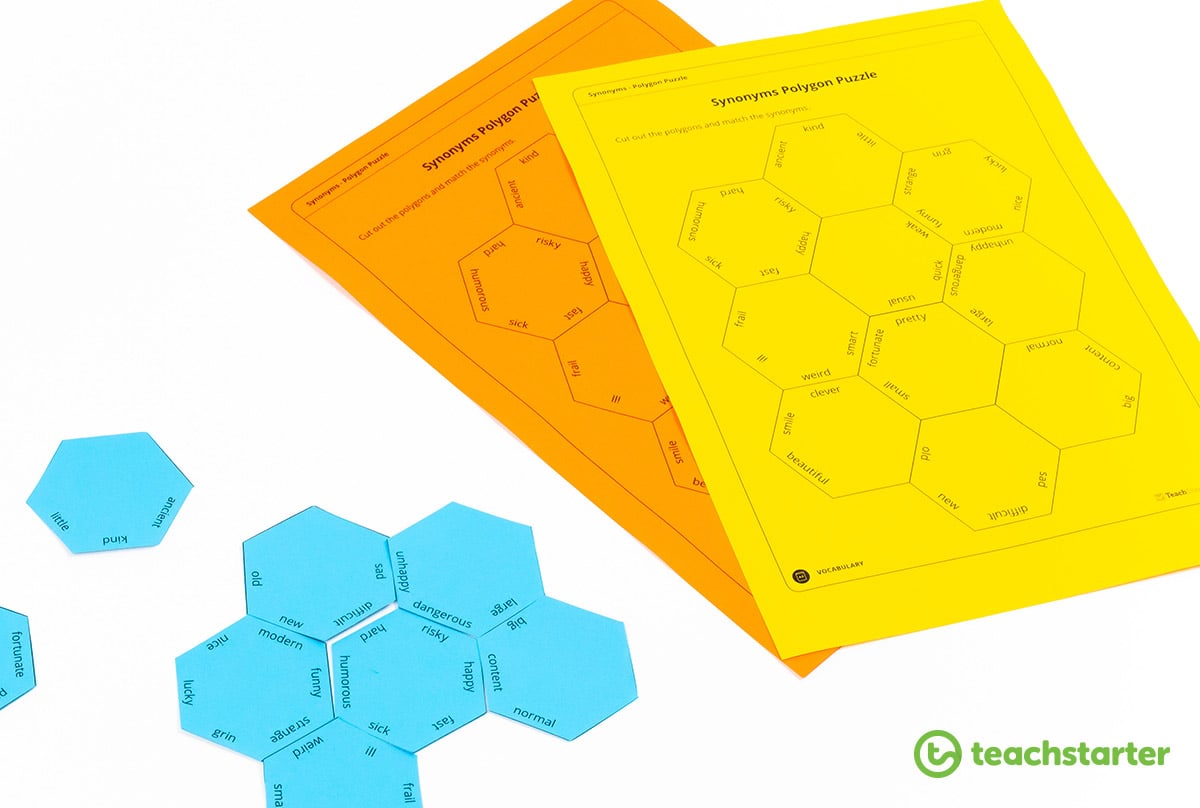 There you go! We hope some of these ideas help you to maximize your teaching of synonyms in your classroom. You can even get creative and use the synonym poster pack as a writing prompt for your students too! The options are endless…
Don't forget to download our Synonym Poster Pack.