A set of energy-saving reminders that can be placed around the classroom.
Display these beautifully designed reminders next to the objects, devices and switches around the classroom.
These visual reminders will help students make simple energy-saving decisions at school. These easy to implement actions promote sustainability and can then be applied at home and beyond.
Some of the reminders include:
Use water wisely.
Switch off devices at the wall when not in use.
Shut down the computers at the end of the day.
The reminders print three to a page. To save on paper usage even further, you can print multiple pages per sheet of paper using your printer's settings.
An editable version is also available to adjust each reminder to your specific needs.
Check out our Energy Saving Tips Poster with multiple ways to save energy on the one page.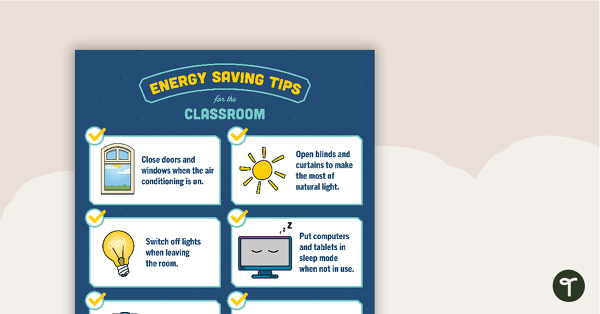 teaching resource
A poster displaying some helpful tips for saving energy in the classroom.