A printable gift box template for Mother's Day.
This beautifully designed gift box is a perfect present for Mother's Day.
Printable Gift Box
Print this template for your students in the lead up to Mother's Day.
Each box requires a base and a lid which are on separate pages. To save on paper, the lids print two to a page.
How to Assemble the Square Gift Box
To assemble the printable gift box simply:
Cut out a base and a lid. (Note: be sure to cut along the outer dotted line.)
Fold each side and glue each tab to form the box.
Place the lid over the top of the box.
A blank version of the lid is also included in the resource as a way to customise the gift box for other special people.
Check out our other Mother's Day Mini Gift Box below: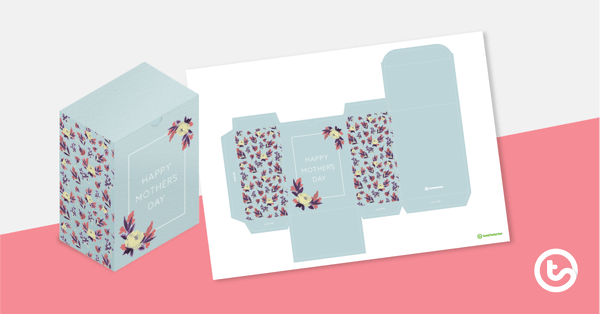 teaching resource
A Mother's Day gift box template.