Over one hundred general classroom activity cards to use as a visual timetable.
Print out these Visual Daily Timetable cards and stick them on your board as a visual reminder for your students about the daily schedule.
Also provided is a Word version so you can change the names of subjects and activities for your individual needs. Click the arrow next to the download button to download and edit the Word version.
Use the Analogue and Digital Clock Cards to provide specific times for activities. These can be found by clicking on the arrow next to the download button.
Topics on the cards include:
English, Mathematics, Science, Technology, Science and Technology, Religion, Computers, Library, Sport, PDHPE, Health, Fitness, Social Studies, SOSE, Geography, Excursion, History, Creative Arts, Drama, Music, Visual Arts, LOTE, Indonesian, Japanese, Italian, Sports Day, Recess, Lunch, Home Time, Fruit Break, Pack Up, Church, Mass, Homework, Prayer, Parade, Silent Reading, Art, Clean Up, Assembly, Dictation, Class Novel, Comprehension, Creative Writing, R2L, Debating, Reading Groups, Literacy Groups, Free Time, Handwriting, Grammar, Swimming, Maths Games, Jolly Phonics, iPads, News, Talk Time, Relief Teacher, Show and Tell, Quiet Reading, Test, Testing, Spelling, Writing, Class Meeting, Computing, Cooking, Editing Skills, Punctuation, Sunday, This month is, Today is, Yesterday was, Last month was, Autumn, Summer, Winter, Spring  This season is, Monday, Tuesday, Wednesday, Thursday, Friday, Saturday, January, February, March, April, May, June, July, August, September, October, November, December, Inquiry, Assembly, Guided Reading, Circle Time, PE, Bible Studies, Chapel, Scripture, HASS, Integrated Studies, Literacy, Praise and Worship, Special Event, Checking Homework, Breakfast Club, Morning Routine, Design and Technology, Daily Schedule, Board Games, Afternoon Recess, Laptops, Personal Development, Manual Arts, Goals, French, Class Discussion, Viewing, Social Skills, Literacy Games, Bike Riding
Blank cards are also provided at the end for any specific activities for your classroom.
Find our version 1 of landscape and our portrait version here: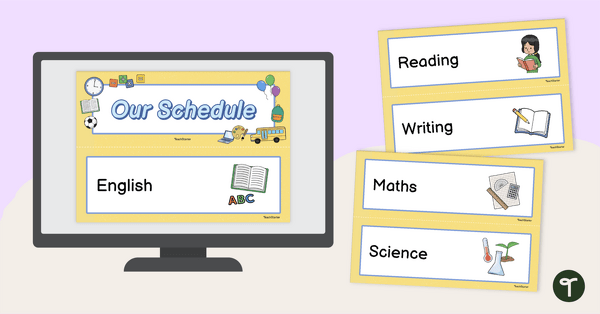 teaching resource
Keep your students on track by choosing from 60 editable schedule cards to display in your classroom.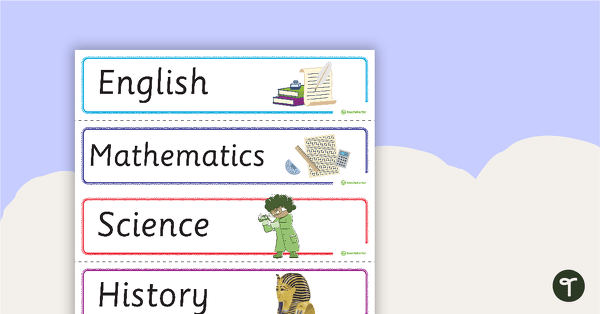 teaching resource
Over one hundred general classroom activity cards to use as a visual timetable.