A task where students design a toy, pose a yes or no question and gather responses.
Use this activity as data representation and interpretation assessment for foundation students.
Answer Yes/No Questions
After students create a design for a new toy, they will pose a question that they will ask some of their classmates.
These questions could include:
Do you like the name of my new toy?
Would you buy my toy?
Does my toy look fun to play with?
Is my toy fluffy enough?
Once they gather responses to the question, ask students what do they know after hearing the opinions of others?
Implementing a Foundation Data Assessment
A suggested implementation guide for using the resource with your students is also included.
It provides information on what students are required to do in each section. Some sections may require an adult to scribe the student's response.
If you are looking for additional Yes or No question activities take a look at the Yes or No? Questions – Flash Cards.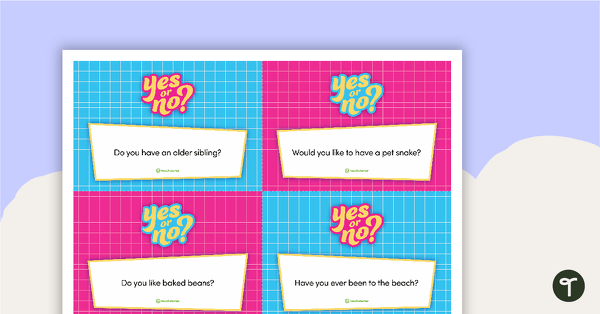 teaching resource
A set of 20 flashcards posing 'yes or no' questions for your students to answer.