It is getting close to the end of the year. You are tired and the students in your class are cranky, grumpy and acting out! What do you do?
Keep them busy! Keep them in routine!Create fun activities that will still provide them with effective learning opportunities.
Not sure what to do? Keep reading for some fun and engaging ways to keep them learning right to the end…
---
Daily STEM Team Challenges
Daily team challenges are a great way to develop problem solving skills and keep their minds ticking!In small groups, have your students take on challenge a day. I found a variety of ideas onPinterest, here are some that I thought had accessible classroom supplies and would be fun for the kids.
I had a bit of fun creating them myself, especially the pompom drop!
---
Christmas Tree Challenge
Students have to create a standing Christmas tree using only pipe cleaners. It doesn't have to look like the picture, as long as it resembles a Christmas tree, and is standing, they have achieved their first challenge!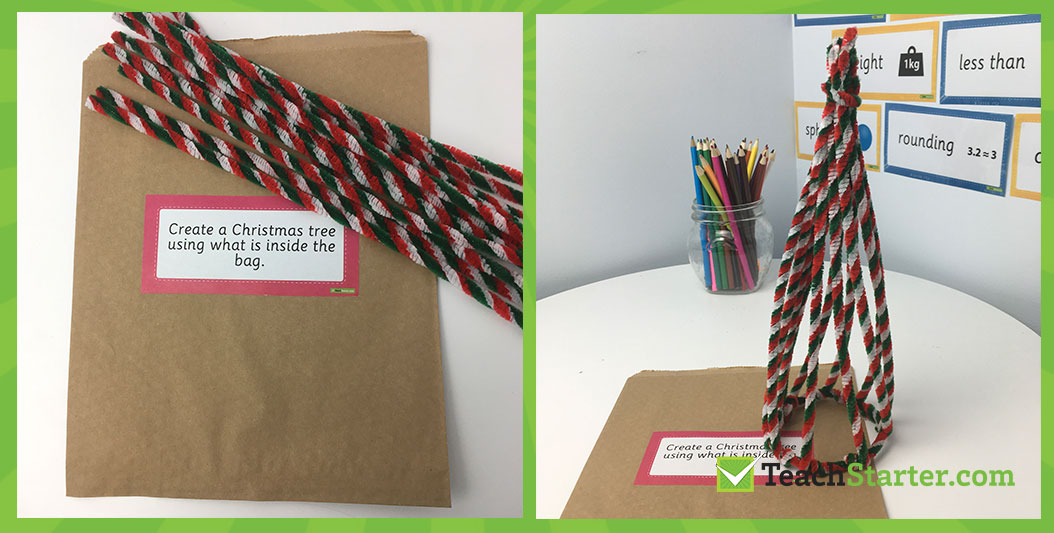 ---
Build a Bridge Challenge
Students are provided with paddle pop sticks and masking tape. They need to construct a bridge between two level surfaces. Provide the students with a car to drive across the bridge to test their construction!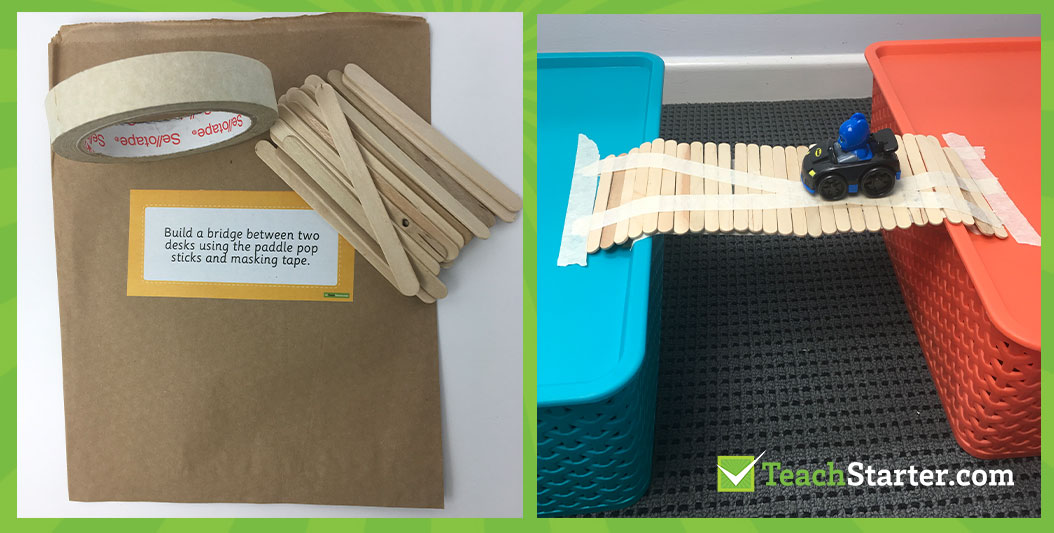 ---
Cup Challenge
In this challenge students work in a small group to build a pyramid with ten small cups, they then need to put the man on the top of the tower. Seems easy?
They must do this without touching the cups or man with their hands. They are provided with paddle pop sticks, string and a rubber band.
A great problem solving task!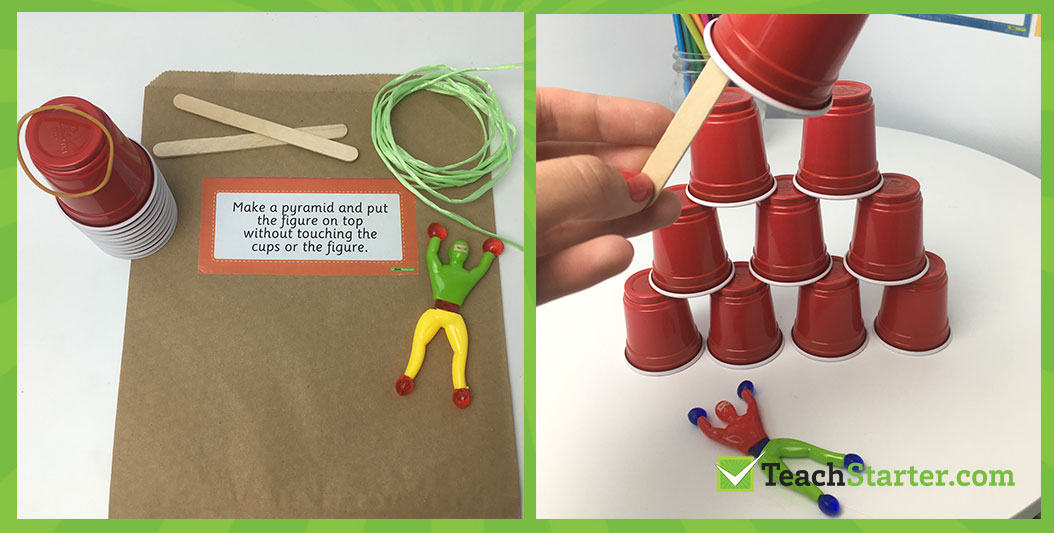 ---
Build a Tower Challenge
In this challenge teams compete against each other to see who can build the highest tower with toothpicks and marshmallows.
You may like to time this one!It's trickier than it looks…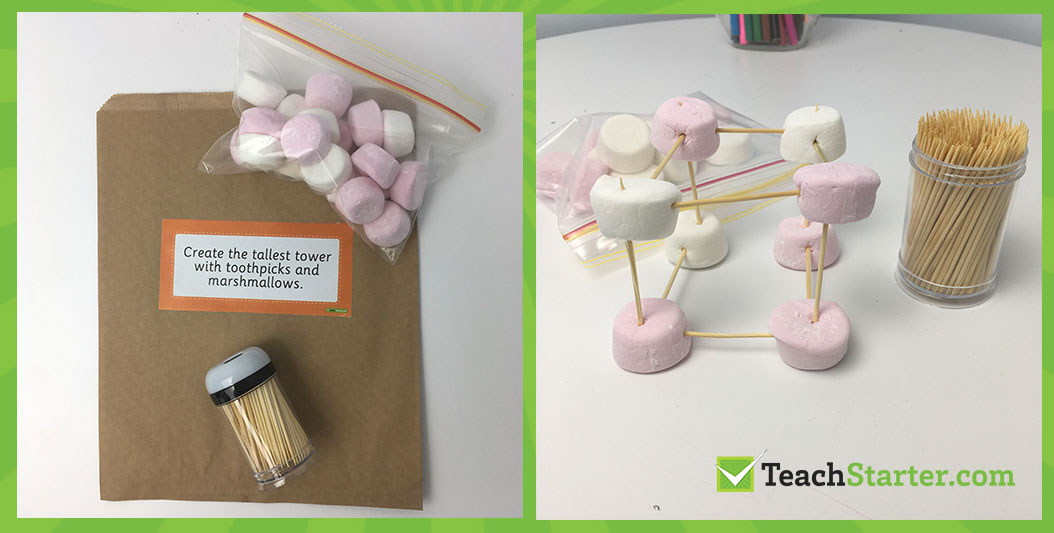 ---
PomPom Drop Challenge
This was so much fun!
Provide students with a pompom, lavatory rolls, sticky tape and a cup. They need to create a drop for the pompom and it must land in the cup at the bottom. They can cut the lavatory rolls as they wish.
Remind them to keep testing as they add sections to the drop! Who can create the longest drop?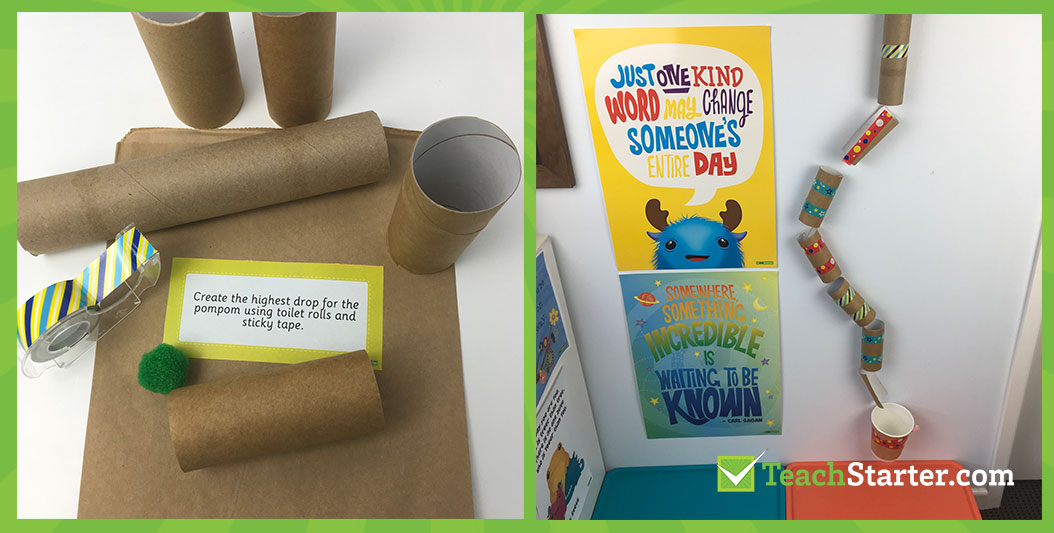 ---
Maths Investigations
In small groups, have your students work on maths investigations. A fun and worthwhile activity that will encourage a lot of discussion! We have some great investigations…
---
Games Bonanza!
Set up a handful of literacy and numeracy games suited to your students. Each group moves around to the different game stations. You may like to use our Cooperative Working Role Cards to ensure the group games bonanza runs as smoothly as possible.
Once you have the games and role cards this is super easy to set up quickly when you may not have anything planned, especially as it gets close to the end of the year! Here are some examples of literacy and numeracy games that would work:
---
Write a ClassComic
Students brainstorm and write a comic for the new students you will teach next year. What advice, tips and hints would they give them on how to survive and do well in your class? What were the hardest parts? What did they enjoy?
Use our Comic Book Templates to assist your students with the writing process.
---
Enjoy Outside
Head outside for some nature walks, fitness, messy play or simply read books outside.
Here are some of our fitness resources that you may like to use:
---
Share your Ideas
We would love to hear from you…what ideas do you have to keep them thinking to the last minute of the last day?