5 Wonderful Ways to Get On Board with Let's Talk Like a Pirate Day!
All hands ahoy! Are you ready to get on board the ship for International Let's Talk like a Pirate Day 2018?
If you're feeling stuck for activity ideas to celebrate on September 19, avast ye! Avoid walking the plank by using some of Teach Starter's fantastically fun activities that can be found in our Pirates Teaching Resource Collection.
How to Make a Newspaper Pirate Hat Craft Activity
Your students will love to accessorise this International Let's Talk like a Pirate Day by wearing a hat with recycling benefits. Complete our new craft activity How to Make a Newspaper Pirate Hat Craft Activity and see how simple it can be to get into character. This teaching resource is also a great way to introduce procedural texts.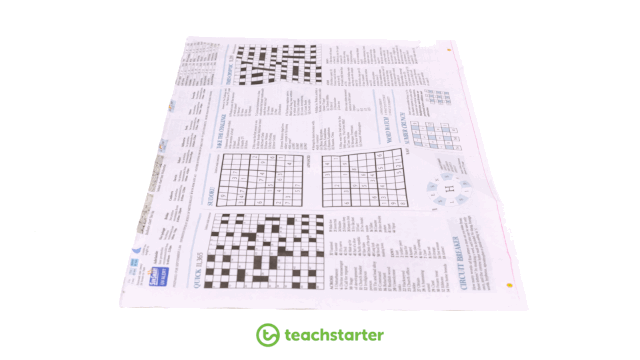 Pirate STEM Challenges – Heave Ho! Pirates Can Work Together!
Are you looking for an opportunity to incorporate a STEM challenge into your program of teaching and learning?
If you are, then use International Talk Like a Pirate Day as the perfect time to combine science, technology, engineering and mathematics!
We have created three inquiry-based, pirate-themed STEM challenges for lower, middle and upper year levels.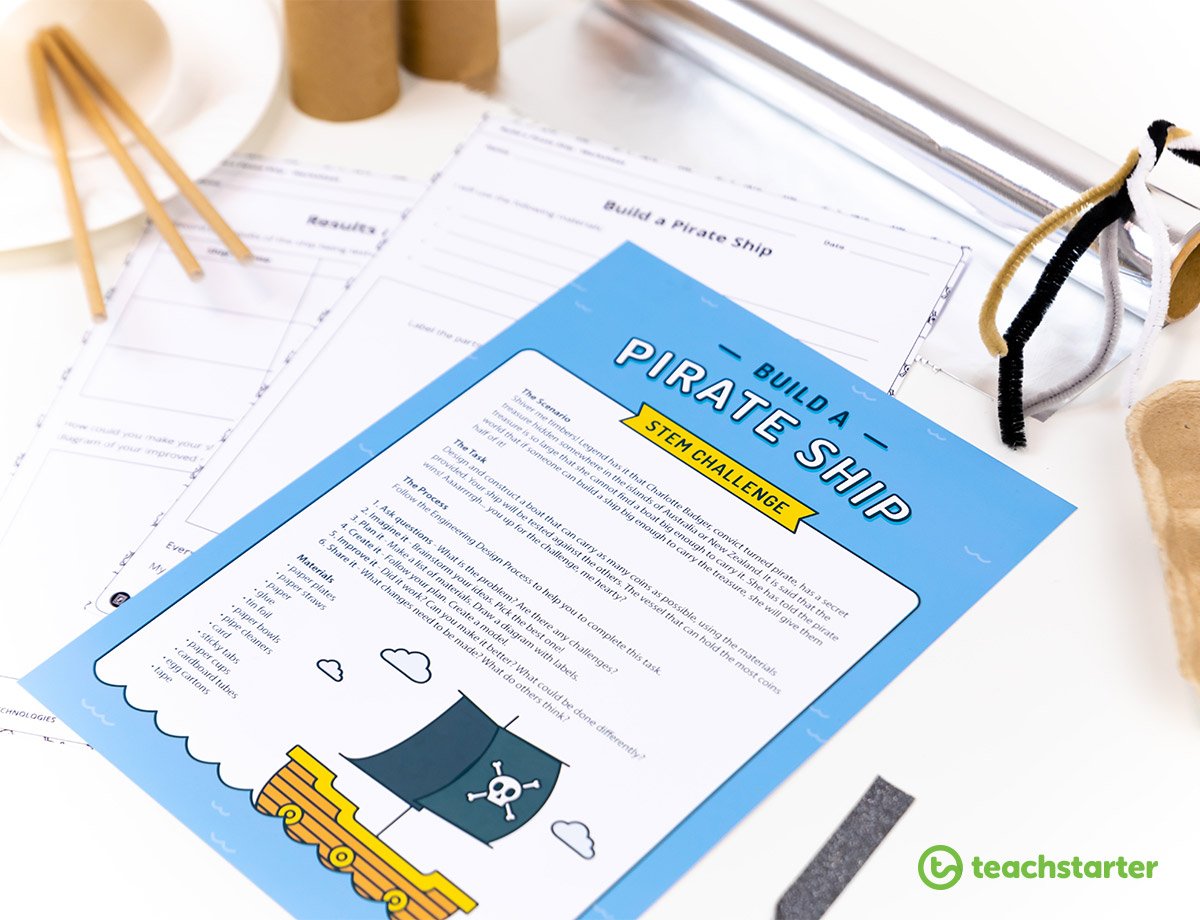 These fun design tasks encourage your students to follow the design process:
1. Ask questions – What is the problem? Are there any challenges?
2. Imagine it – Brainstorm your ideas. Pick the best one!
3. Plan it – Make a list of materials. Draw a diagram with labels.
4. Create it – Follow your plan. Create a model.
5. Improve it – Did it work? Can you make it better? What could be done differently?
6. Share it – What changes need to be made? What do others think?
These pirate challenges are based on an engaging scenario that is sure to motivate your students!
Here is the fun scenario for Year 1 and Year 2:
Pirate Pete is about to set sail once again, seeking adventure and riches on the high seas. There's just one little, teeny-tiny problem… he doesn't have a ship. Help Pirate Pete out by asking your students to design and build him a ship. 
To find out more, download our new resources:
Get Reading Onboard Your Pirate Ship!
Give your International Let's Talk Like a Pirate Day a reading focus with our Readers' Theatre Script – Treasure Map. Readers' Theatre is a reading activity which involves reading a script (written text for a play) aloud in a small group.
To learn more about Reader's Theatre, how to read from a script and effective reading skills, check out our Reader's Theatre Teaching Resource Pack that includes a comprehensive Introduction to Readers' Theatre PowerPoint.

Pirate Puppets
Blow me down! Have you seen our Paper Bag Pirate – Puppet Making Activity?
Your students will love this hands-on craft activity making pirates out of paper bags! Your students can unleash their creativity by choosing from the templates provided, or by adding their own hats, badges and facial features.
Why not add some googly eyes to give these puppets some extra Aaaarrrrgggghhhh!
Make Your Class Pirates Feel Like a Cap'n!
Don't forget to acknowledge hard work, resilience, and effort. Make your class pirates feel proud and boost their confidence with a beautifully illustrated Pirates – Award Certificate.
Our Pirates – Star Student Badges are such a great way to end a day at sea.
For more pirate classroom decor, rewards, labels, group charts and more, download our Pirate Classroom Theme Pack.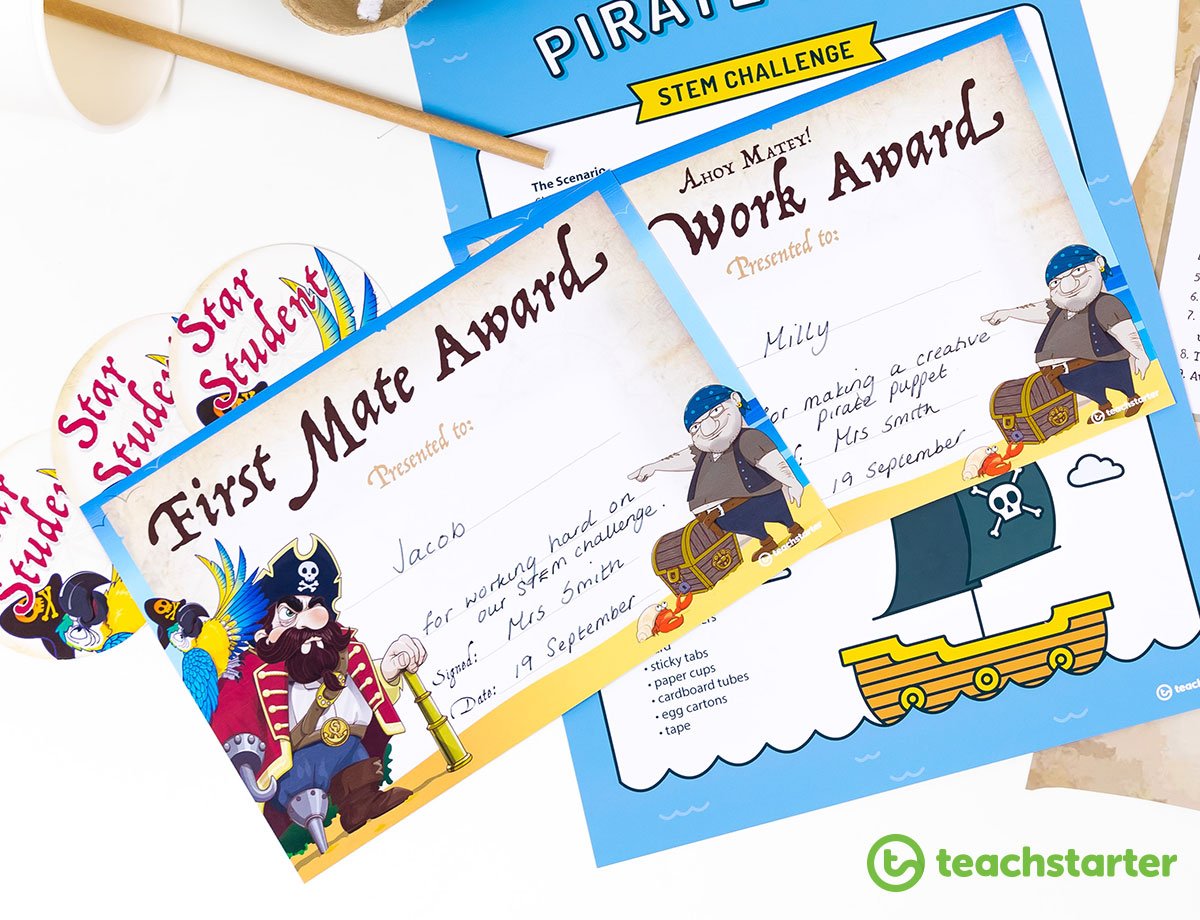 Every Pirate Loves Reading!
I did a little research for you and here's a list of book titles that Dymocks recommend:
For Kindergarten to Year 1:
For Year 2 to Year 3:
For Year 4 – Year 6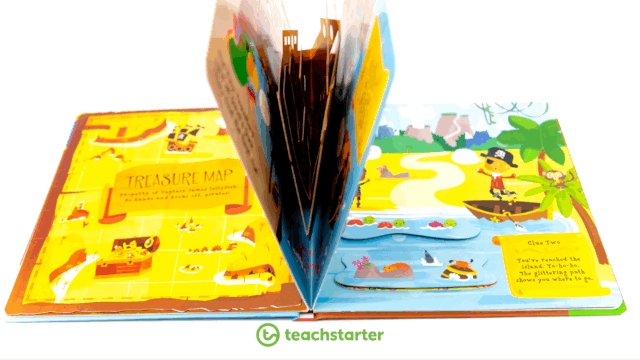 Aye Aye Cap'n! I understand it's a busy life, being a teacher! But you are amazing and there's always time for a little bit of pirating.
We'd love to hear from you and to see photos of your pirate experiences.
Share in the comments section of this blog.