How do you celebrate success with your students when they make progress in the development of life skills?
Teaching students essential life skills is an important part of being an educator. Developing and learning life skills is a critical part of growing up and thriving in the 21st century.
What are life skills? Students develop personal and social life skills as they learn to understand themselves and others, manage their relationships, lives, work and learn more effectively.
Personal and Social Capability
What is personal and social capability?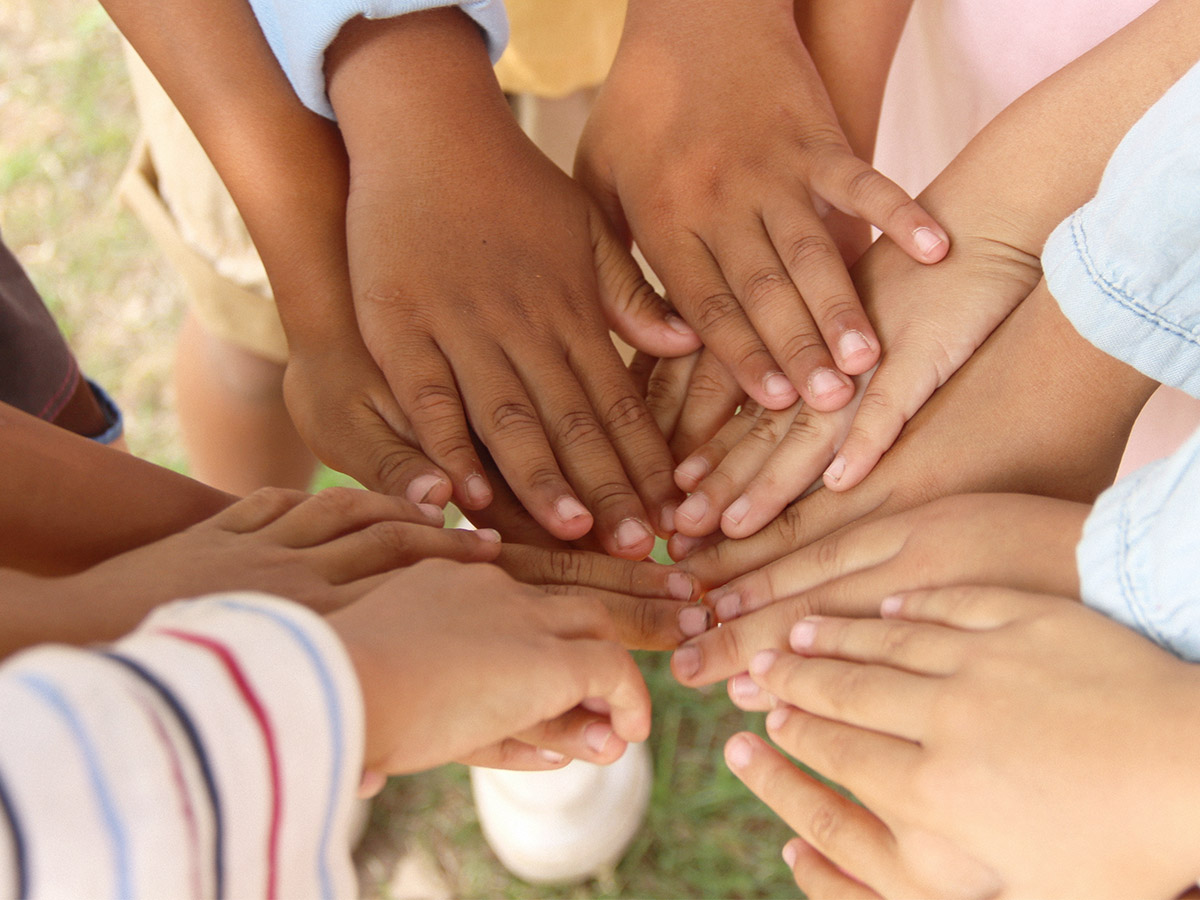 Personal and social capability is being able to use a wide range of life skills effectively. It is the ability to regulate emotions, develop empathy for others and understand relationships.
Other life skills include:
building positive relationships
making responsible decisions
working effectively in teams
handling challenging situations constructively
developing leadership skills.
To make life easier, we can break personal and social capability down into four main elements:
self-awareness
self-management
social awareness
social management.
---
Why is Celebrating Life Skills Important?
Celebrating students success plays an important part in motivating and empowering our students to succeed.  We are all familiar with giving certificates and awards for progress in key learning areas, but…
how do you and your students celebrate progress in personal and social capability?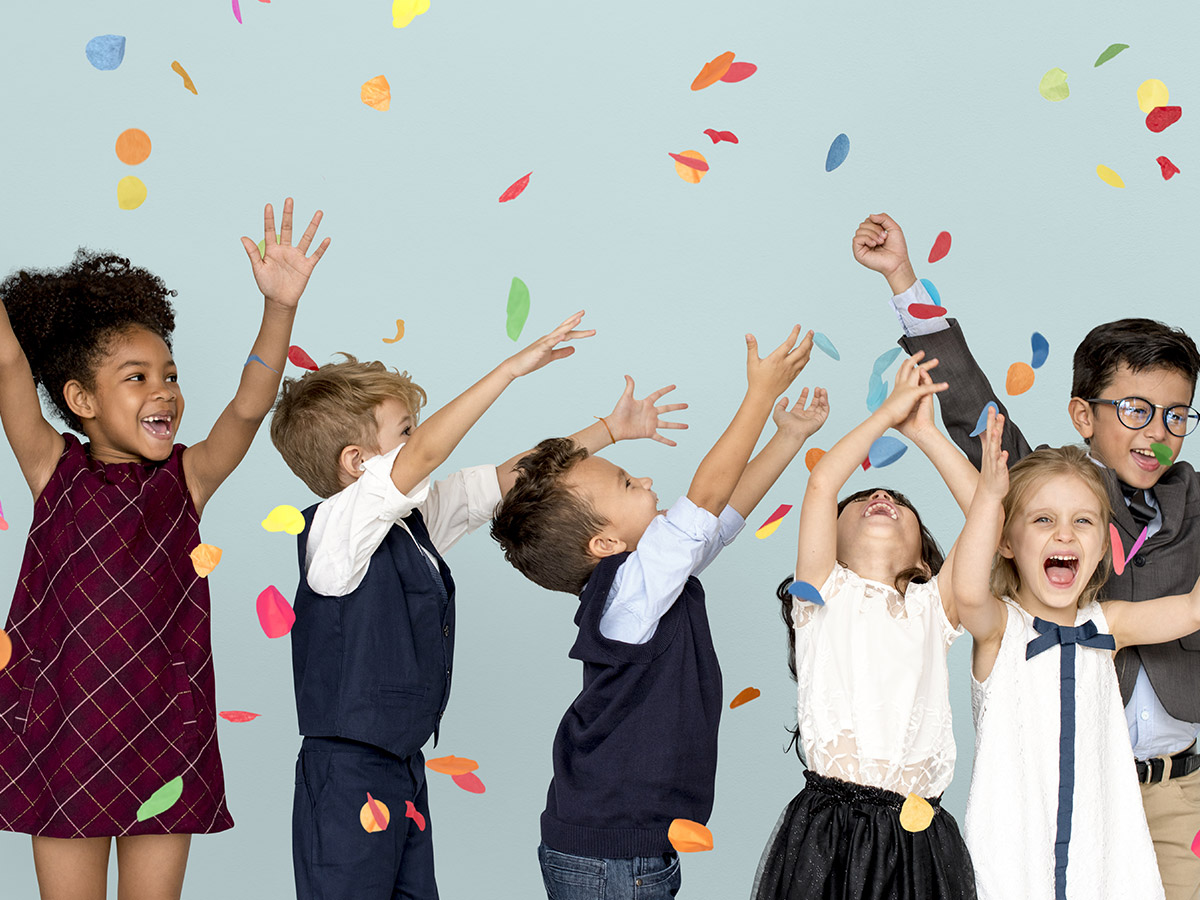 In today's classrooms, it is vital that we celebrate students' success in creativity, thinking critically, solving problems and regulating their emotions. It is critical that we recognize student achievement in building relationships, collaboration and communication.
---
It's time to Celebrate Life Skills
Our new Personal and Social Capability Badges Resource Pack is the ultimate teaching resource to celebrate life skills in the classroom.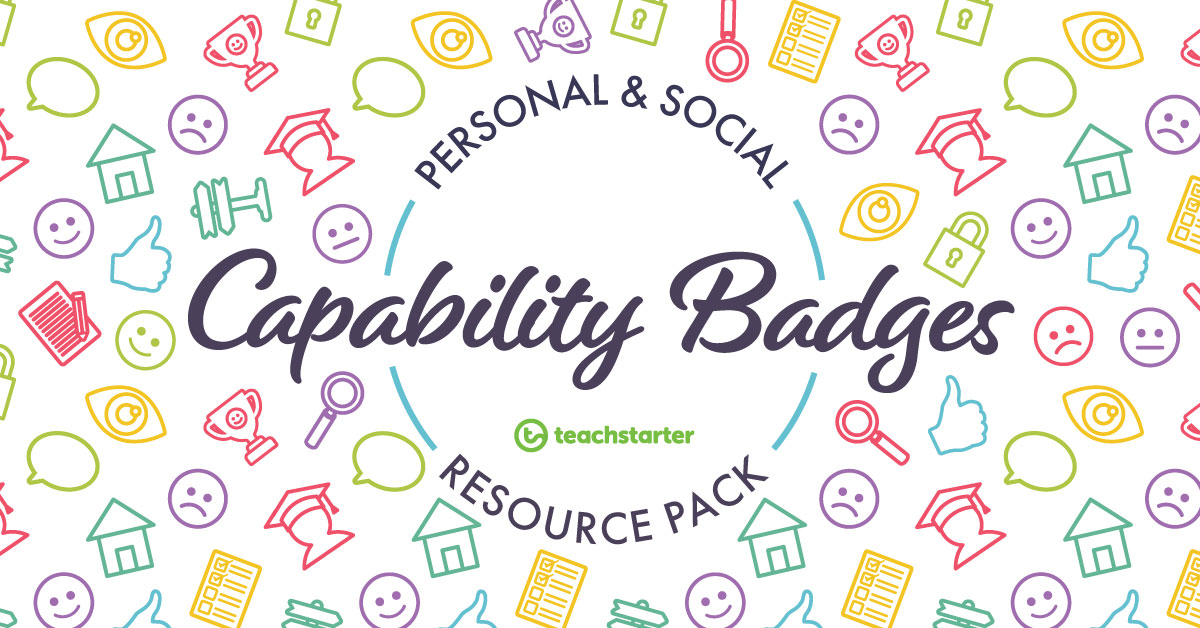 This resource pack includes:
These badges are curriculum aligned and can be used in many different ways. Stay with me for some tips and ideas on how to use them in your classroom…
---
Personal and Social Capability – Self-management
Self-management involves students becoming aware of themselves. It involves students learning when and how to use particular strategies to manage and handle a range of situations. You can download the badges here – Personal and Social Capability – Self-management Badges.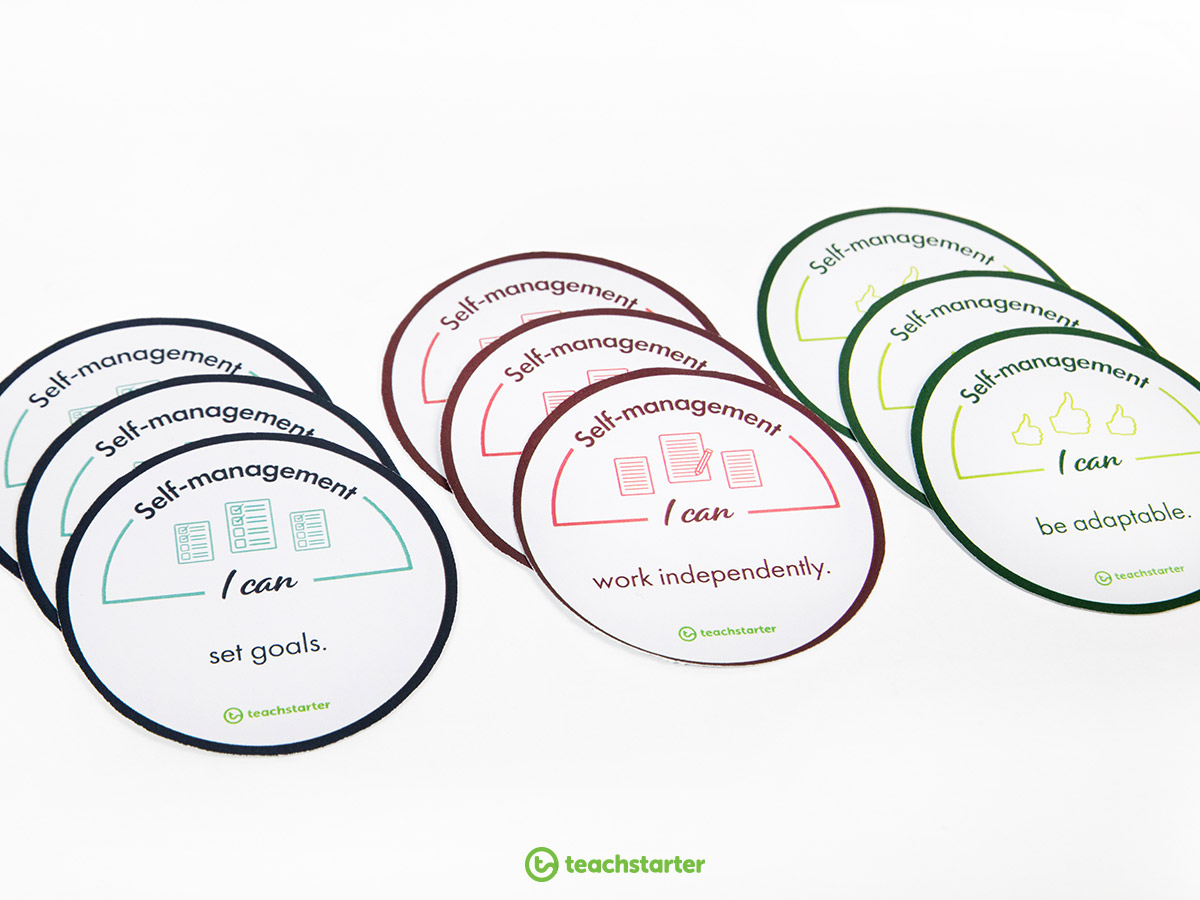 These student badges are ideal to use when awarding students for effectively regulating their emotions, persisting when learning gets tough, and overcoming obstacles. This set of 8 badges includes everything your students need to learn from being adaptable to working independently.
---
How to Self-management Badges
It's easy to use our Personal and Self-management Badges. Each self-management badge is available in an individual PDF so, you can simply download and print the badges that you need. It's a good idea to start small to avoid overwhelming your students.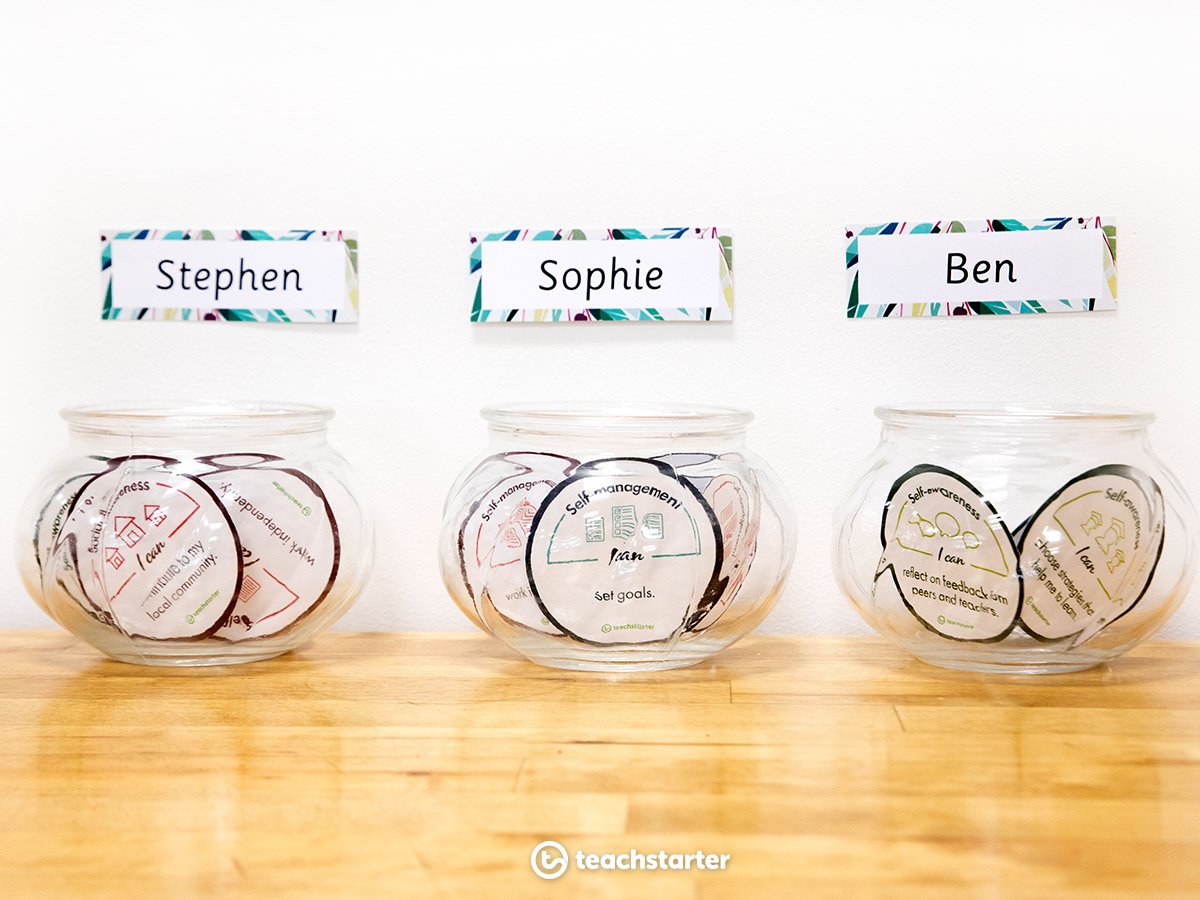 Here's how you might set your class up for success:
As a class, choose one or two life skills to focus on.
Discuss what achieving the goal would look, sound and feel like.
Share clear expectations regarding what students need to do to be awarded a badge.
Observe your students and look out for students achieving the goals.
Be consistent in awarding the badges.
I used these loveable jars and our Gum Leaves – Name Tags from our Gum Leaves Classroom Theme Pack to make an interactive classroom display. Encourage your student to collect badges and see their jars fill up over time.
---
Celebrating Life Skills – Classroom Display Idea
I'm a big fan of hanging this and little pegs. Are you with me?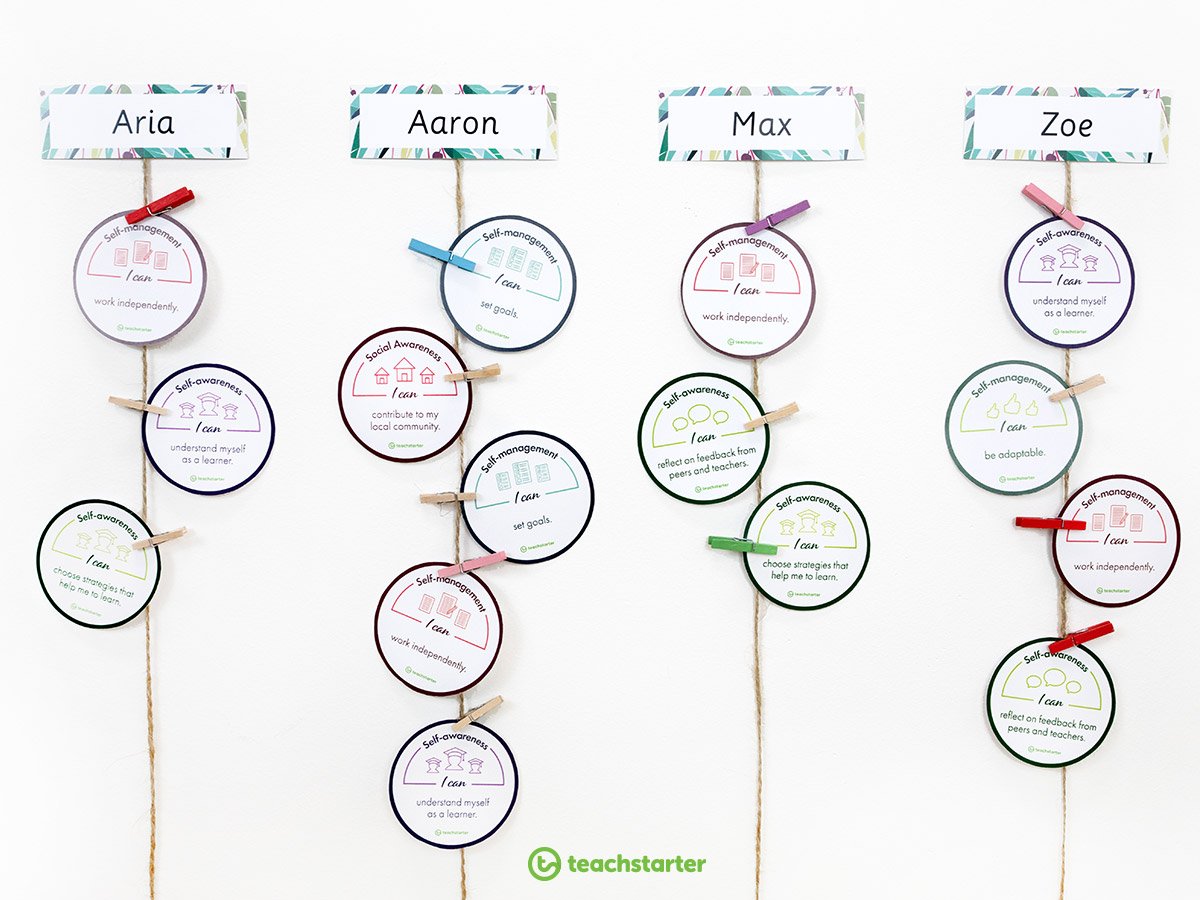 Hanging displays help to keep surfaces free, are effective eye-catchers and daily reminders for you and your class.
Here's how…
Create a name tag for each student. Choose the theme that you love most from our Classroom Theme Packs.
Attach a length of string (one for each student) to the wall using sticky tac.
Provide a pot of mini pegs.
Help your students to peg up their badges as and when they are awarded.
---
Differentiate to Meet Individual Student Needs
Do you have students in your class that struggle with a particular life skill? Perhaps you have a group of students who need to work on self-management and another that need to work on social-awareness?
It's easy to differentiate life skill goals to meet individual needs with our Personal and Social Capability Badges Resource Pack.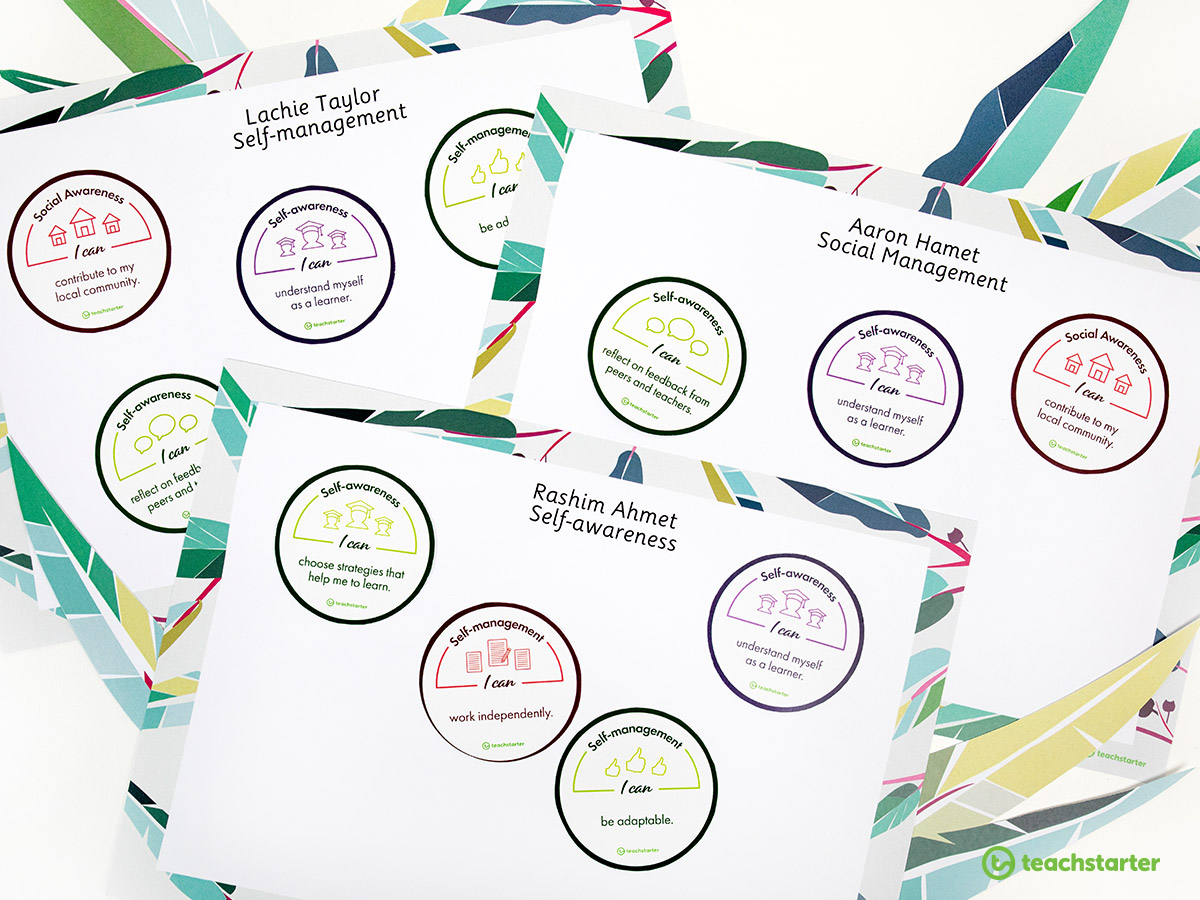 You can choose badges from any four of the personal and social elements:
I used our editable Gum Leaves – Landscape Page Border to create a personalized badge template. Encourage your students to achieve their personal goals, collect badges and stick them onto the template. When students have collected 6 badges, celebrate their achievement with a Principal award or a Gum Leaves – Award Certificate.
---
Personal and Social Capability Badges Resource Pack
It's undeniable that teaching life skills is an essential part of primary education and beyond. So, download our Personal and Social Capability Badges Resource Pack now, and start celebrating personal and social wins with your class.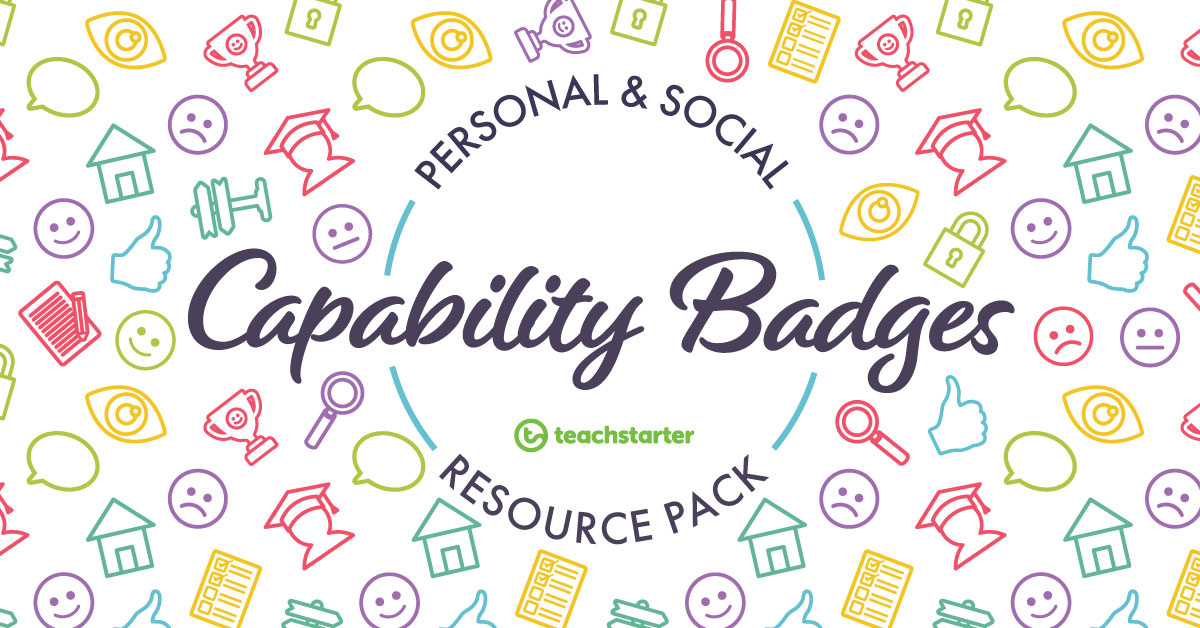 Your students will love to collect these beautifully designed badges and you will love to see your students shine.
For more essential information on teaching 21st century skills read our blog Higher-order Thinking in the Classroom (and Why It Matters).
Share your wins on Instagram #teachstarter