Climate change is a critical concept which children want and need to understand.
As teachers, however, it can be hard to know where to start. We've consistently heard feedback from teachers frustrated by the lack of clear curriculum guidelines surrounding climate change education in primary schools.
Through our role as educators, we're afforded both the privilege and the responsibility of equipping our young students with the knowledge and skills to be effective inhabitants of our planet. We're also entrusted to do this in an age-and-stage- appropriate way.
"We know that taking action is the best antidote to anxiety. So when kids are feeling powerless, they're feeling this overwhelming threat. Then doing something about it is the best way they can build their sense of agency, of efficacy, of being a bit in control." – Prof. Ann Sanson, University of Melbourne
Why Should We Teach About Climate Change?
Climate change is an immediate and real threat to our planet's natural systems and our people. Any parent will tell you their child is growing up 'in the blink of an eye', and it's true: childhood is fleeting, action is necessary, and our kids hold valid space within our global community. By presenting them with realism, hope, and opportunities for action, we can guide them through a shared goal of solving climate change.
"Good climate change education is good education. Both ensure learners of all generations are able to participate in lives they have good reason to choose, i.e. that foster sustainability, equity and authenticity in their lives and those of others in their community." – Prof. Alan Reid, Monash University
"Scientists actually picked climate education as one of six societal transformations needed to stabilize the earth's atmosphere by 2050, in line with the Paris agreement," Rachel Weisbrot, education and communication manager of EarthDay.org, pointed out on the Teach Starter podcast earlier this year.
"We're already seeing so many of the changes from climate change, and already the most vulnerable communities are being impacted and having to move from their homes, and we're seeing these horrible events from climate change taking place that I really want to stress that no one is immune," Weisbrot added. "It's going to affect us all and it already is, which is where education comes in."
The goal of climate education isn't just to prepare students for the changes ahead, she explained, but to "instill hope that something can be done about it."
And it's more than just teaching the science itself — climate change education is also about teaching children how to assess sources in the media to weed out misinformation and disinformation and how to adapt to economic changes too.
"It's these 21st-century skills that allow students to enter new jobs and to evaluate media."
So where do teachers come into all of this?
Climate Change Education in Global Curricula
Although nations have repeatedly committed to developing climate literacy programs in articles of the UNFCCC, the Kyoto Protocol and the Paris Agreement, progress has been slow and there are only a few places where climate change has been embedded across the curriculum.
"There are some examples of countries that have some sort of bill in the works. Maybe that's an environmental education bill that has climate education as a component. But we're not really seeing this grand, you know, implementation of climate education like there really needs to be." Rachel Weisbrot
The United Kingdom
The National Curriculum in England has very limited scope in supporting teachers through the syllabus with regard to climate change. Geography in primary years covers seasons, weather and habitats (KS1), how environments can change, and climate zones (KS2). The document does not mention climate change until the secondary years.
The United States
In The States, New Jersey is the clear trailblazer. Its Climate Change Education: New Jersey Student Learning Standards explicitly incorporate climate literacy into the curriculum.
"Education works. Education is the cheapest way, the least expensive way to address this problem. If we are able to change the behaviour of students, in terms of how they look at the world, how they think about the world, the amount of water they use, the amount of electricity they use, this is going to have a profound impact. It's much cheaper than windmills and solar panels." Hank Bitten, Executive Director, New Jersey Council for the Social Studies
Australia:
Whilst the Australian primary curriculum fails to explicitly address climate change, it "…places emphasis on Sustainability as a priority for study that connects and relates relevant aspects of content across learning areas and subjects." – ACARA 8.4, 2018. The curriculum is reviewed on a six-year cycle and an update will come into effect at the start of 2022, with no new requirements for climate change education.
Access the Sustainability Cross Curriculum Priority here.
New Zealand
Although still in draft format, New Zealand's education department has published Aotearoa New Zealand's histories draft curriculum which is available to view here, ahead of its implementation in 2022. This framework requires students to know that "Over the course of time, people have changed and been changed by the environment", and understand "…environmental degradation (has been) caused by economic activity". – Rachel Weisbrot, EarthDay.org
Professional Development for Teachers Seeking to Learn More About Climate Change
Teachers' reluctance to approach climate change in the classroom is often underpinned by a feeling of inadequacy and lack of training on this subject. The experts we talked to on the podcast agreed on a solution to this issue. They recommended that for teachers to effectively embed climate literacy into their practice, they must first develop an understanding of the basics. We've found this great video, published by Ken Rice at the University of Edinburgh ahead of COP26. It's a great snapshot of where the world is at right now.
Texts:
Just this year, Anne M. Dolan published Teaching Climate Change in Primary Schools – an interdisciplinary approach. This text is packed with lesson ideas, pedagogies, and suggestions for teachers to link with other areas of the curriculum. It sets out an inter-disciplinary approach for teaching climate change to students ages 3-13, and would be a fantastic starting point for schools.
Education in Times of Environmental Crises: Teaching Children to Be Agents of Change 1st Edition by Ken Winograd (Editor).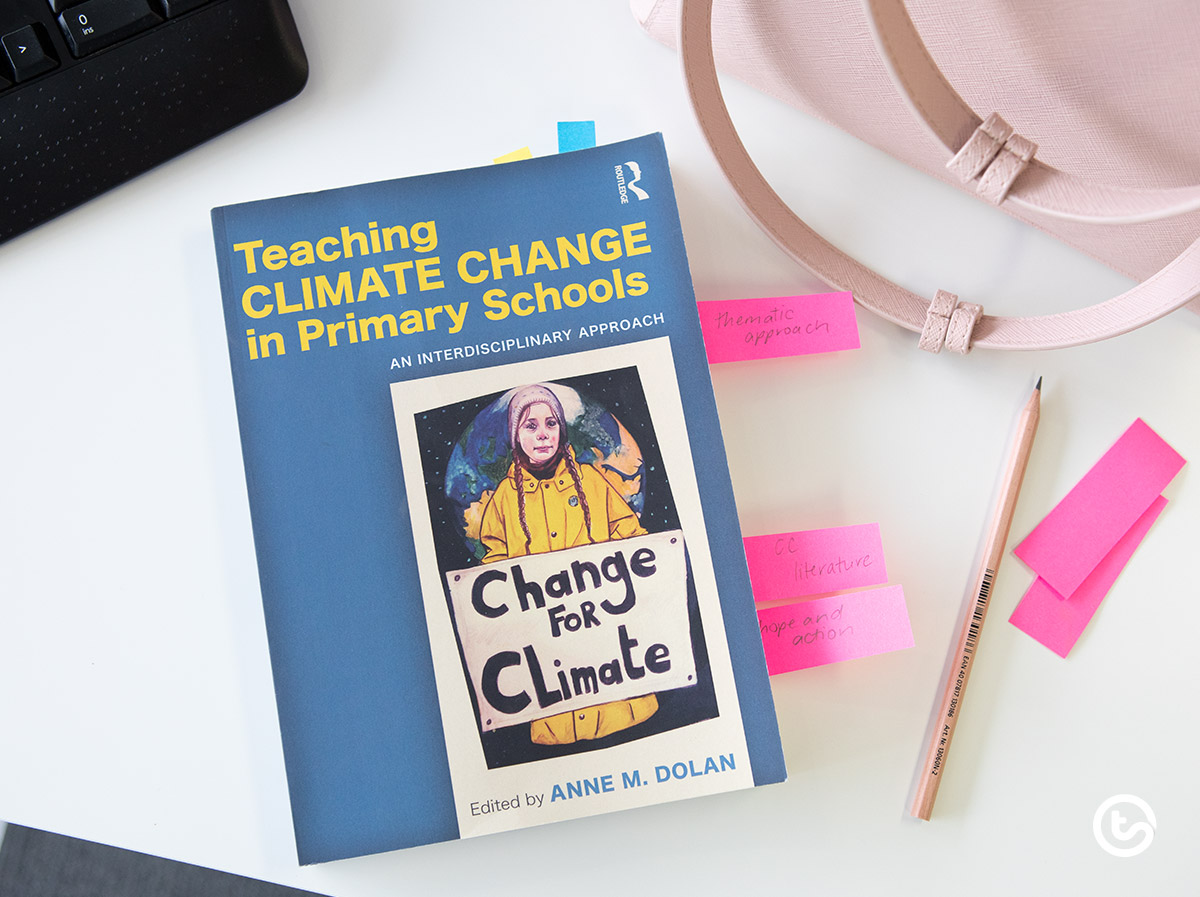 Online PD:
You'll find 20 hours of free Climate Change teacher education modules on the UN Climate Change: e:Learn teacher portal. All you need to do is create an account and login. If time's an issue, our two picks for modules to start with are Children and Climate Change and Climate Change: From Learning to Action.
Downloadable Resources for Teacher Use:
In September 2015, 193 world leaders agreed to 17 Global Goals for Sustainable Development. If we could complete these Goals, it would mean an end to extreme poverty, inequality, and climate change by 2030. Dr Meryl Batchelder talks about how she's linked her country's curriculum to each of these goals in the podcast episode Collective Action Starts in Schools. Here you'll find downloadable posters, videos and photos to support your teaching within the framework of the Goals.
Climate Change Education Websites for Kids
The World's Largest Lesson – Heaps of free resources aligned to the Global Goals for Sustainable Devleopment.
Behind the News – Age-appropriate TV-news format videos for primary students, covering many topics. Search climate change for several related videos.
National Geographic Kids' Climate Change Activities – Interactive online games and activities suitable for young children.
NASA Climate Kids – A great, interactive and engaging website featuring answers to many questions kids may have about climate change.
Transform Our World – a collection of links to great free materials.
Teaching Resources for Climate and Environmental Literacy
In our Sustainability learning area, you'll find resources that can be used to teach primary-aged children about environmental issues. These may be a great way to introduce the basics of care for our environment. Small actions children make will contribute to a brighter future.
Here are some of our favourites:
Framing Appropriate Conversations with Children
"There's some research that looks at these three different stages of being in nature. So the first one is in nature so that we can then be with nature so that we can then when the children are older be for nature and act for it." Dr. Susie Burke, University of Queensland.
We chatted with Dr Susie Burke and her colleague, Ann Sanson, about the best ways to talk about Climate Change with young students. That interview is packed full of tips and definitely worth a listen (check out our podcasts below!).
The Rainforest Alliance also has a really helpful framework for talking to kids about Climate Change (without freaking them out).
Podcast Episodes About Climate Change Education
We've been talking a lot about Climate Change recently! These first two episodes go together with the blog you're reading right now. You'll hear from teachers around the world who are making climate a priority in their classrooms. You can listen here, or find these episodes on your favourite podcast app.