Hands up if you love a well-organised classroom!
Sure, Pinterest is a never-ending pool of amazing classroom labelling and display ideas, but what you really need after wading through all of that inspiration and choosing your new classroom theme are high-quality, professionally designed templates that you can customise for your class.
In this post, I present to you the most popular, most downloaded of our customisable classroom organisation resources.
If you haven't already checked out the plethora of editable classroom labels, banners and signs in our Classroom Organisation category, prepare to be wowed! And nope, I don't feel like this is an unsuitable context for using the word plethora… There are literally hundreds of files available for you to edit, download, print and display.
For those of you with a Teacher Plan or an Ultimate Plan, the blue "Customise" button pictured below is soon to become the 'Teacher Resource Creation' button of your dreams!
With that in mind, here are the most downloaded from each of our categories of customisable classroom labels, signs and decor.
---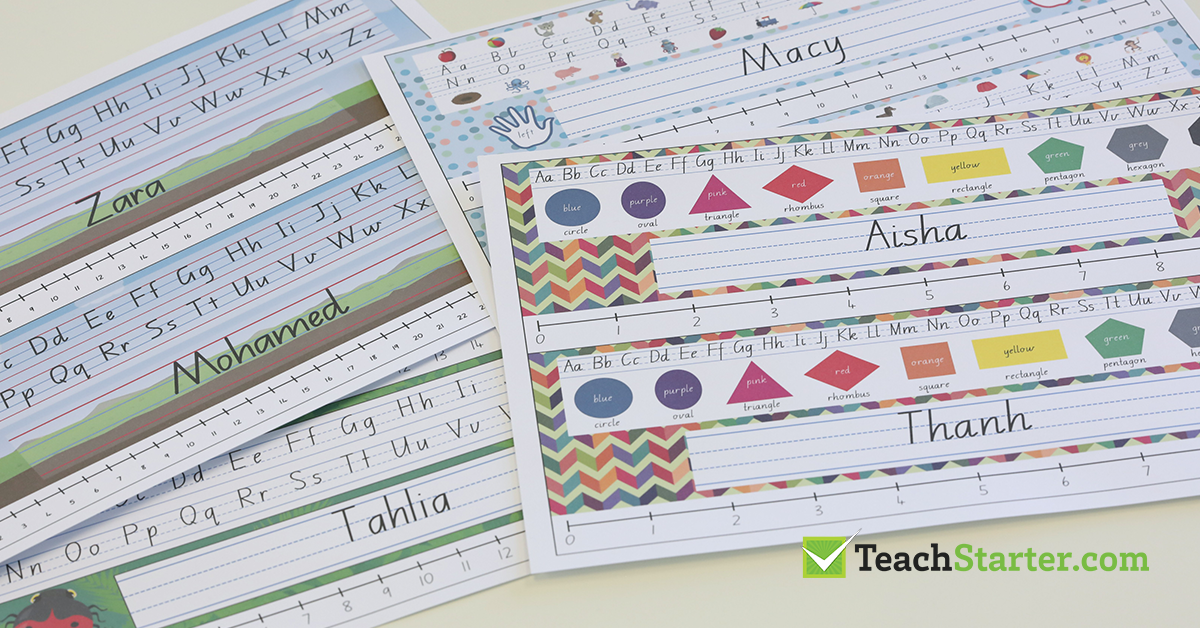 Did you know just how easily you can edit Teach Starter desk plates to suit the needs of your specific class?
There are a wide variety of designs and layouts available. Here are the most popular desk plate downloads, though you can also check out our full desk plate collection.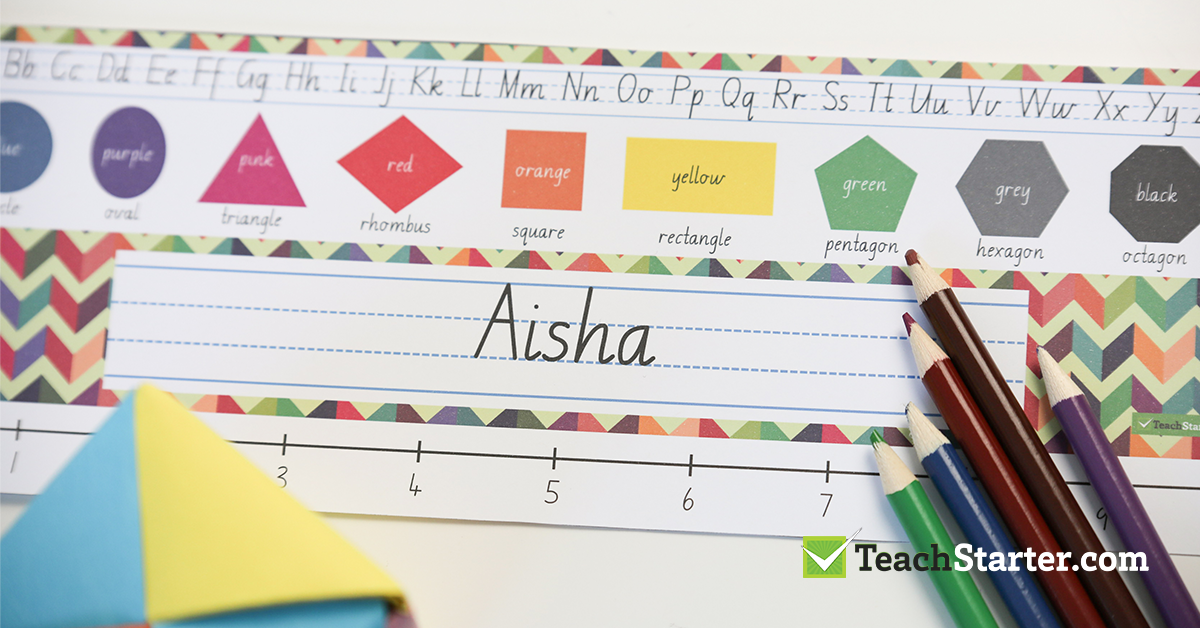 Our Top 4 Editable Desk Plate Designs
Choose your favourite design and then select the font that is right for your students. On each of our Alphabet and Number Line templates you can also specify the following:
handwriting lines
number count
alphabet layout.
Download your customised template and handwrite your student's name on each, OR click on the "Customise" button to add your students' names in the font of your choice, to create desk plates like @ms_jordyrai has in the photo below!
---
There are over 200 designs available in the downloadable Name Tags category. Print and write names, or use the Teach Starter Studio to add custom names or words to each label. And, you can do all of this using the font of your choice!
How cute are the labels @miss.a_kindy printed for her class!
Our Top 4 Name Tag Templates
Save time when customising resources by adding your students' names to a Word List in your Teach Starter Gallery!
---
Tray Labels (A.K.A. Anything Labels!)
Clever @missgsclassroom has printed out our tray label template two to a page and used them on these great little storage drawers!
Downloadable tray label templates can be used in a variety of ways. Create clear and professional labels for the trays, drawers, containers and boxes in your classroom by clicking the blue "Customise" button and adding the text you need on each label in the Teach Starter Studio.
Our 4 Most Downloaded Tray Label Designs
---

Before you spend hours drawing, cutting, writing, glueing and laminating five million different pieces of coloured cardboard to create something from scratch, have a look at these classroom door sign templates.
Created by our team of talented, professional designers and illustrators, there's no need for you to skimp on quality when it comes to this year-long classroom decoration!
Balloons, stars, busy bees, monkeys, owls, monsters, sport, music and science… There are over two dozen individually themed Welcome Banner templates ready for you to customise, download and print!
The 4 Most Popular Welcome Sign Designs
---
How you use our many customisable classroom display banners is restricted only by your imagination.
We have created themed classroom banner templates, like the Digital Technology banner used amazingly alongside our Technology Posters in the display by @misslisasclassroom pictured above. You can change the font and text that is printed on your classroom banner, which means you can quickly and easily customise, download and print a new banner for any event or display.
Our 4 Most Popular Display Banner Templates
---
If you're in need of a complete classroom makeover, you don't need to spend time searching for the matching files in each of our downloadable classroom label, banner and sign categories. The Classroom Theme Packs do this legwork for you, with each theme pack including a cover page, welcome sign, name tags, word wall title page, word wall cards, equipment signs, tray labels, border trimmers, assessment tracking sheet, number chart, weekly task chart, timetable, page border and group display poster.
Woohoo!
Not only that, but they are also fully customisable! You can add to each resource any custom text, the names of your students, or any other word lists you have saved in your Gallery. Just click on the blue 'Customise" button (as pictured at the top of this post) and follow the prompts to add the text you need to each template in your chosen classroom theme pack.
Our Top 8 Most Downloaded Classroom Theme Packs
---
You were looking for the best of our beautiful, colourful classroom display resources, right? And, that's just a small selection from the customisable ones!
We have hundreds more classroom display banners, labels and signs ready for you to download and print so that you can focus on what you do best – creating a classroom environment that is tailored to your students, and provides them with a safe, engaging and exciting place to learn.
Have you used Teach Starter classroom organisation resources in your room? We'd love to see! Just use the #teachstarter hashtag on Instagram to join the classroom display conversation!