Do you feel like you are drowning in an avalanche of paperwork landing on your desk? Filing paperwork is one of those admin jobs that will eventually need attention, however, with everything else on your to-do list it's always a 'tomorrow' job and before you know it, you have Mount Kosciuszko on your desk.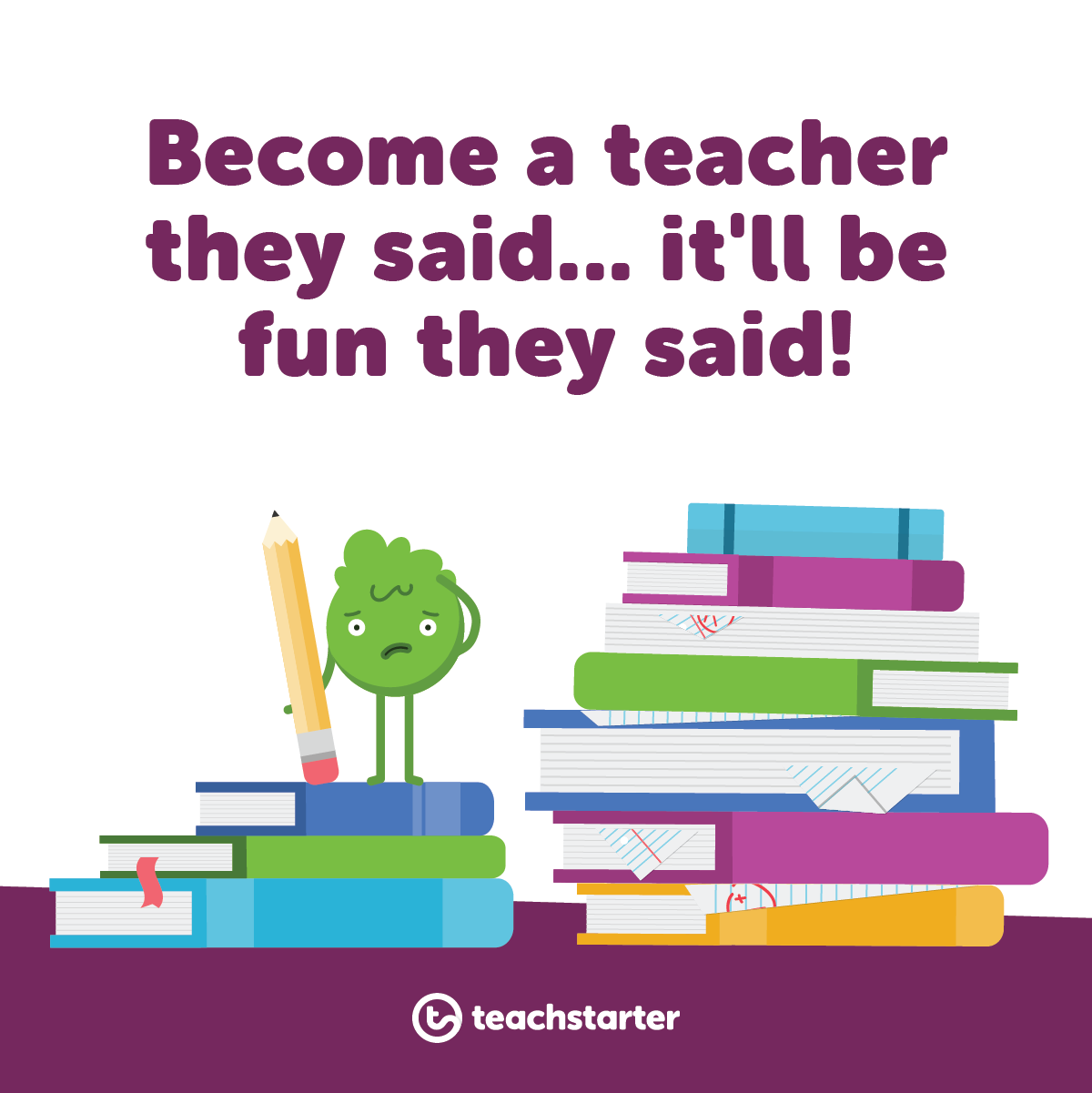 ---
How to Organise Paperwork As a Teacher
There are a number of quick wins you can implement in your classroom to avoid a pile, or two, of paperwork hitting your desk almost daily. Creating a simple plan of attack for where the most common pieces of paper will go that hit your desk, can avoid you feeling frazzled with paperwork inundation. You'll be surprised how much more organised you'll begin to start feeling when you have a plan of attack for paperwork.
Use a Desk Filing System
A designated desk filing system may seem a little overkill! But, the paperwork we get as teachers is extreme! We need to meet it with extremity.
Other people suggest creating a 'to file' folder, I'm not sure this is the best solution, as you're just creating another area to dump your paperwork.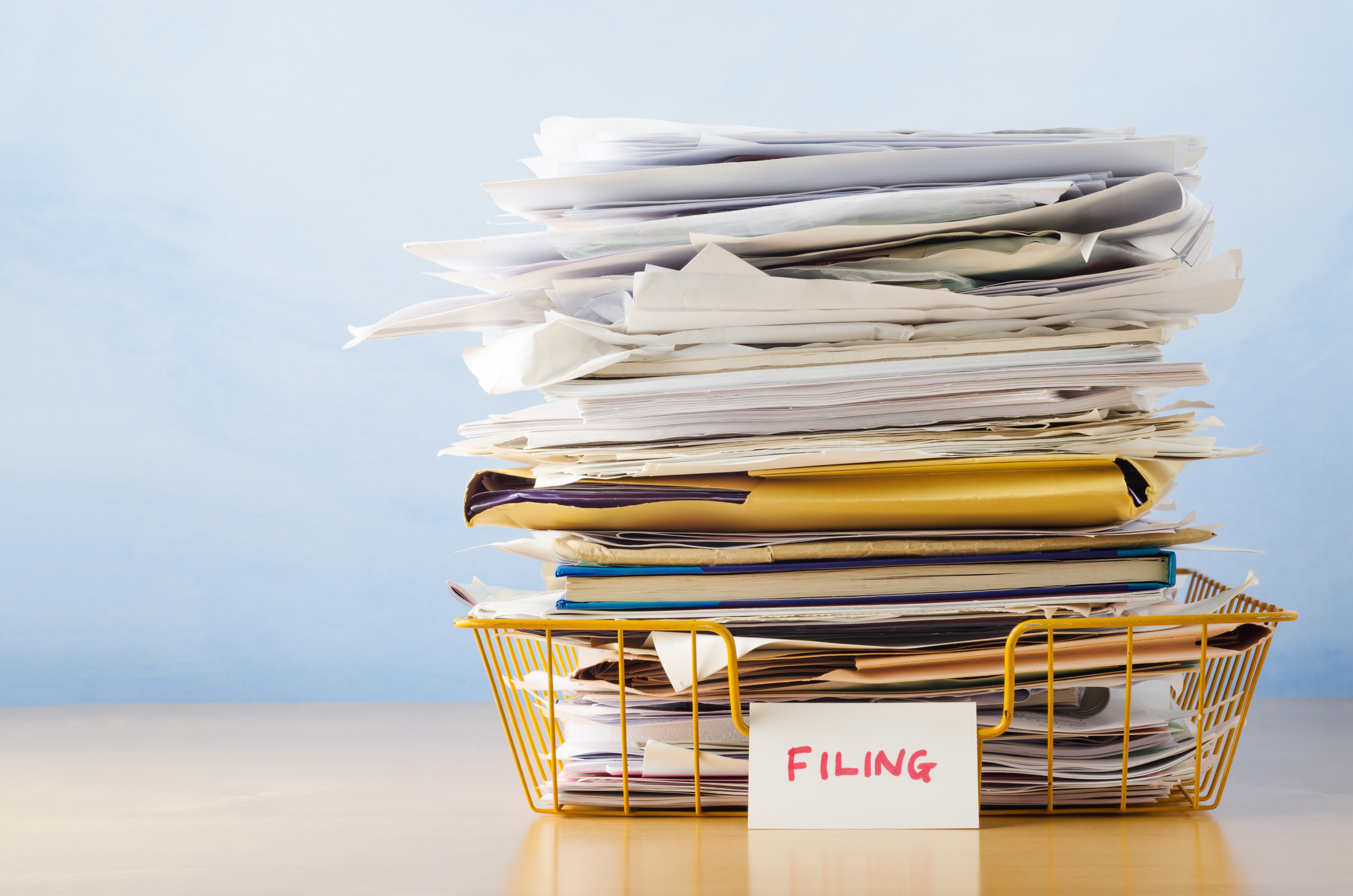 By creating a mini filing system that is either on your desk or close by, you are more inclined to file the paperwork straight away.
The first thing you'll need to do is to identify the main categories of paperwork that often land on your desk – this may change from teacher to teacher depending on your year level etc. Some examples include:
Notes
Articles for Reading
Marking
Assessment
Planning Docs
Relief Day Plans / Information
I purchased this neat desk filing system from my local stationery shop and used our editable Rainbow Watercolour – Landscape Page Border for the front – just to jazz it up a bit!
Sort Notes Sent Home Like Socks
Just like odd socks, parent notes home seem to go missing…
This was a handy #teachertrick that I copied from my very first Teacher Mentor and it has stuck with me and always works a treat. I would hang any spare copies of weekly homework tasks or notes home on one of these clothes hangers that I purchased cheaply from my local cheap shop. Instead of keeping the spare copies on my desk I would hang the spares on here for a couple of weeks.
When parents came to me saying they hadn't received a particular note – I knew where to go straight away! Winning!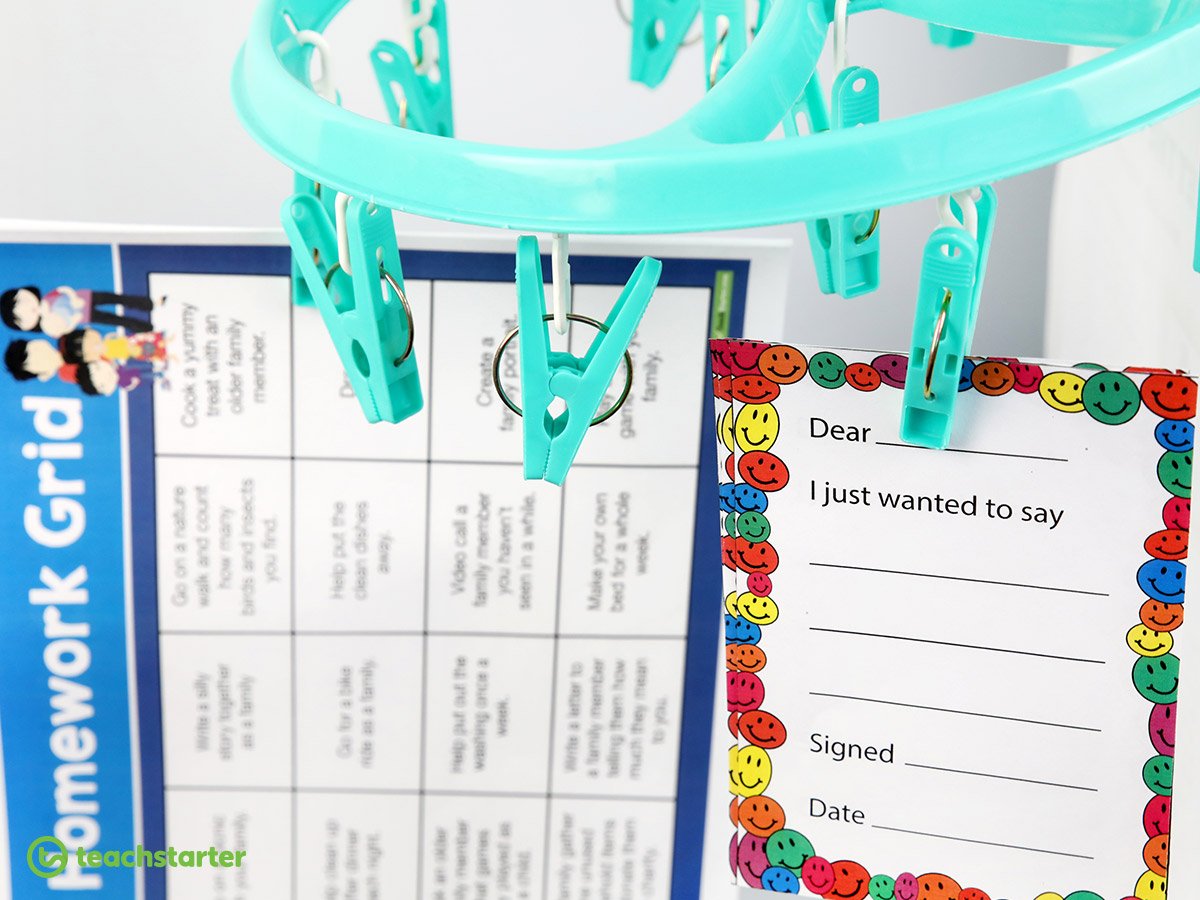 Use Bulldog Clips with Labels
Similar to the desk file paperwork solution – this is a simple idea you can implement straight away. All you need is some bulldog clips and these downloadable binder clip label templates.
The template is available in a number of sizes to fit the many different bulldog clips.
When you get a spare minute or two – quickly find things you need to copy…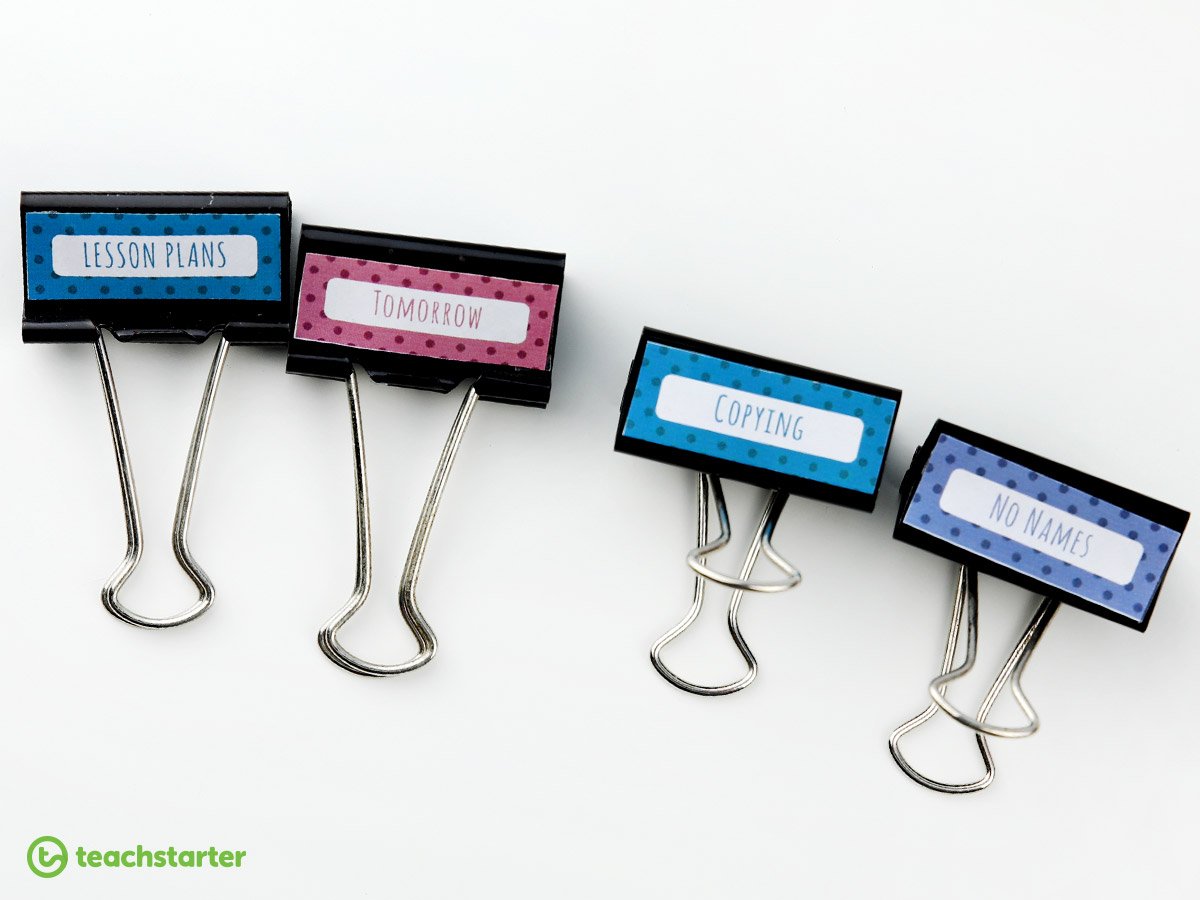 Sort Weekly Photocopied Activities Easily
We adore this idea by Lauren from @lessons.with.lauren.
Such a simple idea but can really help you feel organised and ready to tackle the week ahead. She purchased these wooden pegs from her local cheap store, but you could easily just write the weekdays on some wooden pegs.
In the words of Lauren:
"These pegs save my life! They are a game changer."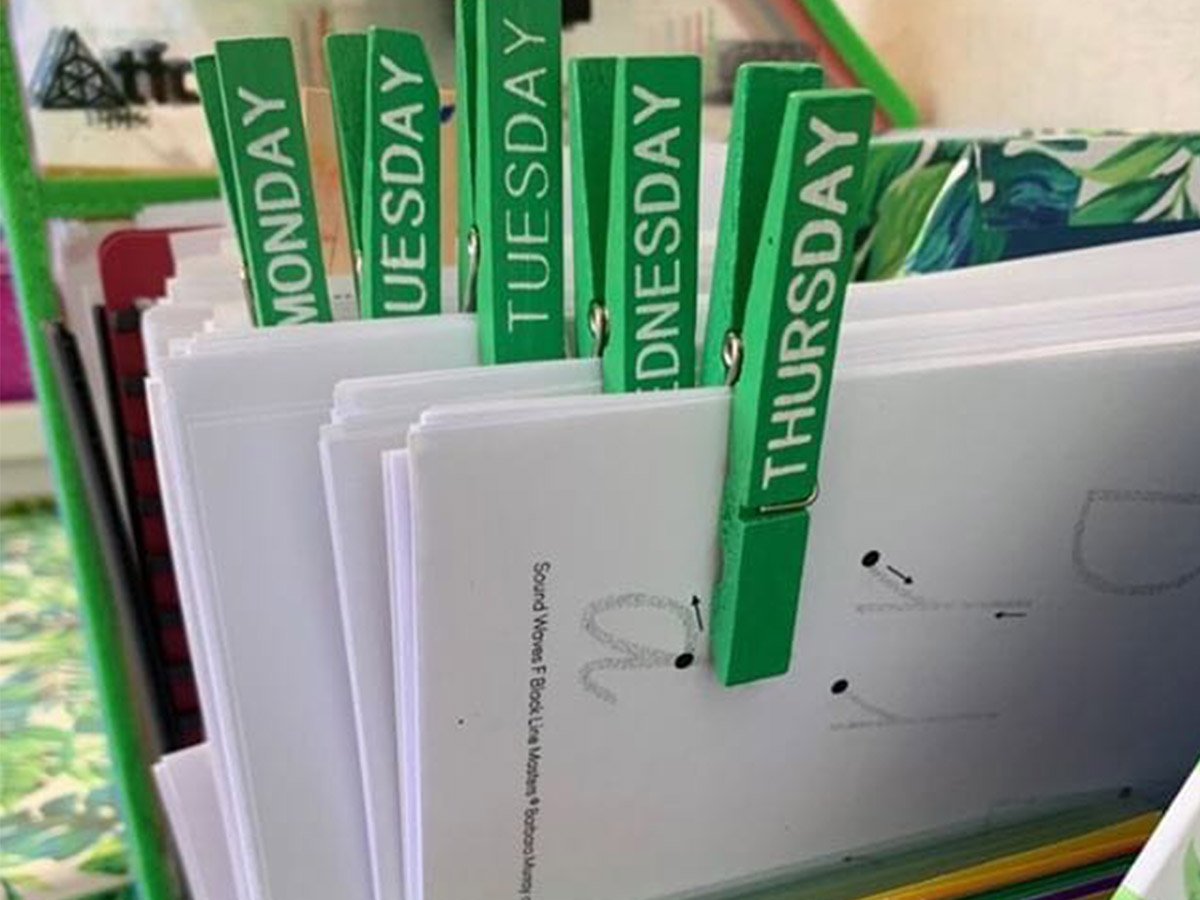 Create a Mailbox For Your Classroom
Creating a mailbox for your classroom isn't just cute, it saves notes coming from home ending up on your desk – and potentially getting lost in that big black hole that glue stick lids go down.
You can set up the mailbox at the classroom entrance and encourage your students to put in notes from home in there. You can then check it at a time convenient for you.
Purchase a cute classroom mailbox from Bunnings and decorate using our editable labels and decorations.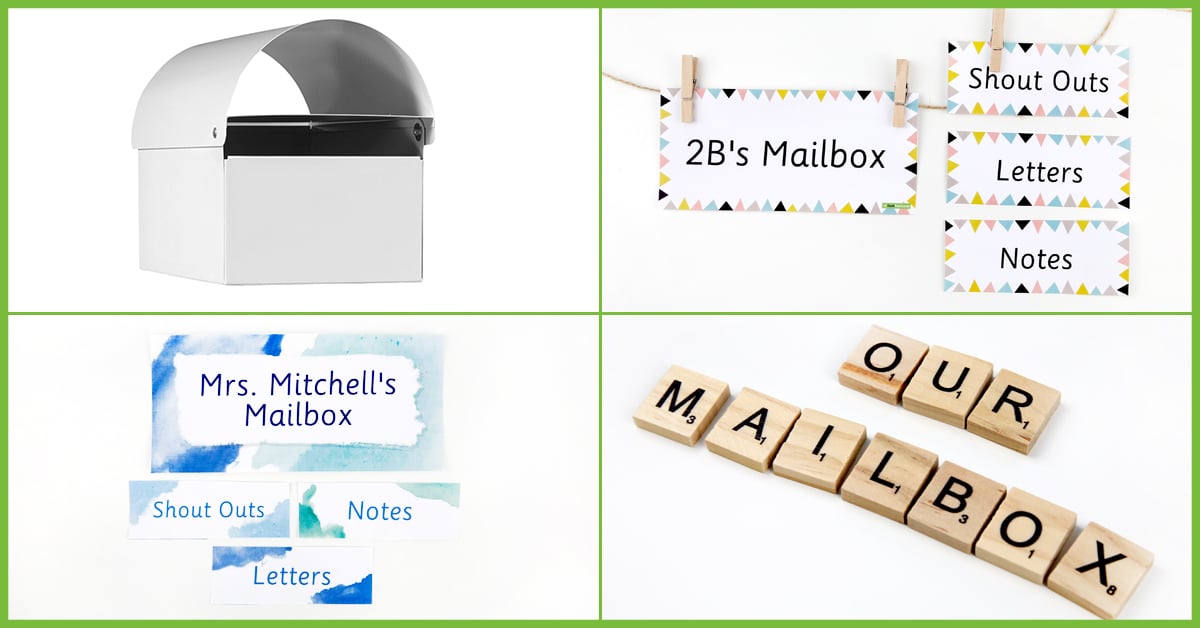 Worksheets, Worksheets, Worksheets
Here are a few tips to decrease the number of completed worksheets that hit your desk.
Does this worksheet benefit the student? Is the worksheet necessary or would it be better received in a more hands-on activity?
If the worksheet is beneficial – get the students into the habit of sticking their worksheets in subject-specific workbooks and they can place the books in a marking station for you to mark.
Go digital! Can the students do the same task but on a digital device?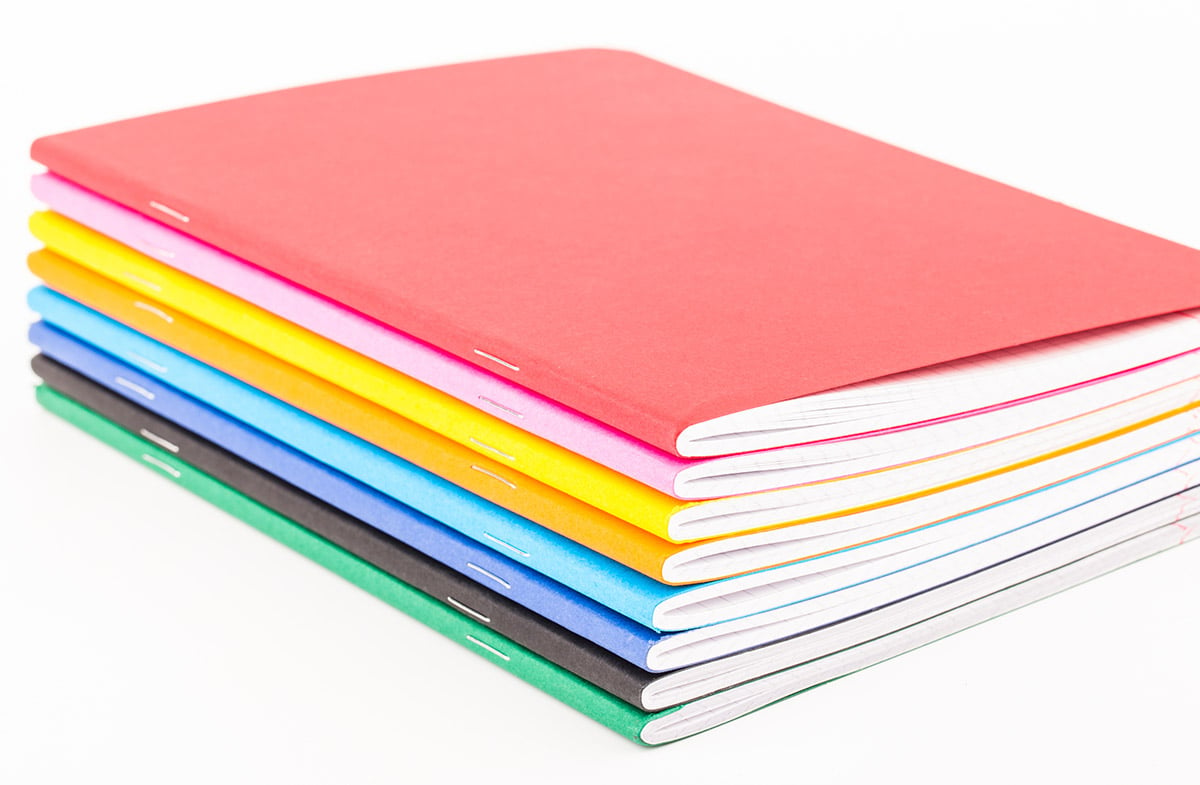 Big ideas have small beginnings!
If you are feeling overwhelmed with the paperwork and tasks you have to complete – start with one small change and go from there!
We'd love to see your #teacherpaperworkhack – share it on Instagram and tag @teachstarter.