Whether you're ready or not, the next few months (at least!) are going to look a little different for many teachers out there. Many schools have shut up shop (at least physically) and are asking their teachers to take on the task of teaching from home.
While there are some plus sides to being able to teach from home (hello sleep-ins and doggy company!) remote learning is a whole new ball game.
Just because you're teaching remotely from the comfort of your home or classroom, doesn't mean you're not being taken out of your comfort zone!
Perhaps your students don't have access to speedy internet or reliable technology. Chances are you are collaborating with parents who are trying to help their kids, while also fulfilling their own work responsibilities. On top of the juggle that is traditional teaching, you're now presented with having to create a remote learning environment that will keep your students engaged and learning.
---
Don't forget – You're Amazing!
Before we go too much further, I want to just say one thing – You're doing the best you can, with the resources you've been given and the short-time frame you've been allowed to adapt in.
Remember, your worth as a teacher isn't determined by how well you're doing with distance learning. You're already a superstar for all that you've been doing, so be kind and gentle with yourself!
There really is no 'one size fits all' with running a remote classroom. What will work for some, won't work for others – what's important is taking care of yourself and maintaining a positive relationship between you and your students.
---
Making the Most of Your Remote Classroom
They say that when you're working from home, putting yourself in the 'work' frame of mind is the first step. Of course! But what does this actually mean?
It means that you should do what you can to maintain your routine as you would when working normally.
Get up at the same time as normal.
Take a shower and put on an outfit that makes you feel great!
Create a workspace that replicates your normal work environment as closely as possible.
Just like a traditional classroom, there are a few key things to remember when setting up your remote learning environment. You'll need somewhere that you can record demonstrations or live chats with your students, and also an environment for your planning and marking.
Whether you're teaching from home, or digitally delivering lessons from your empty classroom, we've got some advice and inspiration for you. Take what you need, adapt it if you want – we hope these hints and tips are of some help to you!
---
Set the Mood for Yourself
If you're still having to go into school every day, this is a little bit easier for you – despite the sadness you may be feeling at the absence of your students. If you're teaching from home, it can be a little trickier!
To create a remote classroom that's as inviting as your real classroom, take a few of your favourite things from your classroom (if you're allowed to access it). A pop of colour, your favourite marking pen and stamps, some teaching resources you will need and maybe some classroom decorations to boot!
To recreate this at home, check out a few of our favourites below from our bunting resource collection.
Teachers are renowned for taking work home. If you're working from home, there's an even greater temptation to work outside of hours. Having a designated 'work area' will help you differentiate between 'work mode' and 'home mode' and help you maintain a healthy work-home life balance.
---
Make the Most of Your Space and Equipment
Not everyone has a spare room, or even a corner to set-up an amazing home classroom! And that's ok.
When you're thrown into the unknown, you need to be resourceful and creative. Even if that means getting down on the floor!
The students who are watching her lessons will never know where they take place!
If you're teaching from home and you don't have access to all of your classroom essentials, don't be deterred. Your home is full of items you can use to help you out.
Just think outside the box and see what set-up you can create that works for you!
---
Get the Tools
Teachers are incredibly adaptable creatures – whether it's a hands-on activity, a worksheet or a digital learning tool, we know how to use it to create an engaging learning experience.
Not all teachers or students will have access to the same equipment during this time, however, there are a few essentials you will need:
a computer or laptop
the internet
a camera – whether it's a fancy scanner like @thirdgradeparade, or a phone camera mounted on a stack of books!
Once you have these three things, then the rest is up to you and your teaching.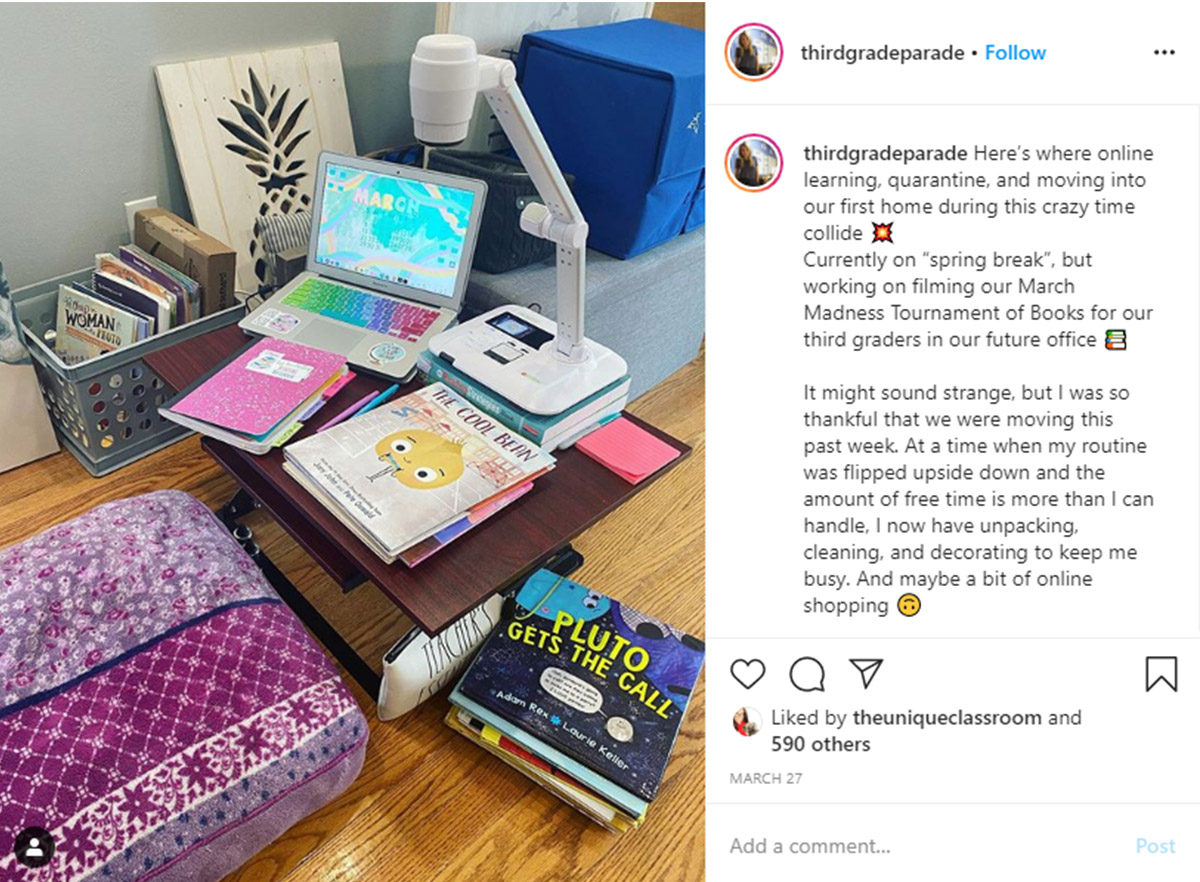 You may find yourself using some old faithful classroom equipment as well! This will help your students to feel some sense of normalcy.
If you don't have the flashy technology, don't fear. As mentioned earlier, maintaining a relationship with your students is key. Even if that means a simple daily email.
---
Create an Engaging Back Drop
If you were teaching in your classroom, you would do your best to make it as visually engaging for your students as possible. The same principle can apply to your virtual classroom. Having a backdrop with stimulating features helps to create engagement and a positive vibe. It also has the added bonus of providing you with a place to display additional resources that your students may need.
If you're still teaching from your classroom, make sure to choose a corner of your room that won't overstimulate your students. Try to choose a  smaller space so that there's less chance of them getting distracted by things happening in the background.
If you're teaching from home, you may have to scrounge around your house to create a visual backdrop that will create a happy, positive vibe for your students.
Alternatively, you can let your creative juices flow and create a backdrop in your spare room, just like @mrs_negrioski has!
If you aren't able to settle yourself in an area that you can designate as a virtual classroom, don't fear! We've created a collection of amazing digital video backgrounds to use in your teacher instruction videos.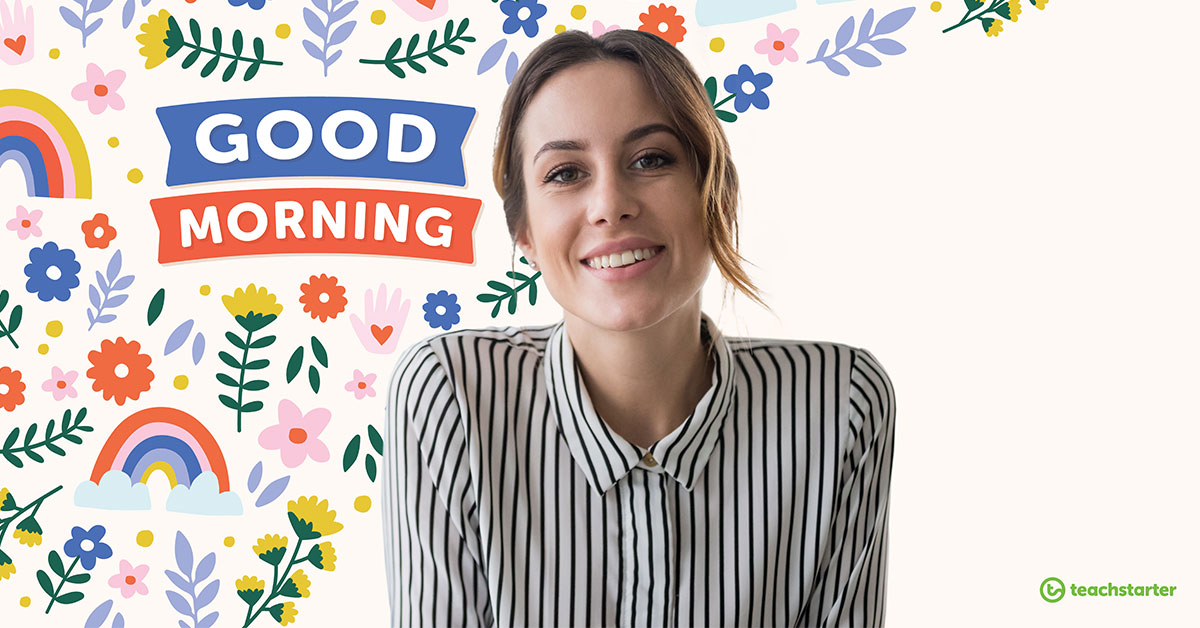 For more information on how to use these handy backgrounds, read Holly's blog Video Backgrounds for Teachers
---
Be Kind to Yourself
Here's another reminder of the most important thing of all – be kind to yourself!
It doesn't matter if you have it all together, or if your house is a jumble of books and boxes. You are doing the best you can under the crazy circumstances we are all in.
Just take care of yourself, let your students know you are in this together – and give yourself time and patience as you adjust to the new norm (at least for a little while). This is an incredibly overwhelming time for many teachers and students alike.
2020 is going to prove to us even more that teachers can do anything!
Banner image: Shahril KHMD/shutterstock.com